Memories are what we hold dear.
They are the lasting imprints of laughter, tears, family, friends, the good times, and the bad. In truth, they are what we choose to take from life.
But as we age, our memory can start to fall into decline, with statistics showing that 1 in 9 Americans over 45 report problems with their memory.
With this in mind, we formulated Rejuvenayte Plus, one of the leading brain health supplements.
Containing 7 clinically proven ingredients, Rejuvenayte Plus is designed to help prevent cognitive decline, enhance cognition, and reverse the effects of brain fog and short-term memory degradation.
The Importance of Brain Health
The brain is arguably one of the most important organs in the body. A healthy brain is vital to maintain your overall health.
Your brain controls most of your daily functions. It helps you to communicate, understand, make decisions, have memories, movement, and feel. Keeping your brain healthy will help your mind remain clear and active and retain your memory.
Rejuvenayte Plus is clinically proven to:
Improve memory, focus & concentration
Prevent age-related cognitive decline
Rejuvenate mental & physical health
Powerful anti-aging formula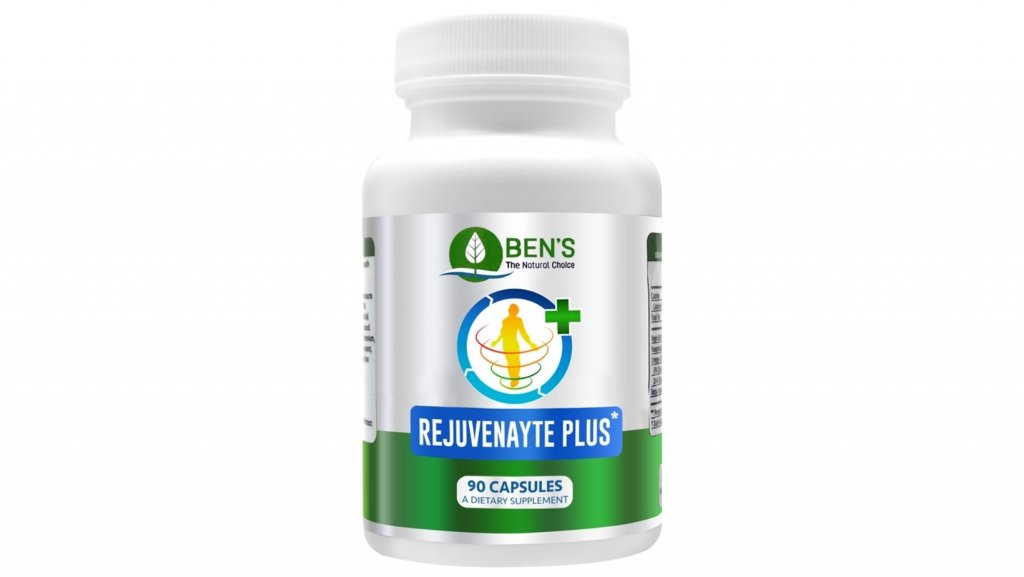 What are the active ingredients in Rejuvenayte Plus?
Green Tea (Leaf)
Green tea is a tea made from Camellia sinensis leaves and buds. It originates from China but has since become a popular drink made in many other parts of the world.
Pomegranate (Ellagic Acid)
Pomegranates are rich in ellagic acid, a natural anticancer agent.
Cloves
Cloves are flower buds from the clove tree. They have anti-inflammatory properties, can strengthen your immune system, and are the fifth most powerful antioxidant in nature.
DHEA
DHEA is short for dehydroepiandrosterone. It is a steroid hormone similar to testosterone, aldosterone, and cortisol.
Supplements containing DHEA have many benefits. For example, studies show that DHEA can reduce depression symptoms, improve bone density, and treat adrenal insufficiency. Moreover, it also helps to promote alertness and assertiveness in aging men as well as help maintain a healthy mindset for optimal physical health.
Turmeric
Turmeric is a plant of the ginger family, native to regions of Southern Asia. Rejuvenayte Plus contains Curcumin C3 Complex, a patented turmeric extract that provides a high concentration (95%) of curcuminoids. This is a higher concentration than most curcumin supplements on the market.
Studies suggest that this potent ingredient has anti-inflammatory properties and can aid with blood clots, arthritis management, cancer treatment, diabetes management, and pain relief.
Japanese Sophora (Flower Buds) Quercetin
Quercetin is a flavonoid antioxidant that we can find in many colorful fruits and vegetables. Studies show that it can combat the effects of oxidative stress on the body, increase stamina, and improve cardiovascular health.
Piper Nigrum (Peppercorn, organic)
Piper nigrum, or black pepper, is a popular spice used in Ayurvedic medicine.
It has numerous health benefits, which include:
May support brain health.
Benefits cholesterol levels.
It might help fight cancer.
It is a source of antioxidants.
What does the research say about the active ingredients in Rejuvenayte Plus?
Green Tea (Leaf)
Studies show that green tea may offer neuroprotection and aid with brain function. A 2017 systematic review of 21 studies looked at the effects of green tea on cognition, mood, and human brain function.
They concluded that the studies present evidence that green tea influences the following:
Psychopathological symptoms (e.g., reduction of anxiety)
Cognition (e.g., benefits in memory and attention)
Brain function (e.g., activation of working memory seen in functional MRI).
In addition, a 2019 review found that catechins (EGCG) in green tea suppress neurotoxicity. Moreover, some researchers find that green tea has anti-cancer properties.
For example, a 2019 study concluded that green tea polyphenols impart strong anti-cancer effects against prostate cancer. These key benefits are why we include green tea in our brain supplement, Rejuvenayte Plus.
Pomegranate (Ellagic Acid)
Clinical studies suggest that the ellagic acid in pomegranates can prevent the destruction of the p53 gene by cancer cells. Moreover, several studies also highlight other pomegranate benefits. This study suggests that the ellagic acid in pomegranates possess anti-inflammatory, antimutagenic, antifibrosis, anticancer, and antiaging properties.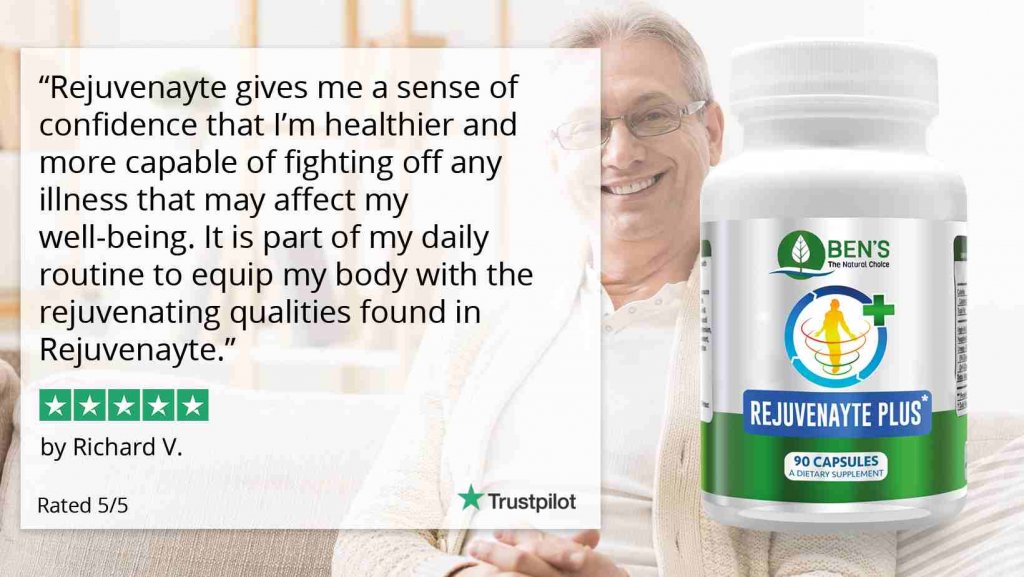 Cloves
Research suggests that cloves may have anticancer properties. One laboratory study found that clove extract could slow the growth of multiple human cancer cells.
In addition, some researchers suggest that cloves may impact obesity, too. One study on mice found that clove extract reduced the incidence of obesity resulting from a high-fat diet.
Moreover, studies also show that cloves can also help to manage your blood sugar levels. For example, one mice study found that clove extract and its compound, nigericin, could decrease insulin resistance, and improve glucose tolerance and beta-cell function in diabetic mice.
DHEA
As we noted above, DHEA supplementation helps to promote alertness and assertiveness in aging men. Low DHEA levels are also associated with depression, heart disease, and mortality. Moreover, a recent systematic review on Alzheimer's disease showed that preclinical studies support DHEA use to prevent and treat cognitive function decay.
Turmeric
Curcumin, the active component of turmeric, has been widely studied and found to have several health benefits. Curcumin is backed by 45+ clinical trials and, in 2007, was awarded the Scientific Achievement Award.
Studies show positive effects when dealing with many inflammatory diseases, including cancer, arthritis, diabetes, Alzheimer's, and many more. For example, in one study, turmeric proved to be more efficient than a placebo for managing knee pain in osteoarthritis patients.
Japanese Sophora (Flower Buds) Quercetin
​​Our quercetin extract is a clinically proven, 95% strength dose that protects healthy cells from dying, renews older cells, thereby prolonging their natural life-cycle, and actively promotes the death of cancer cells. A landmark 2016 study found that Quercetin directly interacts with DNA treatment of Quercetin leads to a significant reduction in tumor volume with no side effects.
In addition, research shows Quercetin can help your immune system. In one randomized trial of subjects age 40 or older who self-rated themselves as physically fit, 1000 mg per day of quercetin resulted in a statistically significant reduction in total sick days and symptom severity associated with upper respiratory tract infection.
Piper Nigrum (Peppercorn, organic)
Studies show that piper nigrum, or black pepper, might support brain health. For example, one study on rats found that black pepper may play a role in fighting neurodegenerative disorders like Alzheimer's dementia. Memory impairment and neurodegeneration significantly improve with the administration of black pepper at varying doses.
Another study found piperine to help improve memory and repair myelin, a protective covering around nerve cells. When myelin is damaged, the electrical impulses between nerves slow, leading to memory problems and other cognitive issues.
Is it safe to take?
This natural brain supplement is 100% drug-free, 100% natural, and 100% side-effect-free.
When it comes to the ingredients in our products, we rigorously test them to ensure they meet the American pharmacological standards and the American herbal products association standards. Our manufacturing facilities are also all US-based, and FDA monitored.
We use the United States pharmacopeial test 1119 (near-infrared spectrography), a third-party laboratory, to test all our finished products. This ensures that the brain health supplements match the label and are safe, pure, and high-quality.
How does it compare to other brain health supplements?
When searching for the best brain supplements, you may wonder how our product compares to others.
It is important to note that Ben's Rejuvenayte Plus has the following:
100% natural ingredients.
Clinically significant dosages.
Ingredients that are shown to work in peer-reviewed, double-blind studies.
Chelated ingredients for better absorption and effectiveness.
While many brain health supplements have scientifically backed natural ingredients, the vast majority are usually in low and ineffective dosages, without chelating ingredients for better absorption and bioavailability. A therapeutic dose is the amount of the ingredient you need to have a clinical effect proven by scientific studies.
It's also vital that the product you take contains natural nutrients. You do not want it to have any synthetic ingredients or genetically modified organisms.
This dietary supplement is extracted from the highest quality, natural ingredients, and freshly harvested herbs, using rigorous methods to optimize dosage and bioavailability. Bioavailability refers to the extent to which the supplement makes its way to the body's tissues rather than being flushed out. As a result, the body efficiently absorbs our Rejuvenayte Plus.
To ensure the efficacy, potency, and freshness of Rejuvenayte Plus, we pick fresh herbs at the season's peak. Then, we qualify each herb under specific quality guidelines under the CGMP and FDA. This 3rd party qualification process ensures every herb is 100% quality tested before being added to our brain supplement, Rejuvenayte Plus.
After this testing, we make sure that the herbs maintain their freshness and efficiency. Through this diligent process, our preparations maximize the potency and efficacy of our supplement.
Why Choose Ben's Natural Health Supplements?
At Ben's Natural Health, our motto is to combine holistic healing with modern science. Ben's Natural Health is the world's first high-quality, all-natural, scientifically proven clinical supplement company. Our brain health supplement is effective, natural, and 100% side-effect-free.
Moreover, at Ben's Natural Health, we have four rules for all our supplements:
We only use the highest quality ingredients.
We only use them if independent, peer-reviewed double-blind studies prove they work.
With all our supplements, we find a way to get every ingredient into a single bottle.
We always formulate them in clinically significant doses of the most bioavailable form.
We pride ourselves on offering excellent customer service. We offer a free health consultation where you can ask questions and receive tailored advice from our expert health consultants.
Key takeaways
3 Benefits of Ben's Rejuvenayte Plus:
Rejuvenayte Plus helps your body prevent cognitive decline, enhance cognition, and reverse the effects of brain fog and short-term memory degradation.
100% natural ingredients.
Next Up

Find out about our Pure Krill Oil Supplement: Ben's Wild Antarctic Krill Oil.