Flomax (tamsulosin hydrochloride) is a prescribed medication used to treat benign prostatic hyperplasia (BPH). BPH is a common prostate problem for men over the age of 50.
It's when the prostate enlarges and obstructs the urethra, making it more difficult to urinate and causing symptoms such as urinary retention and frequent urination.
For men who are showing symptoms of BPH, Flomax may help to improve urine flow by relaxing the muscles around the bladder, allowing urine to pass more easily.
It has also been shown to be effective in treating kidney stones. However flomax side effects are quite common and can negatively impact the quality of life of men who are taking the tamsulosin as treatment.
This article looks at why Flomax is the go-to prescription choice of medication by doctors, the risk of common and more serious side effects, and whether there is an effective natural alternative to Flomax that doctors overlook.
Get Your FREE PSA Lowering Diet Plan!
Naturally lower PSA levels
Reduce nighttime trips to the bathroom
Enjoy better bladder control and urine flow
Why Choose Flomax To Treat Your Urinary Symptoms?
There are several drugs that doctors may offer a patient who presents with symptoms generally linked to benign prostatic hyperplasia.
Each drug works in its own way to assist in reducing the severity of the symptoms that the patient is experiencing.
Some drugs may come with more side effects than others, however, which is why some doctors prefer the use of specific medicine for people with an enlarged prostate.
Why do doctors prescribe Flomax?
Flomax remains a relatively popular prescription drug that doctors tend to prescribe for male patients with urinary symptoms. The drug will be prescribed when the patient's urinary symptoms can be linked to the presence of benign prostatic hyperplasia.
There are several reasons why a doctor may prefer the use of Flomax over alternative pharmaceutical drugs.
The first factor, however, would be for the physician to examine the patient thoroughly. A full medical history is ordered, and the doctor will need a list of the drugs that the patient is currently taking.
This helps the healthcare provider determine if any drugs currently taken by the patient may have an adverse interaction with the chemicals used in Flomax medicine.
In many cases, Flomax is utilized as a way of improving symptoms of BPH without causing severe side-effects in the patient.
The fact that several studies also provide evidence of the efficacy presented by the Flomax drug is another reason why many doctors would consider prescribing this drug to their patients.
What does Flomax do to the body?
Patients should understand how Flomax works and what the drug does to their bodies. This will give them a better idea of the interaction of the drug with their system – and what to expect.
Flomax (tamsulosin) primarily acts on two muscles. The first is the muscle that is located at the bladder's neck. There are actually two bladders located at the neck of the bladder. One of these is involuntary, while the other one is voluntary. The second is the muscle in the prostate gland.
When a patient takes Flomax, there are chemicals in the drug that causes these muscles to relax. The relaxation of these muscles ensures that urine can flow from the bladder, through the urethra, during urination.
How should I take Flomax?
A doctor will provide a patient with full instructions on how Flomax should be used. The man needs to follow these instructions exactly as provided to them. This helps to increase the efficacy of the medicine, while also reducing the risk of side-effects.
In most cases, the drug will be taken 30 minutes after the patient had a meal. The drug is only taken once each day. The medicine must be taken at the same time every day.
Initial dose: 0.4 mg orally once a day.


Maximum dose: 0.8 mg orally once a day.
What Are The Possible Side Effects Of Flomax?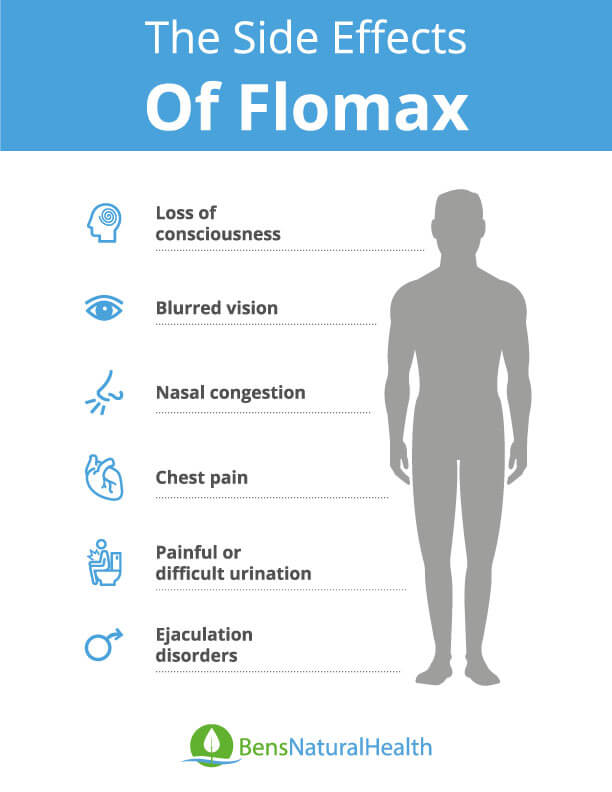 Whether or not a medication like tamsulosin works is not the only thing that should be considered when a patient is looking at what treatment would best suit them.
It is also crucial for the individual to consider potential side-effects that can be experienced while using the drug.
Flomax has quite a few adverse reactions. This is a concerning factor and a critical reason why male patients need to pay close attention to the dosage instructions provided by their doctor.
Taking the drug exactly as prescribed may help to reduce the risk of these side-effects. A doctor will also be able to assess as a patient and determine if the risk of side-effects is too great.
What are the most common side effects of Flomax?
Some side-effects associated with Flomax are more common than others.
It is important to note that there are both mild and more serious side-effects that people may experience when they use this drug. Individuals who have been prescribed a daily dose of Flomax should be aware of these side effects.
Some of the most common side-effects that men may experience when they take Flomax (tamsulosin) include:
The development of back pain


Problems with their teeth


Fevers


Body aches


Symptoms generally associated with the flu


Chills


A runny nose


A stuffy nose


Sinus pain


Coughing


Insomnia and other related sleeping problems


Headaches


Nausea


Diarrhea


Weakness


Drowsiness


Dizziness


Blurred vision


Risk of hypotension
Does Flomax have any sexual side effects?
Certain side-effects may alter the patient's abilities during sexual intercourse. It is also vital for men to know what to expect when taking these drugs if they are still sexually active.
Some of the side effects of Flomax sexually that a male patient may experience while taking this medicine include:
Abnormal ejaculation


Failure to ejaculate


Decreased ease of ejaculation


Retrograde ejaculation (release of semen into the bladder instead of out of the body)
These adverse events can make a man feel less interested in having sex. It may also cause problems with the patient's fertility due to the decrease in semen volume.
What other drugs will affect Flomax?
Some drugs may interact with Flomax. A doctor will need a complete list of both over-the-counter and prescription medications that a patient is taking. This will help the physician determine if interactions could occur.
The most important interaction is with blood pressure medication. It is not advised to take Flomax with medicine used to treat hypertension.
Drug interaction and warnings also include that Flomax capsules should not be used in combination with other alpha-adrenergic blockers.
Other drugs that may also interact with Flomax include:
Lasix


Lorazepam


Oxycodone


Vicodin
Are Flomax side effects permanent?
Most side-effects of Flomax should clear up when the patient stops taking the drug. There are cases where permanent damage may occur. This is usually the case with priapism. This is a rare side-effect. It is still one that the patient should consider.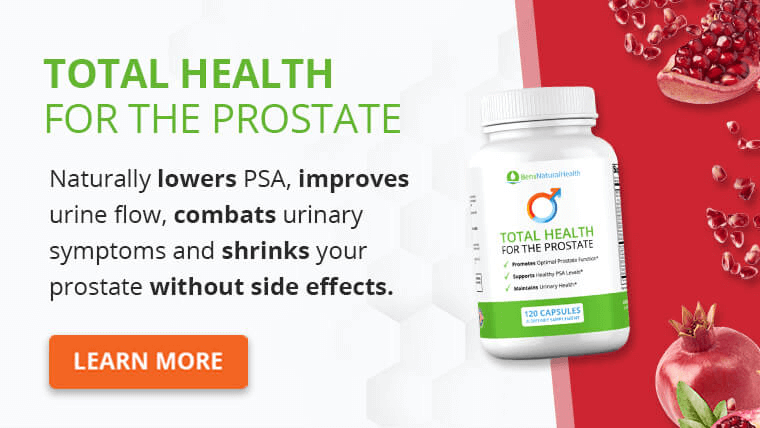 Complications from taking Flomax
In addition to considering the potential side-effects of Flomax, patients also need to consider other complications that may come from the regular use of tamsulosin.
These complications can sometimes be quite harmful. In fact, certain complications that have been linked to Flomax may cause permanent damage to some regions of the patient's body – including the penis.
What should patients taking Flomax look out for?
Some serious complications have been associated with Flomax. This makes it critical for a patient to carefully assess the pros and cons of the drug.
When there seem to be too many risks associated with the use of Flomax, the patient should reconsider the use of medicine. There are a few other drugs that can help to improve BPH symptoms.
Some of the potential complications to be taken into consideration include:
Allergic reaction
There is a small risk of experiencing an allergic reaction. This can sometimes be dangerous. Untreated, the allergic reaction can, in rare cases, lead to a life-threatening complication.
Signs of an allergic reaction will usually include hives and breathing difficulties. The patient may also find that their throat and tongue swell up. There may be a rash developing on the patient's body. Itching can also occur.
Intraoperative floppy iris syndrome
Another significant complication to consider. This is only relevant to patients who previously underwent cataracts or glaucoma surgery. This is also a rare complication. It should still be noted by concerned patients.
IFIS is a small pupil syndrome variant that is characterized by a flaccid iris that billows in response to intraoperative irrigation (washing out a wound during surgery) despite preoperative use of mydriatic drugs.
Priapism
A condition affecting a man's erectile function. This occurs when the man has an erection that lasts for too long. When the erection lasts for more than four hours, then priapism is experienced.
Immediate medical assistance is needed because if untreated, this complication can lead to permanent damage. When penile tissue is damaged, men can experience erectile dysfunction.
Risk of hypotension
Alpha-blocker medications, such as tamsulosin, relax the smooth muscles in the heart, which leads to low blood pressure (Flomax should not be used to treat high blood pressure).
A cohort clinical study involving 147, 084 men that used an alpha-blocker from 2003 to 2013 were compared to an equal number of men who decided against the use of alpha-blocker therapy, to examine whether alpha-blockers increased the risk of falling.
This is because it has been suggested that symptomatic hypotension can result in dangerous falls, fractures, or head injuries.
The study found that alpha-blockers are associated with a small but significant increase in the risk of hospitalization or emergency room assessment for a fall, and an increase in the risk of fracture by 16% and of head trauma by 15% during the first 90 days of use.
The study participants described improvements in symptoms. However, they also found 37 adverse side effects, and 63% reported some form of side effect.
Flomax And pregnancy
The FDA has not approved the use of Flomax in women. Some doctors prescribe the drug for women with urinary symptoms, however. Side-effects are similar in men and women.
There is a concern regarding the use of Flomax in pregnant women. Further studies are still needed to provide a more accurate overview of this subject. Pregnant women are currently not advised to take Flomax.
Blood pressure
Flomax might have an impact on blood pressure levels in the patient. In particular, blood pressure levels may decline in patients who take Flomax. This is why the drug should not be taken with medicine used to treat hypertension.
Individuals who already have low blood pressure also needs to be careful. Flomax may cause a further decline in blood pressure levels. This can rarely lead to hypotension.
Stevens-johnson syndrome
Stevens-johnson syndrome is another rare symptom that can be quite unpleasant. The condition is considered serious too. It affects the mucous and skin membranes.
It will generally start as symptoms linked to the flu. Then, it'll result in a purplish rash that may be accompanied by blisters. The rash may spread to several regions of the patient's body. Other signs and symptoms may also develop.
What is an alternative to Flomax?
Flomax is not the only drug that can be used to treat an enlarged prostate. Patients diagnosed with benign prostatic hyperplasia need to ensure they are educated about all their options. In some cases, an alternative drug may yield better results. The risk of side-effects may also be reduced in some cases.
It is always important to consider the safety profile of the preferred drug. The safety profile is unique to the specific patient.
Some alternatives are more popular than others. It is essential that the individual considers all of the alternative options that are available to them. We take a closer look at some options that men should consider. This is important if the risk of taking Flomax is too great.
Uroxatral
This drug (also known as alfuzosin) is classified as an alpha-adrenergic blocker. It also helps to improve the relaxation of muscles in the prostate and the bladder's neck.
The major advantage here is a reduction in sexual side-effects. Flomax is known to cause ejaculatory problems. This is not a common side-effect in men who take Uroxatral. The drug also does not cause a runny nose.
There are, however, a couple of side-effects that can still happen with Uroxatral. These usually include:
Dizziness


Tiredness


Headaches
Serious side-effects that may occur include allergic reactions, priapism, skin reactions, and orthostatic hypotension.
Avodart
Another alternative option is Avodart. This is a 5-alpha reductase inhibitor. It does not work directly on the muscles in the bladder neck or the prostate. Instead, this product rather aims to have a direct effect on the prostate gland itself.
The purpose of the drug is to reduce the size of the prostate. And this helps to reduce the effects of an enlarged prostate on the bladder and urethra. Avodart does this by preventing the conversion of testosterone into the more aggressive dihydrotestosterone (DHT) which is believed to be the main cause of prostate growth in men.
There are still a few side-effects that men need to take note of. These may include:
Ejaculatory issues


A reduction in sex drive


Breasts may become painful


Some men may experience enlargement in their breasts
There is also a potential risk of impotence associated with Avodart, leading to erectile dysfunction.
Rapaflo
Rapaflo is a pharmaceutical drug that was developed as a treatment for patients diagnosed with benign prostatic hyperplasia.
It is an alpha-blocking agent that causes muscles that are located near the urethra to relax.
Retrograde ejaculation is one of the potential issues that men may experience. This side-effect may remain and is a common reason for male patients to stop using the drug. Other reported side effects include:
Dizziness and, in rarer cases, fainting


What is the best natural alternative to Flomax?
While tamsulosin may be effective in relieving BPH symptoms, it also causes side-effects. Complications are also of concern to many male patients.
On top of that, there is the problem that Flomax does not, in fact, treat the prostate at all, but merely clears symptoms. And all alternative medications also come with side effects, some worse than others.
For these reasons, some men choose to seek natural alternatives instead rely on medication for treatment. These drugs may improve urinary symptoms. At the same time, they may not come with all the side effects.
So, here are a few natural supplements that have been shown in clinical trials to be effective in reducing symptoms of BPH:
Has been shown to improve urinary symptoms and acts as a natural inhibitor of the 5 alpha-reductase enzyme to reduce prostate volume.
An antioxidant that relieves symptoms of prostatitis and BPH while promoting cell health.
Fights prostate and bladder infections, and has been shown to reduce prostate size; may also inhibit prostate cancer cell proliferation.
The prostate gland contains a high level of zinc. Chronic zinc deficiencies may increase the likelihood of developing BPH.
Conclusion
Among those mentioned above, beta-sitosterol is the most effective and clinically proven natural treatment for men with prostate problems. Clinical trials show it can help reduce the symptoms of BPH, including improving urination flow and prostatitis.
Moreover, many studies reviewed the effectiveness of beta-sitosterol as a natural treatment for enlarged prostate symptoms.
One double-blind study examined over 500 men suffering BPH. The results found that beta-sitosterol significantly improved urinary symptoms, residual volume, and urine flow compared to the placebo group.
Some supplements may contain many of these ingredients, which when combined would provide a powerful supplement that would help to treat prostate problems and symptoms on many fronts. Therefore, one of the many benefits of going natural is the absence of side effects.
However, there are a few things you should consider when choosing the right prostate supplement, including whether the ingredients are natural, are in clinically significant doses, and use scientifically proven ingredients. Further, to find out more about choosing the best supplement for prostate health you can read this article.
Explore More

Find out about our leading Prostate Health Supplement: Total Health for the Prostate.