Clear Vision is one of the leading all-natural, clinical-grade supplements, designed to work as part of a healthy diet and lifestyle to maintain optimal eye health.
Designed to protect against both wet and dry macular degeneration, it helps to ensure sharp and clear vision as you age.
Among senior citizens, macular degeneration is considered the leading cause of permanent vision loss, affecting more than 10 million Americans – more than cataracts and glaucoma combined.
Age-related macular degeneration (AMD) is an eye disease that may get worse over time. It happens when the small central portion of your retina, called the macula, wears down.
This can result in progressive symptoms such as dark and blurry vision, which can significantly impact your day to day life.
Clear Vision contains a combination 16 of the most powerful, most effective nutrients to protect your eyes and safeguard your vision.
It works to lower your risk of developing age-related macular degeneration and slows the progression of macular diseases.
Get Your FREE Eye Health Diet Plan
Nine most important vitamins for eye health
How to naturally protect and improve your eye health as you age
Developed exclusively by our medical doctor
How does Clear Vision Work?
Formulated with essential vitamins, minerals, and nutrients, Clear Vision lowers your risk of developing age-related macular degeneration and slows the progression of macular diseases.
Clear Vision contains six nutrients which have been recommended by the National Eye Institute to help reduce the risk of developing age-related Macular Degeneration (AMD).
These key ingredients are highly bioavailable, meaning your body absorbs all of the compounds quickly.
The active ingredients in Clear Vision have been clinically proven to:
Protect against loss of vision


Slow the progression of age-related macular disease


Alleviate optical soreness, swelling, and irritation


Lower the risk of cataract development


Ensure long term eye health as you age


Guard eye cells from oxidative damage


Reduce blurriness, enhance sharpness and improve clarity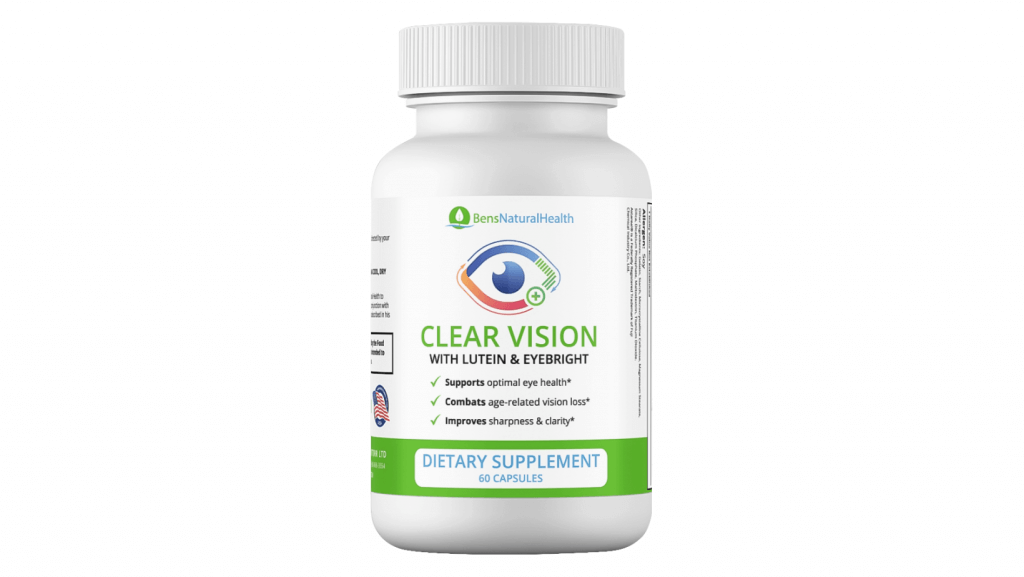 What are the active ingredients in Clear Vision?
Vitamin C
This well-known vitamin reduces the risk of developing a cataract and helps prevent vision loss caused by age-related macular degeneration.


Vitamin D
Recent studies show that vitamin D can protect vision, preventing age-related degenerative eye conditions like cataracts, macular degeneration, and glaucoma.


Vitamin E
Safeguards your eyes from the effects of free radical damage. Studies show a high dose of Vitamin E reduces your risk of developing advanced age-related macular degeneration by 25%.


Vitamin B6
Vitamin B6 plays a role in preventing eye diseases, especially age-related macular degeneration (AMD). Low blood levels of B6 are also strongly associated with retinal disorders


Folate
A US-based cohort study found that supplementing Folate along with other ingredients lowered cytotoxic and pro-inflammatory homocysteine levels reduces your risk of developing cataracts, lens opacification, and optic nerve damage.


Zinc
Is an essential mineral for eye health. It works by transporting vitamin A from the liver to the retina in order to produce melanin, a protective pigment in the eyes. In studies, Zinc was found to reverse visual acuity loss by up to 19 percent.


Selenium
A powerful antioxidant that helps protect your eyes from free radical damage. Selenium has also been found to play a role in protecting your eyes from some other diseases like Graves disease and diabetic retinopathy.


Copper
Copper binds with Zinc increasing the bioavailability of both nutrients. It improves overall eye health and helps to inhibit the progression of advanced age-related macular degeneration.


Alpha Lipoic Acid
Protects your eyes from free radical damage to eye cells & improves cell function. Some studies have also shown that Alpha Lipoic Acid, (ALA), supplementation improves your vision.


Grape Seed Extract
Works to prevent free radical damage and reduces swelling caused by injury or eye disease. Oligomeric proanthocyanidins in Grape Seed extract may also help to slow the development of macular degeneration..


Bilberry Extract
Contains two anthocyanins, cyanidin-3-glucoside (C3G) and tannin. Studies show that these unique nutrients help the eyes switch from seeing in a bright setting to a dark setting.


L-Glutathione
Numerous studies have linked L-Glutathione with the prevention of cataracts, glaucoma, retinal disease, and diabetic blindness.


Eyebright
Has been shown to reduce inflammation in cornea cells and protects your retinas from harm. More than 80% of study participants experienced complete relief of eye redness, swelling, burning, and sticky secretions within 6–14 days.


Lutein
Is an anti-inflammatory carotenoid that protects the eye tissues from sunlight damage. This nutrient has been extensively studied for eye health.


Zeaxanthin
Zeaxanthin is another carotenoid that acts as a filter to protect your eyes from ultraviolet rays in sunlight. It is found in high concentrations in healthy eye tissue and has been shown in studies to be associated with better vision, especially in dim light or where glare is a problem.


Astaxanthin
A potent antioxidant that protects your eyes from cataracts, glaucoma, and age-related macular degeneration. Recent studies show that Astaxanthin actually improves vision by reducing glare, blur, and balancing contrast.
What does the research say about the active ingredients in Clear Vision?
Every essential vitamin, mineral and extract found in Clear Vision has been thoroughly researched and scientifically proven to improve and maintain eye health
Containing clinically significant doses of lutein, zeaxanthin, eye bright, vitamin e and vitamin c, many of the nutrients included in Clear Vision have been shown to improve eye vision and slow the progression of macular degeneration
Lutein and Zeaxanthin
In the landmark clinical trial conducted for the national age-related eye disease study, that took place between 2006 and 2013, it was discovered that the nutrients Lutein and Zeaxanthin are essential to eye health.
The study concluded that supplementing Lutein and Zeaxanthin lowered the risk of progression of Age-Related Macular Degeneration by 18%, and the progression of cataracts by 32%. This has been subsequently confirmed in more recent clinical trials.

Eyebright
Eyebright is a herbaceous flowering plant in the Orobanchaceae family. It has been used for centuries as a traditional eye health treatment.
In 2000, a large-scale study was conducted across 12 clinics in Germany and Switzerland to evaluate its efficacy, 81% of the participants experienced complete relief and improvements to their eye health within 6–14 days. The remaining participants saw noticeable improvements in their eye symptoms. No serious adverse events were observed during the entire trial.
Vitamin E
Since it works as an antioxidant, vitamin E neutralizes free radicals, thus preventing oxidative stress and damage. This role of vitamin E is also crucial for a healthy eye.
A growing body of evidence suggests that oxidative stress is the common pathogenic mechanism in most ocular disorders. Many of which are pathologies that cause blindness, visual impairment, and subsequent reduction in quality of life.
A seven-year study in 3,640 people with AMD showed that taking 400 IU of vitamin E and several other nutrients in a daily supplement called AREDS reduces the risk of progressing to advanced stages by 25%.
Regular intake of this vitamin could also lower the risk of cataracts. This is the most common eye-related problem people develop as they age. A recent study demonstrates that higher dietary intakes of lutein and zeaxanthin along with vitamin E significantly decrease the risk of cataracts.
Vitamin C
Vitamin C is another powerful antioxidant that helps protect against oxidative damage. Studies suggest long-term consumption of vitamin C also may reduce the risk of forming a cataract and vision loss from macular degeneration.
A study published in the Journal of Nutrition investigated the role of antioxidants in eye health. The researchers found that blood levels of vitamin C above 49 μmol/L link with a 64% reduced risk of developing nuclear cataracts.
These are just a few studies out of the hundreds and hundreds that we review constantly to ensure that Clear Vision is the best and most effective macular health supplement in the world.


Is Clear Vision Safe?
To ensure every capsule of Clear Vision meets our high-quality standards, we source and manufacture every vitamin, mineral, and nutrient in the United States.
The supplement is encapsulated at GMP certified and FDA audited facilities. And undergoes quality, efficacy, and safety testing at independent 3rd party US-based laboratories to ensure that each bottle is perfect.
Clear Vision is GMO-free, drug-free, and all-natural, and you do not require a prescription or a doctor's note to get it.
How does Clear Vision compare to other eye health supplements?
When searching for eye health supplements, it is important to take into consideration the following factors:
100% natural ingredients


Clinically significant dosages


Ingredients shown to work in peer-reviewed, double-blind studies.


Chelated ingredients for better absorption and effectiveness.
There are many eye health supplements out there that have scientifically backed natural ingredients. However, the vast majority contain only a few of the essential ingredients for eye health. And this is usually in low and ineffective dosages, without chelating ingredients for better absorption and bioavailability.
A therapeutic dose is the amount of the ingredient that you will need in order to have a clinical effect, as proven by scientific studies. It's also important that the supplement you take contains natural nutrients. You do not want it to have any synthetic ingredients or genetically-modified organisms.
Clear Vision contains clinically significant dosages of key active ingredients. Higher quality ingredients, in higher doses, means Clear Vision is more potent, more effective, and faster working than any other macular eye health supplements on the market.