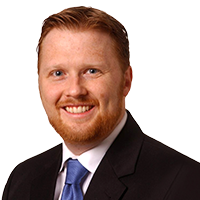 Dr. Brett H Mueller II
Ophthalmologist
Expertise: Ophthalmology
Highlights, Experience & Education
Highlights
Dr. Mueller's scientific work and academic accomplishments have enabled him to author numerous publications, book chapters, perform over 20 presentations at national and international meetings, and is a recipient of several grants (including an NIH grant). He was then accepted to attend an Ophthalmology residency at the University of Louisville.

Expertise
While training as an Ophthalmology resident in Louisville, Dr. Mueller developed a reputation for being a leader amongst the residents and a skilled surgeon. He was able to perform the most phaco cataract surgeries in the history of the residency program which included placing numerous torics, multifocal lenses, and performing laser-assisted cataract surgery. He was also, as a resident, one of the first surgeons in the state of Kentucky to place CyPass and is certified using iStent.

During his final year of residency, he was elected by the ophthalmology department to serve as chief resident. In this capacity, and with his passion for refractive surgery, he helped establish one of the first academic affiliations with Johnson and Johnson where residents can recruit patients from their residency clinic to get PRK or LASIK on a VISX laser at a substantially reduced rate. This program enables residents to be PRK and LASIK certified and trained upon completion of their residency program. Upon graduating from his residency program, he was awarded the Dr. Melvyn Koby Educational Excellence Award which is given to the top graduating ophthalmology resident at the University of Louisville.


Education
Dr Brett H. Mueller II, D.O., Ph.D. received his undergraduate degree from Texas A&M University, he then received his medical degree and Ph.D. from the University of North Texas Health Science Center, where he developed his passion for ophthalmology as he worked to develop new treatment modalities for patients with glaucoma.
Dr. Brett H Mueller II Articles