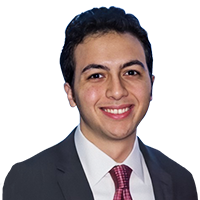 Dr Nizar Abdelfattah
Ophthalmologist
Expertise: Ophthalmology
Highlights, Experience & Education
Highlights
Dr. Abdelfattah is an ophthalmology resident with special interest in volunteerism, medical education and academic research. He has attempted to make volunteer mentoring an interwoven part of the fabric of his medical career. He mentors students, residents, and fellows.

Experience
He is a well-known ophthalmology scientist who is double fellowship trained at the University of Southern California, and the University of California Los Angeles. Dr. Abdelfattah is a lead on multiple retinal imaging research studies. His research interests include etiologic and pathogenic factors contributing to chronic eye diseases, quantifying risk factors of macular diseases, applications of artificial intelligence in retinal imaging, global ophthalmology and medical education.

Education
Dr. Abdelfattah obtained his medical degree from the University of Alexandria with upper first class honors. He is now an ophthalmology resident at the prestigious Duke University Eye Center.
Dr Nizar Abdelfattah Articles
General Health
Eye and Vision Health
The eye is the window to the soul. Most people, however, do not know a […]