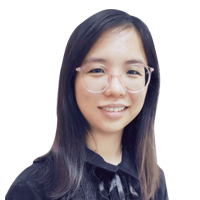 Dr. Yi Xuan Lee
Medical doctor and writer
Expertise: General medicine, medical education
Highlights, Experience & Education
Highlights
Junior medical doctor, researcher, and writer. Vast experience representing Malaysia at international exchanges and meetings. Volunteered with the Malaysia Ministry of Health, the United Nations, and Médecins Sans Frontières.

I believe a healthcare career will allow me to touch many lives with my one life. I am a firm believer that healthcare is a human right. Everyone should be entitled to control their health, access health information, and be aware of ways to stay healthy.

Experience
Yi Xuan is a junior medical doctor who aspires to join humanitarian medicine in the future. Being a polyglot, she loves translating and writing articles to disseminate information for the public interest. She is an active volunteer in healthcare and human rights, with experience working in volunteer clinics and teaching centers, district health offices, and online volunteering with international NGOs.

Education
Yi Xuan obtained her medical degree (MD.) from The National University of Malaysia. While pursuing her degree under full scholarship, she led multiple organizations at the national and international levels. She is also an alumnus of the International Course of Bioethics and Human Rights by the UNESCO Chair in Bioethics.