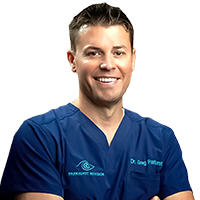 Dr. Gregory Parkhurst
Ophthalmologist
Expertise: Cataracts
Highlights, Experience & Education
Highlights
Dr. Parkhurst is distinguished as one of the "Top 40 Under 40" Most Influential Ophthalmologists in the world by The Ophthalmologist, an authority on the eye care industry out of Europe and was named one of San Antonio's "Top Doctors" by San Antonio Magazine and a "Top Ophthalmologist" in San Antonio by The Leading Physicians of the World.

Experience
His work has been published in numerous peer reviewed journals including Ophthalmology, Journal of Cataract & Refractive Surgery, and Journal of Refractive Surgery among others and led as Principal Investigator for multiple FDA clinical trials.


Education
Dr. Gregory Parkhurst graduated with honors from the undergraduate program at Hillsdale College before completing medical school at Northwestern University. He then went onto a residency training during which he was appointed Chief Resident in eye surgery at Walter Reed Army Medical Center followed by a fellowship at University of Texas and Slade & Baker Vision Center in Houston, with subspecialty training as a corneal specialist and refractive eye surgeon.
Dr. Gregory Parkhurst Articles