This warm, cinnamon-scented apple pudding is the perfect dessert for chilly nights.
Low in sugar and carbohydrates, it makes for a great alternative to apple pie, without all the extra calories.
Ingredients
1 tsp of cornstarch
1 large egg
1tsp of olive oil
2 drops of vanilla essence
1 medium apple peeled and sliced
1/4 tsp of cinnamon
1/2 cup of unsweetened almond milk
Makes 1 portion (267 g)
Cooking Method
In a medium-sized saucepan, combine cornstarch to the milk and egg and whisk until well blended.

Over medium heat, heat the mixture to a simmering, whisking constantly; cook for 1 minute. Then remove from heat.

Whisk in vanilla and then pour into a bowl. Allow to cool and then refrigerate and chill for 15 mins.

Place the apple in a pan and heat with the oil, until soft. Add the cinnamon. Place into a bowl.

Take out the now chilled custard and pour on top.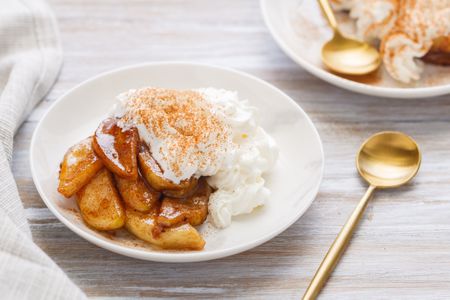 Nutritional Information
Value
Energy
Fat
Fatty acids
Cholesterol
Sodium
Carbohydrate
Sugars
Fiber
Protein
Per 100g
62 kcal
3 g
1 g
67 mg
57 mg
5 g
4 g
1 g
3 g
Per Portion
165 kcal
9 g
2 g
177 mg
151 mg
14 g
11 g
3 g
7 g
%DRI
8 %
14 %
11 %
59 %
6 %
5 %
–
11 %
–