For the chocolate lovers out there, this indulgent dark chocolate mousse will satisfy any cravings.
The trick for this recipe is to use good quality dark chocolate (70- 85%), which combined with citrus, provides an amazing flavor.
Ingredients
1 tsp of orange zest
1/2 tsp of lime zest
3 medium eggs, separated
3 oz of dark chocolate (70-85% cocoa)
1 tsp of brewed coffee
1 pink of rock salt
Makes 5 portions (30g)
Cooking Method
Combine the orange and lime zest in a small bowl.
Add the zest to the chocolate with the coffee in the top of a double boiler, over simmering water.
Stir intermittently to ensure the mixture does not bubble.
Once the chocolate has melted and is smooth, remove from the heat and allow to cool.
Beat the egg whites and salt until foam forms and peaks. Place to one side.
Add the egg yolks to the chocolate mixture and stir well and then pour the mixture over the egg whites, lightly fold in.
Separate the mixture into 5 small bowls or glasses. Place in the refrigerator for a minimum of 3 hours.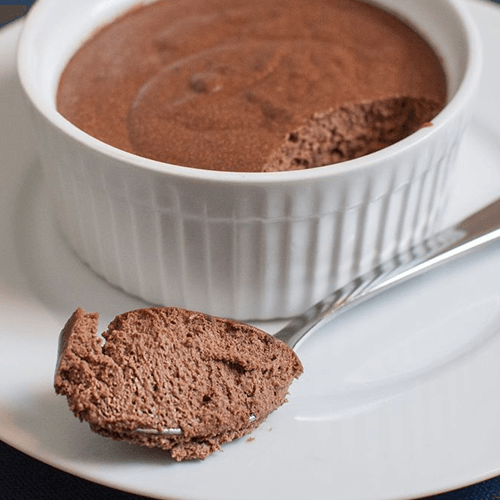 Nutritional Information
Value
Energy
Fat
Fatty acids
Cholesterol
Sodium
Carbohydrate
Sugars
Fiber
Protein
Per 100 g
468 kcal
36 g
17 g
456 mg
294 mg
27 mg
14 g
6 g
10 g
Per Portion
140 kcal
11 g
5 g
136 mg
88 mg
8 g
4 g
2 g
3 g
% DRI
7 %
16 %
26 %
45 %
4 %
3 %
–
8 %
–