Constantly on the move and find yourself in need of an energy-boosting snack?
Then these dark chocolate pumpkin bites are for you. Packed with protein and sprinkled with cinnamon, these bites will hit the sweet spot and keep you going until lunch.
Ingredients
1 cup of oats
2 scoops of vanilla-flavored plan-based protein powder
2 tbsp of cinnamon
1tbsp of dark chocolate chips
1 tbsp of honey
1 cup of pumpkin puree
1 tbsp of flaxseed
Makes 30 portions (18 g per portion)
Cooking Method
In a medium bowl, whisk together the oats, protein powder, cinnamon, honey, and flaxseeds.
Stir in the pumpkin puree. Fold in the chocolate chips.
Divide the mixture into 30 equal parts, and roll each into a ball.
Place on a tray or plate and allow to stand for about an hour.
Then transfer to an airtight container, place in the refrigerator and chill for up to a week.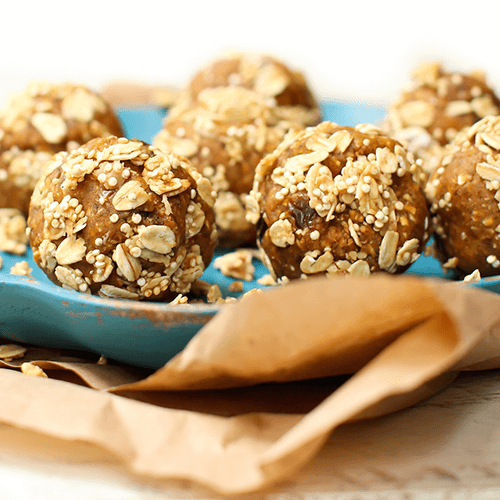 Nutritional Information
Value
Energy
Fat
Fatty Acids
Cholesterol
Sodium
Carbohydrate
Sugars
Fiber
Protein
Per 100 g
235 kcal
7 g
1 g
2 mg
23 mg
30 g
8 g
4 g
15 g
Per Portion
41 kcal
1 g
0 g
0 mg
4 mg
5 g
1 g
1 g
3 g
% DRI
2 %
2 %
1 %
0 %
0 %
2 %
–
3 %
–