Millions of men have prostate-related conditions such as benign prostate hyperplasia (BPH), prostatitis, or prostate cancer.
While BPH is common and can have a major impact on a man's quality of life, there's a lot you can do to reduce your risk of developing this condition.
What is BPH?
Benign prostatic hyperplasia (BPH), also known as enlarged prostate, is a common condition wherein the prostate gland is bigger in size but not cancerous. In other words, an enlarged prostate is not the same thing as prostate cancer.
Evidence shows BPH is one of the most prevalent diseases in aging men, and it is also the primary cause of lower urinary tract symptoms. These include urinary incontinence, frequent urination, urinary urgency, nocturia (urination at night), difficulty starting urination, dribbling, urinary retention, and weak urine flow.
Some men can also experience symptoms such as blood in the urine, urinary tract infection, and inability to urinate. In some cases, patients have mild symptoms, but others can have moderate or severe symptoms.
What causes BPH?
The development of enlarged prostate tissue is greatly influenced by various risk factors.
The exact cause of benign prostatic hypertrophy and urinary problems is unknown, but various factors could play a role, and in most cases, it's their combination that leads to prostate enlargement.
Potential risk factors for BPH include aging, family history, sedentary lifestyle, overweight or obesity, diabetes, heart disease, and the use of some medications like beta-blockers.
5 strategies to reduce your risk of BPH
Even though some factors for BPH, such as aging, aren't modifiable, there's a lot you can do to reduce the risk of this condition. Below, we focus on five important strategies you can adopt to prevent this prostate problem.
1. Exercise regularly
A sedentary lifestyle is a common occurrence today. However, this kind of lifestyle can cause various health problems. It can also contribute to the development of enlarged prostate.
A growing body of evidence confirms subjects with lower levels of sedentary time are less likely to develop BPH than their more sedentary counterparts. Decreasing inactivity and sustaining physical activity can lower the systemic sympathetic nervous system activity.
This subsequently reduces the tone of the prostatic smooth muscle and improves lower urinary tract symptoms. Exercise can also ease the passing of bladder stones in men who have them.
For that reason, regular exercise is an important treatment option, and it can help you decrease the likelihood of BPH. Even low- to moderate-intensity exercise can be helpful, Harvard Medical School explains.
The choice of physical activity depends entirely on you. Ideally, you should go for something you truly enjoy doing. That way, you will be more likely to stick to it.
Some men prefer working out in the gym, others like jogging, and some also like playing sports with their friends. The options are endless.
National Institute of Health recommends doing at least 30 minutes of exercise five days a week.
2. Lose weight or maintain weight in a healthy range
Excess weight puts you at a higher risk of multiple health problems ranging from cardiovascular diseases to some cancers. Men who are overweight or obese are also more likely to develop kidney disease and BPH.
Evidence confirms that central obesity (around the abdominal area) is one of the biggest modifiable risk factors in relation to prostate disease.
One study found that waist circumference and excess weight were strongly associated with increases in prostate volume. Interestingly, higher hormone leptin levels are also linked to a greater likelihood of developing an enlarged prostate.
Being obese or overweight puts you at a greater risk of BPH due to increased intra-abdominal pressure. Excess weight can exhibit higher pressure on your prostate and bladder and contribute to or worsen symptoms of BPH.
At the same time, overweight or obesity is linked to inflammation and a higher risk of diabetes and heart disease, all of which is bad news for your prostate.
In order to prevent prostate enlargement, you could strive to lose weight and maintain it in a healthy range. This is where the abovementioned strategy, exercise, helps.
Losing weight may seem easier said than done, but a well-structured plan will help you accomplish it successfully. Weight loss will protect your prostate and improve your overall quality of life.
RELATED: 7 Healthy Ways To Lose Weight.
3. Manage stress
Stress is the body's natural response to negative stimuli from the environment. The problem happens when we don't address it properly.
When left unresolved, stress affects our overall health and wellbeing in many ways. It can also contribute to the development of BPH and aggravate the BPH symptoms you experience.
Stress can make you eat more, usually unhealthy food, which can lead to weight gain, a sedentary lifestyle, inflammation, and other problems connected to an enlarged prostate. Stress management is an important strategy to adopt in order to reduce the risk of BPH.
When it comes to stress management, you can do anything you find relaxing to help yourself feel better. Exercise is a great stress relief for men who want to cut down the risk of BPH, especially because physical activity is also an important strategy to adopt.
4. Modify your diet
Nutrition has a significant impact on every aspect of your life, including prostate health. Some foods contain nutrients that support the prostate and keep it healthy, thereby reducing BPH risk, whereas other foods can increase your odds of developing this condition.
Foods to eat to prevent enlarged prostate include, but are not limited to:
Nuts and seeds – abundant in zinc, a mineral essential for prostate health. According to the National Cancer Institute, men with BPH or prostate cancer tend to have low levels of zinc in the body.
Salmon and other fatty fish – a good source of Omega-3 fatty acids, which can help you lose weight. These healthy fats also protect you against cardiovascular disease, inflammation, rheumatoid arthritis, and some types of cancer.
Bell peppers – abundant in vitamin C, a micronutrient that may help prevent BPH. You can find vitamin C in kale, Brussels sprouts, broccoli, cauliflowers, among other foods.
Tomatoes – rich in lycopene, which may protect you against BPH and reduce prostate cancer risk. You can obtain this antioxidant from watermelons, apricots, papaya, and pink grapefruits.
Avocado – a good source of beta-sitosterol, a plant compound with the potential to promote prostate health and reduce prostate enlargement risk.
Vegetables – rich in antioxidants, fiber, minerals, and vitamins that promote prostate health and reduce the risk of BPH.
Your diet should also include green tea, legumes, and pomegranate juice for BPH prevention.
For maximum effects, you should reduce or avoid consumption of red or processed meat, dairy, sodium, caffeine, and alcohol.
5. Take supplements
Supplements deliver natural ingredients, usually plants and various nutrients, that can improve the health and functioning of the prostate gland. These products often deliver nutrients we don't obtain through diet in sufficient quantity on a daily basis.
They also contain plants and herbs that have been used for centuries to support prostate health. Some of the most well-known supplements that can help prevent BPH include:
Saw palmetto – an inhibitor of 5-alpha-reductase exhibits anti-inflammatory effects and reduces BPH risk and severity of symptoms of this condition.
Ryegrass pollen – contains compounds that reduce inflammation and inhibit the growth of prostate cells.
Stinging nettle – antioxidant and anti-inflammatory properties
Pygeum africanum – exhibits anti-inflammatory and antioxidant effects on the urogenital system
Total Health for the Prostate
Our natural prostate supplement, Total Health, contains 21 ingredients specifically designed to improve your urinary flow, reduce nighttime urination and help your sleep better, shrink your prostate, lower your PSA levels, and fight against prostate disease, without any side effects.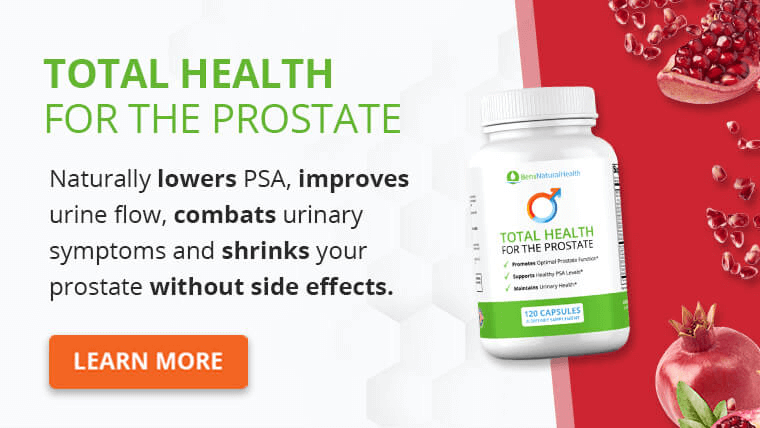 Clinical trials and meta-studies show the active ingredients in Total Health for The Prostate have a positive impact on prostate volume, improve lower urinary tract symptoms, and decrease the risk of acute urinary retention.
Why Choose Ben's Natural Health?
At Ben's Natural Health, our motto is to combine holistic healing with modern science.
Ben's Natural Health is the world's first high-quality, all-natural, scientifically proven clinical supplement company. Above all, prostate health supplements are effective, natural, and 100% side-effect-free.
Moreover, at Ben's Natural Health, we have four rules for all our supplements:
We only use the highest quality ingredients.
We only use them if independent, peer-reviewed double-blind studies prove they work.
With all our supplements, we find a way to get every ingredient into a single bottle.
We always formulate them in clinically significant doses of the most bioavailable form.
We pride ourselves on offering excellent customer service. We offer a free health consultation where you can ask questions and receive tailored advice from our expert health consultants.
Conclusion
This post focused on how to prevent enlarged prostate with five simple strategies. As you can see, simple and yet meaningful changes in lifestyle can mean a lot in the prevention of enlarged prostate. Remember, you can't modify some risk factors. But most of them can, and that's where you can step in with lifestyle modifications.
Explore More