Saw Palmetto is a low-growing plant that looks kind of like a palm tree. It produces tiny flowers as well as small berries.
The flower itself is of little medicinal benefit, but the berries are primarily used in prostate supplements. This is not a new development.
For centuries, berries have been used to treat lots of medical issues. Nowadays saw palmetto is a widely-recognized treatment for the Prostate.
This is because saw palmetto contains beta-sitosterol, a substance found to be effective in the treatment of BPH.
Beta-sitosterol works to inhibit the activity of an enzyme called 5-alpha-reductase, which is a key trigger in the development of BPH and prostate cancer.
Flomax and other common prostate drugs were designed to mimic the way beta-sitosterol works. In fact, these drugs are called 5-alpha-reductase-inhibitor drugs because of it! Significantly, saw palmetto also reduces your level of dihydrotestosterone (DHT).
This hormone is one of the leading causes of prostatitis (inflamed Prostate) and BPH (Enlarged Prostate).
Although beta-sitosterol is the main active ingredient in saw palmetto, some of the top prostate supplements like the well-known Total Health for the Prostate do not include saw palmetto.
Instead, its formula uses an extract of the active ingredient, beta-sitosterol. This is to provide a higher concentration of the most active biochemical. Having said that, saw palmetto is a complex herb that contains many other nutrients which have their own powerful effects.
Get Your FREE PSA Lowering Diet Plan!
Naturally lower PSA levels
Reduce nighttime trips to the bathroom
Enjoy better bladder control and urine flow
How does Saw Palmetto work?
It is important to note that palmetto doesn't shrink the overall size of the Prostate. It seems to shrink the inner lining that puts pressure on the tubes which carry urine.
This was proven during a study that measured changes in men's prostate tissues after six months of taking 320mg of saw palmetto every day.
It was shown that saw palmetto reduced swelling in the inner lining of the prostate gland which surrounds the urethra.
Other studies have demonstrated similarly positive effects. During a Chinese study, saw palmetto was given to 165 BPH patients for a period of 3 months.
The dose was small (160mg), yet the symptom score of the patients improved significantly after only 6 weeks. It got even better at the 12-week mark. The patients could urinate with a fuller stream, and they also had fewer feelings of retention.
In France, a small saw palmetto extract was shown to reduce the inflammation of the Prostate.
Moreover, in South Korea, scientists tested saw palmetto with a medication for BPH called tamsulosin. The combined treatment, they found, was more effective than with the medication alone.
When saw palmetto shrinks the prostate lining, the most pronounced effects are improved urinary flow speed and a reduced need to urinate at night. These are also 2 of the most common symptoms of BPH. Both of them can significantly affect one's quality of life.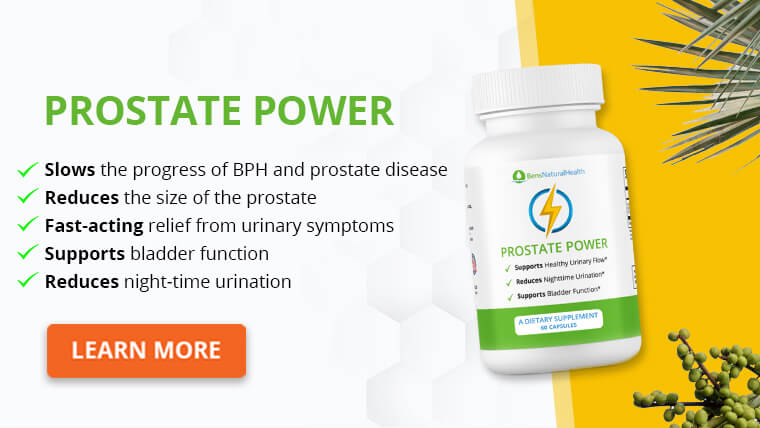 How does Saw Palmetto vary?
Most men will have heard about saw palmetto for treating the Prostate. It is one of the most well-known and best-branded nutrients for the Prostate. However, it does vary considerably in its quality and strength.
A quick search on Amazon showed many thousands of supplements with saw palmetto as its main ingredient. The price per bottle varied from $5.12 to $129.99.
How can there be such an enormous difference in price for the same ingredient? That's because saw palmetto is a natural plant. It is grown in different parts of the world, and there are many subspecies that all fall under the name of saw palmetto.
Just as coffee grown in Brazil is very different from coffee grown in Thailand, all-natural products have varying qualities depending upon their origin. It is also worth noting that manufacturers use different parts of the plant.
They use different processes to extract from parts of the plant which are less nutrient-dense, and so less effective…and ultimately, less expensive. But regardless of wherever the plant comes from, or which part of the plant is used, or how it has been extracted, it is all described packaged under the same name: saw palmetto.
In other words, there are hundreds of different types of saw palmetto on the market. And even though they are given the same name, they are certainly not the same thing.
Its effect on men will also vary enormously. Does anyone really think that a bottle of saw palmetto sold at $5.12 will produce the same beneficial result as a bottle sold at $129.99?
Can Saw Palmetto treat BPH?
Benign prostatic hyperplasia (BPH) is the most common form of an enlarged prostate.
As men get older, the Prostate gets bigger and inflamed (prostatitis). Its large size puts pressure on the urethra.
This leads to embarrassing BPH symptoms such as retention, frequent urination, difficult or painful urination, weak urinary flow rate, and bladder infections. As we get older, our hormone levels change and rebalance in our bodies.
There are many different causes for this, but what is certain are the effects these changes have on the Prostate. Increased levels of estrogen, DHT, lower levels of testosterone, all contribute to increased prostate size.
Evidence suggests that saw palmetto can balance hormone levels, and as such, treat an enlarged prostate.
A 2012 study published in the New England Journal of Medicine analyzed 82 patients with enlarged prostates in 8 weeks.
The patients took 320 milligrams of saw palmetto every day. Using the International Prostate Symptom Score, they evaluated its effects. At the end of the treatment, they found scores reduced from 14.4 ± 4.7 to 6.9 ± 5.2.
---
For more information on Benign Prostatic Hyperplasia (BPH) click here.
---
Can Saw Palmetto treat prostatitis?
Some research suggests that it could help to relieve symptoms associated with prostatitis.
A small study published in the Swiss journal Urologia Internationalis in 2010, reviewed 102 patients with chronic prostatitis/chronic pelvic pain syndrome.
The patients were split into two groups: the first group received a combination of saw palmetto, selenium, and lycopene; the second group received saw palmetto alone. After eight weeks of treatment, both groups showed a significant improvement in symptoms.
Can Saw Palmetto cure prostate cancer?
Though there is not enough evidence to show that it can cure prostate cancer, it can certainly help prevent it.
A 2007 study that was done at the Department of Biochemistry and Molecular Biology in Beijing found that saw palmetto stops the growth of prostate cancer cells.
Saw palmetto supplements work as 5-alpha reductase inhibitors, just like Finasteride (Proscar) and Dutasteride (Avodart).
Studies showed that men taking these inhibitors were less likely to develop prostate cancer. This is because they all have some anti-inflammatory effects, and inflammation is always the precursor to cancer.
What are the side effects of taking Saw Palmetto?
Years of research have never revealed any significant side effects caused by saw palmetto. Therefore it seems like a good option for men who want to reduce their symptoms of an enlarged prostate. However, let us not delude ourselves.
One plant, or vitamin, or nutrient, is not a cure. Just as Flomax will not cure your BPH, neither will saw palmetto. To have the fastest and most effective natural treatments, herbs, and/or vitamins must be combined. I'll talk more about this towards the end of the article.
Compared to prostate drugs, the side effects of taking saw palmetto are mild. A 2009 review explored the effects of saw palmetto when used for lower urinary tract infections and BPH.
Many trials show that its side effects are far less dangerous than most prostate drugs. The most common side effects are rare and mild.
These can include stomach pains, diarrhea, nausea and vomiting, fatigue, headache, and runny nose. It is important to note. However, that saw palmetto might slow blood clotting and increase bruising and bleeding. So don't take it with drugs which do the same.
That includes aspirin, non-steroidal anti-inflammatory drugs (NSAIDs), heparin, and warfarin. Other than this, saw palmetto does not have a long list of adverse effects. As said above, this makes it one of the best ways to balance testosterone and naturally improve prostate health.
---
For more information on prostate medication click here.
---
Does Saw Palmetto cause impotence?
Saw palmetto does not cause impotence. On the contrary, it treats erection problems brought about by an enlarged prostate.
Saw palmetto does the opposite of 5-alpha-reductase inhibitor drugs that worsen erection problems rather than reduce them. A 2012 clinical trial proves this. The study involved 69 men with enlarged prostate symptoms, including erectile dysfunction.
After taking saw palmetto capsules daily for 8 weeks, the patients showed a 64% improvement in terms of achieving and maintaining an erection. Their sex drive also improved by 54%.
Does Saw Palmetto cause hair loss?
This is a common cause for concern. But the truth is that it's the other way around. Saw palmetto actually helps treat hair loss.
It works as a hair loss remedy because it keeps testosterone levels balanced. As men age, testosterone decreases and DHT increases.
Male pattern baldness occurs due to the sensitivity of hair follicles to DHT. This hormone causes follicles to shrink and have a shorter life span.
Normally, another hair will start to grow from the same follicle as soon as the old hair falls out. But when DHT levels are high, hair growth decreases. Saw palmetto helps by preventing the conversion of testosterone into DHT.
A 2002 study published in the Journal of Alternative and Complementary Medicine tested 34 men and 28 women, aged 18-48 years, with topically applied saw palmetto extract in lotion and shampoo for three months. Results show that 35% of them had an increase in hair density.
Does Saw Palmetto affect testosterone?
Yes, it does, moreover, in a good way. Saw palmetto balances hormones by increasing the levels of testosterone in your body.
This, in turn, decreases the levels of DHT. Because of the damaging effect, DHT can have on many different processes that occur in your body, increasing testosterone in your body is actually a good thing.
It will help to slow down hair loss, boost your libido, and treat the symptoms of an enlarged prostate.
Despite what many doctors and experts will tell you, testosterone is, in fact, good for your Prostate. A case study published in the American Journal of Medicine explored a 52-year-old man who was having erectile problems, low sex drive, and fatigue. He never took medications but was healthy.
The study reveals that his health status and sexual function improved by boosting his testosterone levels. After three months, he reported that his sex drive and overall energy improved.
How Rye Flower Pollen enhances Saw Palmetto's effectiveness
Nowadays, most prostate herbal supplements contain saw palmetto, if for no other reason than most men recognize that herb as being useful for prostate disease.
However, it is usually the case that when using herbal treatments, the effect of each herb is amplified by using them in combinations with others.
For example, let us say there is a urinary tract infection. Several different herbs can help clean out the urinary tract from infectious agents.
Some of them include Uva Ursi, Juniper Berry, Gravel Root, Cranberry, Cat's Claw, among others.
Research has shown that certain precise combinations in very specific dosages can produce better results because there is synergy between the ingredients. So in addition to the variation of origin, quality, and strength, one has to also take into account synergy.
A few years back, I discovered a very specific dosage and quality extract combination of saw palmetto and rye flower pollen has extraordinary synergy. I formulated that unique combination to make Prostate Power.
This supplement makes the resulting prostate urinary symptom alleviator effect faster and more pronounced.
In other words, Prostate Power is a unique combination that helps treat symptoms for BPH and prostatitis.
It works by relaxing the urethra, but contracting the bladder, meaning you get exactly the right effects to treat your symptoms.
Click here to find out more about Prostate Power.
Explore More