If you want to learn more about prostate medication for treating BPH, you've come to the right place.
BPH (Benign Prostatic Hyperplasia), or enlarged prostate, is a common condition.
This variety of options available to treat BPH can often be confusing.
Many men are left questioning, "which medication is right for me?" Or "is this pill safe, does it work, what are the side-effects?".
This article will provide you with a complete, easy-to-understand breakdown of all commonly prescribed benign prostatic hyperplasia medications.
We will address the safety, efficacy, speed of results, and long-term side-effects of each drug.
We will also look at the most common alternative natural & herbal treatments to help men with mild to severe BPH.
Different types of BPH drugs
The following is a quote from a 2007 Harvard medical panel discussion on the state of prostate medicine.
"One of the most vexing issues for people with BPH is deciding whether to begin treatment for urinary difficulties and other symptoms. Studies of the natural history of BPH for up to five years show that, even without treatment, symptoms will not worsen in 16% of men, and they will actually improve in 38% of men."
Let's do the math: in most cases (54%), men will either see no worsening symptoms or see an improvement in their symptoms without taking prescription prostate medications.
It is only a slim one, and it still leaves 46% of men who will see their health decline if they take no action. So what are their options?
Get Your FREE PSA Lowering Diet Plan!
Naturally lower PSA levels
Reduce nighttime trips to the bathroom
Enjoy better bladder control and urine flow
Prostate Medications
Finasteride
Finasteride is a 5-alpha-reductase inhibitor. It prevents the enzyme 5-alpha-reductase from converting testosterone into DHT. Prostate growth and size are dependent mainly on DHT levels.
Studies have revealed that Finasteride reduces intraprostatic DHT levels by 91.4%.
This, therefore, makes it the most effective of all 5-alpha-reductase inhibitors currently available on the market.
However, it may also be the reason that Finasteride has dose-dependent sexual side effects.
Side effects of Finasteride
By lowering DHT levels, Finasteride actively decreases the size of the prostate.
This process takes at least three to six months before the clinical effects kick in.
Therefore the efficacy of Finasteride cannot be clinically appreciated until the patient has been on the medication for a substantial amount of time.
What The Research Says
Sexual Function
A 4-year placebo-controlled study of 1,524 patients treated with Finasteride and 1516 patients treated with placebo were followed over a period of 4 years.
The most frequently reported adverse reactions were related to sexual function:
8.1 % of men reported regular impotence.


6.4 % of men reported decreased libido.


3.7% of men saw a reduced volume of ejaculate.
Less common side effects included: the growth of male breasts; tenderness, soreness, and pain in male breasts; rashes, allergic reactions, itching, hives, and swelling of the lips and face.
Some men report testicular pain, and there is a mild to moderate risk of developing male breast cancer.
How Long Side Effects Last
Recent research also shows that finasteride's sexual and cognitive side effects can persist for as long as ten years after men stopped taking the drug.
A 2014 meta-study coined the phrase "Post Finasteride Syndrome" and noted that:

"Many clinicians are unaware of the scope of the persistent physical and psychological adverse effects of finasteride. Symptoms range from minor to severe."
The meta-study examined 12 research papers that all showed high percentages (80-90+ percent) showing persistent and long-lasting sexual and psychological side effects.
How Many People Experience Side Effects
A 2011 research paper had the highest percentages:

"96% of the men in the study who took finasteride experienced sexual problems lasting for more than a year after they stopped taking the drug."
Aggressive Prostate Cancer
The sexual side effects of Finasteride are often the primary concern for men. However, there is also a potential risk of more aggressive prostate cancer associated with Finasteride.
Multiple studies have now reported that Finasteride may reduce the incidence of prostate cancer, although these are controversial results.
It appears that Finasteride may lower your risk of developing slow-growing prostate cancers while increasing your risk of aggressive prostate cancer.
Finasteride Takeaways
As with all drugs, everyone will react differently.
You may experience many or only a few side effects, or you may have a severe reaction.
You should consider the above factors when deciding whether or not to take Finasteride.


Based on feedback from our customer support team, the primary complaint and regret from men who take Finasteride are the sexual side effects.
Studies have shown that a small but significant proportion of patients experience Finasteride induced sexual dysfunction for many months or even years before they regain full or even partial sexual function


Dutasteride
GlaxoSmithKline developed dutasteride as a competitor to Finasteride.
Like Finasteride, Dutasteride is a 5-alpha-reductase inhibitor. However, while Finasteride inhibits type II isoenzyme of 5-alpha-reductase, Dutasteride is a dual inhibitor.
This means Dutasteride affects both types I and types II isoforms of 5-alpha- reductase.
Type 1 is more abundant in extraprostatic tissues such as the liver and spleen, whereas type II is produced more abundantly inside the prostate.
Dutasteride is also a more potent inhibitor of Type-2 than Finasteride, resulting in near-complete suppression of serum DHT in men who take this drug.
There are two notable differences between Dutasteride and Finasteride. Firstly, due to being a dual, high potency inhibitor, Dutasteride works a little quicker than Finasteride. Therefore, you should expect to see results sooner (after 1 month rather than after 3).
Secondly, Dutasteride has a longer serum half-life than Finasteride (3 to 16 hours for Finasteride and 5 weeks for Dutasteride).

The longer half-life may cause additional adverse effects and may cause those side effects to persist for long after discontinuing the drug.

Side effects of Dutasteride
The concerns about Dutasteride are mostly the same as the concerns about Finasteride.
The primary concern about both 5 alpha-reductase inhibitors is the persistent sexual side effects.
What The Research Says
Prostate Cancer
A trial by REDUCE studying Dutasteride and Prostate Cancer concluded an increased incidence of Gleason score 8-10 (high-grade) prostate cancer compared with men taking the placebo (1.0% versus the placebo group 0.5%).
In another 7-year placebo-controlled clinical trial with men taking a 5mg dose of Finasteride, similar results for Gleason score 8-10 prostate cancer were observed.
They concluded that both 5 alpha-reductase inhibitors might increase the risk of the development of high-grade prostate cancer.
Sexual Side Effects
A 2017 study in the Hormone Molecular Biology and Clinical Investigation stated:

"Findings suggest that long-term dutasteride therapy produces worsening of ED, reduced T levels and increased glucose, HbA1c and alters lipid profiles, suggesting [an] induced imbalance in metabolic function. We strongly recommend that physicians discuss with their patients these potentially serious adverse effects of long-term dutasteride therapy before instituting this form of treatment."
Despite the risk of side effects, many doctors continue to prescribe Dutasteride, and many men continue to see improvements when they take it. A 2002 study looked at the efficacy of Dutasteride at a dose of 0.5 mg taken orally per day (this is the standard dose).
Urinary Side Effects
This study compared 4,325 patients from three randomized, placebo-controlled trials (ARIA 3001 [United States], ARIA 3002 [United States], and ARIA 3003 [19 countries]) covering 400 sites in total.
The study noted a 57% reduced risk of acute urinary retention at 24 months, and the risk of BPH-related surgical interventions was 48% lower than a placebo control group.
Shrinking The Prostate
A 2005 study also concluded that Dutasteride was effective at shrinking the prostate. It reduces serum DHT levels by more than 90% in 2 weeks and significantly reduces prostate size in only 1 month, producing a 25% reduction in size over 2 years.
In addition, Dutasteride decreased total PSA levels by approximately 40% after 3 months of treatment and approximately 50% after 24 months of treatment.
Dutasteride Takeaways
As Finasteride and Dutasteride are both 5 alpha-reductase inhibitors, there are similar factors to consider.
You can expect an average 21% reduction in symptoms over two years.
However, this drug has several unpleasant quality of life side effects, primarily sexual in nature.

Men considering taking Dutasteride should consult their doctor and then the way the potential side effects might impact their lives.
They may also want to consider other natural alternatives that have fewer side effects.


Terazosin
Terazosin is a targeted alpha-blocker drug discovered in 1977.
Alpha-blocker medications work by binding to alpha-adrenergic receptors, which prevent the receptor from being stimulated.

This prevents the transmission of nerve impulses and forces the smooth muscles in the prostate to relax.
Because it is targeted, Terazosin should only affect the smooth muscles around the bladder and prostate.
This allows for greater amounts of urine to flow more freely. However, it does nothing to shrink or heal the enlarged prostate gland.

Side effects of Terazosin
Several side effects are associated with Terazosin, such as hypotension, syncope, priapism, and floppy iris syndrome.
In clinical trials, 21% of the patients taking Terazosin experienced one or more of the following symptoms related to low blood pressure: dizziness, hypotension, postural hypotension, syncope, and vertigo.
Other reported side effects of Terazosin are:
Dizziness 9.1% (of patients)


Weakness 7.4%


Headache 4.9%


Somnolence 3.6%


Tiredness 3.3%


Flu Syndrome 2.4%


Nasal Congestion/Rhinitis 1.9%


Nausea 1.7%


Dyspnea 1.7%


Blurred Vision/Amblyopia 1.3%


Peripheral Edema 0.9%


Weight Gain 0.5%
What The Research Says
A 2002 review of 17 studies involving 5,151 subjects of placebo-controlled studies with patients receiving Terazosin alone or in combination with Finasteride noted an average 37% improvement in reported symptoms. Study duration ranged from 4-52 weeks.
The improvement in the International Prostate Symptom Score (37%) and Peak urine flow rates (22%) by patients taking Terazosin was noticeable but did not differ significantly from the other alpha-blockers.
Notably, adverse side effects were generally mild but more frequent than with other alpha-blockers, which result in a two to four-fold increase in treatment discontinuation.
As with other alpha-blockers, Terazosin does not affect prostate size.
Rather the improvement in symptoms results from its impact on the smooth muscle of the prostate, bladder, neck, and prostatic urethra.
But the static component of the obstruction (the enlarged prostate) is not affected. It is an asymptomatic treatment only.
Terazosin Takeaways
Terazosin's efficacy in the treatment of BPH symptoms is similar to other alpha-blockers. But despite its targeted nature it still has potentially undesirable effects on blood pressure.

Also, the higher rate of side effects, even mild ones, makes it a less popular choice.

Besides the numerous side effects, the patient should keep in mind that this treatment doesn't cure BPH and can only relieve symptoms.


Prazosin (Minipress)
Prazosin (Minipress) is a less commonly prescribed alpha-blocker than others in this report.
The US Food and Drug Administration (FDA) has disapproved of using this medication as a primary BPH treatment. Doctors only prescribe it if the patient presents with hypertension and BPH.
It has been available since 1982 under the brand name Minipress.
The exact mechanisms behind the blood-pressure-lowering effects of prazosin are still unknown.
However, like other alpha-blockers, Prazosin decreases the tone of the bladder sphincter and facilitates the opening of the bladder into the urethra.
This relieves the urinary symptoms associated with benign prostatic hyperplasia.
Through this effect, the symptoms of an enlarged prostate are masked, and the patient's urinary complaints improve marginally.
Because Prazosin does not last long in the body, you must take it two to three times daily.
This makes it a less preferred option than other alpha-blockers as there is always a chance the patient forgets to take a dose or cannot take a dose at some point in the day, and their symptoms return.

Side effects of Prazosin
As with all alpha-blockers, Prazosin may cause syncope (sudden loss of consciousness).
This is due to an excessive postural hypotensive effect, although occasionally, with Prazosin, the syncope episode has been preceded by a bout of severe tachycardia (abnormally fast heart rate).
These episodes usually occur within 30 to 90 minutes of the initial dose. It has also been reported in association with rapid dosage increments or the introduction of another antihypertensive drug.
Additionally, Prazosin has a well-known strong "first dose" effect, wherein the first dose causes a sudden sharp decline of blood pressure, resulting in a loss of consciousness.
For this reason, doctors often advise that the first dose should be 0.5mg before bedtime.
Other hypotensive symptoms often associated with Prazosin are:
dizziness.


drowsiness.


lightheadedness.


fainting.

For this reason, it is recommended to avoid driving or performing hazardous tasks 24 hours after taking this medicine or when the dose is increased.
Prazosin also links to Priapism.

If priapism is not treated immediately, it could result in penile tissue damage and permanent loss of potency.
Common Side Effects
In percentage, the most frequent negative side effects associated with Prazosin therapy are:
Dizziness 10.3%


Headache 7.8%


Drowsiness 7.6%


Lack of energy 6.9%


Weakness 6.5%


Palpitations 5.3%


Nausea 4.9%
Less Common Side Effects
Less frequent adverse reactions which are reported to occur in 1–4% of patients are:
vomiting.


diarrhea.


constipation.


edema.


orthostatic hypotension.


dyspnea.


syncope.


vertigo.


depression.


nervousness.


rash.


blurred vision.


reddened sclera.


epistaxis, dry mouth, and nasal congestion.


What The Research Says
In an open randomized study, 121 male patients were randomized to receive treatment with Prazosin, Terazosin, or Tamsulosin for 4 weeks.
There was a significant improvement in total symptom score when compared to baselines in the Prazosin, Terazosin, and Tamsulosin groups, with 38%, 39%, and 26% respectively.
Prazosin is much less commonly prescribed for BPH.
As Prazosin is an alpha-blocker drug, its effect is limited to symptom relief. It doesn't have any effect on prostate size.
Prazosin Takeaways
The use of Prazosin therapy in the management of BPH lowers urinary symptoms but is only prescribed if the patient has high blood pressure and BPH.

If you have been prescribed Prazosin or are considering it, you should be aware that there is very limited data from long-term, randomized trials on its long-term safety and efficacy.

There is also widespread availability of other alpha-blockers that have fewer side effects.

This position is widely held and shared by The American Urology Association and regulatory organizations such as the US Food and Drug Administration (FDA) which disapproved the use of this medication as a primary BPH treatment.

Its use in BPH is no longer enlisted or labeled in the pharmaceutical industry brochures of the product.


Doxazosin
Doxazosin is a quinazoline manufactured by Pfizer pharmaceutical under the brand name Cardura.
Cardura is a selective α1 alpha-blocker used as an antihypertensive agent to treat high blood pressure and Benign Prostatic Hyperplasia (BPH).
As with all alpha-blockers, Doxazosin acts on the adrenergic receptors present in the prostatic tissue, prostatic capsule, and bladder neck.
By relaxing the smooth muscles, alpha-blockers can alleviate BPH symptoms such as urinary frequency, nocturia (excessive urination at night), weak urine stream, hesitancy, and incomplete emptying of the bladder.
Nevertheless, the drug does not affect the size of the enlarged prostate tissue – which is the fundamental cause of the urinary obstruction.
This α1 receptor is also present in many blood vessels, and their activation causes constriction of blood vessels.
Hence, the blockage of α1 receptors at this level produces vasodilation (constriction) of blood vessels and can result in a reduction in your blood pressure.
This is beneficial if you have abnormally high blood pressure and dangerous if you do not.
Due to this effect, Doxazosin is used as an antihypertensive. In some cases, this effect is greater than desired, producing side effects like hypotension (low blood pressure).
Studies on Doxazosin
In 2000, a large trial was designed to evaluate different antihypertensive medications.
This includes Doxazosin and its impact in preventing heart attacks. The trial was halted due to the recommendation of the National Heart, Lung, and Blood Institute.
This was because the group receiving Doxazosin had a significant 25% higher rate of combined cardiovascular disease (CVD), including angina pectoris, congestive heart failure, stroke, and peripheral arterial, was observed.
Furthermore, the Doxazosin group had a twofold higher rate of congestive heart failure when compared with the group receiving other medications, and there were trends in the same direction for strokes.
Despite these alarming results, the drug is still being used as an antihypertensive and in treating patients with Benign Prostatic Hyperplasia (BPH).

Side effects of Doxazosin
In addition to these concerns, Doxazosin has all of the issues associated with alpha-blockers in general, including syncope and other postural symptoms such as dizziness, lightheadedness, or vertigo.
These effects are most common with the first dose. But it can also occur when the dosage is increased or if therapy is interrupted for more than a few days.
With Doxazosin, the condition of priapism (sustained erection regardless of sexual activity) is a known side effect. But the frequency of this complication is less than one in every several thousand patients.
Other adverse reactions with an incidence of less than 1% are tachycardia (0.9 %; dysuria (0.5%), decreased libido (0.8%), leukopenia, and thrombocytopenia.
Abnormal liver function tests, cholestasis, jaundice, and hepatitis have also been reported. Fluid retention, resulting in weight gain, may also occur (0.8%).
There are currently 4 alpha-blockers that are FDA-approved to treat (lower urinary tract symptoms) LUTS: Doxazosin, Terazosin, Tamsulosin, and Alfuzosin.
Doxazosin Takeaways
A placebo-controlled study collected data from 1148 men who were receiving Doxazosin.

Overall, they showed an increase in the prostate volume by a median of 24% over an average of 4.5 years in the patients receiving Doxazosin.

This suggests that Doxazosin is only effective until the condition worsens.

This, combined with the potentially higher risk of strokes and cardiovascular disease, should be taken into account when deciding if you wish to take this medication.


Tamsulosin
Tamsulosin became available to the market in 1996 and was promoted as a breakthrough.
It is now the most commonly prescribed drug for men with BPH symptoms and is often sold under the brand name Flomax.
Commonly reported side effects of Tamsulosin include: dizziness, nasal congestion, rhinitis, rhinorrhea, sinus congestion, seasonal allergic rhinitis, and even drowsiness.
Current research likely underestimates the number of and seriousness of these side effects.
The research conducted around this drug is kept from the public, providing very little information about the dangerous effects of Tamsulosin.

Side effects of Tamsulosin
A pharmacologist revealed in 2014 that over 75% of registered trials for Tamsulosin were hidden, which is a highly worrying statistic. Therefore, the true effects that this drug could have on your body remain unknown.
Hypotension
A big cause for concern is severe hypotension, which has rarely been reported in clinical trials.
Low Blood Pressure
Alpha-blockers, especially untargeted ones such as Tamsulosin, relax the smooth muscles in the heart, which leads to low blood pressure.
Falls
A cohort study involving 14,784 men that used an alpha-blocker from 2003 to 2013 was compared to an equal number of men who decided against alpha-blockers to examine whether alpha-blockers increased the risk of falling.
This is because it has been suggested that hypotension can result in serious falls, fractures, or head injuries. The use of alpha-blockers increased fall risk by 14% compared to men that did not use alpha-blockers.
If you are going to have cataract surgery, then you must avoid Tamsulosin.
Tamsulosin has been shown to cause complications during cataract surgery and result in floppy eye syndrome (Pärssinen, 2006).
What The Research Says
Study 1
A Cochrane systematic review looked at the effects of Tamsulosin for BPH in 2003.
The review involved 14 studies that ranged from 1 to 6 months long. The study participants did report improvements in symptoms.
However, they also noted that men taking Tamsulosin were more likely to report dizziness, rhinitis, and abnormal ejaculation than the placebo group. 75% of men who took a high dose of Tamsulosin (0.8 mg) reported side effects.
The authors of this review also suggested that a need for longer studies looking at the long-term effects was required.
Study 2
Another study published in the Journal of Urology (2008) compared the effects of Tamsulosin on BPH and its associated symptoms. 9% of the group withdrew due to adverse side effects, and 63% reported some form of side effect.
Side effects that were reported included erectile dysfunction, retrograde ejaculation, and reduced libido.
Study 3
In another four-year study, 27% of participants dropped out due to inadequate improvement in symptoms, while 17% dropped out due to side effects. The most common side effects were dizziness, abnormal ejaculation, asthenia, hypotension, erectile dysfunction, and headaches.
Tamsulosin Takeaways
Evidence suggests that Tamsulosin is moderately effective at best. Patients taking Tamsulosin or considering taking Tamsulosin should be aware that taking this medication means that symptoms are unlikely to go completely.
The size of the prostate is a determinant of the effectiveness of Tamsulosin. The drug is notably less effective when the prostate is larger.
Finally, it should be noted that a clear majority of the research around this drug remains unpublished. Therefore it is likely that available evidence overestimates its overall effectiveness.
Silodosin
Silodosin is the most recent drug developed for BPH. Development began in Japan, where it was marketed under the brand name Urief® and launched in May 2006.
Silodosin is an alpha-blocker. Like other alpha-blockers, it works by interfering with the adrenergic receptors.
Silodosin binds with high affinity to the alpha-1A subtype, which exists in high concentrations in the smooth muscle of the prostate, bladder neck, and urethra, but has less affinity for the alpha-1B subtype present at higher concentrations in the smooth muscle of the circulatory system. This means it has a greater impact on BPH symptoms and a lower impact on blood pressure.
Therefore, we often see vasodilatation and low blood pressure with other alpha-blockers not seen in Silodosin patients.
So, by relieving the tension, decreasing pressure, and reducing urethral resistance, BPH symptoms are relieved. This, then, improves dysuria (difficult urination) associated with benign prostatic hyperplasia.
While its low affinity for 1B receptors means that Silodosin has less of an impact on blood pressure, its higher affinity for 1A receptors can have an undesirable effect, most notably higher rates of sexual side effects.


Side effects of Silodosin
As Silodosin is a newer drug, there are no long-term studies into its quality of life impacts. Therefore, we cannot evaluate it on that basis.
However, in clinical trials, Silodosin demonstrated a low level of the reported cardiovascular and blood pressure-related side effects associated with existing alpha blocker-based BPH symptom treatments, including dizziness and first-dose syncope (fainting).
Nevertheless, postural hypotension, with or without symptoms (e.g., dizziness) may develop when beginning Silodosin treatment.
As with other alpha-blockers, patients should be cautioned about driving, operating machinery, or performing hazardous tasks when initiating therapy.
What Research Says
In a double-blind, placebo-controlled, 12-week clinical trial, 466 patients were given Silodosin, and 457 patients were administered a placebo.
At least one treatment-emergent adverse reaction was reported by 55.2% of Silodosin treated patients and 36.8% for placebo-treated patients.
The investigator qualified the majority (72.1%) of the adverse reactions as mild.
A total of 6.4% of Silodosin treated patients and 2.2% for placebo-treated patients discontinued therapy due to an adverse reaction.
Other adverse effects
The following adverse events were reported between 1% and 2% of patients receiving Silodosin, and these events occurred more frequently than with placebo:
sinusitis


abdominal pain


asthenia


rhinorrhea


priapism (painful erection).


What This Means
This seems to suggest that Silodosin may have lower incidences of non-sexual side effects than other alpha-blockers.
Silodosin Takeaways
A long-term evaluation of Silodosin has not yet been carried out. As such, there is no way to know its impact and safety over long term use.


It is essential to keep in mind that this treatment, like many alpha-blockers, has limited effects on symptoms, and although it does not have the same blood pressure, vasodilation and hypotension effects as other alpha-blockers, it also creates problems like retrograde ejaculation.


You should keep in mind that this treatment does not solve or cure the BPH.


That being said, if you are concerned about blood pressure, or adverse side effects but still wish to take an alpha-blocker for your BPH symptoms, Silodosin may be the most suitable medication for you.


Alfuzosin
Over the past 30 years, the evolution of α-blocker therapy for BPH has focused primarily on improving convenience and tolerability while at the same time treating symptoms of BPH.
This has resulted in the creation of Alfuzosin and has been relatively successful. Only a few men have reported severe side effects, with a moderate amount experiencing minor side effects.

Side effects of Alfuzosin
The most common side effects of Alfuzosin in clinical studies are:
dizziness


upper respiratory infection


headache


fatigue.


Other adverse side effects
angina pectoris in patients with pre-existing coronary artery disease


hepatocellular and cholestatic liver injury


priapism


angioedema.


diarrhea


rash


pruritus


urticaria


flush edema


postural hypotension
What The Research Says
Three placebo-controlled clinical trials involving 1,608 men were conducted in which the participants were administered daily doses of 10mg and 15mg of Alfuzosin.
Approximately 30% of patients experienced at least a 30% increase in peak urinary flow rate.
Further, the general improvement in maximum urinary flow rate is 16-25%. Patients with more severe symptoms have a more significant response to treatment than those with milder symptoms.
The effect of Alfuzosin treatment on prostate size has been studied in a randomized control trial in 2006.
In this study, 536 participants were randomly allocated to receive Alfuzosin or a placebo.
After three months, there were no significant differences in prostate size between the treatment groups and the placebo group. This is to be expected because, like all other alpha-blockers, it does not impact prostate size.
Alfuzosin Takeaways
Alfuzosin is possibly the most effective alpha-blockers with fewer side effects than its competitors. Moreover, symptomatic improvement occurs in 30-40% of the patients.

However, the degree to which symptoms improve does not seem to vary at all. This, therefore, suggests that while more men see positive results using Alfuzosin, the improvements are no more significant than if they had a positive reaction to any other alpha-blocker.

Although Alfuzosin may have a better safety profile than drugs, it has numerous side effects that need to be considered.

Moreover, keep in mind that this drug only acts to relieve symptoms; it does not cure or treat BPH. A notable downside of Alfuzosin is that it is much more expensive than other prostate medications.


What herbs or natural supplements treat BPH?
Many men are cautious about taking a prescription prostate medication, generally due to the risk of sexual or life-threatening side effects, such as cancer or diabetes.
However, due to the low percentage of men who have experienced relief using some of these drugs.
Natural solutions for prostate problems remain a better alternative in such cases.
While natural options can be more effective for some men and have less or even zero side effects, many men struggle to differentiate between the many different options available.
Total Health For The Prostate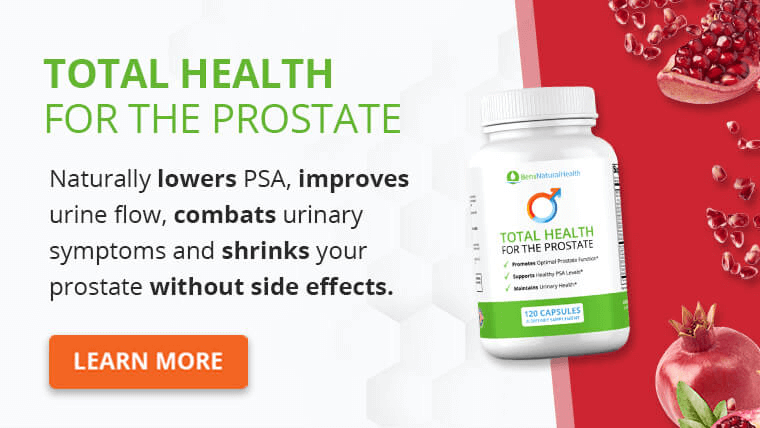 Our research found that one natural supplement is far superior to all others currently available.
We only recommend Total Health For The Prostate for men with an enlarged prostate, often alongside active surveillance.
Total Health for the Prostate is the first and only truly complete and clinically effective prostate supplement.
It is scientifically formulated to contain clinically significant dosages of the 21 most effective, most vital, prostate-restoring vitamins, minerals, and herbal compounds globally.
Because it's a complete formulation with a multifaceted approach to prostate health, it is more effective and faster working than any other supplement on the market.
Is it safe?
Total Health for the Prostate contains clinically significant dosages that have shown to be safe in clinical studies.
All ingredients are 100% natural, GMO-free, and tested for contaminants, heavy metals, and radiation.
Moreover, we rigorously test all raw ingredients in our products to ensure they meet the American pharmacological standards and the American herbal products association standards.
Our manufacturing facilities are all US-based and FDA-monitored. We verify the purity of our products and label accuracy using 3rd party independent laboratories.
Total Health for the Prostate is safe to take alongside all common prostate medications or supplements.
*Vitamin D3 can interact with some blood thinners. If you are taking prescription-strength blood thinners, you may wish to consult your doctor before taking Total Health for the Prostate.
Does Total Health alleviate symptoms?
Yes. We chose the ingredients in Total Health because clinical studies prove that they alleviate the symptoms of BPH.
Each one of the 21 nutrients has dozens of peer-reviewed clinical research that demonstrates their efficacy and safety.
On top of that, Total Health for the Prostate has a 20-year track record of alleviating symptoms.
It is backed up by hundreds of case studies, customer testimonials and review videos.
Does Total Health shrink and heal the prostate?
Unlike prescription drugs, Total Health for the Prostate is designed to shrink the prostate gland.
Ingredients such as beta-sitosterol are natural 5 alpha-reductase inhibitors, which studies show can shrink the prostate gland.
Additionally, studies show compounds such as curcumin outperform placebos and reduce prostate volume as effectively as Finasteride – but without side effects.
Total Health Takeaways
Total Health for the Prostate is the best quality and most effective natural supplement for prostate disease, BPH, and general urinary health available on the market.
It contains higher dosages, more ingredients, and the most bioavailable forms of vital nutrient compounds. It is made in the USA at FDA-audited facilities and tested at 3rd party labs.
We recommend that you take Total Health for at least 90 days to combat BPH and restore prostate health. Total Health will restore prostate health naturally, as well as safeguard you against future prostate disease.
Total Health for the Prostate is a high-quality, fast working, and effective entirely natural prostate supplement. It works as effectively as pharmaceutical products to alleviate symptoms and reduce prostate volume and size.
However, the critical difference is that Total Health uses all-natural ingredients. As such, patients do not experience nasty side effects.
It has a 20-year track record of working effectively, backed up by the testimonies of hundreds of men from all over the world.
Conclusion
There are many prostate medications available, and therefore it can be difficult to know which one is right for you.
The prescription medications we discussed above often come with several adverse side effects.
Therefore, we firmly believe that natural is the way to go because natural supplements such as Total Health can shrink your prostate without any nasty side effects.
Explore More

Find out the Best Prostate Supplements for an Enlarged Prostate.