If you're taking Dutasteride (Avodart), the chances are that you're greatly concerned about your prostate health.
You want to improve it. The bad news is that this drug has certain adverse effects that can negatively affect your overall health.
Moreover, some of these side effects are so bad that they can even affect you for years. It's important for you to know about them before you consider taking them.
What is Avodart (Dutasteride)?
Dutasteride, sold under the brand name Avodart, is a medication used primarily to treat enlarged prostate in men.
It belongs to a class of drugs known as 5-alpha-reductase inhibitors, which are used to relieve urinary symptoms of benign prostatic hyperplasia (BPH) in men with enlarged prostates.
Get Your FREE PSA Lowering Diet Plan!
Naturally lower PSA levels
Reduce nighttime trips to the bathroom
Enjoy better bladder control and urine flow
Drug type: 5α-Reductase Inhibitor
5α-Reductase Inhibitors (5-ARIs) are a class of drugs that counteract the effects of androgen. These drugs stop the formation of the enzyme 5α-reductase, which is involved in the metabolic changes of many steroids in the body.
They prevent the conversion of testosterone, a significant androgen sex hormone, to the more potent dihydrotestosterone (DHT). That is why it's a drug of choice for androgen-associated disorders.
Avodart is mainly used for treating benign prostatic hyperplasia (BPH) and pattern hair loss(such as androgenetic alopecia). Such drugs are further classified as steroidal and non-steroidal 5-ARIs.
Like finasteride Proscar, it lowers serum prostate-specific antigen (PSA) levels by about 50% in 6 months and total prostate size by 25% in 2 years. Many studies also claim that the drug lowers the risk of prostate cancer.
Summary
Some clinical studies show that Dutasteride can decrease prostate volume by up to 26% after four years of treatment. And with only six months of treatment, it can relieve urine problems related to an enlarged prostate. This is due to the drug's rapid suppression of DHT that stimulates prostate growth.
Symptoms of BPH can be better managed if the drug is used in combination with alpha-blockers like Tamsulosin and Alfuzosin. However, many studies also show that the drug can cause several side effects, including erectile dysfunction, reduced sex drive, and breast tenderness in 3 to 5% of patients, and up to 9% in combined therapy.
Does Avodart relieve BPH symptoms?
Avodart works just like Finasteride. According to one review, it reduces the total prostate volume by 25% if taken for two years. In just six months of treatment, it can lower PSA levels in the blood by half.
Avodart is commonly used in combination with alpha-blockers like Tamsulosin. This is done to provide a rapid onset of symptom relief for patients with severely enlarged prostate glands. Such combination greatly improves urine flow and prevents bladder outlet obstruction.
How long does it take for Dutasteride to be effective?
Current data confirm that this drug lowers DHT levels in the blood by more than 90% in 2 weeks. It also significantly reduces prostate volume by one month, about a 25% reduction in 2 years.
Dutasteride also lowers total serum PSA by about 40% after three months of treatment and about 50% after 6, 12, and 24 months of treatment. Also, the drug was found to improve urine flow after one month of treatment in patients with BPH.
What are the side effects of Dutasteride?
What's not often spoken about are the side effects of Dutasteride, which include erectile dysfunction, premature ejaculation, low sperm count, and retrograde ejaculation. They are experienced by a minority of patients, but they are still relevant in the medical practice
1) Loss of Libido and Sexual Problems
In many clinical trials, sexual problems were the most commonly reported side effects of Dutasteride. Problems with ejaculation occurred in at least 5% of men taking the drug throughout a 36-week treatment period. The majority of side effects from Dutasteride were related to low sperm volume, decreased libido, impotence, malaise, and fatigue.
Still, more recent and more comprehensive reviews published by the Cochrane library point out a maximum of 9% of the incidence of side effects in combined therapy. This includes erection problems, loss of libido, and reduced semen volume. Such symptoms of sexual dysfunction occur in 3.4 to 15.8% of men treated with the drug.
For many years, Avodart has been prescribed as a first-line treatment for an enlarged prostate. Some studies relate enlarged prostates with high levels of dihydrotestosterone (DHT).
While the drug is capable of lowering DHT, bear in mind that DHT is a natural male sex hormone. It's essential for normal sexual function.
Sexual dysfunction has a big impact on your quality of life. It causes a lot of stress in relationships.
2) Birth Defects
Pregnant women should not take Dutasteride. There is evidence that exposure to this drug to women who are pregnant can result in birth defects.
This drug is also contraindicated to children and people who are allergic to it. Due to its long half-life, people who are taking it shouldn't donate blood for at least six months after treatment.
3) Depression
There have been concerns raised by patients and agencies regarding the serious adverse effects of Avodart on mental health.
One population-based cohort study looked at data from 93,197 men that underwent a treatment regimen of 5α-reductase inhibitors.
The findings showed a link between increased risk of self-harm and depression with men taking these drugs. These risks were seen during the first 18 months of treatment.
These risks should be considered when prescribing Avodart and other similar prostate drugs.
4) Heart failure
A study published in the New England Journal of Medicine shows that Avodart increases the risk of heart failure. This study was supposed to demonstrate the use of the drug, which prevents cancer.
However, the research team found an unexpected increase in the number of men who developed heart failure. They linked these events with the drug's side effects.
The study included nearly 6,700 men at high risk for prostate cancer. They were given Avodart and placebos in the course of four years.
The research team found that only 20% of the population had prostate cancer after the treatment. Nearly twice as many men developed heart failure than those who only took placebos.
5) Increased risk of diabetes and metabolic diseases
One study explored the long-term effects of Avodart therapy in men with benign prostatic hyperplasia (BPH). It found that the drug increases the risk of diabetes, cholesterol levels, and non-alcoholic fatty liver disease.
The study examined two groups of patients with BPH. One group was prescribed with Avodart, and another group was prescribed with Tamsulosin, an alpha-blocker.
After 36-42 months of treatment, the team found that the group taking Avodart had elevated blood glucose levels, hemoglobin A1C, total cholesterol, and liver function enzymes.
Data from this study show that Avodart has serious side effects on one's metabolism. Doctors prescribing this drug need to discuss its adverse reactions to their patients.
What other drugs could interact with this medication?
Dutasteride is metabolized by human cytochrome P-450 isoenzyme CYP3A4, so care should be taken when giving the drug with potent, long-term CYP3A4 inhibitors.
According to many in vitro studies, the levels of the drug in the blood might increase in the presence of such drugs.
You shouldn't take Tamsulosin if you're also taking the following drugs:
Cimetidine


Clarithromycin


Diltiazem


Erythromycin


Fluconazole


Itraconazole


Ketoconazole


Ritonavir


Telithromycin


Verapamil

Dutasteride should not be taken with alcohol, as one of the side effects is that it dehydrates you and makes it harder for you to urinate. If you already have BPH and taking alcohol, this drug could make the symptoms worse.
This drug should also not be taken with grapefruit or grapefruit juice because it affects the way the drug is broken down by the body.
Such drug interaction with grapefruit can be dangerous because it could raise the concentration of the drug to a very toxic level.
Conclusion
According to studies, dutasteride provides sustained relief of BPH symptoms with continued use. However, it has side effects that will depend on the dose and the organism of each individual patient
Again, talk to your doctor about the potential risks of this drug before taking them. Bear in mind that this drug is just one of your options, and there are natural supplements that can help maintain your prostate health.
Along with a healthy lifestyle, natural supplements help maintain the normal size of the prostate gland and reduce the urinary symptoms related to prostate disease.
---
For more information on prostate supplements click here.
---
What I would recommend for someone with BPH (an enlarged prostate) is Total Health for the Prostate. It's made up of 100% natural, high-quality ingredients that have zero side effects.
And most importantly, Total Health targets the underlying root cause of BPH meaning you can heal yourself over the long term.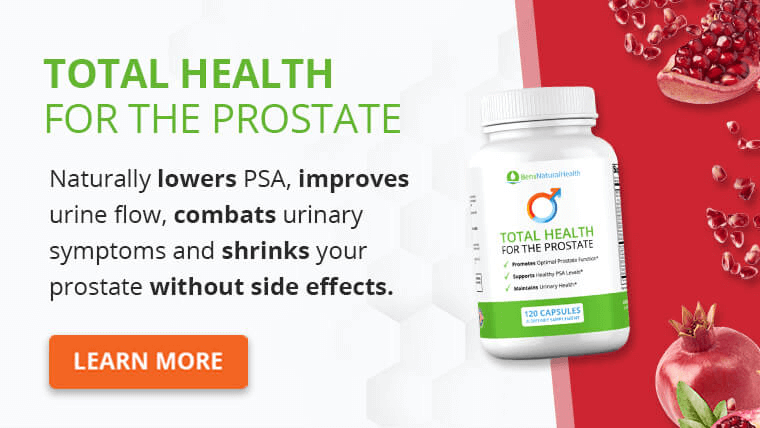 How does my Total Health supplement do this? What makes it a truly unique supplement unlike any other? Click here to find out…
Explore More