Dealing with the symptoms of prostate issues can be uncomfortable and even embarrassing for men.
If you're struggling with raised PSA levels, urine leakage, weak urine flow, or frequent urination that's keeping you up at night and disturbing your sleep, you're not alone. Statistics show that 50% of men over 50 have BPH, which rises to 90% after 80.
Many men want to improve their symptoms and fight off prostate disease, but don't want the adverse side effects that can come from prostate drugs.
This is why we formulated Ben's Total Health.
Our leading prostate supplement contains 21 clinically proven natural ingredients, specifically designed to lower PSA, shrink the prostate, and combat the urinary symptoms associated with BPH, without any side effects.
Clinically formulated, Total Health works to combat the root causes of prostate disease, helping to reduce nighttime waking, improve urinary flow, and get rid of your prostate problems.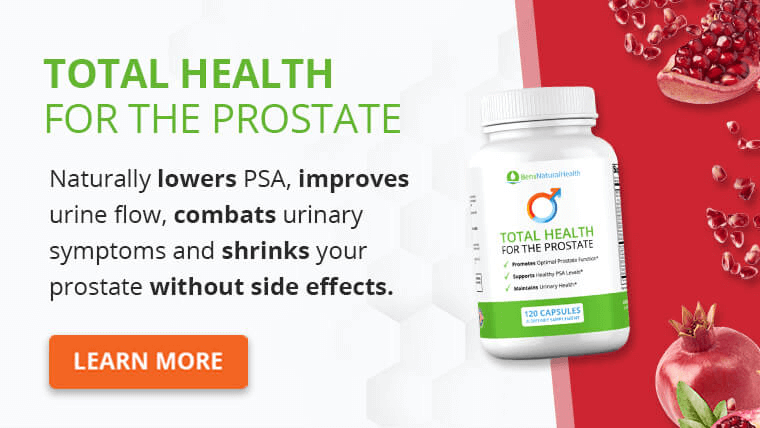 How does Total Health work?
So, how does Total Health work? Formulated with powerful vitamins, minerals, and nutrients, Total Health works to lower DHT levels and reduce the size of the prostate gland.
Hormonal balance plays a vital role in men's health. When estrogen levels increase at the same time that testosterone levels decrease, estrogen dominance can occur. This causes testosterone to convert into dihydrotestosterone (DHT).
DHT is a highly active form of testosterone that irritates the prostate and can cause prostate enlargement and inflammation.
Therefore, by reducing DHT levels, Total Health for the Prostate helps to combat the root causes of prostate disease and inflammation, in order to restore your health.
What are the active ingredients in Total Health?
Beta-Sitosterol (90% Sterols)
Beta-sitosterols have been shown to help alleviate the symptoms of BPH by increasing your urine flow rate. It also acts as a natural inhibitor of 5 alpha-reductase to reduce prostate size.
Vitamin D3 (Cholecalciferol)
Research has shown that Vitamin D3 may lower the risk of developing prostate cancer by killing cancer cells and, in doing so, preventing the risk of them spreading.
Pomegranate (Ellagic acid)
Pomegranate is rich in ellagic acid, a natural anti-cancer agent. Clinical tests show that ellagic acid prevents the destruction of the p53 gene by cancer cells.
Boron Glycine Complex
Studies have shown that boron lowers PSA levels, which may help prevent or control the spread of prostate cancer.
Vitamin C
Vitamin C works to repair tissues throughout the body, protects against infections, age-related conditions, and may lower the risk of prostate cancer.
Turmeric Root (Curcumin)
Turmeric has powerful anti-inflammatory properties and combats prostate and bladder infections, reduces prostate size, and may inhibit prostate cancer cell proliferation.
Calcium
Calcium is required by every cell in the body. It promotes optimal heart and bone health, muscle function, nerve transmission, and importantly for the prostate, hormone secretion.
Zinc
Zinc is an abundant mineral in the prostate, vital for maintaining prostate health and combatting BPH.
Selenium
Selenium is an important trace mineral, and studies have linked low selenium intake with prostate cancer.
Copper
Fights free radical DNA damage while improving energy levels, boosting your immune system, and maintaining and protecting your nerve health.
Molybdenum
Molybdenum helps to repair and maintain bodily processes by breaking down substances such as PSA.
Japanese Sophora Flower Buds (Quercetin)
Quercetin is a flavonoid antioxidant that you will find in many colorful fruits and vegetables. It has been shown to relieve symptoms of prostatitis and BPH.
Vitamin E-mixed Tocopherols
A powerful antioxidant, vitamin E is essential for a healthy prostate and may reduce the risk of cancer.
Magnesium
Required for more than 300 biochemical reactions in the body, it increases the bioavailability of your natural testosterone while improving nerve and muscle function.
Vanadium
Vanadium is a micromineral that may slow the proliferation of prostate cancer cells.
Silicon
This trace mineral is essential for building healthy tissues. Furthermore, it reduces the risk of heart disease, strokes, and Alzheimer's.
Chromium
Chromium normalizes blood sugar levels. This is important for prostate health as high levels of sugar promote inflammation, which in turn can fuel cancer.
Iodine
Promotes healthy thyroid function and metabolism, while also reducing the symptoms of aging.
Nickel
Your body needs nickel to absorb iron and maintain blood and bone health.
Methylcellulose Capsule
Methylcellulose is a widely used natural dietary fiber. Investigations have shown it has a positive effect on gastrointestinal physiology, and gut health. Additionally, it helps ensure regular and healthy bowel movements.
Get Your FREE PSA Lowering Diet Plan!
Naturally lower PSA levels
Reduce nighttime trips to the bathroom
Enjoy better bladder control and urine flow
What does the research say about the active ingredients in Total Health?
Total Health for the Prostate is a blend of 21 active ingredients and 69 essential vitamins, minerals, and nutrients backed up by a wealth of clinical studies.
Further, each individual ingredient has been thoroughly researched and scientifically proven to improve and maintain prostate health.
Containing clinically significant dosages of beta-sitosterol, quercetin, pomegranate extract, boron, and turmeric, many of the nutrients included in Total Health have been shown to improve urine flow, reduce frequent urination, and lower your PSA score, without any adverse side effects.
Beta-Sitosterol
Beta-sitosterol is one ingredient in particular that can significantly improve urinary symptoms in men. This was demonstrated in a systematic review, which assessed 519 men from 4 randomized, placebo-controlled, double-blind trials (lasting 4 to 26 weeks).
Three trials used non-glucosidic B-sitosterols, and one utilized a preparation that contained 100% B-sitosterol-B-D-glucoside. In these studies, beta-sitosterol improved urinary symptom scores and urinary flow rates. It also significantly reduced the volume of residual urine in the bladder.
Adding to this, beta-sitosterol is a powerful and completely natural 5-alpha reductase inhibitor that reduces the body's conversion from testosterone to the highly inflammatory dihydrotestosterone.
In this sense, it works similarly to finasteride, except without any side effects. As a consequence, it reduces inflammation in the prostate and improves urinary flow. It is also protective against developing prostate cancer.
Quercetin
Quercetin is a flavonoid in fruits and vegetables that has powerful antioxidant properties. The United States National Institutes of Health conducted a study on quercetin for its ability to help with prostate disease, urinary and prostate infections, and groin pain.
They concluded quercetin supplements work and result in "significant symptomatic improvement" for men suffering from impaired prostate health, which is why Total Health contains a 200mg dose of 95% pure quercetin.
Curcumin
Curcumin, the bioactive ingredient in the Indian spice turmeric, is known for its antioxidant and anti-inflammatory effects and has been shown to improve urinary function in men after 2 to 6 months.
Another study providing a 1 gram dose of curcumin alongside a 300mg dose of beta-sitosterol for 30 days to men with a high PSA saw PSA levels drop from 6.48 to 4.65.
Vitamin D
Ben's Total Health for the Prostate also contains a considerable dosage of Vitamin D – based on the latest research this vitamin is vital for the health of your Prostate.
Vitamin D is a potent vitamin that may prevent cancer from developing and also has excellent preventative and healing qualities for dealing with low-grade prostate cancers. There are hundreds of clinical studies that look at the importance of vitamin D in prostate function.
Based on this research, and using only the purest quality, all-natural, and organic ingredients, we have created Total Health for the Prostate.
How long does it take for Total Health to work?
When purchasing a supplement, one of the first questions to come to mind is, 'When will I see results?' The majority of men see significant improvement when using Total Health in the first 2 to 3 months.
It is also true that some men take slightly longer to improve their prostate health than others depending on the individual state of their prostate health, general health, diet, lifestyle, and a whole host of other factors.
In fact, we are so confident in the effectiveness of Total Health, that we offer a simple iron-clad guarantee. Take a PSA test, then try Total Health for the Prostate for 90 days; if after 90 days your PSA level hasn't dropped, then we'll give you a 100% refund, no questions asked.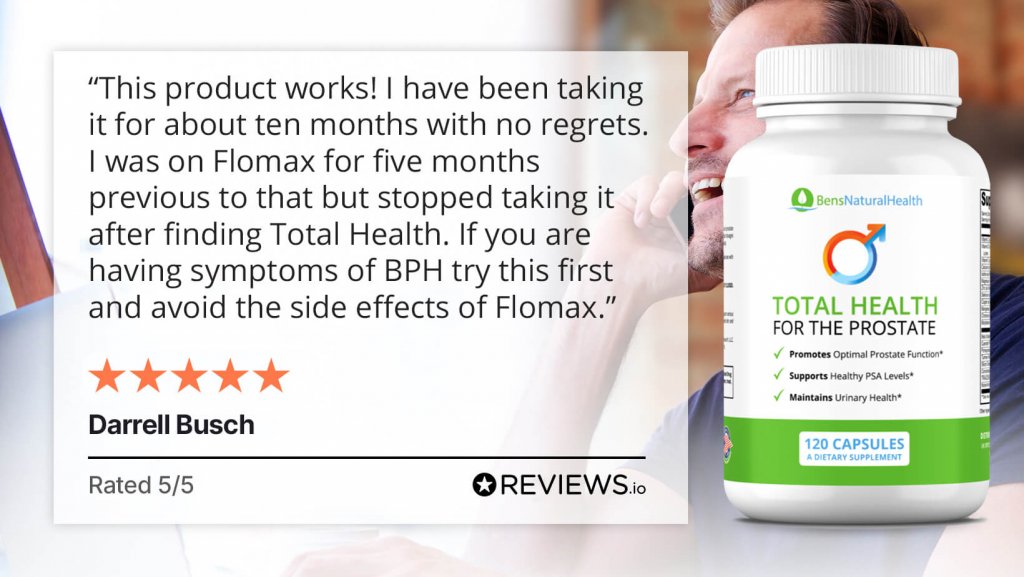 Is Total Health safe to take?
When it comes to the ingredients in our products, we rigorously test them to ensure that they meet the American pharmacological standards and the American herbal products association standards. Our manufacturing facilities are also all US-based, and FDA monitored.
We also go one step further. All finished products are tested by a third-party laboratory using United States pharmacopeial test 1119 (near-infrared spectrography) to ensure that the supplement matches the label and that they are safe, pure, and high quality.
How does Total Health compare to other prostate supplements?
When searching for a supplement, it is important to take into consideration the following factors:
Clinically significant dosages

Ingredients that have been shown to work in peer-reviewed, double-blind studies.

Chelated ingredients for better absorption and effectiveness.
While there are many supplements out there that have scientifically backed natural ingredients, the vast majority contain only a few of the essential prostate health ingredients, usually in low and ineffective dosages, without chelating ingredients for better absorption and bioavailability.
A therapeutic dose is the amount of the ingredient that you will need in order to have a clinical effect, as proven by scientific studies. It's also important that the prostate health supplements you take contain natural nutrients. You do not want it to have any synthetic ingredients or genetically-modified organisms.
Total Health for the Prostate goes one step further. On top of containing 100% natural ingredients alongside chelated minerals for better absorption, Total Health provides clinically significant dosages of each ingredient.
Take Beta-Sitosterol, for example, the challenge with Beta-Sitosterols is getting a significant quantity in combination with the right amount of fatty acids.
Beta-sitosterol compounds are expensive, significantly more so than fatty acids. As a result, many products on the market are upwards of 70% fatty acids, with less than 30% Beta-sitosterol. Moreover, for Beta-sitosterol to be effective, it needs to be at a ratio of 90% plant sterols to 10% fatty acids, which is exactly the amount in Total Health.
It's also worth noting that many of the individual ingredients were chosen based on studies that show their synergistic properties. This means that taking these specific individual ingredients together is more effective than taking them individually.
Why Choose Ben's Natural Health Prostate Supplements?
At Ben's Natural Health, our motto is to combine holistic healing with modern science.
Ben's Natural Health is the world's first high-quality, all-natural, scientifically proven clinical supplement company. Our prostate health supplements are effective, natural and 100% side effect free.
Moreover, at Ben's Natural Health, we have four rules for all our supplements:
We only use the highest quality ingredients
We only use them if they have been proven to work in independent, peer-reviewed double-blind studies
With all our supplements, we find a way to get every ingredient into a single bottle
We always formulate them in clinically significant doses of the most bioavailable form
Additionally, we pride ourselves on offering excellent customer service. We offer a free health consultation where you can ask questions and receive tailored advice from our expert health consultants.
Key Takeaways
4 Benefits of Total Health:
Contains ingredients clinically proven to lower PSA levels, reduce nighttime urination to help you sleep better, improve urinary flow, and combat urinary symptoms.
21 high-quality natural ingredients in clinically significant dosages, many of which have been shown in clinical trials to improve prostate health.
90-day lab-proven money-back guarantee.
Explore More

Find out about our Prostate Health Supplement: Ben's Prostate Power.