Inflammation of the prostate is known as prostatitis, and it is one of the most common prostate problems in males.
Approximately 50% of men experience symptoms of prostatitis at some point during their lifetime.
Types of Prostatitis
There are three different classifications of prostatitis: acute bacterial prostatitis (I), chronic bacterial prostatitis (II), and chronic non-bacterial prostatitis (III).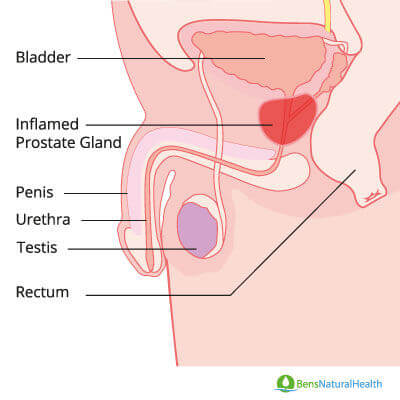 Bacterial Prostatitis
Bacterial prostatitis accounts for about 5-10% of all prostatitis cases. Acute prostatitis can develop into chronic prostatitis if the first occurrence is not recognized and treated, inadequate duration of antibiotic treatment, or antibiotic resistance.
The main difference between acute and chronic prostatitis is that the symptoms of chronic prostatitis last more than three months.
Antibiotic medication is typically given to get rid of the germ that is causing bacterial prostatitis.
However, a long-term antibiotic can have side effects. It also reduces the amount of health-supporting microbes like Bifidobacterium and Lactobacillus.
These bacteria are an essential part of healthy gut microflora. Disruption to the gut microflora increases the risk of prostatitis recurrence.
Get Your FREE PSA Lowering Diet Plan!
Naturally lower PSA levels
Reduce nighttime trips to the bathroom
Enjoy better bladder control and urine flow
Chronic Non-bacterial Prostatitis
Chronic non-bacterial prostatitis is by far the most common form of prostatitis.
The symptoms are similar to chronic bacterial prostatitis, but there are no bacteria present. The cause is not fully understood of an inflamed prostate.
Symptoms of Prostatitis
The most common symptoms of prostatitis include:
Urinary tract symptoms pelvic pain


Urination problems


Pelvic pain, rectal pain, abdominal pain and/or low back pain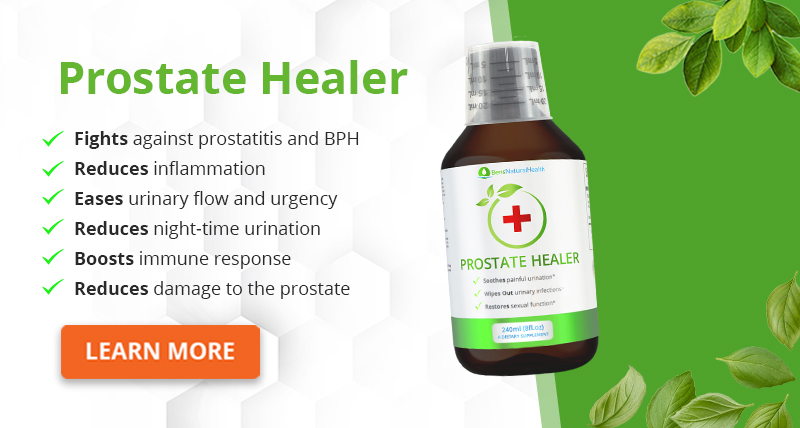 Natural treatment remedies for Prostatitis
So what natural treatment options are available for prostatitis?
1) Probiotics
Men that have previously had prostatitis have a 20%-50% risk of a recurrence. Research has also found that men with chronic prostatitis have lower levels of seminal lactobacilli than healthy men.
This shows that antibiotic treatment of prostatitis alone is not adequate for many men.
Probiotic supplementation can restore the loss of healthy bacteria in your gut microflora caused by antibiotic treatment. This would lower the risk of a bacterial infection recurrence.
The benefits of probiotics for treating bacterial prostatitis are in human clinical research.
One study looked at the effects of supplementing with probiotics alongside antibiotics for treating chronic bacterial prostatitis.
Two hundred ten men affected by chronic bacterial prostatitis were randomly allocated to receive a lactobacillus supplement with antibiotics or antibiotics alone for 30 days.
At the end of the study, 27.6% of the group that received only antibiotics had a UTI (urinary tract infections) recurrence, while only 7.8% of the combination group experienced a recurrence (Busetto 2014).
Probiotics can protect against harmful type bacteria and restore the loss of healthy-supporting bacteria lost to antibiotics treatment. This makes probiotics one of the best treatments for bacterial prostatitis.
2) Curcumin
Curcumin is a potent bioactive constituent in the spice Turmeric. Turmeric is regularly used in India for cooking and in traditional medicine.
Curcumin is well-known for its potent anti-inflammatory effects. Curcumin also has an excellent safety profile, and it serves as a viable alternative to anti-inflammatory drugs.
A clinical study was carried out to see if a combination of curcumin and calendula was able to help treat chronic non-bacterial prostatitis.
After three months, the men that took the herbal supplement had a significant improvement in urinary symptoms and erectile function compared to the placebo group.
Another study compared the effects of using antibiotics with saw palmetto, curcumin, and quercetin, for treating chronic bacterial prostatitis.
After one month, 90% of men that took the supplement did not report a recurrence of prostatitis, while only 27% of men that took antibiotic alone did not report recurrence. After six months of treatment, none of the supplement group reported symptoms of prostatitis, and two patients did in the antibiotics only group.
One issue is that none of these studies have looked at the effects of curcumin alone on treating prostatitis, and therefore, it is unknown whether using curcumin alone would be effective.
However, using curcumin with other natural anti-inflammatory ingredients such as quercetin and saw palmetto can be an effective treatment to improve the symptoms of chronic non-bacterial prostatitis.
3) Quercetin
Another supplement that can help treat chronic non-bacterial prostatitis is quercetin. Quercetin is a flavonoid in high concentrations in capers, and red onion.
Animal research has demonstrated that quercetin can protect against chronic prostatitis by reducing inflammation and oxidative stress (6).
A human clinical showed that 1 gram of quercetin daily for four weeks significantly improved the symptoms of chronic non-bacterial prostatitis.
Another human clinical study showed that taking quercetin alongside curcumin, saw palmetto, and antibiotics were more effective at treating chronic bacterial prostatitis than taking antibiotics alone.
90% of the men that took the supplement with antibiotics did not experience an infection recurrence, while only 27% of men than took antibiotic did not have an infection recurrence (C5).
For quercetin to be effective quercetin, you would require either a high dose (1 gram per day) or a lower dose when combined with other ingredients like curcumin and saw palmetto.
4) Pollen extract
Pollen extract is another potent natural anti-inflammatory. Research has demonstrated that pollen extract has anti-inflammatory effects on rats induced with prostatitis.
In a human clinical study, patients that took pollen extract reported a significantly greater improvement in symptoms of chronic non-bacterial prostatitis and a greater improvement in the quality of life than men that took a placebo.
Another study provided strong evidence that pollen extract can reduce inflammation within the prostate. Pollen extract is a good option for anyone who has chronic non-bacterial prostatitis.
5) Saw palmetto
Saw palmetto is regularly used to treat prostate enlargement. This is because of its ability to reduce DHT, which is a potent hormone that plays an essential role in prostate enlargement.
Saw palmetto also has potent anti-inflammatory properties and has been suggested as a potential treatment for prostatitis.
A study looked at the efficacy of saw palmetto for treating chronic bacterial prostatitis. Fifty-six men took antibiotics for 15 days, and half of the men also took saw palmetto for eight weeks.
While both groups had a similar reduction in bacteria, the group that took saw palmetto reported a more significant decrease in prostatitis pain and symptoms. This is likely due to the anti-inflammatory effects of saw palmetto.
Other studies also show that when using saw palmetto alongside other natural ingredients like probiotics, quercetin and curcumin (5) are effective for treating prostatitis.
Conclusion
Although prostatitis is not a life-threatening condition, it does have a debilitating effect on your quality of life and prostate health. Several natural ingredients can treat prostatitis.
For anyone suffering from a form of bacterial prostatitis, it is imperative that you supplement with probiotics.
A combination of saw palmetto, curcumin, and quercetin have shown to be clinically effective at reducing pain and should be used by men suffering from any form of prostatitis.
Physical activity can also help to alleviate pelvic pain, and pelvic floor exercises (Kegel exercises) have many benefits. To learn more about kegel exercises, click here.
Using natural treatment for prostatitis can also prevent you from having an unnecessary PSA test by reducing inflammation and PSA levels.
It takes a holistic approach that can benefit not just the prostate, but your entire body. One of the simplest ways to start treating urinary tract issues is Prostate Healer.
This powerful healing tincture contains 9 of the most potent rejuvenating herbs available in Ayurvedic science.
It's an effective, fast-working tincture and because it is an all-natural formula and non-GMO, there are no side effects.
Patients report significant improvements in the first few weeks, and within three months, they say their prostatitis is gone.
Explore More