Prostate cancer is rated second on the list of the most common cancers that develop in male patients.
When your doctor suspects prostate cancer, they will often suggest a prostate biopsy.
Not all of these biopsies come back positive, so you might have questions about when a biopsy is not needed.
Keep reading to learn what percentage of prostate biopsies are cancer.
What Percentage Of Prostate Biopsies Are Cancer?
While prostate biopsies can be an important tool when it comes to diagnosing cancer, it's important to note that most of the biopsies performed come back negative.
It's estimated that about 75% of the prostate biopsies that are performed do not show cancer.
With this said, it's also not the most accurate diagnostic tool, as negative cancers are also often reported.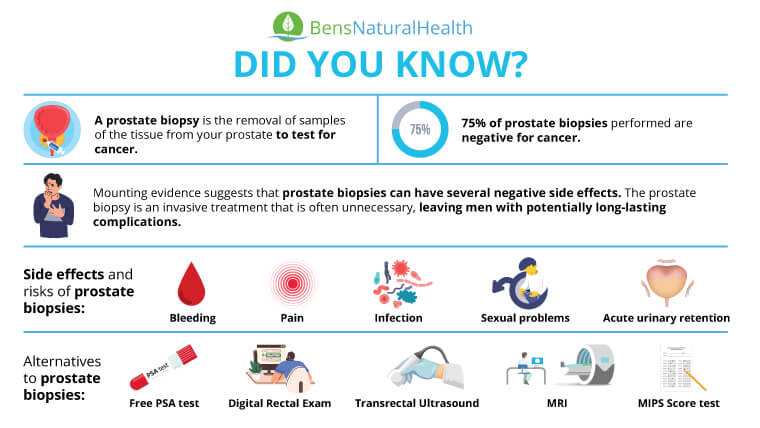 Why Are Doctors Recommending Prostate Biopsies If They Aren't Always Needed?
A biopsy is often a suggestion when there are signs of prostate cancer. Yet, in one study, researchers found that the use of a prostate MRI might offer greater efficacy in detecting cancer in the gland compared to the use of biopsies.
With alternative screening options that are less invasive, the question remains – why do doctors sometimes advise a prostate biopsy when there are other diagnostic tools that can be used?
The reason may not be the same in every case, but it could be due to the doctor being "old school" and strictly following older protocols that were set by the time they studied.
Due to the massive size of the pharmaceutical industry, doctors may also prefer to use a biopsy in the diagnosis of prostate cancer in order to present pharmaceutical solutions as a treatment for your condition.
Statistics show that by the year 2028, the prostate cancer treatment industry will reach a global worth of $25.43 billion. Between 2022 and 2028, the market is also expected to grow at an annual rate of 5.6%.
Major players in the market all focus on the use of pharmaceuticals to treat prostate cancer and related complications in male patients.
Thus, doctors may prefer a biopsy due to the role and impact that the pharmaceutical industry has in modern-day medicine.
When you undergo a prostate biopsy, it's important to know the risks so you can make an informed decision.
Pain in your prostate area can linger on for a while, as your doctor will usually take multiple samples during the biopsy procedure. Apart from pain, there are complications that you also need to recognize.
There is a risk of prolonged bleeding after you undergo a prostate biopsy. Additionally, some people experience pain that gradually gets worse.
Urination difficulties and fever are also complications that you could experience after the procedure.
A Word From Ben's Natural Health
Many doctors solely follow the data that they have in medical books and based on their time at University, which often leads to a prostate biopsy even in cases where it's not required.
Understanding the risks of a prostate biopsy can help you understand when it might be time to get a second opinion and why alternative solutions are sometimes better.
In our opinion, a far safer and gentler prostate biopsy alternative is our Advanced Prostate Cancer Risk Assessment (APCRA). This consists of non-invasive blood tests and specialized color Doppler scans.
The variety and sophistication of some of these new blood tests make this a very realistic alternative to a prostate biopsy, especially if you have a preference for non-invasive diagnostics and treatments.
To learn more or book our Advanced Prostate Cancer Risk Assessment, please call our customer service team on +1-888-868-3554 who will be happy to assist you and offer any further information.
Explore More