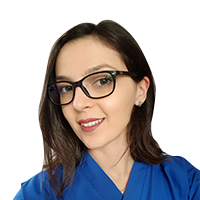 Dr. Martina Ambardjieva
Medical Expert
Expertise: Urology
Highlights, Experience & Education
Highlights: Dr. Martina A. is a medical doctor who works in urology and general surgery. She is a young researcher constantly writing scientific papers. She had her work featured in reputable publications in Pubmed. Her most significant benefit of being a surgeon and medical writer is that she is making a difference in people's lives.
My thoughts are that the biggest benefit of being a healthcare professional is that I am making a difference in people's lives. As a surgeon, I can make a concrete change in a patient's disease.
In addition, I can educate, promote health and make changes and improvements in the health culture of the world.
Experience: Dr. Martina A. is a licensed medical doctor, a urology resident, and also a Ph.D. graduate at the University Urology Clinic and she is currently employed at the University Surgical Hospital in Skopje. Her first work experience is in a private urogynecology hospital. Previously she was the Science Director and General Secretary of EMSA, educating students and also the general population about health, medicine, and the prevention of diseases organizing many workshops, symposiums, congresses, and lectures.
Education: Dr. Martina A. graduated from the Medical Faculty at University "Cyril and Methodius" in Skopje, N. Macedonia. She is in her final year of Urology residency and Ph.D. graduate in the field of urological surgery (men's health, prostate, bladder carcinoma).
Dr. Martina Ambardjieva Articles