Cheesecake is always a party pleaser and this low carb, low sugar cheesecake is the perfect dessert to share with friends.
Top with extra fresh blueberries and a sprinkle of cinnamon if preferable.
Ingredients
5 tbsp of ground almonds
2 tbsp of olive oil
3 heaped tbsp of cheese quark
1 medium egg
1/2 cup of fresh blueberries
1tsp of honey
1/4 of vanilla extract
Makes 4 portions (91 g per portion)
Cooking Method
Preheat oven to 350 degrees F (175 degrees C).
Combine the ground almonds and olive oil.
Divide the mixture into 4, placing at the bottom of the muffin cups; firmly press down with the back of a spoon.
Beat the egg, add the quark, honey, vanilla extract; mix well.
Fold in the berries. Divide the mixture into 4 and place on top of the ground almond base.
Place in the oven until the mixture sets evenly; 7-10 minutes.
Once baked, take out of the oven and allow the cheesecakes to cool.
They can be refrigerated before serving.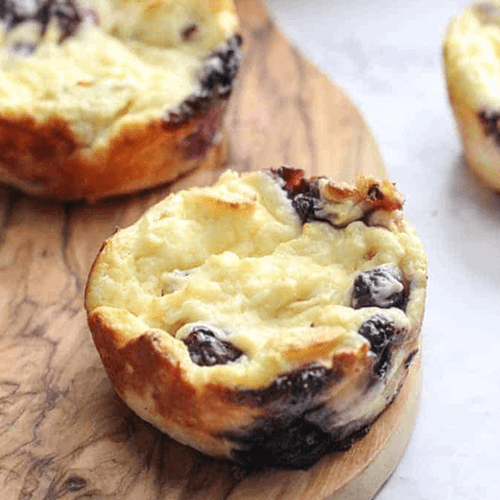 Nutritional Information
Value
Energy
Fat
Fatty acids
Cholesterol
Sodium
Carbohydrate
Sugars
Fiber
Protein
Per 100 g
177 kcal
12 g
2 g
45 mg
39 mg
5 g
7 g
0 g
10 g
Per Portion
161 kcal
11 g
1 g
41 mg
36 mg
6 g
6 g
0 g
9 g
% DRI
8 %
17 %
7 %
14 %
1 %
2 %
–
1 %
–