Muffins are notoriously calorific, but with these low-calorie banana muffins, have no worries!
Sweetened with applesauce and cinnamon, enjoy these muffins as an alternative to sugary store brought ones.
Ingredients
2 medium ripe bananas, mashed
1 large egg
2/3 cup of oats
1 tsp of cinnamon
1 tsp of vanilla extract
1/2 cup of unsweetened applesauce
1/2 cup of low-fat yogurt
2 tbsp of honey
2 tsp of baking powder
Olive oil cooking spray
12 portions (52 g per portion)
Cooking Method
Preheat oven to 400 degrees F. Spray a 12 cup muffin tray/tin with the cooking spray.
In a medium bowl, mix together oats, baking powder, and cinnamon, set aside.
In a large bowl, mix the mashed bananas, applesauce, yogurt, egg, and vanilla until well combined. Then place this mixture into the dry ingredients and mix until combined. Leave alone and allow the batter to thicken for a few minutes.
Divide the mixture evenly into the prepared 12 muffin cups and bake for 15minutes or until a toothpick inserted into the center comes out dry.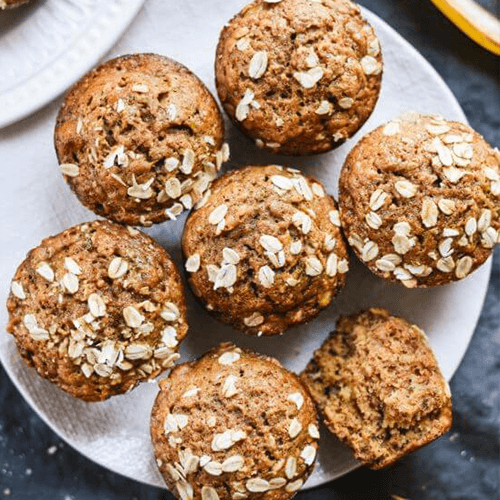 Nutritional Information
Value
Energy
Fat
Fatty acid
Cholesterol
Sodium
Carbohydrate
Sugars
Fiber
Protein
Per 100 g
138 kcal
2 g
0 g
30 mg
18 mg
27 g
12 g
3 g
5 g
Per Portion
71 kcal
1g
0g
16 mg
10 mg
14 g
6 g
1g
3 g
% DRI
4 %
2 %
1 %
5 %
0 %
5 %
–
6 %
–