Now, when it comes to granola, store brought versions are usually deceptively high in both sugar and carbohydrates.
But by making your own version, you can ensure it only contains nutritional ingredients and no nasty surprises. For an extra health boost, you can add berries as a topping.
Ingredients
1/2 tsp of olive oil
1/4 cup of rolled oats
1sp of pumpkin seeds
1tbsp of hazelnuts
1 medium egg beaten, with a drop of milk and a pinch of cinnamon
1tbsp of non-fat plain Greek yogurt
2 tsp of dried cranberries
Makes 1 portion (357 g)
Cooking Method
Preheat the oven to 150c/ gas mark 2.
Place a baking sheet and grease with oil.
Place the nuts, oats, and seeds into a bowl. Add the egg mixture and coat thoroughly.
Spread evenly onto the baking sheet and bake for 8 minutes.
Add the cranberries and mix with the mixture on the tray. Bake for a further 5 minutes.
Once cooked, dish into a bowl and serve with Greek yogurt.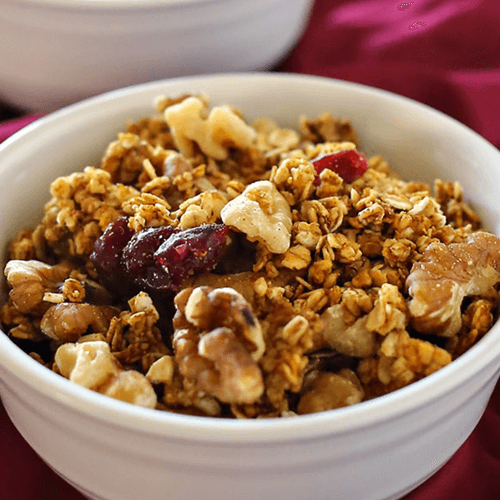 Nutritional Information
Value
Energy
Fat
Fatty acids
Cholesterol
Sodium
Carbohydrate
Sugars
Fiber
Protein
Per 100 g
266 kcal
13 g
2 g
156 g
66 mg
24 g
4 g
4 g
13 g
Per Portion
281 kcal
14 g
2 g
164 mg
70 mg
26 g
5 g
4 g
14 g
% DRI
14 %
21 %
12 %
55 %
3 %
9 %
–
16 %
–