This strawberry infused quinoa is the perfect diabetic-friendly dessert.
Quinoa is a grain that naturally has a low glycaemic index, is packed with dietary fiber and is a good source of magnesium. You can't go wrong with this deliciously healthy dessert.
Ingredients
1 tbsp of cashew nuts
1 glass of unsweetened soya milk
1/2 cup of fresh strawberries
1 tsp of chia seeds
Makes 1 portion (357 g)
Cooking Method
Add the milk, nuts, seeds, and strawberries into a high powered blender.
Blend until smooth and creamy. Set aside.
* If the mixture is too thick, add more milk until you reach a smooth, milk-like consistency.
Place quinoa in a bowl and pour mixture over it.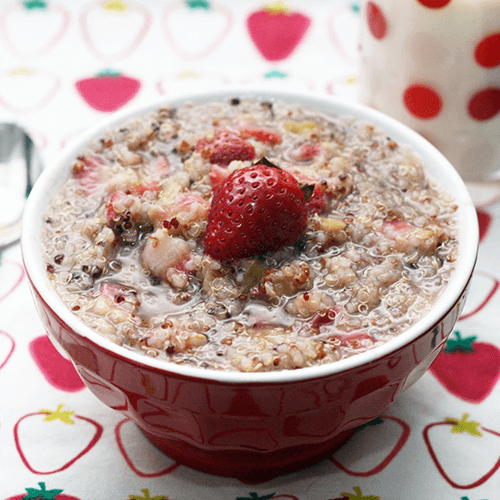 Nutritional Information
Value
Energy
Fat
Fatty acids
Cholesterol
Sodium
Carbohydrate
Sugars
Fiber
Protein
Per 100 g
63 kcal
3 g
0 g
0 mg
2 mg
7 g
1 g
2 g
3 g
Per Portion
224 kcal
10 g
1 g
0 mg
7 mg
26 g
5 g
6 g
11 g
% DRI
11 %
15 %
7 %
0 %
0 %
9 %
–
23 %
–