As the warm weather hits, this light berry fruit salad is the perfect summer dessert.
Full of fresh berries and topped with almonds, this refreshing dessert is low in calories, making it ideal for those resisting calorie bombs.
Ingredients
1/4 cup fresh blueberries
1/4 cup of strawberries
1/4 cup of raspberries
Juice of 1 medium orange
2 heaped tbsp of quark
1tbsp of flaked almonds
Sprinkle of vanilla extract powder
Makes 2 portions (139 g per portion)
Cooking Method
Wash and chop the fruit.
Place into a bowl with the quark.
Drizzle with orange juice, place the flaked almonds on top.
Add a sprinkle of vanilla powder.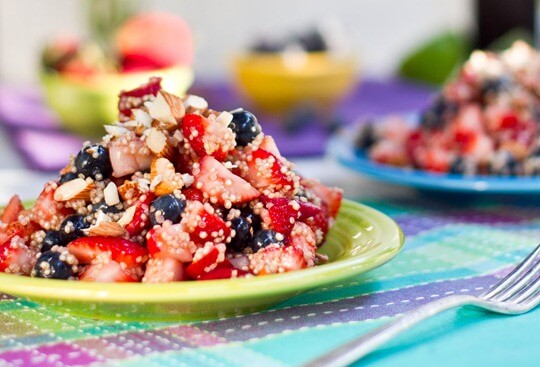 Nutritional Information
Value
Energy
Fat
Fatty acids
Cholesterol
Sodium
Carbohydrate
Sugars
Fiber
Protein
Per 100 g
63 kcal
1 g
0 g
0 mg
19 mg
6 g
6 g
1 g
7 g
Per Portion
88 kcal
2 g
0 g
1 mg
26 mg
8 g
8 g
2 g
9 g
% DRI
4 %
3 %
1 %
0 %
1 %
3 %
–
6 %
–