This salmon salad recipe can be included in a healthy diet designed to prevent an enlarged prostate.
Salmon has a high level of omega-3 fatty acids and is a great source of protein, minerals, and vitamin B.
The omega-3 fatty acids in salmon have a potent anti-inflammatory effect.
This helps protect your body from cancer, inflammatory diseases, and cardiovascular problems.
Crisp Salmon Salad Recipe
8 Cherry tomatoes, halved
90g Mixed salad leaves
2 pieces skinless salmon fillet (approx. 100g each)
1 tbsp Coarse ground black pepper
Grated rind and juice 1 orange
1 tbsp Wholegrain mustard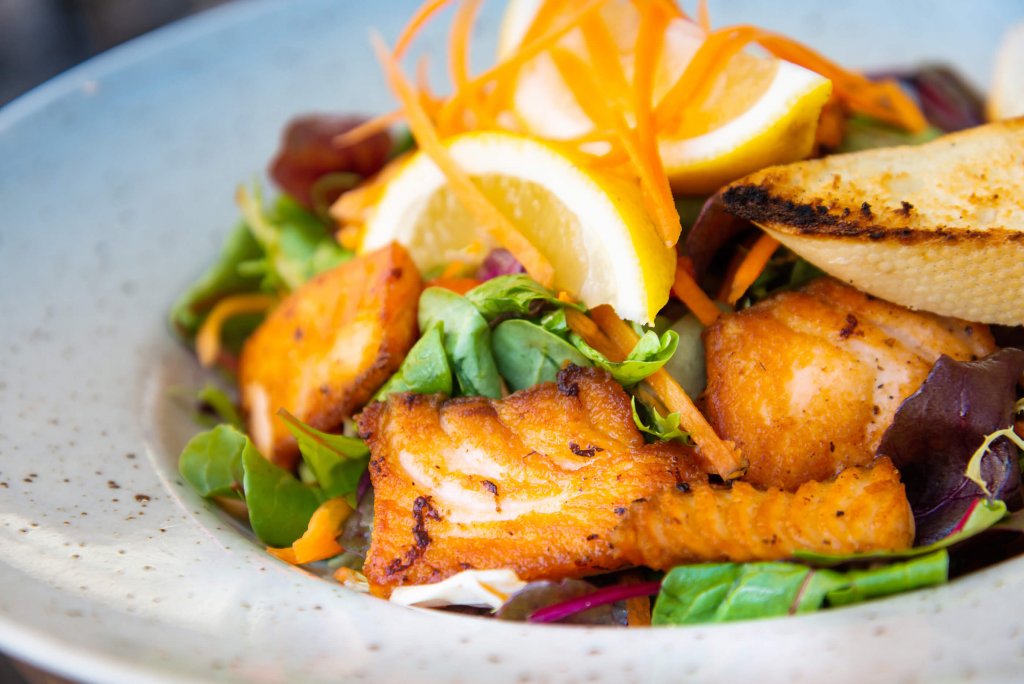 Calories (kcal): 354 / Carbs (g): 25 / Fats (g): 16 / Protein (g): 24
How To Make The Salmon Salad: Step By Step
Step 1: Preheat the oven to 180C / Gas Mark 4.
Step 2: Cut up the new potatoes and place them in a pan of boiling water. Simmer gently for approximately 15-20 minutes until tender. Once cooked drain.
Step 3: Place the salmon fillets into an ovenproof dish. Bake until cooked for about 10-15 minutes.
Step 4: Chop your tomatoes in half.
Step 5: Juice your orange. Then, lightly grate the top layer of the peel.
Step 6: Place the cooked salmon, potatoes, chopped tomatoes, salad leaves, and orange rind into a dish and mix them together.
Step 7: Season your salad with the pepper and mustard. Then, serve and enjoy.
How long will this salmon salad last in the fridge?
If you make the salad in this recipe with fresh or tinned salmon, it will last one to two days in the fridge.
4 Health Benefits of Salmon
1) High level of omega 3 fatty acids
As we discussed before, salmon contains a high level of omega 3 fatty acids. Omega 3 has numerous benefits for the human body.
It can help with vitamin d deficiency, prevent muscle loss and cognitive decline, prevent cardiovascular problems, and also aid with joint pain.
2) May support brain function
Studies suggest that regularly consuming fish may support brain function.
For example, one study suggests that regular consumption reduces age-related brain loss and may improve memory.
3) May protect against cancer
Many studies show that regularly consuming fish such as salmon might protect against cancer.
For example, one meta-analysis of 42 studies and 2,325,040 participants concluded that regular fish consumption may reduce total gastrointestinal cancer incidence.
4) High in potassium
Salmon is a good source of potassium, which can help manage blood pressure and reduce your risk of a stroke.
One systematic review of 12 studies examined the relationship between sodium and potassium intake and cardiovascular disease among older people.
The researchers concluded that both higher potassium and lower sodium-to-potassium ratio are associated with a lower risk of developing cardiovascular disease.
Moreover, another systematic review and meta-analysis found that potassium supplementation significantly lowered blood pressure in people with hypertension.
Next Up

Find out 10 Foods To Prevent An Enlarged Prostate.