The prostate is a gland that is an integral part of the male anatomy.
It has several purposes, including its role in reproductive health.
We recommend the keto diet for prostate health and overall general health.
This recipe is designed to be included in a keto diet and contains foods that are beneficial for the prostate.
Asian Salmon with Stir-Fried Vegetables Recipe
Salmon Ingredients and Measurements
3 oz Salmon Fillet
1/2 Bell Pepper (any color)
1 cup broccoli
1 tablespoon Braggs Amino
1/2 teaspoon of garlic
1 teaspoon Cayenne Pepper
1 teaspoon sesame seeds
8 oz brewed green tea
1 tablespoon Olive oil
Side Dish Ingredients and Measurements
1/2 cup each of blueberries & raspberries
2 Brazil nuts – Chopped
How To Make This Keto Recipe: Step-By-Step Guide
Step 1: Marinate the salmon in 8 oz of green tea overnight.
Step 2: Pat salmon dry the next day. Set oven to broil (average temperature 500 F).
Step 3: Mix Braggs Amino, Olive Oil, and Cayenne pepper together in a small bowl.
Step 4: Brush salmon in the Braggs Amino's and 1 tbsp olive oil mixture. Save leftovers for vegetables.
Step 5: Broil salmon, skin down for 9 minutes.
Step 6: Slice bell peppers into slices and break the broccoli into bite-size pieces. While the salmon is cooking, saute the vegetables and garlic in the remaining olive oil and Aminos. Saute on medium heat until vegetables are al dente.
Step 7: Wash berries, and chop Brazil nuts into small pieces. Gently toss together. Set aside.
Step 8: Remove the salmon from the oven. Garnish vegetables and salmon with sesame seeds.
Step 9: Serve with sauteed vegetables and berries.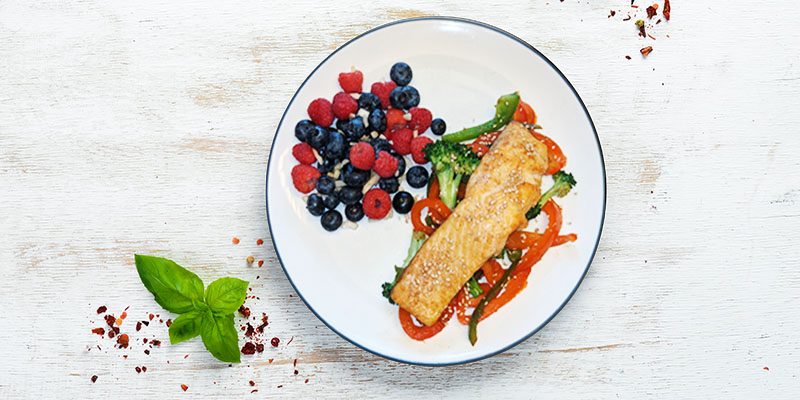 Calories: 547 kcal. Total Fat 32 g. Sodium 231 mg. Fiber 15 g.
Healthy eating for the prostate
Dietitians and researchers promote an overall healthy eating plan for prostate health which encompasses the following.
Make your diet rich in healthy fats: include healthy fats, such as avocado, olive oil, fatty fish, nuts.
Portioning: Be mindful of the portions served and eat at a slow pace, so your body recognizes satiation.
Certain foods can cause inflammation in the body. Limiting these particular items will protect the prostate. Limit the following: Red meats, processed foods, sweetened things like beverages, and refined white carbohydrates like bread and crackers.
Explore More Keto Recipes