Not happy with your erections? You are not the only one.
Roughly 30 million men across the United States have some form of erectile dysfunction.
One report on erectile troubles even showed a 52% prevalence rate of ED, meaning that many people have to deal with penile problems.
As you grow older, these erectile issues can be an uphill battle. In fact, about 40% of men in their 40s and 70% in their 70s have some type of sexual dysfunction.
The erectile dysfunction prevalence skyrockets from 5% at the age of 40 to a staggering 15% at 70.
You've probably heard a thing or two about surgeries, pumps, and oral medication for ED.
But, can foods do the trick? Of course, you shouldn't expect a miracle food that works right off the bat. However, there are a few options that can help.
10 Foods To Increase The Blood Flow To The Penis
1. Oysters
Oysters are without a doubt the most famous food for their aphrodisiac and antioxidant properties. They are a must-have when looking to enjoy sexual intercourse.
Moreover, they are also packed with omega 3 fatty acids, which means they can ease inflammation and protect the heart from cardiovascular disease.
When it comes to penis problems, oysters can aid with blood flow. In one animal study, oyster intake promoted penile blood flow and eased erectile dysfunction.
In another research study of 1,679 men, omega 3 fats were associated with amplified semen volume and testicular function.
2. Garlic
Many men who want better erections are eager to use natural remedies that would solve their erection problem. Garlic is an all-rounder. It acts as an antioxidant and can shield against chronic ailments. But it could also benefit fertility and sexual health.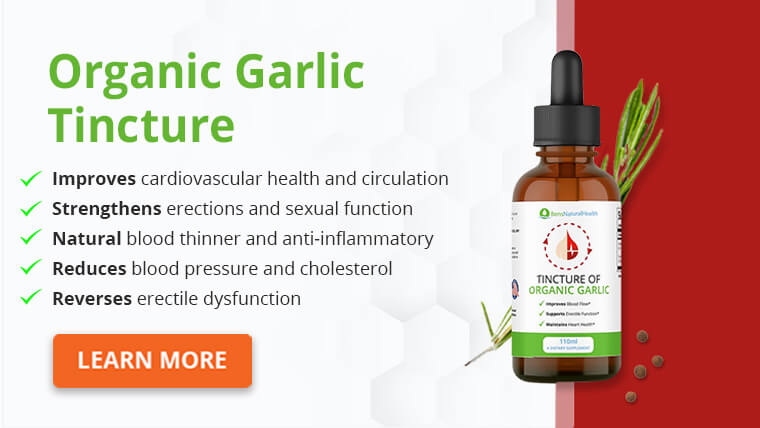 Garlic is known for boosting nitric oxide levels, a compound capable of dilating the blood vessels. It can increase blood flow to the penis, potentially improving erectile problems.
Find out about Our Garlic Tincture Supplement.
3. Dark Chocolate
This chocolate treat has many benefits under the belt. It is packed with flavonols praised for their blood circulation-boosting properties. But, there is more. These nutrients can also aid with blood pressure.
Healthy consumption helps the system create more nitric oxide and promotes penis blood flow. With the increased blood flow to the penis, it is easier to regulate your sexual health.
That's why you can find dark chocolate as an ingredient in ED medication. But in its raw form, dark chocolate can make a solid choice for penile issues.
4. Cinnamon
A cinnamon extract can promote testosterone and sperm production, as well as sexual health. The boost in testosterone levels from cinnamon is beneficial when it comes to sexual problems.
While testosterone boosts the sex drive, it also helps in keeping and getting an erect penis. Testosterone alone isn't enough to trigger stronger erections. But, it can stimulate the brain receptors to create nitric oxide.
5. Saffron
Saffron is a spice with many uses. One particular erectile dysfunction trial showed that it can increase the duration and number of erectile events in men with sexual dysfunction.
The volunteers took a 200mg tablet with saffron. In 10 days, penile rigidity significantly improved. More data is necessary about its potential to increase blood flow to the penis.
6. Spinach
Men with erectile dysfunction often have a low flavonoid intake. Spinach can replenish these sources and aid with sexual dysfunction and erectile troubles. Spinach may also aid with clearing out the clogged arteries and decreasing blood pressure.
Of course, it can't replace typical blood pressure medication. But, it can help with erectile function, proper function of the blood vessels, and penile tissues.
7. Berries
Nothing is quite as beneficial for blood flow as berries. They are rich in anthocyanin – a compound known for protecting the arteries. They promote nitric oxide production.
In fact, consuming 150g of blueberries a day curbs the heart disease risk by up to 15%. So, for healthy blood pressure and diabetes treatment, adding berries to your diet can help.
8. Bananas
Bananas are packed with magnesium, just like nuts, beans, and whole grains. Your penis needs magnesium. It is critical for managing erectile troubles alongside conventional penis treatment.
If you are using a medication like Sildenafil, eating bananas can help the penis. But, there is not enough research on this food and nocturnal erections, including its impact on the smooth muscle. Yet, it is still a practical choice when paired with aerobic exercise.
9. Watermelon
Watermelon is rich in citrulline. This amino acid is beneficial for the penis, particularly when dealing with erectile troubles and inadequate blood flow.
When taking medication for erectile dysfunction, feel free to add watermelon to your premature ejaculation diet. It may not be as beneficial as conventional treatment, but it could set your libido on the right track.
10. Pomegranate Juice
When dealing with priapism, many men need medical treatment. But, pomegranate juice or extract can also help.
It is known to amplify blood flow and dilate the vessels. This makes it a viable option for penis troubles alongside pde5 inhibitors.
Get Your FREE Low Testosterone Diet Plan
The ultimate testosterone boosting diet
combined with exercise & lifestyle advice
Developed exclusively by our nutritionist
Conclusion
Many men with erectile dysfunction look for natural remedies to get their erectile troubles sorted. Implementing a few dietary changes can help aid with blood flow and overall sexual function.
Explore More