Diabetes, according to the world health organization, is a chronic disease that typically occurs either when the pancreas does not produce enough insulin or when the body cannot effectively use the insulin it produces.
Insulin is a hormone that regulates blood sugar.
Several natural remedies may help balance your blood sugar level to avoid hyperglycemia.
Hyperglycaemia, or raised blood sugar, is a common effect of uncontrolled diabetes and leads to severe damage to many of the body's systems, especially the nerves and blood vessels.
Natural remedies, in addition to their conventional medicine, are a great complement to medical type 2 diabetes treatment. However, care and guidance are required.
What Is Type 2 Diabetes?
Type 2 diabetes can also be referred to as non-insulin-dependent or adult-onset diabetes.
It is a condition of diabetes where the body cannot effectively use the insulin it produces. The result means that the body either doesn't have enough insulin or resists insulin.
Over 95% of people with diabetes have type 2 diabetes. In recent times, children have been diagnosed with type 2 diabetes, unlike in the past when it was rare in children.
Type 2 diabetes is widespread because our modern lifestyle can result in excess body weight and physical inactivity. Type 2 diabetes may take long to diagnose as its symptoms are often less profound.
However, it can insidiously lead to complications as it slowly and quietly causes harm to the body. In most cases, patients finally get diagnosed with type 2 diabetes when there are already damaging complications.
There is no quick fix or magic cure for diabetes. According to the World Health Organization, people with diabetes rose from 108 million in 1980 to 422 million in 2014.
Moreover, prevalence has grown more rapidly in low- and middle-income countries than in high-income countries.
Diabetes is a significant cause of blindness, kidney failure, heart attacks, stroke, and lower limb amputation. In 2019, diabetes was the ninth leading cause of death, with about 1.5 million deaths directly caused by diabetes.
However, recent research shows that a healthy diet, regular physical activity, stress reduction techniques, maintaining average body weight, and avoiding tobacco use are ways to prevent or delay the onset of type 2 diabetes.
Also, several supplements and medicinal herbs may help manage type 2 diabetes in conjunction with prescribed medication.
Thus, the consequences of diabetes can be avoided or delayed with diet, physical activity, medicine, and regular screening and treatment for complications.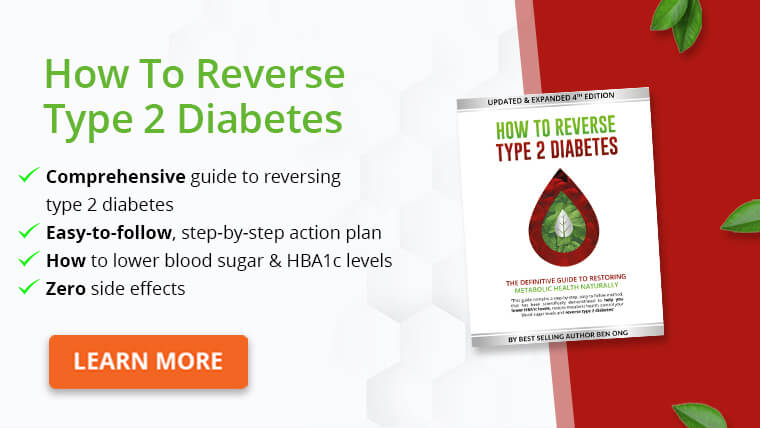 10 Natural Remedies For Type 2 Diabetes
There are different ways to treat type 2 diabetes. It can be traditional medicine, alternative therapy, natural remedies, etc.
We will be thoroughly looking at the natural remedies for type 2 diabetes. It's incredible how some natural remedies for diabetes are straightforward.
Some of these remedies are:
1. Diet
A change in diet is one of the most important things to consider when treating type 2 diabetes. A diet that helps diabetic patients improve their health is referred to as a diabetic diet.
A type 2 diabetic diet should include eating the healthiest foods in moderate amounts and sticking to regular mealtimes. The diet plan should be naturally rich in nutrients and low in fat and calories.
Key features are foods low in carbohydrates but high in fiber, such as fruits, vegetables, and whole grains. Foods like this help prevent the blood sugar level from increasing.
Carbohydrates are naturally high in sugar and should be avoided as they can cause blood sugar levels to rise.
It is also advisable to consume foods like legumes, seafood, barley, etc. They contain properties that can encourage lower blood sugar levels.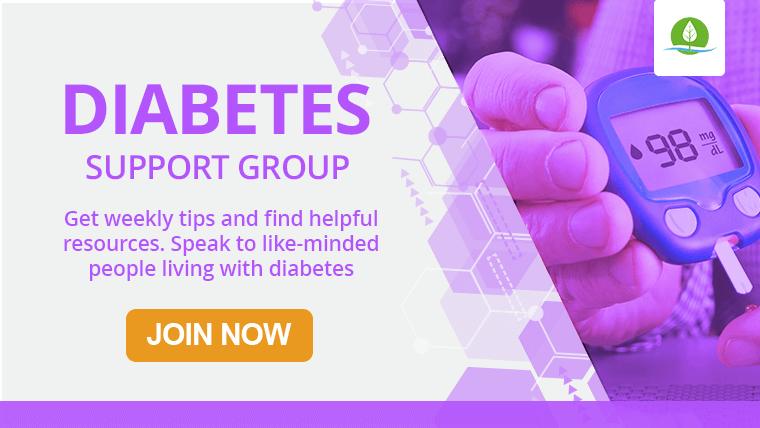 2. Regular Exercise
Regular exercise cannot be overemphasized enough, and this is a notable natural remedy for type 2 diabetes.
When a diabetic person exercises regularly, it helps increase insulin sensitivity in the body. The body can then utilize sugar present in the blood in simple terms. Let's not also forget that exercising helps with weight loss.
3. Stress Control
If you are trying to keep your blood sugar level, you need to keep your stress level even lower.
Naturally, no human likes or enjoys being under stress. How much more does a person with diabetes?
Control over one's stress level is a considerable remedy when talking about natural ways of dealing with diabetes.
When you are stressed, certain hormones are released, which can cause your blood sugar level to increase. Some of the best ways to relieve stress include exercising, meditating, yoga, listening to calm music, etc.
4. Blood Sugar Monitoring
There is a saying that "what you don't know doesn't kill you." In the world of living with diabetes, what you don't know will kill you slowly.
Constant monitoring of blood sugar levels is crucial as it helps you know whether to adjust your medications or your diet.
Your blood sugar level can spike up, and you'll not know because you "feel fine." If you are in the business of constantly monitoring your sugar level, you will never be caught off guard. This might sound very basic, but it is a simple natural remedy.

5. Supplementing Vitamin D
According to studies, low vitamin D can also lead to insulin resistance and diabetes as vitamin D plays a vital role in insulin production.
Therefore, exposing yourself to at least 30 minutes of sunlight in the morning daily can help avoid a vitamin D deficiency.
You can also include foods rich in vitamin D in your diet to make it easy. Examples of such foods include orange, yogurt, cheese, cereal, soya milk, etc.
6. Aloe Vera
Aloe vera, for centuries, has been used for its medicinal properties, including lowering high blood sugar levels in people with diabetes.
In addition, when Aloe vera is consumed daily, it aids in reducing HbA1c levels and body fat levels.
So, if you are looking at taking the natural remedy route, embrace the idea of consuming two tablespoons of aloe vera juice daily.

7. Moringa
The health benefits of moringa have been making waves recently, and it being a possible natural remedy for type 2 diabetes cannot be overlooked.
Moringa, the leaves of the drumstick tree, are known for maintaining blood sugar levels and boosting energy. Moringa contains nutrients that can help increase insulin secretion in the body.
It is also believed that moringa has anti-inflammatory properties and is also rich in antioxidants. As a natural remedy for type 2 diabetes, Moringa can be consumed by adding them to your meal or boiling and drinking tea.
8. Mangoes
Who loves mangoes? Here's good news, consumption of mango leaves is believed to be another natural remedy for type 2 diabetes.
In addition, mango leaves are a natural remedy for treating and managing type 2 diabetes. You can sun dry mango leaves, grind them to a powder form and consume them with water. You can do this daily, morning and evening.
9. Increasing dietary fiber
Dietary fiber is another natural remedy for type 2 diabetes. Dietary fiber reduces the level at which fat and sugar are absorbed into the body from food consumed, which helps prevent blood sugar levels from spiking.
One of the best sources of fiber is barley which produces about 6 grams of fiber per cup. It improves blood sugar levels and reduces inflammation, and regulates cholesterol. You can consume barley-based bread or prepare it with some vegetables.
10. Cinnamon
According to several studies, cinnamon positively impacts blood glucose levels and cholesterol levels in type 2 diabetics.
As a natural remedy for type 2 diabetes, cinnamon helps increase insulin sensitivity which aids in preventing and managing the ills of type 2 diabetes. You can soak cinnamon sticks in a cup of water and drink them on an empty stomach.
Our Natural Diabetes Supplement: Glyco Optimizer
Due to the side effects of some medications, many people look for natural ways to effectively manage their blood sugar levels with supplements.
We formulated Glyco Optimizer, a natural diabetes supplement, to help stabilize and maintain an optimal blood sugar level.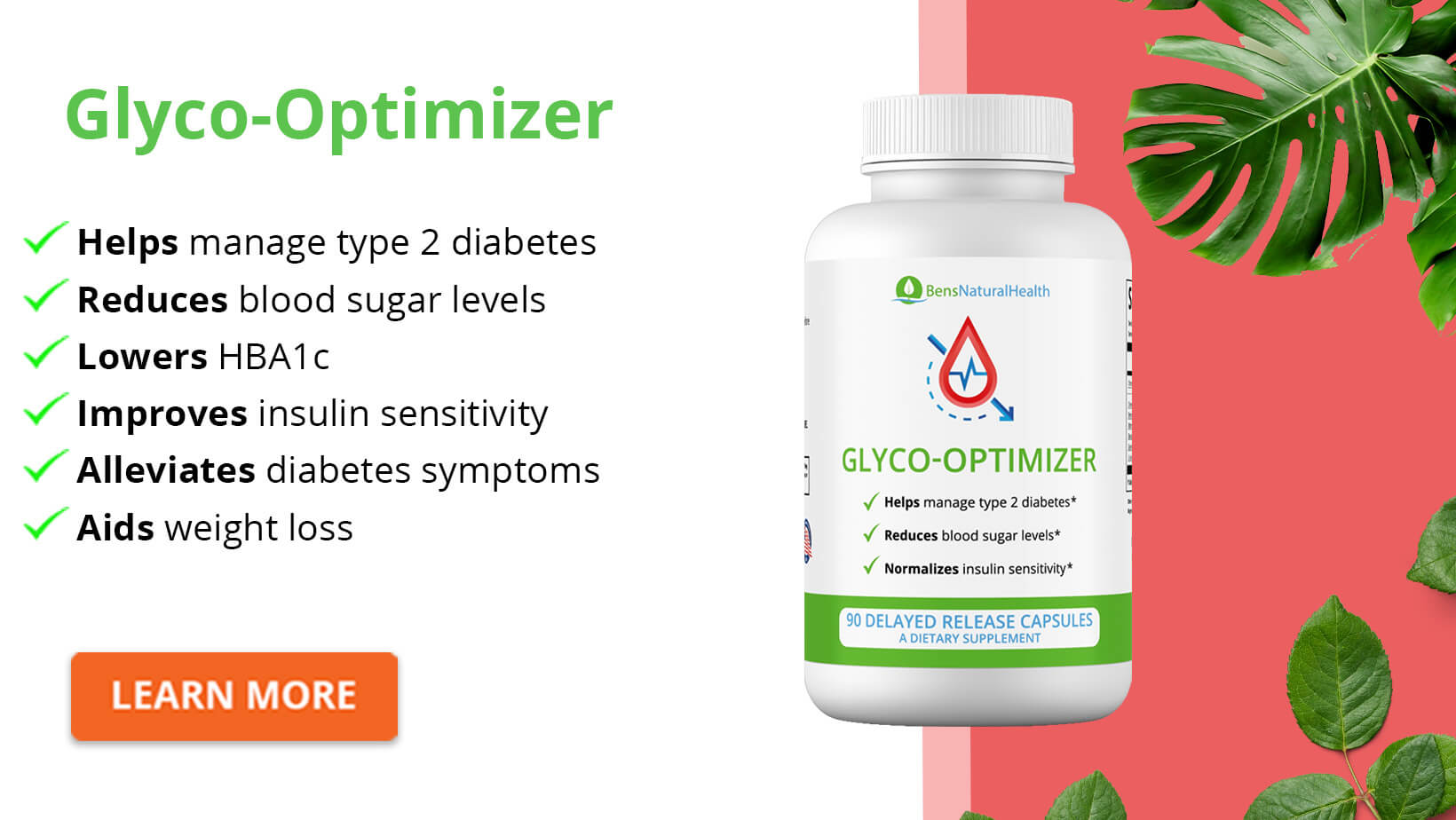 The natural ingredients in Glyco Optimizer help regenerate your pancreas, aid weight loss, alleviate diabetic symptoms, prevent oxidative damage and prevent the progression of diabetes. Each ingredient has been thoroughly researched and scientifically proven to improve and maintain type 2 diabetes health.
Why Choose Ben's Natural Health?
At Ben's Natural Health, our motto is to combine holistic healing with modern science.
Ben's Natural Health is the world's first high-quality, all-natural, scientifically proven clinical supplement company.
Above all, our supplements are effective, natural, and 100% side effect free.
At Ben's Natural Health, we have four rules for all our supplements:
We only use the highest quality ingredients.
We only use them if independent, peer-reviewed double-blind studies prove they work.
With all our supplements, we find a way to get every ingredient into a single bottle.
We always formulate them in clinically significant doses of the most bioavailable form.
We pride ourselves on offering excellent customer service. We offer a free health consultation where you can ask questions and receive tailored advice from our expert health consultants.
Conclusion
Many people prefer natural remedies, especially when dealing with our bodies and what we put in them. However, be sure to consult with your doctor before starting your journey with natural remedies for diabetes, in this case, type 2 diabetes.
Explore More