Ben's Glyco-optimizer, one of the leading supplements for type 2 diabetes, contains seven clinically proven, natural ingredients to help stabilize and maintain an optimal blood sugar level.
Type 2 diabetes occurs when the pancreas doesn't produce or use insulin properly. When the body doesn't use insulin effectively, this is known as insulin resistance.
More than 34 million Americans have diabetes, and approximately 90-95% of them have type 2 diabetes.
This type of diabetes is highly associated with obesity, poor diet, and lifestyle practices.
In many cases, the first line of treatment for these patients is adopting a healthier lifestyle through a well-balanced diet, regular exercise, and cutting out bad habits such as smoking.
Clinically formulated, Glyco-optimizer works to regenerate your pancreas, aid weight loss, alleviate diabetic symptoms, prevent oxidative damage and prevent the progression of diabetes.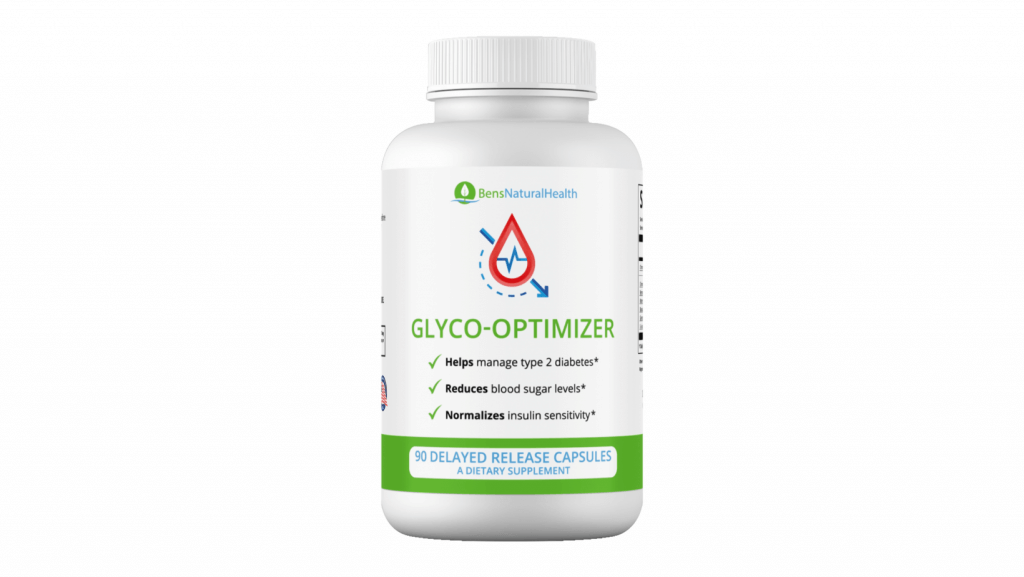 How does Glyco-Optimizer work?
Glyco-Optimizer is an all-natural, clinical-grade diabetes supplement that is designed to work as part of a healthy diet and lifestyle to help manage type 2 diabetes.
We formulated Ben's Glyco-Optimizer to lower your HBA1c levels and restore normal insulin sensitivity.
What are the active ingredients in Glyco-Optimizer?
Chromium
Chromium is an element found in the crust of the earth and seawater. It also exists in several other natural sources such as rocks, plants, soil, vegetables, and nuts.
Chromium plays a crucial role in metabolizing proteins, carbohydrates, and fats. It also helps you maintain a normal blood glucose level.
Berberine
Berberine is an ammonium salt that can help with diabetes and managing diabetes complications. You can find it in the roots, rhizome, stem, and bark of certain plants.
Berberine works against oxidative stress and inflammation, which are two things that help in type 2 diabetes. In Ben's Glyco-Optimizer, berberine controls blood sugar levels by inhibiting the absorption of sugar in the intestine and enhancing insulin production.
Banaba
Banaba is a plant that can help to reduce blood glucose levels and improve insulin sensitivity. It enhances the ability of cells to absorb glucose and helps normalize blood sugar and insulin levels.
L-Leucine
L-Leucine is an amino acid that can regulate several cellular processes such as protein synthesis, tissue regeneration, and metabolism.
Supplementation of L-Leucine can significantly reduce HbA1c levels and improve blood sugar control and insulin sensitivity.
Cinnamon Bark
Cinnamon bark can be used to make medicine. It aids in blood glucose management by improving insulin release and enhancing insulin sensitivity.
Bitter Melon
Bitter melon is a plant that can help a diabetic patient to manage the symptoms of their condition. It increases insulin secretion while decreasing insulin resistance, thus helping to restore normal blood sugar levels and pancreatic function.
Gynostemma
Gynostemma is a climbing vine native to China that is commonly used in traditional Chinese medicine. When taken as an oral capsule, the concentrated extracts enhance insulin sensitivity, leading to improved glucose control.
What does research say about the active ingredients?
Chromium
There has been growing interest and research surrounding the effects of chromium supplements on diabetes since the 1950s.
A double-blind, placebo-controlled study assessed 180 people with type 2 diabetes and the effects of supplemental chromium. This revealed that Chromium could improve fasting glucose, postprandial glucose, insulin, hemoglobin A1c, and cholesterol.
In a follow-up study, 833 patients with type 2 diabetes were monitored for ten months on CRP treatment (500 μg/day). Findings revealed that chromium supplementation significantly reduced diabetes symptoms, including fatigue, thirst, and frequent urination.
Berberine
Researchers have noticed that berberine suppresses oxidative stress and inflammation in tissues. These include kidney tissue, fat tissue, liver tissue, pancreatic tissue, and others.
A three-month-long trial compared berberine and Metformin on 36 diabetic patients with a new diagnosis of type 2 diabetes. The study found that berberine's blood sugar lowering effect was like that of Metformin, and berberine led to significant decreases in hemoglobin a1c, from 9.5% to 7.5%.
The promising results of this trial suggest that Berberine works similarly to the prescription diabetes medication Metformin, except without any adverse side effects.
Banaba
Research shows that banaba can help the body to use insulin more efficiently and aid in weight loss. A scientific study found patients treated with 10mg of banaba leaf extract over 30 days had decreased blood sugar levels within 60 min.
Another scientific study found that participants who took a banaba supplement lost an average of 2.7 pounds. Whereas those in the placebo group gained an average of 3.4 pounds.
L-Leucine
A study on diet-induced obese mice found that leucine supplementation significantly improved glucose and energy metabolism. This suggests that leucine supplementation could be a beneficial adjuvant therapy for obesity and type 2 diabetes.
Cinnamon Bark
Cinnamon bark has been shown to increase insulin and insulin sensitivity, prevent heart disease, increase antioxidant use in the body, lower blood sugar levels, blood pressure, and aid in weight loss.
A 4-18 week meta-analysis of 543 patients found that cinnamon supplements reduced levels of fasting plasma glucose, total cholesterol, and triglycerides. In a triple-blind placebo-controlled study, 140 type 2 diabetic patients received cinnamon bark powder or placebo in 500 mg capsules twice daily for three months. Cinnamon supplementation led to improvement in BMI, HbA1C, fasting insulin, insulin resistance, and cholesterol.
Bitter Melon
Researchers have found that bitter melon can have a hypoglycemic effect and help to lower blood sugar levels.
A 10-week study with 95 patients found that consumption of bitter melon significantly reduced blood glucose levels. Scientists have found that one of the ways bitter melon works is by decreasing the intestines' uptake of glucose.
Multiple studies have shown that bitter melon can inhibit intestinal absorption of glucose, suppress key glucogenic enzymes, and decrease hepatic gluconeogenesis.
Gynostemma
One study tested the effects of gynostemma and found that steady-state plasma glucose responses markedly decreased after the treatment, indicating improved insulin sensitivity.
Another study found that patients who took gynostemma had their fasting plasma glucose levels decreased. This study shows a prompt improvement in glycemia and insulin sensitivity. Thereby providing a basis for a novel, effective, and safe approach using Gynostemma to treat type 2 diabetic patients.
How long does it take to work?
When looking for supplements for diabetes, a natural question you're going to want to know is how quickly it will work. However, depending on the individual state of your health, your diet, lifestyle, and a range of other factors, personal recovery for each diabetic patient can vary.
Usually, when using Ben's Glyco-Optimizer, diabetic patients tend to see significant results in 3-6 months. Sometimes you can see effects even faster, but it's important to understand your body has to process it more slowly since it is not like a drug.
For the best results, you should take three capsules of Glyco-Optimizer daily with a meal.
Is it safe to take?
Ben's Glyco-Optimizer is 100% drug-free, 100% natural, and 100% side-effect-free.
When it comes to the ingredients in our products, we rigorously test them to ensure that they meet the American pharmacological standards and the American herbal products association standards. Our manufacturing facilities are also all US-based and FDA monitored.
All our finished products are tested by a third-party laboratory using United States pharmacopeial test 1119 (near-infrared spectrography). This ensures that the supplement matches the label and is safe, pure, and of high quality.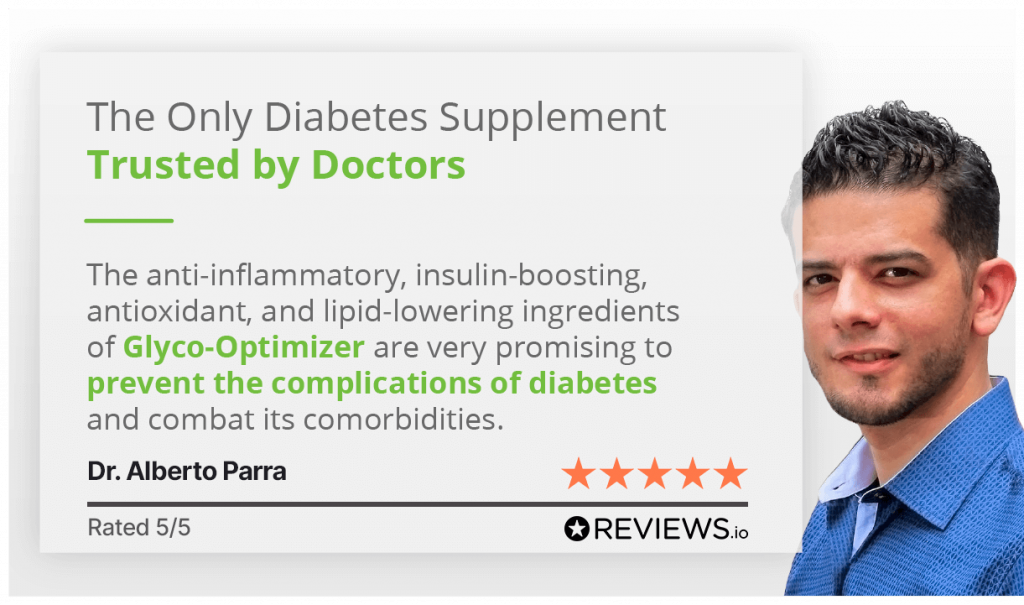 How does it compare to other supplements for diabetes?
Naturally, you may wonder how our product compares to other supplements for diabetes.
It is important to note that, unlike some other supplements, Ben's Glyco-Optimizer has the following:
100% natural ingredients.
Clinically significant dosages.
Ingredients shown to work in peer-reviewed, double-blind studies.
Chelated ingredients for better absorption and effectiveness.
While many diabetes supplements have scientifically backed natural ingredients, the vast majority contain only a few essential diabetes ingredients. And this is usually in low and ineffective dosages, without chelating ingredients for better absorption and bioavailability.
A therapeutic dose is the amount of the ingredient you will need to have a clinical effect proven by scientific studies. It's also important that the diabetes supplement you take contains natural nutrients. You do not want it to have any synthetic ingredients or genetically modified organisms.
Ben's dietary supplements are extracted from the highest quality, natural ingredients, and freshly harvested herbs, using rigorous, cold press extraction methods to optimize dosage and bioavailability.
Bioavailability refers to the extent to which the supplement makes its way to the body's tissues rather than being flushed out. As a result, the body efficiently absorbs our Glyco-Optimizer.
To ensure the efficacy, potency, and freshness of Glyco-Optimizer, we pick fresh herbs at the season's peak. Then, each herb is qualified under specific quality guidelines under the CGMP and FDA. This 3rd party process of qualification ensures 100% quality testing of every herb before we add it to our Glyco-Optimizer.
After this testing, we make sure that the herbs maintain their freshness and efficiency. We achieve this by cold pressing and suspending in glycerin, a compound known for its antimicrobial and antiviral properties. So, through this diligent process, our preparations maximize the potency and efficacy of our supplements.
Why Choose Ben's Natural Health Supplements?
At Ben's Natural Health, our motto is to combine holistic healing with modern science.
Ben's Natural Health is the world's first high-quality, all-natural, scientifically proven clinical supplement company. Our supplements are effective, natural and 100% side effect free.
Moreover, at Ben's Natural Health, we have four rules for all our supplements:
We only use the highest quality ingredients
We only use them if they have been proven to work in independent, peer-reviewed double-blind studies
With all our supplements, we find a way to get every ingredient into a single bottle
We always formulate them in clinically significant doses of the most bioavailable form
We pride ourselves on offering excellent customer service. We offer a free health consultation where you can ask questions and receive tailored advice from our expert health consultants.
Key takeaways
3 benefits of Glyco-Optimizer:
It contains ingredients clinically proven to reverse type 2 diabetes, control blood sugar levels, aid in weight loss, and alleviate diabetes symptoms and complications.
98% of customers would recommend Glyco-Optimizer to a friend
Explore More

Find out about Our Best-Selling Book: How To Reverse Type 2 Diabetes.