Supplement manufacturers have one goal – to bring supplements to the market that are innovative, natural, potent, safe, and tailored to the customer's needs.
From a consumer standpoint, the faster the results, the better the product.
But, there is more to supplements than meets the eye.
For decades, the food industry has made it its top priority to enrich food with minerals and vitamins.
Supplements vary in quality, efficacy, and stability.
Different ingredients and blends can offer a wide range of benefits. Innovative ingredients can help make the supplement stand out.
Bioactive peptides, for example, offer advantageous qualities like neuroprotection, heart protection, and immune system boosting capabilities.
When creating the perfect blend, many dietary supplement brand owners might want to compare capsules vs tablets.
Besides their obvious physical differences, you must also consider their absorption and digestion rate, including nutraceutical dosage and consumer preference.
Here, you can find out how the different ingredients and capsule choices affect supplement performance.
How Ingredient and Capsule Choices Impact Supplement Performance
Proper nutrition directly affects overall health and well-being. When a normal diet can't provide a balanced amount of nutrients, herbal dietary supplements come into play.
So, what are herbal supplements? A supplement is a consumable product with the main focus of supplementing a normal diet.
Natural supplements are a concentrated source of minerals, vitamins, and other substances. They can offer nutritional or other effects.
Many experts suggest using an herbal supplement if the consumer has a shortage of nutrients or if they are dealing with a certain ailment that could benefit from the consumption of herbs and supplements. (1)
But, not all health supplements and natural medicines are created equal. The ingredients they contain, paired with the grade, delivery method, and bioavailability, will affect the product's performance.
It's critical to steer clear of toxic additives and synthetic nutrients. Instead, you are better off picking a product that has a chock-full of beneficial properties and can offer a quality natural pill.
Grade
Companies selling dietary supplements know just how important it is to have functional and nutritional ingredients. Innovation is key when formulating cutting-edge blends.
Currently, there is a huge emphasis on ≥99% pure products, which are free of unnecessary binders, excipients, and fillers.
There is a need for carefully-selected ingredients on the basis of precise quality and distinctive purpose. Such as health products with:
Raw ingredients, which are tested for purity and quality by 3rd party companies
Ingredients in most bioavailable forms for better absorption
Herbal supplements manufactured in cGMP and FDA-registered facilities
Many pharmaceutical-grade supplements are free of allergens. Whereas organic health products are free of dangerous pesticides.
Organic has fewer heavy metals, more antioxidants, and healthy fats. This can definitely come in handy for a wide range of consumers.
Another popular product option is multi-ingredient performance supplements (2). They include a mixture of branched-chain amino acids, creatine, glutamine, beta-alanine, and piperine.
Some could make for a practical recovery or post-workout supplement. Predominantly those with a blend of ingredients like nitric oxide agents, caffeine, beta-alanine, and creatine. Products like these have promise as an ergogenic aid for physically active individuals. (3)
Note: A pharmaceutical-grade health product must exceed 99% purity. In the market, less than 3% of supplements meet these grade standards.
Bioavailability
Physical properties of a product represent major variables. These properties include particle size, binding cations, solubility, pKa, and hydrophobicity, all of which can affect bioavailability. Encapsulation and drug formulation also have a major role to play in bioavailability. (4)
Encapsulation is a method that can positively affect bioavailability and bioaccessibility, research shows. Encapsulation ensures that the active component's coating and delivery to a distinct section of the digestive tract offers a controlled release. (5)
To make the most of drugs and supplements, consumers need products whose ingredients are in the most bioavailable forms. For example, vitamin B2 in the form of riboflavin-5′-phosphate and sodium. Or vitamin B12 in the form of methylcobalamin.
Delivery Method
The ideal delivery method will vary based on the dietary herbal supplements. But, for the highest bioavailability, consumers often go for capsules, as well as powder and liposomal formulations.
Here is a quick look at each of these delivery methods for natural health supplements:
Capsules
They are quick to break down during digestion. So, the body has an easier time absorbing the nutrients. Capsulated formulas are safe from moisture. They tend to have a better taste. For instance, the herb ashwagandha does not taste nice when you take it in powder form. But, in a capsule, these herb supplements have a more favorable flavor and odor.
Powder
Holistic supplements in the form of a powder are often fast-absorbing. They are a practical option for "bulkier" ingredients and larger amounts. Like magnesium, for example.
Liposomal
Through this delivery method, the cells easily absorb the nutrient attached to the phospholipid molecule. This is an advanced nutrient-delivery system that enhances the effects of supplementation.
Tablets
Tablets need the most time to break down. So, the body finds it harder to absorb all the necessary nutrients.

Capsule vs Tablet
When it comes to oral organic supplements, both capsules and tablets remain a go-to choice. They deliver the herbs and vitamins and supply the body with the much-needed benefits. Even if these products function similarly, they have some major differences.
Many people prefer capsules over tablets. That's because they dissolve quickly and are easier to swallow.
When offering smaller formulations, capsules seem to be a practical choice for supplement brands. Capsulated formulations have an enclosed outer shell.
When the product reaches the digestive tract, the shell breaks down, and the bloodstream distributes it. Capsules come in two main types: soft gel and hard-shelled.
In terms of effectiveness, capsules have better absorption and act faster than tablets. More medication reaches the bloodstream, thus making them a more effective alternative.
Tablets are cheaper, have a longer shelf-life, and can accommodate higher doses. The most common tablet type is herbal pills. They are an effective oral medication and feature potent ingredients.
Thanks to their distinctive surface, you can split or chew the tablets. Many natural pills offer variable delivery, such as an extended, delayed, or quick release.
So, which are easier to swallow – tablets or capsules? All-natural supplements that come in the form of capsules or tablets can pose a challenge for swallowing.
Tablets are hard and stiff. They also come in different shapes. Whereas capsules, like soft gels, are usually large in size.
Many people who take a herbal vitamin choose tablets purely because they can split them. Splitting makes it easier to swallow. Unlike capsules, people can cut the tablet into a smaller dose, which can be a huge plus when taking various herbal vitamins.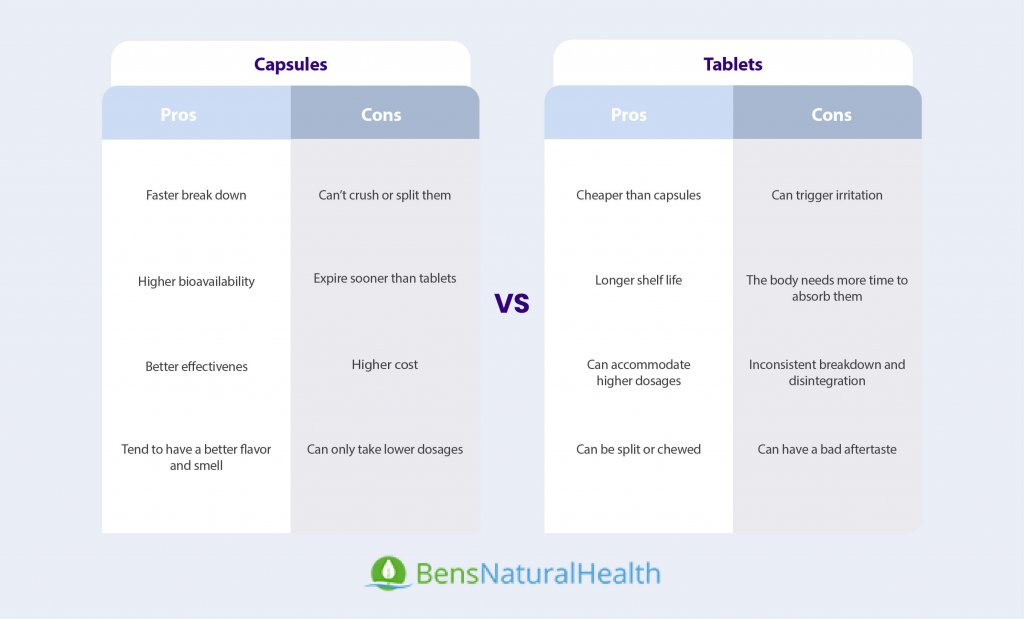 Ben's Natural Health Supplements
Ben's Natural Health is the world's first high-quality, all-natural, scientifically proven clinical supplement company.
All of our formulations are formulated with 100% natural earth-grown nutrients, and we never use artificial fillers, bulkers, or synthetic vitamins. We always use the most bioavailable form of the nutrient, and whenever possible we use organic ingredients.
We're committed to sourcing our products and choosing our partners in an environmentally friendly and sustainable way.
We maintain visibility at every stage of our supply chain. All our ingredients are sourced in the US and Europe, and we do all our manufacturing in FDA audited and cGMP compliant USA-based facilities.
We also work with the GEMS supply chain excellence program to ensure we can track every vitamin, mineral, and nutrient in our product back to its point of origin.
Moreover, at Ben's Natural Health, we have four rules for all our supplements:
We only use the highest quality ingredients.
We only use them if they have been proven to work in independent, peer-reviewed double-blind studies.
With all our supplements, we find a way to get every ingredient into a single bottle.
We always formulate them in clinically significant doses of the most bioavailable form.
Conclusion
There is a huge list of herbal supplements on the market. Each offers a range of ingredients and beneficial properties. When choosing which natural dietary supplement to go for, it's critical to evaluate its ingredients and the type of product.
Various health products offer different delivery methods. Capsules and tablets remain a popular choice.
Capsules provide better bioavailability and effectiveness. While tablets are tailored to a tight budget.
When looking for the best natural supplements, it's best to opt for tested and pure products. Those manufactured in cGMP and FDA-registered facilities can make for a worthy choice.
Now that you know what to look for in supplements, you will have an easier time picking the right brand.
Explore More