Do you know what Erectile dysfunction is? Do you know how many men get diagnosed with Erectile dysfunction each year?
Although it is no dangerous condition and can be easily treated, Erectile dysfunction can lead to depression, anxiety, and problems with your partner if you do not get rid of it. But how you ask?
Well, you have the conventional treatment options that have been proven to treat this condition successfully, luckily we also have a variety of promising natural treatments that you can try instead of jumping to take viagra and other drugs!
But let's back up a few steps and first review what Erectile dysfunction really is and then explain the most popular and efficient natural treatments that you can try!
What Is Erectile Dysfunction?
Erectile dysfunction is a health problem that is defined as the inability to achieve and/or maintain an erection, especially during sexual intercourse. It is suggested that nearly all men experience Erectile dysfunction at some point in their life, especially between the age of 40 and 70.
Cleveland Clinic explains that about 70% of men experience these symptoms by the age of 70. In these cases, the symptoms may be moderate to severe. Some men may not be able to have an erection at all.
Many health problems can cause Erectile dysfunction such as high blood pressure, high cholesterol, and diabetes mellitus, causing a decrease in the blood flow to the penis, depression, hormonal imbalance, etc.
Erectile dysfunction is also linked to several health complications. Men with poor erectile function are at risk of depression. It can also diminish a man's sexual desire. Men with this sexual dysfunction may also find that they experience anxiety when they participate in sex.
Symptoms
The main symptom men experience with ED is poor erections. Some men can still get an erection. The erection may not last long, however. It goes away too soon, leaving the man and his partner dissatisfied.
There are some accompanying symptoms that men may also want to recognize. Poor sexual function sometimes comes with low libido. ED and low libido are often experienced together. Some men may also experience ejaculatory problems. This may come in the form of premature ejaculation. There are cases where the man is not able to ejaculate.
Men also need to be wary of symptoms that may signal an underlying condition. Fatigue and constant tiredness, for example, maybe signs of heart disease and diabetes. Both of these conditions are known to contribute to erectile dysfunction. Failure to treat these conditions can cause serious complications.
In fact, according to one scientific paper, erectile dysfunction is sometimes considered a predictor of heart disease. The researchers explain that poor erectile function can be an early sign of cardiovascular conditions.
What Causes Erectile Dysfunction?
There are many reasons why men may develop erectile dysfunction. Men should understand how an erection works. This can give them a better idea of why they may have a poor erectile function.
The process starts in the brain. A man is sexually stimulated. This causes arousal. Once aroused, the brain sends a signal to the penis. Muscles relax at the penis, allowing blood to enter.
This causes a penile erection. The blood flows into the chambers of the penis, and the sex organ starts to swell up. The muscles contract to keep the blood on the inside. When the blood leaves the penis, the erection goes away.
With this in mind, physical and psychological factors can affect a man's sexual function.
Physical Factors: Cardiovascular disease is considered a main physiological factor. This may be a condition that affects the blood vessels. In turn, blood circulation becomes weak. High blood pressure may develop. There is not enough blood to cause an erection in the man's pelvis. Low testosterone is another possible cause. The use of certain prescription medications can also cause erectile problems. Medication for hypertension, for example, is known to cause ED as a side-effect.


Psychological Factors: Depression and other psychological problems that a man faces can also contribute to weak erections. This can lead to moderate erectile dysfunction in men. Sometimes, mental issues can cause complete erectile dysfunction.
Another potential cause to consider is low testosterone and high estrogen. These are both sex hormones. High estrogen levels are a factor behind erectile dysfunction. The male body only needs a small amount of estrogen. It helps to regulate certain sexual functions, including libido and spermatogenesis.
Testosterone is the primary sex hormone in men. It does not directly affect the man's ability to have an erection. It does, however, affect libido. When testosterone is low, there may be problems with the stimulation of the man's sex drive. This can, in turn, affect his ability to have a normal erection.
Get Your FREE Erectile Dysfunction Guide
Eleven most important herbs to improve erections
Natural lifestyle changes to reverse erectile dysfunction
Developed exclusively by our medical doctor
Treating Erectile Dysfunction
Viagra has become the standard treatment for erectile dysfunction. The drug was not originally developed for men with erectile problems. It was initially used to treat high blood pressure. The drug was later rebranded and approved for the use in ED treatment.
Viagra is a PDE5 inhibitor. It inhibits the action of a certain enzyme in the body. This sometimes helps men achieve better erections. The problem, however, is that the drug comes with side-effects.
The drug may cause the following side-effects:
Vision changes


Blurred vision


Headache


Runny nose


Stuffy nose


Back pain


Nausea


Muscle pain


Flushing


An upset stomach
There have also been cases where more serious side-effects were noted in patients.
Newer drugs have been introduced for men with erectile dysfunction too. Common Viagra alternatives include Staxyn, Stendra, Cialis, and Levitra. These drugs use an alternative to sildenafil, the primary ingredient found in Viagra. They do, however, work similarly. These alternative options still come with several possible side-effects and risks.
Many doctors also try to pin down the possible cause of a male patient's ED symptoms. When the cause of the condition is treated, there may sometimes be an improvement in symptoms.
Men with depression may consider undergoing counseling. There is also antidepressant medication that helps to reduce the effect of depression. Some antidepressants can worsen erectile dysfunction symptoms. Thus, the man may have to try multiple antidepressant drugs to find which one works for him.
A man with low testosterone may be provided with hormone replacement therapy. This increases testosterone levels in the body. It may help to alleviate the adverse effects of low testosterone. In some men, the therapy may restore a healthier libido.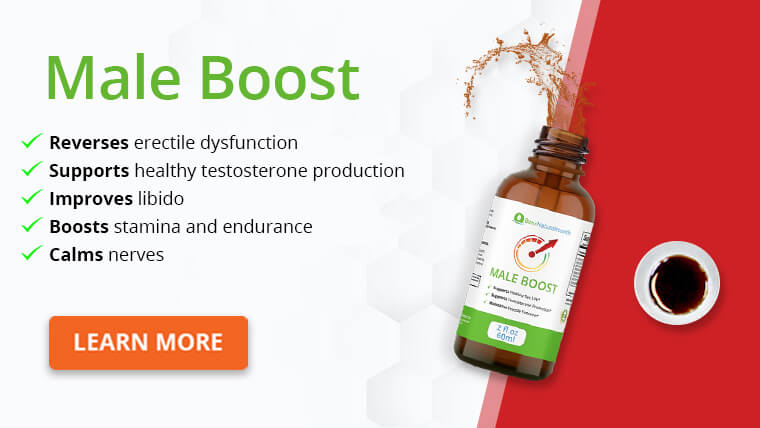 Natural Viagra
The side-effects associated with Viagra make a lot of men wary about using the drug. This is why many are looking for natural alternatives. They want something that would produce fewer side-effects. At the same time, men want a product that will still help them get better erections.
Fortunately, a lot of research has been conducted on this topic. Researchers have found that there are a few natural extracts and products that could help. Some of these have a similar function to Viagra. Others rather focus on stimulating libido. We take a look at the natural Viagra alternatives below – along with how they might help.
L-Arginine
It is no chemical if you are worried about taking any. It is a natural amino acid that is already present in our bodies. Researchers have explained that the oral use of L-Arginine can improve your sexual function in just three months!
And how do you feel about drinking pomegranate juice? One small habit as drinking pomegranate juice can help you treat Erectile dysfunction since it is packed with many essential nutrients that will help your blood vessels expand so that your blood flow would improve! Another option is acupuncture.
A study published in the International Journal of Impotence showed that within 39% of their participants improved sexual insurance, and their ability to achieve and maintain an erection was noticed.
Horny Goat Weed
Horny goat weed has become a relatively popular ingredient in male enhancement supplements. It is also known as epimedium brevicornum. It is sometimes a preferred option when looking at natural ED treatment options. The herb is especially popular as part of ancient Chinese medicine practices.
According to one research paper, there is evidence that supports some claims made about horny goat weed. The study found that epimedium might help to treat low testosterone. It may also assist in restoring normal Thyroid hormone levels.
Furthermore, it also seems like horny goat weed may help increase sexual desire. This helps with improving the libido part of the erection process.
Research also found that epimedium helps to boost muscle mass and reduces fatigue. It also helps with vasodilation. In turn, more blood may flow to the penis. This could result in a more rigid erection.
Maca
Maca, root vegetables from Peru, can successfully decrease your stress levels, which are known as yet another cause for Erectile dysfunction, and with that give you some relief.
Maca root contains quite a lot of nutrients. In fact, the root extract has been named a "superfood" due to the high protein, fiber, vitamin C, iron, potassium, copper, vitamin B6, manganese, and other nutrients.
The root extract is also rich in amino acids and fatty acids. Authority Nutrition reports that maca root has been proven through scientific research to improve the libido of both genders effectively, and it can help to improve fertility in a male user. This extract is also good for improving physical performance, which can be beneficial during sexual activities and throughout the day.
Ginseng
If you have ever looked at natural supplements to increase your mental performance and reduce fatigue, you have most likely seen some products listed "Ginseng" as one of the ingredients.
This, however, isn't the only benefit that ginseng can offer you. The unique combination of different ginsengs can support testosterone synthesis in the body and improve a man's sexual performance and elevate his sexual desire.
Yohimbe
And yet another natural remedy is Yohimbine that is believed to widen your blood vessels to improve your blood flow, boost your adrenaline, and increase your libido! It is used as a natural treatment for Erectile dysfunction for many years after all.
The trick with any treatment plan really is to find out if it can help improve your blood flow and increase your testosterone levels. These two factors are two main factors that will provide you relief of that annoying Erectile dysfunction.
L-citrulline
According to a study published in the medical journal Urology, oral citrulline supplementation is safe and effective in treating ED. It can improve erection hardness and works, especially if you have a mild case of ED (6).
We mentioned how L-citrulline stimulates the production of nitric oxide (NO). Then NO works in the penis as a vasodilator, but also as a neurotransmitter. Both functions are performed in the blood sinusoids. It creates a substance known as cGMP (or cyclic guanosine monophosphate).
Ginkgo Biloba
Another herb that is becoming popular among men looking for a natural Viagra is called Ginkgo biloba. This is another option that comes from ancient Chinese medicine. It is extracted from a tree that is native to the Chinese regions.
Ginkgo biloba is rich in antioxidants. It also fights against inflammation in the body. It has been shown that the herb is useful for improving heart health. Furthermore, the use of Ginkgo biloba also seems to provide a boost in blood circulation.
Blood flow is important for an erection to occur. Poor blood flow equals a weak erection. By improving blood circulation, Ginkgo biloba may help to act as a sexual enhancement product.
The use of the herb also provides certain mental health benefits. It improves brain function and even protects against dementia. These improvements may further help to reduce the psychological problems that are causing low libido.
Conclusion
Erectile dysfunction is not something that anyone would want in their life, so it is only natural to want to remove it as soon as it occurs. Caused by a number of reasons, Erectile dysfunction can create additional health problems.
If you are a fan of the natural treatments. We hope that through our article, you got all the important information about the most popular natural treatment options that can help you to quickly resolve this problem and go on with your everyday life!
We only hope that acupuncture, L-Arginine, and Maca, which are only just a few of the previously mentioned natural remedies, will help you to become happier! Do not hesitate to make the needed changes and help your body become strong and healthy once again!
Next Up

Find out about Our Natural Viagra Tincture: Male Boost.