Ben's Male Boost Tincture is a natural viagra supplement for men.
It contains nine clinically proven, natural ingredients to help increase testosterone levels, boost sex drive, and reverse erectile dysfunction.
Clinically formulated, Male Boost improves sexual stamina, increases energy levels, and positively affects your mood and sex life.
Erectile Dysfunction
Erectile dysfunction, or impotence, is difficulty gaining or maintaining an erection.
Symptoms of ED
Difficulty in achieving an erection: This is the classic presentation of erectile dysfunction, a man who cannot achieve an erection. It may happen sometimes, or it may permanent, depending on the cause of erectile dysfunction.
Incomplete or weak erections: These men have an erection and proper sexual stimulation, but it is weak or insufficient to penetrate their partner. This can cause frustration, stress, or anxiety, which then worsens the problem.
Difficulty to maintain an erection: Some men have a relatively normal erectile function, but it does not last long. After achieving penetration, they cannot keep the erection long enough for satisfactory sexual performance.
Low Libido: Finally, another symptom of ED is a reduced sex drive or low libido.
About Viagra
Viagra is a pharmaceutical drug that can treat ED and ensure erections.
However, it has numerous adverse side effects such as dizziness, headache, visual disturbances, heart concerns, low blood pressure, and more.
That's why natural viagra alternatives like supplements are a preferred choice for many patients since they can offer positive effects on erectile function with no side effects.
Male Boost: Natural Viagra
Male Boost Tincture is a powerful formulation designed to naturally boost your sexual energy and stamina, increase libido, and reverse ED. As a tincture, Male Boost is a proprietary blend of 10 concentrated phytonutrients suspended in a solution of pharmaceutical-grade alcohol.
These potent phytonutrients have multiple positive effects on your sexual, urinary and general health immune systems, as well as having a toning and calming effects on the nervous system.

Male Boost is perfect if…
You want to support healthy testosterone production
You want to improve erectile function
You'd like to boost libido and improve stamina

What are the active ingredients in Male Boost?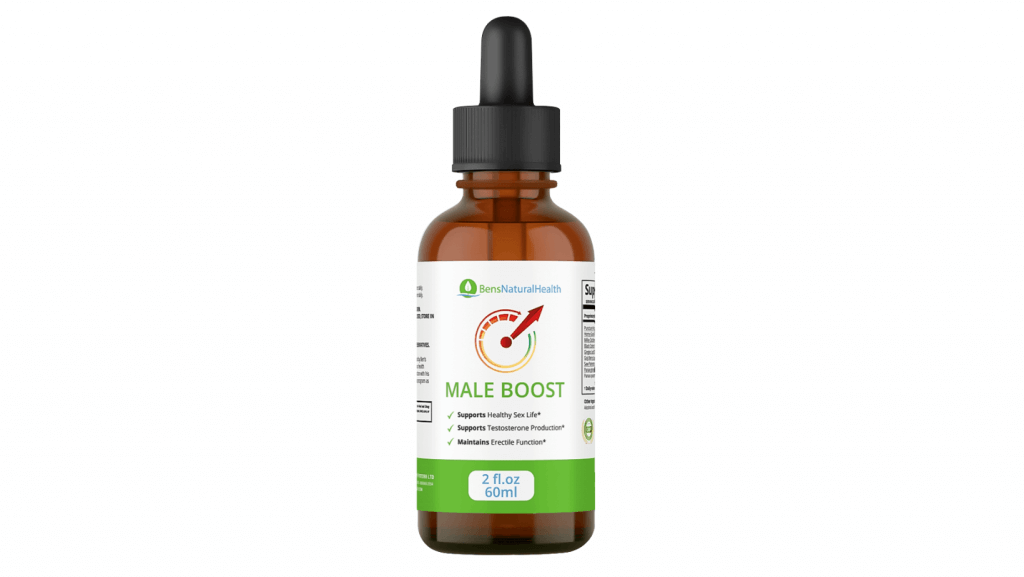 Proprietary Blend of Flowering Barrenwort
Barrenwort, or epimedium, is a flowering plant in the Berberidaceae family.
This plant increases genital blood flow, improves sexual function, reverses erectile dysfunction, and increases sperm count.
Panax Ginseng Blend
Ginseng is another herb that people praise for its ability to improve erectile function in men.
With a reputation as an aphrodisiac, traditionally, people use this herb to treat sexual dysfunction in Chinese medicine.
So, in Male Boost, this herb improves blood flow and to increases sperm mobility.
Gingko Leaf
Ginkgo, one of the oldest living tree species, has received much praise throughout the centuries for its medicinal properties.
Containing two important antioxidants, flavonoids and terpenoids, it can protect cells from oxidative stress and support blood circulation.
Concentrated extracts from Ginkgo biloba leaves can treat peripheral vascular disease and enhance cerebral blood flow.
As a result, Ginkgo may also help treat sexual dysfunction by improving blood flow to these areas of the body.
Lycium Chinense
Lycium Chinense is a plant in the Solanaceae family. It helps foster a feeling of mental well-being and serenity.
And, it also enhances physical performance and sleep quality.
Milky Oat Seed
Oats have numerous benefits, and milky oat seeds can help with multiple conditions.
In our natural viagra supplement, milky oat seed improves sexual performance and addresses premature ejaculation and impotence problems.
Black Cohosh Root
Black Cohosh is a woodland herb with numerous medicinal purposes.
People commonly use this herb to aid with osteoarthritis, mood, sleep, or weight loss.
This regenerating herb strengthens your immune system and improves the body's natural defenses against disease and inflammation.
Saw Palmetto Berry
Saw Palmetto Berry, or Serenoa repens, is a natural plant in the palm plant family.
This potent herb has several medicinal properties and has become very popular in recent years for its use in natural supplements.
Moreover, this extract works to improve urinary symptoms and shrink an enlarged prostate.
Saw Palmetto berries are often encouraged for their ability to balance hormones and improve overall prostate health.
What does the research say about the active ingredients?
Proprietary Blend of Flowering Barrenwort
Research studies show that a proprietary blend of flowering barrenwort can increase the penis blood flow, reverse erectile dysfunction, and increase your sperm count.
One study found that rats who took a purified extract of this potent substance showed improved erectile function.
Panax Ginseng Blend
Many studies look at the effects of ginseng on men with low libido or erectile dysfunction.
One study looked at several clinical trials on male patients with poor erectile function.
The researchers conclude that their systematic review and meta-analysis results provide suggestive evidence for the effectiveness of red ginseng in treating ED.
Furthermore, red ginseng also seems to increase male sex drive. The enhanced libido could further contribute to improved performance during sex.
This would also mean men can experience more rigid erections that could last longer.
Gingko Leaf
In one study, patients with impotence orally took 240mg of Ginkgo biloba extract.
Out of 30 patients who could not achieve sufficient erections with high-dose intracavernous drug applications, 19 regained pharmacologically induced erections under therapy.
All patients in this group showed improved objective response parameters.
Another study investigated whether Ginkgo extract can improve erectile dysfunction after bilateral cavernous nerve injury in forty-three male rats.
The study found that rats who received a high dose of Ginkgo extract experienced a significant recovery of erectile function and an increased smooth muscle cell content.
Therefore, the researchers concluded that these results indicate the beneficial effects of Ginkgo extract for repairing the cavernous nerve and recovering erectile function after radical prostatectomy.
Lycium Chinense
One study on mice found that this powerful substance may inhibit tumor growth and boost the effectiveness of cancer treatments.
Moreover, other studies show that the berries Lycium Chinense produces, goji berries, can improve depression, anxiety, and sleep.
Rat studies show goji berries can improve depression and anxiety-like behaviors.
Then, in another study on humans, researchers found drinking goji berry juice could improve energy, mood, and digestive health.
Milky Oat Seed
One 24-week placebo-controlled study in 37 older adults with excess weight took a daily dose of 1,500mg oat straw extract.
This significantly improved their blood flow in comparison to the placebo group.
Another double-blind, placebo-controlled trial of 132 healthy males and females (35 to 65 years) received either green oat extract or a placebo for 29 days.
The study found oat straw extract can benefit cognitive function and modulate the physiological response to a stressor.
Black Cohosh Root
Studies show Black Cohosh can strengthen your immune system and improve your body's natural defenses against disease and inflammation.
For example, preliminary studies show that this herb may help reduce inflammation linked with osteoarthritis and rheumatoid arthritis.
Moreover, some research suggests that this herb may improve sleep. One study found black cohosh supplements improved sleep duration and quality.
Saw Palmetto Berry
Worldwide clinical studies indicate saw palmetto extract effectively controls the most common urinary flow problems that most men over 50 have.
Saw palmetto extract helps treat prostate problems and alleviates BPH symptoms.
In a meta-analysis of 21 studies, researchers looked at 3,139 men from 40 to 88 years old with moderate BPH symptoms.
They found that saw palmetto supplements improved symptom scores and urine flow measures more than the placebo.
In two studies, saw palmetto and finasteride had similar positive effects on urinary symptoms and peak urine flow.
But people tolerate saw palmetto better, and it is less expensive.
How long does it take to work?
When looking for the best natural viagra supplements for men, chances are you're going to want to know how quickly it will work.
However, depending on the individual state of your health, your diet, lifestyle, and a range of other factors, personal recovery for each person can vary.
Usually, when using Ben's Male Boost Tincture, patients tend to see significant results in 3-6 months.
Sometimes you can see effects even faster, but it's essential to understand your body has to process it more slowly since it is not like a drug.
The standard dose for more energy and stamina is one teaspoon (5 ml) with breakfast.
If you take this supplement to improve libido and achieve firmer erections, you can take an additional tea-spoonful (10 ml) with your dinner.
Do not take more than 30 ml in any one day.
Is it safe to take?
This supplement is 100% drug-free, 100% natural, and 100% side-effect-free.
When it comes to the ingredients in our products, we rigorously test them to ensure they meet the American pharmacological standards and the American herbal products association standards.
Our manufacturing facilities are also all US-based and FDA monitored.
We use the United States pharmacopeial test 1119 (near-infrared spectrography), a third-party laboratory, to test all our finished products.
This ensures that the supplement matches the label and is safe, pure, and of high quality.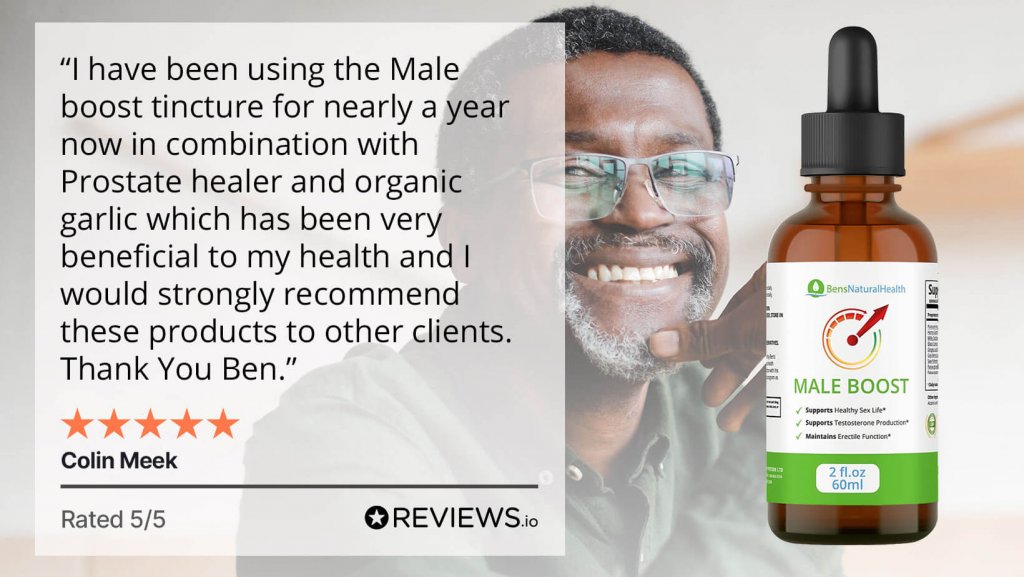 How does it compare to other natural viagra supplements?
When searching for the best natural viagra supplements, you may wonder how our product compares to other supplements.
It is important to note that, unlike some other herbal viagra supplements, Ben's Male Boost Tincture has the following:
100% natural ingredients.
Clinically significant dosages.
Ingredients that are shown to work in peer-reviewed, double-blind studies.
Chelated ingredients for better absorption and effectiveness.
While many supplements have scientifically backed ingredients, the majority contain only a few essential natural viagra ingredients.
And this is usually in low and ineffective dosages, without chelating ingredients for better absorption and bioavailability.
A therapeutic dose is the amount of the ingredient you need to have a clinical effect.
It's also vital that the herbal viagra supplement you take contains natural nutrients.
You do not want it to have any synthetic ingredients or genetically modified organisms.
This dietary supplement is extracted from the highest quality, natural ingredients, and freshly harvested herbs, using rigorous, cold press extraction methods to optimize dosage and bioavailability.
Bioavailability refers to the extent to which the supplement makes its way to the body's tissues rather than being flushed out. As a result, the body efficiently absorbs our Male Boost Tincture.
To ensure Male Boost's efficacy, potency, and freshness, we pick fresh herbs at the season's peak. Then, each herb is qualified under specific quality guidelines under the CGMP and FDA.
This 3rd party qualification process ensures every herb is 100% quality tested before being added to our herbal viagra supplement, Male Boost.
Then, after this testing, we make sure that the herbs maintain their freshness and efficiency.
We achieve this by cold pressing and suspending in glycerin, a compound known for its antimicrobial and antiviral properties.
So, through this diligent process, our preparations maximize the potency and efficacy of our natural viagra supplement.
Why Choose Ben's Natural Health Supplements?
At Ben's Natural Health, our motto is to combine holistic healing with modern science.
Ben's Natural Health is the world's first high-quality, all-natural, scientifically proven clinical supplement company.
Our herbal viagra supplement is effective, natural, and 100% side effect free.
Moreover, at Ben's Natural Health, we have four rules for all our supplements:
We only use the highest quality ingredients
We only use them if they are proven to work in independent, peer-reviewed double-blind studies
With all our supplements, we find a way to get every ingredient into a single bottle
We always formulate them in clinically significant doses of the most bioavailable form
We pride ourselves on offering excellent customer service. We offer a free health consultation where you can ask questions and receive tailored advice from our expert health consultants.
Key takeaways
3 benefits of Male Boost Tincture:
It contains clinically proven ingredients to increase testosterone levels, boost sex drive, and reverse erectile dysfunction.
98% of customers would recommend Male Boost to a friend.
Next Up

Find out about our Estrogen Blocker for Men: Ben's Estro Clear.