It happens…you get older, a little greyer, and your metabolism that was once your greatest friend slows down.
You start noticing extra belly fat; muscles start to sag, and man boobs make an appearance.
All of the above can be linked to one condition. Estrogen Dominance.
Yes, that's right. As you age, your estrogen levels rise, while your testosterone levels fall into decline, resulting in weight gain, a loss of muscles mass, and a big hit on your sex drive.
To help stop estrogen from taking over, we set out to formulate an Estrogen Blocker clinically designed to help flush excess estrogen and restore your hormonal balance.
Ben's Estro Clear contains six natural, clinically proven ingredients to help restore normal testosterone levels, restore hormonal balance, and regain masculine traits.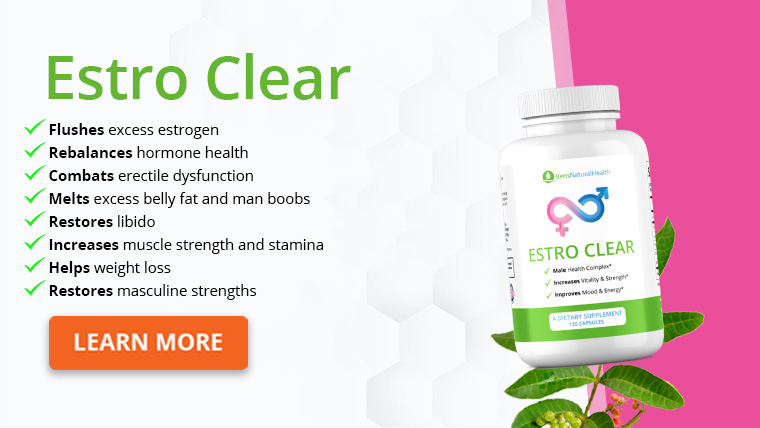 Estrogen Dominance in Men
Estrogen dominance occurs when your hormone levels are out of balance.
This imbalance can affect men in many ways, particularly when it comes to their sex life.
You may find yourself lacking energy, strength and stamina, no longer able to keep an erection or enjoy great sex with your partner. In more severe cases, you may develop erectile dysfunction, which can have both a physical and mental impact on your relationship.
Symptoms of estrogen dominance
Some common symptoms of estrogen dominance in men include:
Experiencing hair loss
Feeling depressed or anxious
An enlarged prostate
A low sex drive
Weak erections
Man boobs and extra belly fat
Increased risk of cardiovascular disease
Health issues related to estrogen dominance
Estrogen dominance can also cause BPH and raise the risk of prostate cancer. But, in addition to this, estrogen dominance can increase the risk of bone density loss, high cholesterol levels, and cardiovascular disease.
How does Estro Clear work?
Estro Clear is an all-natural, clinical-grade estrogen blocker for men. Estro Clear works as part of a healthy diet and lifestyle to help reduce excess estrogen for men with estrogen dominance or low testosterone levels.
Studies show the active ingredients in this natural hormone treatment have a clear anti-estrogenic effect. This, therefore, helps to rebalance your hormone levels which have a positive impact on your sexual and prostate health.
Moreover, by lowering their estrogen level, men can regain their masculine traits, such as:
Stronger, longer lasting erections
Improved sex drive and libido
Increased energy levels
A reduction in man boobs and extra weight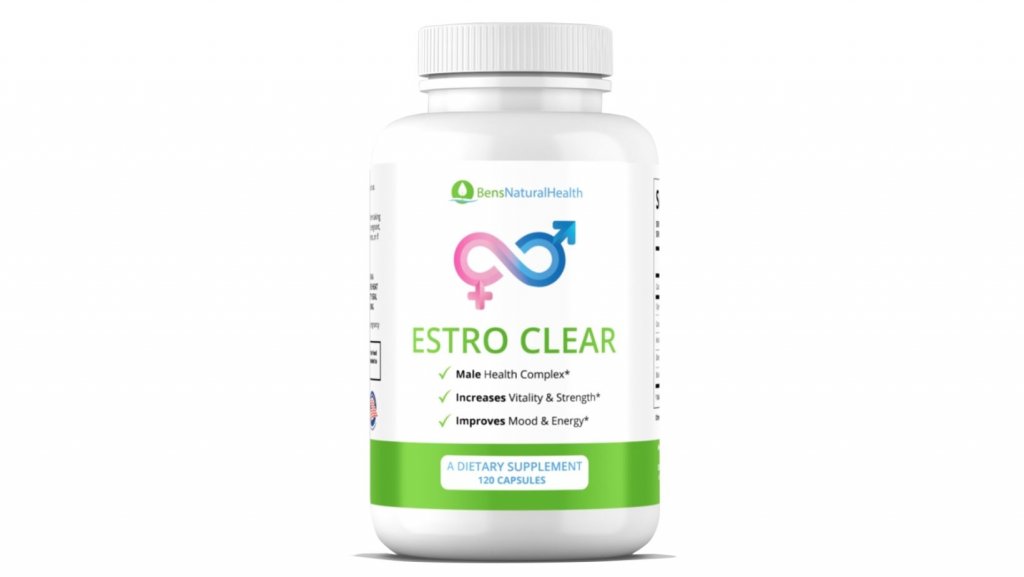 What are the active ingredients in Estro Clear?
Diindolylmethane
Diindolylmethane is a major digestive product you can naturally find in the mustard family in cruciferous vegetables such as cabbage, brussels sprouts, and broccoli. This natural ingredient boasts several rejuvenating properties. It can regulate sex hormones in the body, reduce inflammation and flush excess estrogen from your bloodstream.
Cyperus Extract (Tiger Nut)
Cyperus Extract, or tiger nut, is a crop in the sedge plant family, which people use worldwide for numerous benefits. This potent estrogen-lowering extract can contribute to a more robust immune system, help fight bacterial infections and treat impotence. Studies show it may also act as an aphrodisiac and boost libido.
Astragalus
Astragalus root is a flowering plant often mentioned in herbal remedies and ancient Chinese medicines. It has numerous health benefits, such as improving hormone balance, treating a common cold or flu, or strengthening immune function. This herb also helps your body adapt to stress and control cortisol levels, which may act as an estrogen blocker for men and help reduce elevated estrogen levels.
Curcuma Zedoaria Extract
Curcuma Zedoaria Extract, or white turmeric, is a herb in the ginger family. Traditionally, people use this substance to help with indigestion, vomiting, and cancer. In Estro Clear, this powerful anti-inflammatory helps protect against and reduce arthritis, swelling, pain, and stiffness.
Black Pepper
Black pepper is a spice with numerous male health benefits. For thousands of years, practitioners of Ayurvedic medicine have used black pepper for medicinal properties.
Calcium D Glucarate
Calcium D Glucarate is in many foods such as grapefruit, squash, kale, cabbage, apples, oranges, and broccoli. It is a powerful compound that your body naturally converts into Glucaric acid. Glucaric acid purges excess estrogen from your blood, providing you with a natural estrogen blocker.
What does the research say about the active ingredients?
So, what does the research say about the ingredients in our aromatase inhibitor?
Diindolylmethane
DIM acts as an aromatase inhibitor by blocking your body from converting testosterone into estrogen. Therefore, this increases the testosterone levels in your body and helps restore and maintain normal hormone levels.
One study using levels of Diindolylmethane achievable through dietary intake found this substance activates estrogen receptor beta in transient transfection assays.
Furthermore, some animal studies with mice and rats using Diindolylmethane show this natural ingredient can decrease breast cancer tumors and reduce the incidence of colon cancer.
Cyperus Extract (Tiger Nut)
Studies show Cyperus Extract can act as an aphrodisiac and boost sex drive. While there are currently no studies on humans, animal studies show promising results.
One study in mice found tiger nuts can help preserve sperm production and testicular weight after heavy metal poisoning.
Moreover, another study in rats found consuming tiger nuts for 30 days can increase testosterone levels, boost sexual activity, and reduce intromission time between mating sessions.
Astragalus
Multiple studies show astragalus may affect the balance of hormones in the human body.
One study stimulated the growth hormone with astragalus, which may be especially useful for men. The growth hormone can affect other steroid hormones in the male body. This could help with the balance of testosterone, for example.
Moreover, studies also show it can boost your immune system. Animal studies show astragalus root can help kill bacteria and viruses in mice with infection.
Curcuma Zedoaria Extract
Multiple studies show Curcuma has powerful medicinal properties.
Curcuma is a natural anti-inflammatory compound. Several studies on patients with arthritis show Curcuma can match the effectiveness of anti-inflammatory drugs, except without any adverse side effects.
Furthermore, studies also show this potent herb can reduce your risk of a heart attack.
In one randomly assigned, placebo-controlled study, 121 people undergoing coronary artery bypass surgery took either a placebo or 4 grams of Curcuma per day a few days before and after the surgery. The study found those who took Curcuma had a 65% decreased risk of experiencing a heart attack in the hospital.
Black Pepper
In one placebo-controlled study, 35-day-old male rats received 0, 5, or 10 mg/kg of black pepper. The study found the thirty-day treatment of rats with black pepper significantly reduced estrogen levels and increased serum testosterone levels.
Calcium D Glucarate
One study suggests that Calcium D Glucarate can be just as effective as one of the most common drugs to treat estrogen dominance, except without adverse side effects. This study also found it may have anti-cancer properties to help prevent cancer.
In another study, supplements of Calcium D Glucarate reduced the number of Estrogen receptors in human cells by 48 percent.
How long does it take to work?
When looking for an aromatase inhibitor, you'll likely want to know how quickly it will work. However, depending on the individual state of your health, your diet, lifestyle, and a range of other factors, personal recovery for each person can vary.
Usually, when using Ben's Estro Clear, patients tend to see significant results in 3-6 months. Sometimes you can see effects even faster, but it's vital to understand your body has to process it more slowly since it is not like a drug.
For the best results, you should take four capsules per day with food.
Is it safe to take?
This aromatase inhibitor is 100% drug-free, 100% natural, and 100% side-effect-free.
When it comes to the ingredients in our products, we rigorously test them to ensure they meet the American pharmacological standards and the American herbal products association standards. Our manufacturing facilities are also all US-based, and FDA monitored.
Moreover, we use the United States pharmacopeial test 1119 (near-infrared spectrography), a third-party laboratory, to test all our finished products. This ensures that the estrogen blocker supplement matches the label and is safe, pure, and high-quality.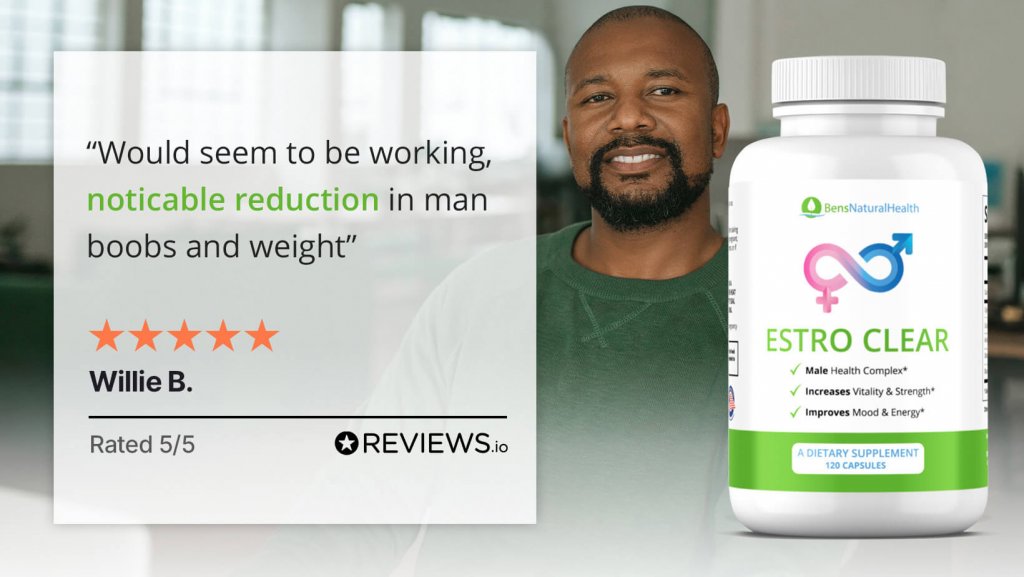 How does it compare to other estrogen blockers?
When searching for the best estrogen blocker or aromatase inhibitor, you may wonder how our product compares to other natural estrogen lowering supplements.
It is important to note that, unlike some other estrogen blockers, Ben's Estro Clear has the following:
100% natural ingredients.
Clinically significant dosages.
Ingredients that are shown to work in peer-reviewed, double-blind studies.
Chelated ingredients for better absorption and effectiveness.
While many estrogen blockers have scientifically backed natural ingredients, the vast majority contain only a few essential hormone treatment ingredients. And this is usually in low and ineffective dosages, without chelating ingredients for better absorption and bioavailability.
A therapeutic dose is the amount you need to have a clinical effect proven by scientific studies. It's also vital that the aromatase inhibitor you take contains natural nutrients. You do not want it to have any synthetic ingredients or genetically modified organisms.
This aromatase inhibitor supplement is extracted from the highest quality, natural ingredients, and freshly harvested herbs, using rigorous, cold press extraction methods to optimize dosage and bioavailability.
Bioavailability refers to the extent to which the supplement makes its way to the body's tissues rather than being flushed out. As a result, the body efficiently absorbs our Estro Clear.
To ensure the efficacy, potency, and freshness of Estro Clear, we pick fresh herbs at the season's peak. Then, we qualify each herb under specific quality guidelines under the CGMP and FDA. This 3rd party qualification process ensures every herb is 100% quality tested before being added to our aromatase inhibitor, Estro Clear.
After this testing, we ensure the herbs maintain their freshness and efficiency. We achieve this by cold pressing and suspending in glycerin, a compound known for its antimicrobial and antiviral properties. Through this diligent process, our preparations maximize the potency and efficacy of our estrogen blocker.
Why Choose Ben's Natural Health Supplements?
At Ben's Natural Health, our motto is to combine holistic healing with modern science.
Ben's Natural Health is the world's first high-quality, all-natural, scientifically proven clinical supplement company. Above all, our estrogen blocker is effective, natural, and 100% side-effect-free.
Moreover, at Ben's Natural Health, we have four rules for all our supplements:
We only use the highest quality ingredients.
We only use them if they are proven to work in independent, peer-reviewed double-blind studies.
With all our supplements, we find a way to get every ingredient into a single bottle.
We always formulate them in clinically significant doses of the most bioavailable form.
We pride ourselves on offering excellent customer service. We offer a free health consultation where you can ask questions and receive tailored advice from our expert health consultants.
Key takeaways
3 benefits of Estro Clear:
It contains clinically proven ingredients to reduce excess estrogen in men and restore hormonal balance.
98% of customers would recommend Estro Clear to a friend.
Next Up

Find out about Our Testosterone Supplement: Testo-Booster.