Erectile function is something that men depend on in the bedroom. Weak erections are generally associated with less confidence. When a man develops erectile dysfunction, they have more than this physical symptom to consider.
In some men, there is a development of psychological complications. Studies even show that erectile dysfunction may put a man at a greater risk of developing depression.
According to recent findings, up to 76.5% of the global male population may experience signs of erectile dysfunction. In a large group of these men, the symptoms are mild. Among men aged between 40 and 70, an estimated 10% have a severe form of erectile dysfunction.
Viagra is generally considered a good treatment for men with erectile dysfunction. For some men, however, the side-effects carry too much of a risk. Fortunately, there are some alternative ways to improve erectile function. We take a closer look at Viagra foods and supplements that may help.
What Is Viagra?
Viagra is a pharmaceutical drug available by prescription in most areas. A prescription is given to a patient when they have been diagnosed with erectile dysfunction. Viagra has a physiological effect in the body, essentially allowing blood to flow into the penis more effectively.
This medication is classified as a PDE5 inhibitor. The drug class inhibits a specific enzyme that is called PDE5. The drug is only advised for men, and a doctor will generally first consider the patient's overall health before prescribing the medication.
The purpose of Viagra is to make the process of getting an erection faster and easier for men with erectile dysfunction. The drug will not cause a spontaneous erection, however. Men need to be sexually stimulated for an erection to occur.
In addition to helping a man get a harder erection, Viagra is also a practical option for increasing the duration of an erection. With erectile dysfunction, many men are unable to maintain their erection long enough for sexual intercourse.
The drug takes about 30 minutes to start working, but in some men, about an hour is needed before the effects can be felt. It is generally taken as needed. Most men take Viagra an hour before they will have sex.
Several studies have looked at Viagra and the active ingredient in the drug, known as Sildenafil. Studies find that the drug is highly effective as a treatment for erectile dysfunction. In some men, sexual desire may be improved. This is often due to the fact that getting an erection is easier when taking Viagra.
Side Effects Of Viagra
While Viagra has been proven to provide significant improvements in erectile function, there are side effects associated with the drug. Some men will only experience mild side-effects.
Even when the side effects of Viagra are not severe, they can still be unpleasant. There are cases where the side-effects may interfere with the man's ability to enjoy sex.
The most common adverse events that happen to men who take Viagra include:
Headaches are very common.


An upset stomach, which can lead to diarrhea or abdominal pain.


Vision changes occur in some men. This can include a difference in the patient's color vision. Some men have also reported blurry vision.


A stuffy nose is also a common side-effect. Some men complain about a runny nose too.


Viagra is known to cause pain symptoms as a side-effect. Some men find that their muscles become painful when they take the drug. It is also possible for the man to experience back pain as an adverse effect.


Nausea has been reported among men who take Viagra too.


Some men complain about feeling dizzy when they take this medication.


Another common side-effect is a rash that develops on the skin. The rash is temporary and tends to go away after a while.
There are also more serious adverse effects that patients should know about before using Viagra. In sporadic cases, death has even been reported as an adverse event after the patient took Viagra.
Other serious complications and side-effects can include:
There have been cases of an extreme drop in blood pressure levels. Blood pressure may decline to a level considered unsafe. This is generally the case when Viagra is taken with certain prescription drugs, such as nitrates.


Priapism is another side-effect. In this case, a man has an erection that will not go away. The erection will last for a period of four hours or longer. Permanent damage can occur to penile tissue if priapism is not treated as a medical emergency.


In some patients, tinnitus has been reported. There have also been cases of sudden hearing loss.


A sudden reduction in sight is another are, yet serious side-effect.
Apart from these adverse effects, it is essential to note a risk of heart attacks when taking Viagra. This is especially the case among patients with a weakened heart.
Natural Alternatives To Viagra
The safety profile of Viagra is too risky for a lot of men. Some men face a risk for serious side-effects if they decide to use Viagra to treat erectile dysfunction. With this in mind, people are turning to alternative methods to help improve erectile function.
There are many natural ways to reduce the effects of erectile dysfunction. In some cases, using a natural product that boosts libido provides improvements in erections. There are also a few natural Viagra alternatives that help to deliver similar actions as this pharmaceutical drug.
Here, we will share both supplements and foods that hold the potential to help men who are experiencing sexual dysfunctions in the bedroom.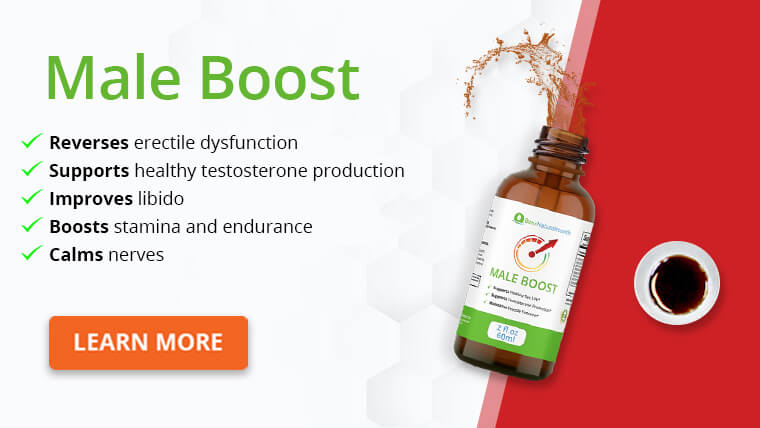 Supplements
The market for male enhancement supplements is flooded with dietary pills. Each of these products promises to help men experience harder and faster erections. They also claim to help erections last longer. Unfortunately, not all of these supplements can provide real results. When buying a supplement, men always need to consider their own needs and what ingredients are used in the supplement.
A man with reduced sexual activity due to depression may need an aphrodisiac. This helps to improve the response experience during sexual stimulation. A man with physical problems, such as poor blood flow, will have different needs. In such a case, improved blood circulation is needed to achieve a penile erection.
Below are a few important ingredients to look for when buying male enhancement supplements.
Arginine
Often called L-Arginine HCL in natural supplements, this is a type of amino acid. Arginine helps to increase nitric oxide in the blood. This is a gaseous substance that causes blood vessels to relax. In turn, more blood can flow toward the penis.
Studies have shown that arginine supplements may be useful for men with milder levels of erectile dysfunction. Doses used in studies ranged from 1,500mg up to 5,000mg.
When studies compare arginine groups' results to placebo, a significant improvement in erectile dysfunction symptoms is noted. The increased blood flow is the primary mechanism by which sexual dysfunction improves with arginine.


Zinc
Zinc is a natural mineral that plays a part in the immune system, as well as in other parts of the body. In men, zinc seems to have a relation to testosterone production.
When men have a low concentration of zinc in their blood, there tends to be a reduction in testosterone levels too. In this scenario, zinc supplements may help with testosterone production. Zinc also plays a role in semen quality and sperm count.


Yohimbe
This is a unique ingredient extracted from the African Yohimbe tree. The chemicals are extracted from the bark of these trees. The active chemical, known as yohimbine, is often considered one of the closest natural elements to Viagra.
There are many studies done on this ingredient. It has been shown that a man's overall sexual performance can be improved using Yohimbe supplements.


DHEA
Another supplement that has been proven to provide effective improvements is DHEA. This supplement is also known as Dehydroepiandrosterone. It is a hormone that can already be found in the male body. The adrenal glands produce DHEA hormones.
The body converts the DHEA into testosterone. Soy and wild yam are often used to create DHEA supplements. This can help to increase DHEA levels in the body. In turn, this could produce a higher level of serum testosterone.
While testosterone is not directly linked to erectile dysfunction, the hormone affects libido. Some studies have also shown that DHEA levels are generally lower in men diagnosed with erectile dysfunction.
RELATED: How to Increase DHEA Naturally in Men.


Panax Ginseng
Ginseng is a group of root plants used to boost energy, provide improvements in erections, and enhance cognitive performance. Panax ginseng, in particular, is supported by a wide range of scientific studies. Studies use doses up to 3,000mg per day, divided into three doses. These studies have shown that Panax ginseng may be a highly effective option for men with erectile dysfunction.
Food
While supplements can be useful, it is vital that men consider their diet too. Eating foods high in fats and salts can interfere with blood circulation. Men can also include certain foods in their diet to help improve erectile function, mood, and blood flow.
Some foods that men can consider including in their daily diet for improved sexual function:
Oysters: One of the major benefits of oysters would be the zinc content. As noted previously, zinc is important for testosterone production and sperm health. By providing men with high zinc content, oysters may assist in providing a boost in testosterone levels. This, in turn, may enhance mood and libido. The zinc also contributes to a stronger immune system.


Pumpkin Seeds: These seeds make for a great snack choice. They are packed with zinc, which further promotes healthier testosterone levels. Pumpkin seeds are also rich in antioxidants. This helps to protect a man's body against free radical damage – including the prostate gland.


Watermelon: A summer fruit that men would not necessarily associate with their ability to get an erection. Watermelon has been called a natural Viagra by some researchers. This is due to high citrulline content. The amino acid creates more nitric oxide in the blood circulatory system. In turn, blood vessels will relax, allowing more blood to flow through. This is a similar action as Viagra. While research is still a bit limited, four ounces of watermelon tend to provide a 150mg dose of this amino acid.


Chilli Peppers: A lot of men like their food hot. What they do not know is that adding some fresh chili peppers to their food might be just what is needed to improve their erectile function. Chilli peppers contain a chemical called capsaicin. This chemical makes blood slightly thinner and causes blood vessels to expand. When blood is thinner and blood vessels wider, there is an improvement in overall blood flow. This means more blood can enter the pelvic region and flow into the penis during an erection. Some hot spices may hold similar effects, but it is generally recommended to use fresh chili peppers for the most benefits.
Get Your FREE Erectile Dysfunction Guide
Eleven most important herbs to improve erections
Natural lifestyle changes to reverse erectile dysfunction
Developed exclusively by our medical doctor
Conclusion
Viagra is a common prescription drug provided to men with erectile dysfunction. The drug has been proven to provide effective relief in symptoms. There are several side-effects and risks associated with Viagra. A large number of men will also not be able to take Viagra due to existing medical concerns or the use of certain medications. Natural alternatives may help men improve erectile function with a better safety profile compared to Viagra.
Next Up

Find out about Our Natural Viagra Tincture: Male Boost.