Sexual problems such as premature ejaculation and erectile dysfunction can be frustrating, and that's a fact. It is not only tricky for men.
Their partners may also feel rejected or like he doesn't want them sexually anymore, and it causes several relationship problems. Most men have had at least one episode in which the body won't comply.
But what if erectile issues are persistent and becoming worse? Is there a cure? Is there something wrong? Or, is it a part of the aging process?
Many questions may pop to mind, but the problem is likely temporary if you're a young adult. Even seniors can still have a spontaneous erection, so why don't you?
Regardless of your age and health conditions, what you want is to solve the problem. And you will likely feel it is something intimate that nobody else should know.
Thus, the first thing to do is trying to follow the recommendations found in this article.
You can do most of them at home and without any expense. If you're still not satisfied with the results, you may want to look for medical help.
How To Get Harder Erections
If you're having recurrent erectile dysfunction problems or the erections you achieve are not hard enough to achieve penetration, try the following recommendations.
Do it patiently and remember that performance anxiety does not solve the problem.
Cope with stress
Most cases of temporary erectile problems are related to anxiety and stress. It is normal to achieve a partial erection or no erection after a stressful day at work.
When thoughts are clouding your mind, you can't focus. It is not your fault, and first, you need to relax. But even after you do, it might be challenging to achieve a better erection, especially if you're waiting for it.
Anxiety is the worst enemy if you want to achieve a stronger erection. To understand why let us briefly examine what happens when you're anxious.
Two hormones release into the bloodstream as a response to stress. They are cortisol and adrenaline, and neither is helpful to achieve erections. Quite the opposite, because adrenaline is known as the erection killer, and cortisol makes you feel hypersensitive to negativity and talk down to yourself.
In other words, you'll be sabotaging yourself (1,2).
Sleep your nights
Insufficient sleep may also cause erectile dysfunction, even in very young patients.
So, if you had a sleepless night and cannot achieve an erection the day after, you're not doomed. Quite the opposite, it is a typical response. Recovering your penile erections could be as easy as recovering your healthy sleeping habits.
Plenty of patients with erectile dysfunction also have sleep problems. It is not a coincidence. Researchers describe different mechanisms why this happens. They include hormonal causes, neural issues, and endothelial mechanisms.
Sleep problems change the way your pituitary gland signals your testicles to synthesize testosterone. You need to sleep to have normal testosterone levels. They increase during the REM phase of sleep. Low testosterone levels will cause erectile problems.
Sleep problems can also change the way your brain and nerves work. It increases your sympathetic activity and the amount of norepinephrine in your blood.
Norepinephrine is very similar to adrenaline and has the same effect on your penile tissue. It kills erections.
Another postulate is that poor sleep causes an increase of reactive oxygen species. They are free radicals and cause damage to the endothelium in the cavernous bodies.
By doing so, you don't produce enough nitric oxide, and this substance is essential to relax the arteries and allow filling the penis with blood (3).
Cut down on smoking and excess alcohol
Tobacco smoking and excess alcohol are additional causes of erectile dysfunction.
Nicotine in any of its variants affects your blood circulation. It doesn't matter if you consume nicotine by smoking cigarettes, vaporizers, or cigars. They all change the way your body uses nitric oxide.
As noted above, nitric oxide is essential to relax the penile blood vessels and fill the cavernous bodies. You may not see the effects of quitting right away but do it as soon as possible if you want to experience a fundamental change (4).
On the other hand, alcohol has a similar effect on your erectile function. In this case, it depends on how much alcohol you consume.
One or two glasses of wine may relax your mood and make everything easier. But an excessive consumption causes sexual dysfunction. Why is that? Because alcohol suppresses the nervous system, which is required to achieve a hard erection (5).
Talk to your partner openly
Whether or not the above recommendations work for you, it is crucial to keep your partner aware of what is happening to you.
We mentioned in the introduction that erectile dysfunction often causes relationship problems. One of the reasons is that your partner may feel rejected or insufficient to turn you on. Not communicating will only make the situation worse.
Talking openly to your partner will also help to find a solution that suits you. You can find alternative ways to enjoy sex or decide to do something different in bed.
It is also a good idea if you're having relationship problems. They could be causing a higher predisposition to erectile dysfunction, and solving them could bring back your normal erections (6).
Change the script
If you want different results, do things differently. Changing the script is sometimes essential to keep the relationship going on. One of the reasons people lose the flame is that they repeat the same thing. Changing the script means changing what you do before and during sexual intercourse.
You can try role-playing or using a new position. Sex toys may become excellent friends for a couple, and you can try different types of sexual contact.
Look for male eerogenous areas and take advantage of them. Spend more time in foreplay games and try new things. These changes can make a difference in your erection quality (7).
Eat a healthy diet
Do not underestimate the effects of healthy eating on your overall health, including your sexual activity.
What you need is not only blood in your penis. You also need to control inflammation, reduce the damage by free radicals, and obtain the nutrients you need.
Foods like spinach and ginger can boost your testosterone level and facilitate erections. Oatmeal improves your blood flow, and the antioxidants in berries fight off free radicals and speed up the formation of nitric oxide.
On the other hand, processed foods and fatty foods can make everything worse. They give you blood pressure problems and accumulate fat in your arteries. Too much of that, and you'll be reducing the penile blood flow.
Instead, you can consider healthy diets such as the Mediterranean diet. This type has been found beneficial in patients with erectile dysfunction (8).
Exercise frequently
Another way to keep your blood flowing and your arteries clean is by exercising.
Studies show that exercising can benefit people with erectile dysfunction in the short term and long term. In other words, they can see an improvement right away or after a while, depending on their conditions.
The type of exercise you want to practice is preferably aerobic exercise.
According to health authorities, the intensity should be at least moderate, and there's a minimum of 30 minutes 5 times a week.
However, anything that increases your physical activity levels is beneficial, even if you can't physically endure a 30-minute exercise program (9).
Stay at a healthy weight
Obesity and overweight may sometimes lead to erectile dysfunction.
They are also associated with cardiovascular disease, diabetes, high cholesterol levels, and high blood pressure. Each one affects erectile function in its own way.
Moreover, obesity can affect your hormonal profile and your libido. Thus, doctors recommend staying at a healthy weight for better health and sexual performance (10).
Try a herbal supplement
Several herbal supplements can help you recover your erectile function. We recommend using them after talking to your healthcare provider, especially if you're taking prescription drugs.
Several people have experienced significant improvements with the following ingredients (11):
Horny goat weed
As the name implies, horny goat weed has been used as an aphrodisiac for many years. It contains a substance called icariin, which blocks the phosphodiesterase 5 enzyme (PDE5).
Essentially, it does the same thing that the ED medication Viagra does.
Yohimbe
The Yohimbe herb blocks a receptor in the penile tissue known as the alpha-2 adrenergic receptor. They receive adrenaline and execute the devastating action of this hormone in erectile function.
Thus, it is known to promote blood flow and facilitate erections.
Ginseng
Ginseng is widely known for its effects on cognitive function. However, it also improves sperm count and quality.
L citrulline and L arginine
L-Arginine and L-Citrulline are amnio acids that improve nitric oxide levels and help the blood vessels relax to fill the penis with blood.
Ben's Natural Health Supplements for ED
Ben's Testo Booster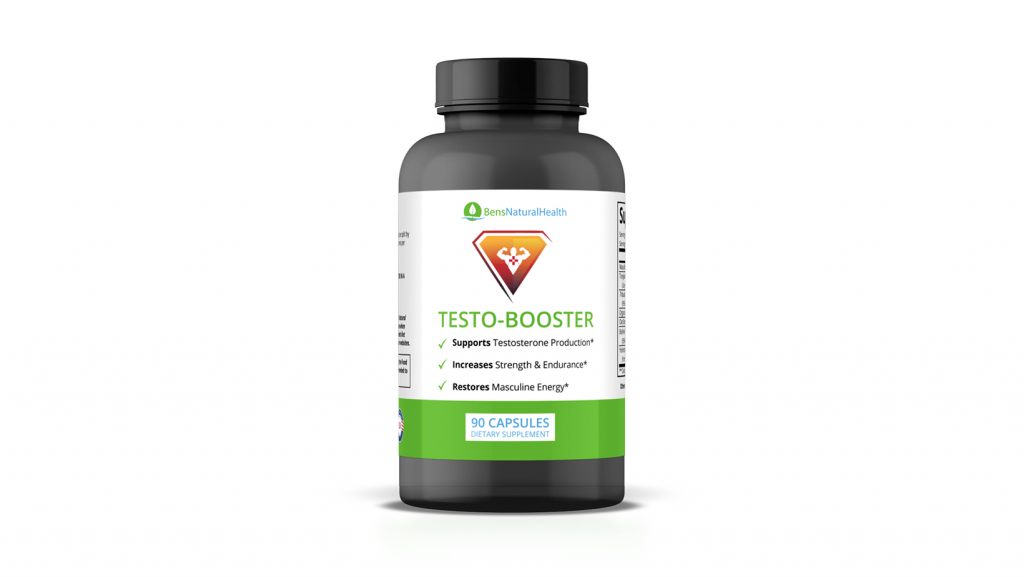 Our testosterone supplement, Testo Booster, contains ingredients clinically proven to naturally increase testosterone levels, boost sex drive, improve blood flow, and provide stronger erections.
In placebo-controlled human trials studying the ingredients in Testo Booster, participants experienced a significant improvement in erectile function, libido, and sexual health.
Learn more about one of the best testosterone supplements.
Ben's Male Boost Tincture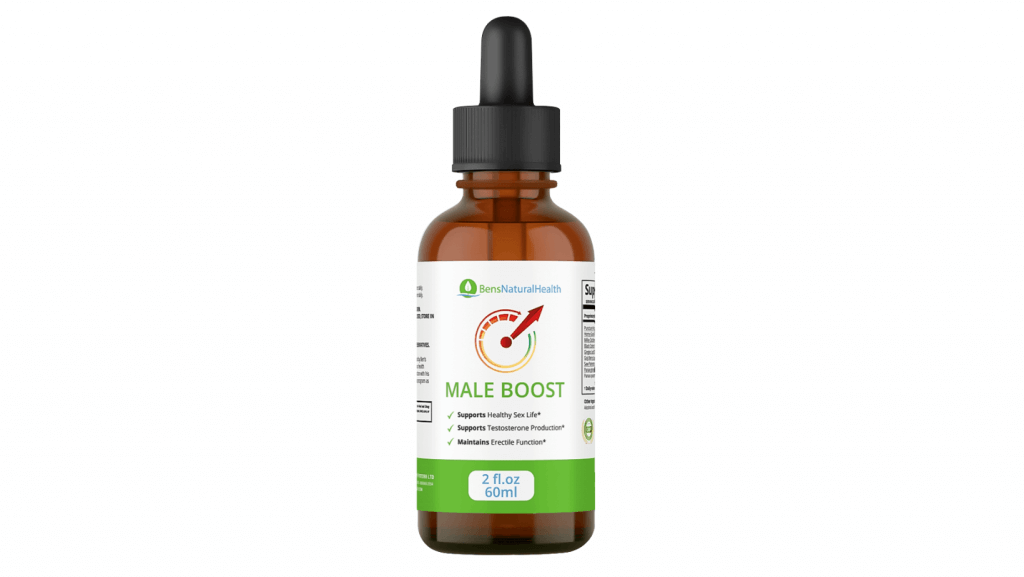 Ben's Male Boost is our natural viagra supplement that contains ingredients clinically proven to reverse erectile dysfunction, increase libido, have positive effects on mood and low energy levels.
In double-blind clinical studies, the active ingredients in Male Boost have been shown to increase free testosterone.
This suggests that these compounds may be effective for muscle growth and maintaining healthy testosterone levels.
Find out more about our natural viagra supplement, Male Boost.
Why Choose Ben's Natural Health Supplements?
At Ben's Natural Health, our motto is to combine holistic healing with modern science.
Ben's Natural Health is the world's first high-quality, all-natural, scientifically proven clinical supplement company. Our supplements are effective, natural and 100% side effect free.
Moreover, at Ben's Natural Health, we have four rules for all our supplements:
We only use the highest quality ingredients
We only use them if they have been proven to work in independent, peer-reviewed double-blind studies
With all our supplements, we find a way to get every ingredient into a single bottle
We always formulate them in clinically significant doses of the most bioavailable form
We pride ourselves on offering excellent customer service. We offer a free health consultation where you can ask questions and receive tailored advice from our expert health consultants.
Risk factors for erectile dysfunction
Are you at risk of a severe erection problem? If you had one or two episodes, that is entirely normal.
But the risk increases if one of the following problems rings true (12):
Chronic health problems
Most chronic conditions increase your chance of erectile dysfunction.
This is especially true in diabetes, hypertension, chronic obstructive pulmonary disease, heart disease, rheumatoid arthritis, endocrine disease, and sleep problems.
Vascular disease
Anything that reduces the blood flow can potentially affect your erection quality.
Atherosclerosis is a critical risk factor, similar to radiation-induced vascular damage.
Perineal trauma
Receiving a direct hit in the pelvic floor can affect your erections.
Bicycle riders should consider changing their seats if they use their bike for many hours a day.
Depression and other psychologic problems
Anxiety and depression affect your erectile function. Post-traumatic stress disorder can also do the same for many years.
Multiple medications
Patients taking several medications may suffer from adverse events, and one of them can be erectile dysfunction. The most common pharmaceuticals associated with ED are alpha-blockers.
Prostate surgery
After prostate surgery, most patients experience some degree of erectile dysfunction. This is part of the recovery, and most of them improve after a few months.
Lifestyle risk factors
As noted above, drinking heavily or smoking can increase your chance of erectile problems. Leading an unhealthy lifestyle and being obese can also have a similar effect.
When to see a doctor
Are you worried about your sexual health? If that is your case, maybe you need to see a doctor. Talking about it could help more than you possibly think.
However, talking to your doctor is very important if you're stressed about your sexual life or starting to experience relationship problems due to erectile dysfunction.
Conclusion
We have reviewed in this article how to get harder erections through a variety of inexpensive methods.
It can be helpful to try them before using an erectile dysfunction medication.
If you have a weak erection despite sexual arousal, it might be useful to make a few changes in your sex life.
Talking to your partner is essential, and you may benefit from stress management techniques and several lifestyle changes such as eating a healthy diet, exercising, and not smoking.
Explore More