Ben's Testo-Booster, one of the best testosterone supplements, contains seven clinically proven, natural ingredients to help increase testosterone levels, combat erectile dysfunction, boost your sex drive, and provide more rigid erections, without any side effects.
Clinically formulated, Testo-Booster enhances free testosterone for use by muscles, increases libido, and contributes to healthy testosterone levels.
What is testosterone and why is it important for male health?
Testosterone is a vital part of men's health. It is responsible for many bodily functions, including sperm production, sex drive, muscle mass, bone density, facial hair, fat distribution, and red blood cell count.
Low Testosterone in Men
Low testosterone, or male hypogonadism, is when the body cannot produce normal levels of testosterone. This may be due to a problem with the testicles or with the pituitary gland that controls the testicles.
Symptoms of low testosterone
Irritability/ mood swings.
Low semen count /sperm production.
Low blood count (amenia).
How does Testo-Booster work and how can it help?
So, what is Testo-Booster, and how can it help with low testosterone levels?
Testo-Booster is an all-natural, clinical-grade testosterone supplement that works as part of a healthy diet and lifestyle to help manage testosterone levels.
In this natural testosterone treatment, Testo-Booster works by activating receptors in the pituitary gland, which sends signals to the testes to boost the production of testosterone. This, therefore, results in greater strength, increased muscle gain and growth, and improved male sexual performance.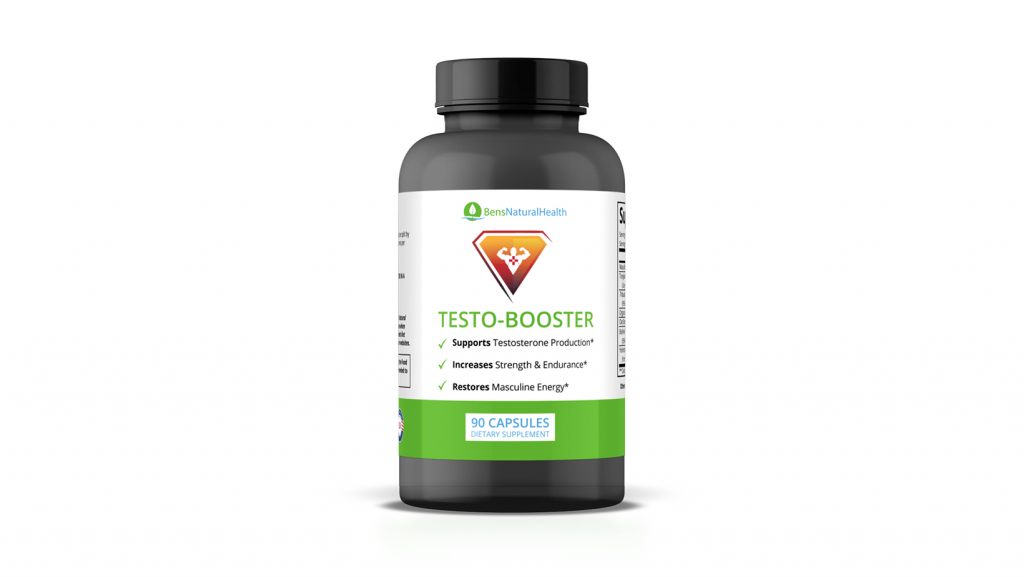 What are the active ingredients in Testo-Booster?
Tongkat Ali Root Extract
Tongkat Ali is a therapeutic herb native to Malaysian rain forests. Traditionally, this herb has been used as an aphrodisiac to promote healthy libido and support male hormone levels.
Studies prove this powerful herb can increase free testosterone, improve mood, combat erectile dysfunction, increase lean muscle mass, and lower cortisol stress levels.
Ashwagandha Root Organic
Ashwagandha is a herb that can produce natural medicines. The Ashwagandha root extract acts as an adaptogen in the body, so it helps your body handle anxiety and stress. It also has several plant-based chemicals that produce additional benefits when ingested.
Several studies highlight the potential of Ashwagandha to combat low testosterone levels, boost sperm count, quality, and fertility in men.
Maca (Root) Extract
Maca Root Extract is an Andean cruciferous root vegetable belonging to the mustard family. The ancient Andeans have used it for years to enhance fertility.
Studies show Maca extract can improve male sexual health, balance male hormone levels, and boost energy levels, mood, and memory.
Oat Straw
Oat straw extract derives from the same plant as porridge oats. This extract is naturally high in iron, manganese, and zinc.
Studies show this extract can help improve penis blood flow, thus increasing erectile function.
Tribulus Terrestris
Tribulus Terrestris is a herb that can improve male sexual performance, boost muscle mass and increase testosterone levels. It is also common for people who want to increase their athletic performance.
Black Pepper
Black pepper is a spice with many health benefits. In fact, practitioners of Ayurvedic medicine have used black pepper for medicinal properties for thousands of years.
Yohimbine
Yohimbine is an evergreen tree that primarily grows in Western parts of Africa. It has many medicinal properties, and many studies show supplements of Yohimbine can increase your blood flow and improve erectile function.
What does the research say about the active ingredients?
So, what does the research say about the active ingredients in our testosterone supplement?
Tongkat Ali Extract
In one placebo-controlled study, 32 men with moderate stress took a supplement of standardized hot-water extract of Tongkat Ali root or placebo for four weeks. The study found Tongkat Ali decreased tension (11%), anger (12%), and confusion (15%). And testosterone status increased by 37%.
Therefore, these promising results indicate daily supplementation of Tongkat Ali root extract improves stress hormone profile and certain mood state parameters. So this herbal remedy can be a practical approach to shield the body from the detrimental effects of stress and sleep deprivation.
Moreover, they also found Tongkat Ali stimulates the release of free testosterone, improves sex drive, reduces fatigue, and improves overall well-being and energy level.
Moreover, Tongkat Ali can help to increase libido too. A twelve-week study on 109 men ranging from 30 to 55 examined the aphrodisiac effects of Tongkat Ali. Half the men took 300mg fluid extract of Tongkat Ali, and the other half took a placebo. The men taking Tongkat Ali experienced higher scores in erectile function, libido, seminal fluid analysis, sperm motility, and semen volume.
Moreover, a similar study on healthy men between 40 and 65 found men who took Tongkat Ali for 12 weeks had significant improvements in their ability to perform sexual intercourse and maintain an erection.
Ashwagandha Organic
One study involved 150 men, 50% of whom were considered healthy with no existing fertility issues, and the other 50% were undergoing screening for infertility issues. These men received a daily supplement containing Ashwagandha root.
The study found Ashwagandha root extract led to an improvement in the motility and sperm count of men who had previously experienced male infertility. Moreover, men treated with this extract also had a significant increase in testosterone levels.
Another study tested the effectiveness of Ashwagandha root extract on muscle strength. The study followed 57 men with minimal resistance training experience over eight weeks. A treatment group received 300mg Ashwagandha root extract supplement taken twice a day for eight weeks, and the other group received a placebo supplement.
The male participants who received the supplement of Ashwagandha root extract saw a significant improvement in muscle strength, and their recovery time after exercise was shorter than those in the placebo group.
Maca Extract
One four-month study on nine men evaluated the effects of oral Maca tablets on the production and quality of their sperm. The study found the treatment of Maca increases the volume of ejaculate, sperm count, and sperm motility.
Another 12-week placebo-controlled study on twenty men aged 20-40 found concentration and motility of sperm increased in the Maca group in comparison to the control group.
Oat Straw
One 24-week placebo-controlled study in 37 older adults with excess weight took a daily dose of 1,500mg oat straw extract. This significantly improved their blood flow in comparison to the placebo group.
Another double-blind, placebo-controlled trial of 132 healthy males and females (35 to 65 years) received either green oat extract or placebo for 29 days.
Overall, the study found oat straw extract can benefit cognitive function and modulate the physiological response to a stressor.
Tribulus Terrestris
One placebo-controlled study looked at the effects of Tribulus Terrestris to treat men with erectile dysfunction. After 12 weeks of Tribulus Terrestris treatment, erectile function, sexual performance, and sexual desire significantly increased in comparison to the placebo group.
Black Pepper
In one placebo-controlled study, 35-day-old male rats received 0, 5, or 10 mg/kg of black pepper. The study found the thirty-day treatment of rats with black pepper significantly increased serum testosterone levels.
Yohimbine
One placebo-controlled four-week clinical trial studied the effects of Yohimbine on men aged 25 to 50 who had mild-moderate erectile dysfunction symptoms for longer than three months.
The impacts of Yohimbine were impressive. There was a significant improvement in erectile function scores in the Yohimbine group in comparison to the placebo group.
How long does it take to work?
When looking for the best testosterone supplements, chances are you'll going to want to know how quickly it will work. However, depending on the individual state of your health, your diet, lifestyle, and a range of other factors, personal recovery for each person can vary.
Usually, when using Ben's Testo-Booster, patients tend to see significant results in 3-6 months. Sometimes you can see effects even faster, but it's essential to understand your body has to process it more slowly since it is not like a drug.
For the best results, you should take three capsules per day, one with each meal.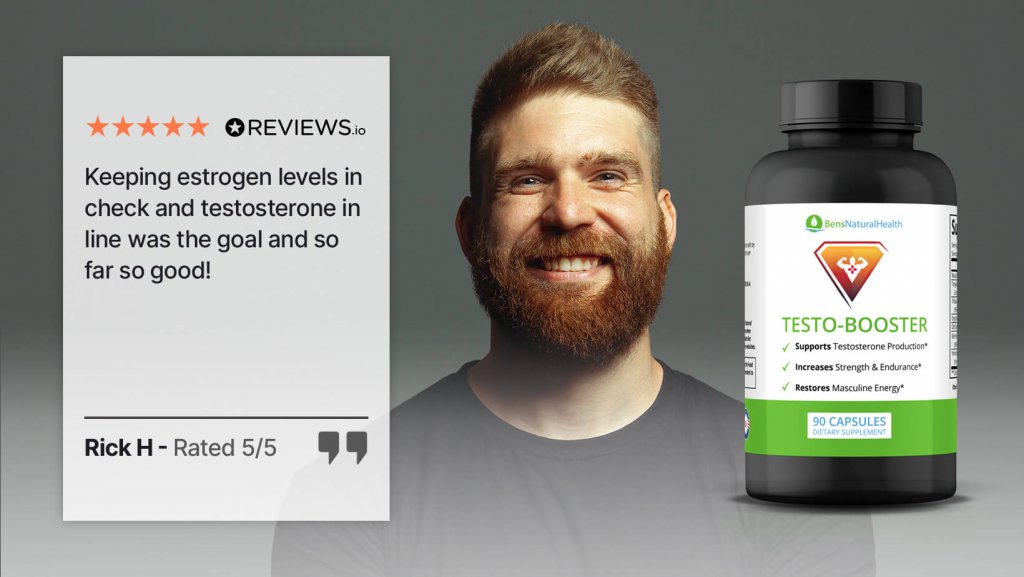 Is it safe to take?
This testosterone booster supplement is 100% drug-free, 100% natural, and 100% side-effect-free.
When it comes to the ingredients in our products, we rigorously test them to ensure they meet the American pharmacological standards and the American herbal products association standards. Our manufacturing facilities are also all US-based, and FDA monitored.
We use the United States pharmacopeial test 1119 (near-infrared spectrography), a third-party laboratory, to test all our finished products. This ensures that the supplement matches the label and is safe, pure, and of high quality.
How does it compare to other testosterone supplements?
When searching for the best testosterone supplements, you may wonder how our product compares to other remedies.
It is important to note that, unlike some other testosterone supplements, Ben's Testo-Booster has the following:
100% natural ingredients.
Clinically significant dosages.
Ingredients that are shown to work in peer-reviewed, double-blind studies.
Chelated ingredients for better absorption and effectiveness.
While many supplements have scientifically backed natural ingredients, the vast majority contain only a few essential testosterone boosting ingredients. And this is usually in low and ineffective dosages, without chelating ingredients for better absorption and bioavailability.
A therapeutic dose is the amount of the ingredient you need to have a clinical effect proven by scientific studies. It's also vital that the testosterone boosting supplement you take contains natural nutrients. You do not want it to have any synthetic ingredients or genetically modified organisms.
This dietary supplement is extracted from the highest quality, natural ingredients and freshly harvested herbs, using rigorous, cold press extraction methods to optimize dosage and bioavailability.
Bioavailability refers to the extent to which the supplement makes its way to the body's tissues rather than being flushed out. As a result, the body efficiently absorbs our Testo-Booster.
Furthermore, to ensure the efficacy, potency, and freshness of Testo-Booster, we pick fresh herbs at the season's peak. Then, each herb is qualified under specific quality guidelines under the CGMP and FDA. This 3rd party process of qualification ensures every herb is 100% quality tested before added to our natural testosterone pill, Testo-Booster.
Finally, after this testing, we ensure the herbs maintain their freshness and efficiency. We achieve this by cold pressing and suspending in glycerin, a compound known for its antimicrobial and antiviral properties. So, through this diligent process, our preparations maximize the potency and efficacy of our testosterone booster supplement.
Why Choose Ben's Natural Health Supplements?
At Ben's Natural Health, our motto is to combine holistic healing with modern science.
Ben's Natural Health is the world's first high-quality, all-natural, scientifically proven clinical supplement company. Above all, our supplements are effective, natural and 100% side effect free.
Moreover, at Ben's Natural Health, we have four rules for all our supplements:
We only use the highest quality ingredients
We only use them if they have been proven to work in independent, peer-reviewed double-blind studies
With all our supplements, we find a way to get every ingredient into a single bottle
We always formulate them in clinically significant doses of the most bioavailable form
We pride ourselves on offering excellent customer service. We offer a free health consultation where you can ask questions and receive tailored advice from our expert health consultants.
Key takeaways
3 benefits of Testo-Booster:
It contains clinically proven ingredients to increase testosterone levels, improve libido, and provide stronger erections.
98% of customers would recommend Testo-Booster to a friend.
Next Up

Find out about our Natural Viagra Supplement: Male Boost Tincture.