The persistent inability to keep a prolonged erection is a problem for many. The erectile dysfunction prevalence rate ranges from 52% in men between 40 and 70 years. But, for those older than 70, the prevalence goes well over 95%.
With a better understanding of the central and peripheral mechanism for erection, men can get their sex life back on track.
Viagra is one of the most widely used drugs for satisfactory sexual performance. Since sildenafil is an FDA-approved drug for impotence, countless people are using it.
But, just like any other ED medication, oral sildenafil/Viagra can too cause side effects. Despite its profound impact on erectile dysfunction, it can also interact with medication and cause various problems.
If you want to learn more about sildenafil, you've come to the right place. This is a detailed guideline that will help you figure out all you need to know about the drug, including its natural alternatives.
What Is Viagra?
Viagra (sildenafil citrate) is a PDE5 inhibitor that elevates nitric oxide. It blocks the PDE5 activity, which triggers the cGMP to accumulate in the penis. That's how it ensures erections.
Studies show that sildenafil is capable of restoring the natural erectile response to different sexual stimuli.
But, it can't cause an erection if the viagra user doesn't get any sexual stimulation. So, it can't be a miracle treatment.
What it can offer is:
Stronger erections

Better blood flow

Relaxed smooth muscle

Elevated intracavernosal pressure
This medication improves penile rigidity, which ensures stronger erections. This is the ability of the erect penis to resist buckling or bending to create a more effective penetration.
By relaxing the blood vessel walls, the sildenafil improves blood flow and provides adequate intracavernosal pressure. All to help with intercourse.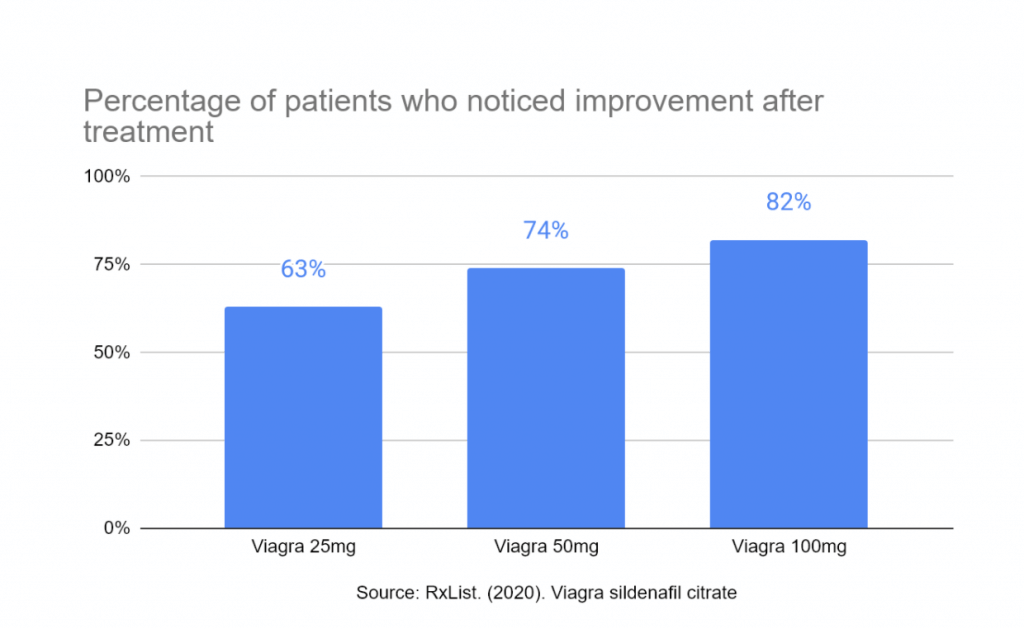 According to FDA-approved records, higher sildenafil doses can create better results.
Based on reports from a controlled treatment group, 63% of patients who received a 25mg dose noticed an improvement in blood flow and erectile dysfunction. In comparison, 82% of those who took a 100mg dose experienced better sexual activity and blood pressure.
When it comes to other non-sexual uses, Viagra is marketed for pulmonary hypertension. It is said to aid with blood vessel pressure and ease pulmonary arterial hypertension. It may also help with motion sickness, cardiovascular disease, heart failure, and Raynaud's phenomenon.
But, the medication is not without flaws. There are specific Viagra side effects that can affect the human body.
Is Viagra Safe?
Viagra is considered safe and effective for most men. Studies show that the use of Viagra for erectile dysfunction is safe in the absence of contraindications and when the drug is taken properly.
A study from the Journal of Sexual Medicine confirmed that Viagra is effective and well-tolerated regardless of patient's age, including men at least 75 years old.
While the Viagra pill is generally safe, side effects can happen. The risk of side effects increases with dosage. In other words, the higher dosage of Viagra you take, the more likely you are to experience adverse reactions.
The adverse reactions of Viagra tend to go away when the body adjusts to the drug. If they are not going away, contact your doctor.
When it comes to the safety profile of Viagra, it's important to mention this ED drug interacts with medications that lower blood pressure, some antifungal medications, other PDE5 inhibitors, and certain protease inhibitors.
What Are the Side Effects of Viagra?
The higher the doses, the bigger the chance for an adverse reaction. There is a slight increase in the odds of experiencing an adverse event.
For most patients, it is estimated that there is a 2% chance of adverse side effects across all Viagra doses.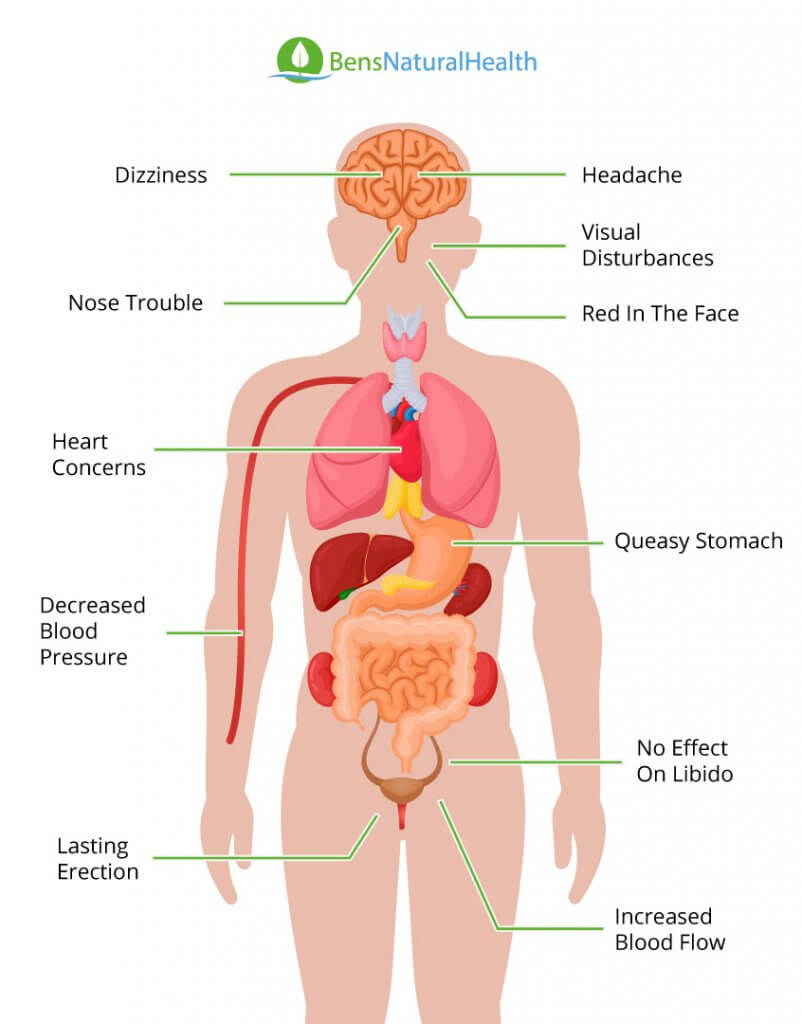 Here are the typical side effects found in less than 2% of patients treated with sildenafil medication. The reactions listed here are based on the dose.
| | | | |
| --- | --- | --- | --- |
| Viagra Adverse Reaction | 25 mg | 50 mg | 100 mg |
| Flushing | 10% | 19% | 18% |
| Nasal congestion | 4% | 4% | 9% |
| Headache | 16% | 21% | 28% |
| Indigestion | 3% | 9% | 17% |
| Back pain | 3% | 4% | 4% |
| Nausea | 2% | 3% | 3% |
| Rash | 1% | 2% | 3% |
| Lightheadedness | 3% | 4% | 3% |
Side Effects in Older Men
This erectile dysfunction drug can cause the same adverse effects in both young and old users.
Based on reports from a 4-year review, the most recorded side effects in all sildenafil trials included blocked nose (5.4%), indigestion (6.5%), dizziness (8.8%), flushing (21.9%), and headaches (28.6%).
Overall, the medication is considered safe for users older than 70. The drug itself doesn't pose serious harm to older men. It just causes the expected side effects, as you would get from any other similar medication.
The only real problem is that people with extremely low blood pressure and heart disease shouldn't take it. It can also interact with different medicines.
Long-Term Side Effects of Viagra
Although Viagra can cause side effects, most of them are short-term. But this medication can have long-term side effects too. The most important long-term adverse reactions of Viagra are described below.
Gastrointestinal effects
This medication for erectile dysfunction acts on the gastrointestinal (GI) tract as well as the genitourinary tract.
Long-term use of the drug may increase the frequency of intestinal problems and dyspepsia (indigestion or heartburn). Indigestion occurs due to Viagra's effects on smooth muscle tissues in the body.
Evidence shows Viagra can slightly reduce nutrient tolerance and delay gastric emptying. As a man keeps using Viagra, especially in high doses, these problems become more frequent and intense. For that reason, they can affect your quality of life.
Psychological effects
The effects of Viagra aren't limited to the body only; they can also extend to a man's mind i.e. his psychological health and well-being.
For example, a long-term side effect of Viagra could be the worsening of some mental health problems.
Viagra can contribute to or aggravate symptoms of depression and anxiety. It can cause nervousness, behavior changes, and sleeplessness. In one case report, a man experienced psychotic symptoms due to this medication.
While a lot more research on this subject is necessary, the psychological effects of Viagra are evident. The problem becomes more severe if we bear in mind some people use Viagra recreationally.
The recreational use of Viagra refers to cases when men don't have ED but still use this medication. They may use it to up their sexual performance, athletic performance, or any other reason. Just using the medication in a manner that isn't prescribed increases the risk of side effects. That also means the risk of long-term effects such as poorer mental health is also higher.
Sensory effects
Long-term use of Viagra can cause affect visual and/or auditory (hearing) systems. One study found that routine use of medications such as Viagra can increase the risk of developing different types of eye problems that can lead to vision loss and blindness.
These problems may include retinal detachment, retinal vascular occlusion, and ischemic optic neuropathy. When not treated properly, these conditions can lead to permanent vision loss.
Evidence also shows that long-term use of drugs like Viagra can increase the risk of a hearing condition called sensorineural hearing loss. This condition results from inner ear damage.
Cardiovascular and cerebrovascular effects
Since Viagra acts on blood flow, some of its long-term effects are associated with cardiovascular or cerebrovascular health.
Long-term use of Viagra can contribute to vascular effects like transient ischemic attack, a period of symptoms resembling those of stroke. It goes away quickly, but doctors consider it a warning.
Even though a lot more studies on this subject are necessary, the long-term effects of Viagra may include cardiomyopathy, arrhythmia, and heart palpitations.
In one research, ventricular tachycardia was associated with the use of Viagra. Ventricular tachycardia is a type of arrhythmia indicated by over 100 beats per minute with at least three abnormal rapid breaths in a row.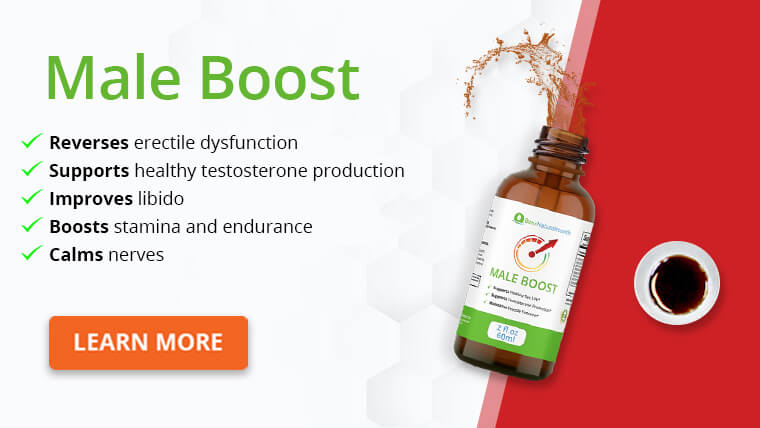 Interactions With Medication
Are there any drugs to avoid with Viagra? People who take alpha-blockers (for prostate issues or elevated blood pressure) shouldn't take any erectile dysfunction medication. That includes Viagra, Staxyn, Levitra, or Cialis.
Even though it is considered safe for people with high blood pressure, the unstable management of the health issue can cause a problem for many users. They might also be advised to stop using if they are taking nitrates (for chest pain) or recently had a stroke or heart attack.
Nitrates and Viagra don't mix. They can both affect the muscles and the blood vessel size. The bigger these vessels get, the greater the impact on the high blood pressure. You have the nitrates known as isosorbide mononitrate, isosorbide dinitrate, and nitroglycerin. The interaction can cause the high blood pressure to drop significantly.
Furthermore, individuals with liver disease or kidney disease can be asked to refrain from using sildenafil. The same thing applies to a patient with an eye disease, like retinitis pigmentosa.
Don't forget to watch out for an allergic reaction. A clinical trial showed fewer than 2% of those who took the ED pills experienced an allergic reaction.
Although it is not that common, you should take the proper precautions. The best way to do that is to consult with a health care provider to know whether you can use oral sildenafil for the erection problem.
How to Relieve Viagra Side Effects
To decrease the risk of lightheadedness and dizziness, get up slowly when moving from a lying or seated position. A good rest is expected to ease the flushing and unease. This will give the body enough time to adapt and restore balance.
To manage the headaches, a light meal before taking a dose can help. Skipping too many meals can cause numerous problems, one of which is headaches. When the system is deprived of nutrients, it is more susceptible to mild or severe nausea—accompanied by back pain and other types of discomfort.
Experts suggest you should avoid drinking alcohol while taking viagra to avoid problems. Otherwise, those troublesome headaches can ruin your mood. In case of indigestion, it is best to take a smaller dose. If, for example, you are taking 50mg, choose 25mg instead. When paired with a light snack or a meal, the body can more easily process the chemicals.
Sometimes guanylate cyclase stimulators might come in handy. This is a targeted therapy for pulmonary hypertension.
But, to completely manage the problem, it is essential to know your medical history and talk with a doctor if necessary. Particularly if you feel nauseous or dizzy for a prolonged period, the doctor can suggest reducing the dose further or discontinuing sildenafil use. It all depends on how the body is reacting to the compounds.
When to Contact a Specialist
Any rare adverse effects require immediate medical help. You should call the doctor if you experience any of the following complications:
Blurred vision or sudden loss of vision
Nausea or dizziness while having intercourse
Persisting side effects that don't go away after a short rest
An erection that doesn't subside for over 4 hours
Nonarteritic ischemic optic neuropathy develops soon after taking the product. This is a sudden vision loss caused by the interrupted blood flow to the optic nerve. It often requires immediate treatment and medical attention.
That's why it is important to avoid using ED products, like sildenafil, as recreational drugs. You should be using them only when necessary. That way, you might prevent possible chest pain or other reactions to this product.
Viagra Dosages
People take 25mg, 50mg, or a 100mg sildenafil dose orally. The system quickly absorbs it and achieves maximum plasma levels in around 1 hour after taking it. The liver is the one that absorbs the drug before it can provide the necessary effect. This medication has a mean half-life of 3 to 5 hours.
The typical starting choice is 25mg. This is used among patients who never tried the medication before. Older people who need a stronger effect often opt for 50mg. That means the body is somewhat accustomed to the medication and can process it properly.
But, when it gets difficult to notice any effects and the medication isn't working right, then a 100mg dose can be necessary. This is the highest recommended dose. To determine the best approach for your body, talk to your doctor. They will decide the ideal choice based on your age, medical issue, kidney or liver problems.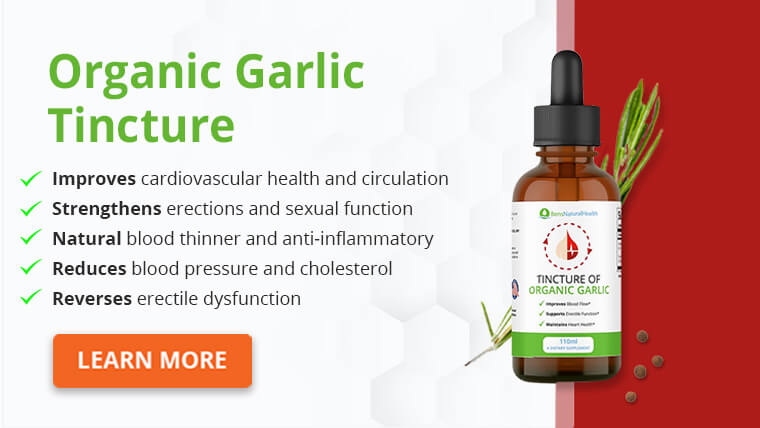 Can You Overdose On Viagra?
Like with many other medications, you can overdose on Viagra. Taking too much, over 100mg in 24 hours, can cause a severe headache, hypotension (low blood pressure), and orthostasis. The latter refers to orthostatic hypotension, a drop in blood pressure that occurs when changing position from sitting or standing.
Viagra overdose can cause priapism as well. Priapism is a painful and long-lasting erection that lasts more than four hours.
Speaking of taking too much Viagra, a paper from Human & Experimental Toxicology reported a case of fatal overdose. A 56-year-old man took an excessive dosage of Viagra. In fact, the dosage was four times higher than previously reported therapeutic levels in the scientific literature.
Although fatal overdose is rare, the case mentioned above emphasizes the importance of sticking to the recommended Viagra dosage. More is not always better. Always adhere to the Viagra instructions provided by your healthcare provider or pharmacist.
Natural Alternatives to Viagra
Standard erectile dysfunction treatment involves medication, surgery, implants, or vacuum devices (penis pump). Those who want to increase the blood flow to the penis and boost their sexual activity often opt for healthier and more natural alternatives. They want to avoid the side effects of the sildenafil treatment yet still manage their erection problem. Here are a couple of options that can be helpful.
1. Red Ginseng
Red ginseng, also known as Panax ginseng or herbal Viagra, is one of the most impactful natural alternatives. Multiple studies show that dosage from 600 to 1,000 mg three times a day could be beneficial for erectile dysfunction treatment.
The extract can boost erection on a cellular level and supply the system with anti-inflammatory properties. As a result, it can increase blood flow and lung function – all of which can help manage erectile dysfunction.
2. Golden Root
Referred to as Rhodiola Rosea, this root is packed with over 140 active ingredients. The two most potent ones being salidroside and rosavin. Trials indicate that 26 out of 35 men who took 150 mg to 200 mg a day for three months managed to improve their sexual function drastically. The root can also help for decreasing fatigue and improving energy. But, more research is necessary to study its efficacy and safety in ED patients.
3. DHEA (Dehydroepiandrosterone)
The adrenal glands in the body can naturally produce the DHEA hormone. The system can then convert it into both testosterone and estrogen. Experts make the supplement from soy and yam, allowing the body to replenish its DHEA levels.
Small-scale research found that 40 ED patients who half of which received DHEA supplement, had bigger odds of getting and maintaining an erection. The other half took a placebo treatment. But couldn't experience the same effects. This is particularly important for those who have trouble enjoying any sexual activity or sexual arousal.
4. Acupuncture
Erectile dysfunction is a very complex problem. It involves many aspects of the body, like the endocrine system, neurological complications, psychological issues, and vascular factors. When there is an abnormality in one or multiple systems, it can cause poor erectile function.
In this regard, acupuncture can help. Although experts have mixed opinions, many believe that acupuncture can promote blood flow, improve mood, and strengthen the kidney and spleen. It can also regulate nerve sensitivity.
But, most importantly, it can provide a better blood supply to the peripheral blood vessels. These are all critical factors in maintaining an erect penis. In other words, it could solve the blood block and balance the flow of Qi.
5. African Yohimbe Tree
The Yohimbe tree extract can create a positive impact on sexual performance, research shows. It is an organic compound with potent effects. But, the American Urological Association believes that the extract needs further evaluation before it can be used as an ED treatment. The reason for that is relatively simple.
When not taken properly, it can damage the health. It can cause an irregular heartbeat, tremor, irritability, and elevated blood pressure. Therefore, if you want to give it a try, you should consult with a doctor first.
6. Ginkgo Biloba
Mainly used for cognitive decline, this natural option could help with ED, especially if the unstable erections result from specific antidepressant medications. Despite the limited research, experts think that ginkgo could have potential.
Its blood circulation-boosting properties and the ability to relax the smooth muscle can help with sexual dysfunction in women. Another study found that the Nano Leo (a supplement with Ginkgo Biloba) caused better sexual desire and satisfaction. It improved erection, libido, and orgasm in patients. But, the results are limited.
Researchers analyzed only 99 men in their 30s. More studies are necessary to evaluate its full impact on the male body. As well as research on the older population.
Get Your FREE Erectile Dysfunction Guide
Eleven most important herbs to improve erections
Natural lifestyle changes to reverse erectile dysfunction
Developed exclusively by our medical doctor
Conclusion
As you can see, Viagra is not a miracle cure. It is a strong medicine meant to manage severe ED.
Even though Viagra is FDA-approved, it can still cause side effects. Some of them are mild, such as flushing, blocked nose, and lightheadedness. Others are more debilitating and severe, like nausea, indigestion, and back pain.
What you should do is learn to recognize the problems and seek medical help if necessary.
Those who want to swap the chemicals for a natural alternative have many options to go for. Products like red ginseng, golden root, and African Yohimbe tree seem to be the most viable alternative. As well as traditional techniques like acupuncture can help.
The main thing to have in mind about these alternatives is that they can't be equally as effective as actual medication. Instead, they can create a milder result with some amount of benefits.
Regardless of what you need, make sure to consult with a specialist to manage the side effects of Viagra or change the medicine. The doctor can set you on the right path.
Next Up

Find out about Our Natural Viagra Tincture: Male Boost.