There's a new medical treatment you should know about for men with an enlarged prostate. It's called GreenLight™ Laser therapy.
GreenLight laser therapy may be used as an alternative to transurethral electrovaporization resection TURP.
It is known for its effectiveness, reliability, and safety, especially in those who are elderly and/or otherwise high-risk patients. It's now a laser surgery that is performed globally.
How is GreenLight Laser Therapy performed?
GreenLight laser therapy is also called photovaporization of the prostate. It uses a laser to vaporize the parts of the prostate that have enlarged.
The wavelength of the laser used is 532 nm, which can be absorbed by the hemoglobin in the tissues of the prostate. By absorbing the energy levels, the tissues are efficiently vaporized and coagulated.
What are the advantages of GreenLight Laser Therapy?
TURP has been considered the standard gold technique for treating men with prostate disease. It has a high rate of success in improving symptom scores, urine flow, the urge to urinate, how much urine stays in the bladder, and the retreatment rate.
Doctors like the prostate TURP procedure because of the following advantages:
A shorter time period for catheter use after surgery

Shorter hospital stays generally speaking

Reduced blood loss generally speaking
What are the disadvantages of GreenLight Laser Therapy?
But it definitely has its issues – and these are multiple complications. The list includes:
A high rate of bleeding after the operations

Blood transfusions needed

Need for catheters for a long period of time

Long hospital stays

Urinary incontinence

Retrograde ejaculation

Transurethral resection syndrome
Symptoms of BPH (Benign Prostatic Hyperplasia)
One of the biggest problems of prostate enlargement (BPH) is that it can cause symptoms that worsen.
Some of the symptoms of BPH include voiding and storing the urine. These are called lower urinary tract symptoms. They take the form of blood in the urine, urinary retention, urinary tract infections that recur, stones in the bladder, and deteriorating kidney function.
Studies have proven that patients with an enlarged prostate and lower urinary tract symptoms that are treated with GreenLight therapy improve similarly like TURP patients. But there is a difference: they have fewer complications.
---
For more information on BPH (Benign Prostatic Hyperplasia) click here.
---
How do elderly men with large prostates fare?
In one study, 112 patients 70 years and older that also had a prostate volume smaller than 80 ml were given GreenLight Laser surgery for their enlarged prostate with TUVP. Normal prostate volume is believed to be the size of a walnut or golf ball. This is equal to or less than about 30 ml.)
Those in this group that had larger prostate volumes – 51 patients were given the GreenLight therapy by itself.
The average surgery time of both groups was anywhere from 34 to 80 minutes. Patients stayed in the hospital for 4 to 6 days for the GreenLight therapy by itself and up to 7 days for both the GreenLight Therapy and the TUVP treatment.
Only two patients that had the GreenLight laser therapy by itself needed a second treatment; one was a patient who started with a prostate larger than 150 ml, and another was a patient with severe heart disease.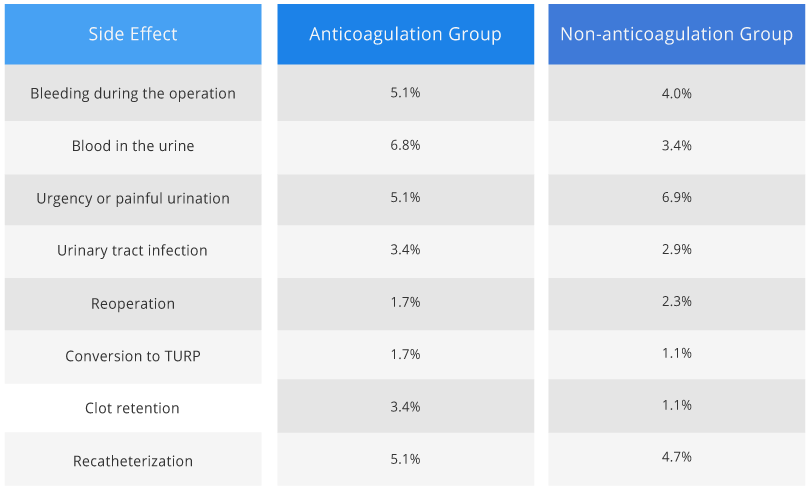 The study showed low numbers of complications across the board. There were no significant complications increases or longer hospitalization times between the groups and fewer complications than those who only had TURP in other studies.
Since the patients were elderly, they had to be managed more carefully after the operation and were in the hospital longer than younger men from other studies that had the procedure.
The researchers concluded that GreenLight laser therapy was a feasible and safe choice for men with a large prostate.
Is GreenLight Laser Therapy okay for men taking anticoagulants?
GreenLight Laser therapy was also tested on 59 patients who took aspirin, clopidogrel or warfarin and 174 that didn't take any anticoagulants. The anticoagulant medications were stopped three days before the surgery. The patients were 70 years old on average, with an average prostate volume of 57 ml.
Here's a chart comparing the results of the GreenLight laser therapy on both groups as far as the side effects go: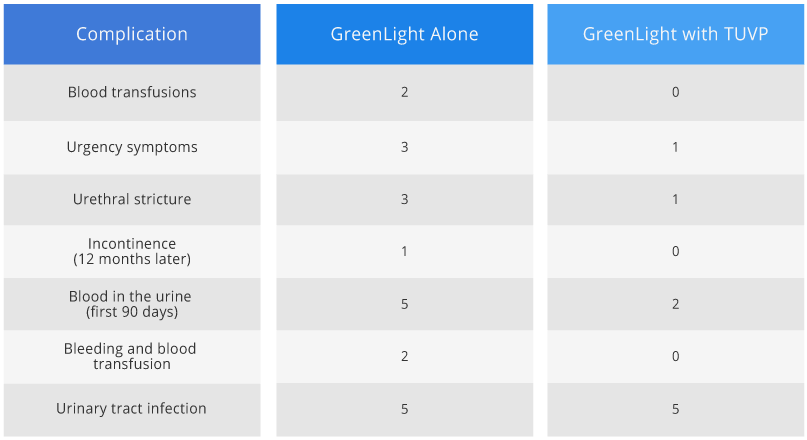 The prostate volume was decreased by 47%, and PSA lowered by 42% from the Greenlight Laser procedure according to other studies.
And according to this study, there was no statistical difference in the group of men taking anticoagulants and those not taking them.
Yes, some of the men did have some complications, but the complication occurrence was still about the same. The researchers concluded that GreenLight laser therapy is effective and safe for men taking anticoagulants that have prostate enlargement.
What do long-term studies about GreenLight Laser treatment show?
In one study of a follow up of the treatment, results were excellent at the 5-year mark. Starting out, 18.8% of patients had problems with voiding at the three-month time frame, but the percentage dropped to 0 at five years.
Men with pain, discomfort, or burning when urinating amounted to 4.7% of the group in the study at three months after the surgery but 0 after four years. Only 0.4% of the men had worse erectile dysfunction at six months. The figure of 2.4% of men with urinary tract infections fell to 0 by four years and stayed that low at the five-year mark.
Conclusion
What do you make of all this data? If you're going to try surgery for your BPH symptoms(benign prostatic hyperplasia), then GreenLight Laser therapy may definitely be the way to go.
Prior to undergoing any surgery, speak with your urologist about the possible side effects. The issue with the majority of procedures is that they damage the prostate. Therefore they can cause short or even long-term consequences. The only difference between them is that they use different technologies. However, it doesn't matter how you damage the prostate; it is still damage.
Exceptions to this are Uro lift since it just relieves pressure on the urethra, but even that is still invasive.
It seems to that of all the procedures that cause damage to the prostate probably Rezum causes the least amount of damage. The only truly minimally invasive procedure which does not damage the prostate is prostate artery embolization.