Benign Prostatic Hyperplasia (BPH), is a common condition in men over the age of 50 years.
It has increased in the past 10 years because of the aging population.
This article will discuss the UroLift System. The UroLift System treatment is an approach to treating an enlarged prostate or BPH, that lifts or holds the enlarged prostate tissue out of the way. By doing so it no longer blocks the urethra. There is no cutting, heating or removal of prostate tissue.
What is BPH?
If you and your doctor decide that the UroLift for BPH is suitable, they will give you pre-treatment information. You may get a prostate examination to measure volume and the level of urethral obstruction.
Benign Prostatic Hyperplasia (BPH) occurs when the prostate, expands to twice or even three times its regular size.
The growing prostate gland gradually presses against the urethra and restricts urinary flow.
As a result, the bladder muscle becomes stronger, thicker, and more sensitive, causing it to contract.
This results in more frequent urination, and as the urethra becomes increasingly narrowed, the urine remains in the bladder, accounting for urinary problems.
Symptoms of BPH
Urge incontinence.


Burning, pain or discomfort with urination.


Poor urine stream.


Urinary hesitancy/ urinary discomfort.


Difficulty getting started when needing to urinate.


Dribbling at the end of urination.


Pain during urination or burning after ejaculating.


Get Your FREE PSA Lowering Diet Plan!
Naturally lower PSA levels
Reduce nighttime trips to the bathroom
Enjoy better bladder control and urine flow
How does the UroLift procedure work?
The UroLift system (Prostatic Urethral Lift Procedure) is an enlarged prostate surgery that involves inserting permanent implants into your prostate through the bladder. A small telescope-like instrument is passed along the (urethra).
This instrument allows a small band, similar in design to be passed between the inner and outer surface of the prostate lobes of the prostate gland. The implants pull obstructing prostate tissue away from your urethra.
The implants integrate with the prostate within months, providing sustained prostate relief.
Generally, your Urologist treatment will be performed by your urologist. The procedure is straightforward and usually done under local anesthesia.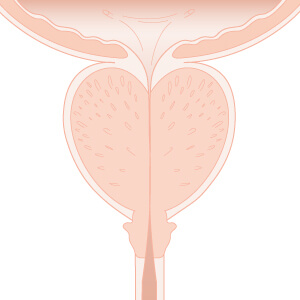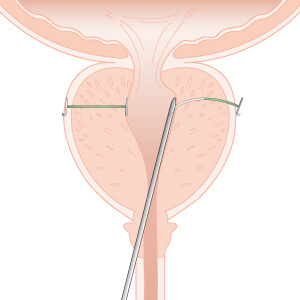 What are the benefits of the UroLift System treatment?
For men wanting to avoid invasive surgery, UroLift may be a good option for treating urinary symptoms.
Surgical procedures such as transurethral resection, increase the risk of side effects, including erectile dysfunction and urinary tract infections.
The UroLift System provides rapid symptom relief with improved quality of life through:
Reducing the risk of erectile dysfunction.


Reducing wound healing related complications.


Reducing the risk of infections.


Eliminating the need for post-surgery catheterization.


What are the side effects of UroLift procedure?
The National Institute for Health and Care Excellence (NICE) recommends the UroLift system for the treatment of lower urinary tract symptoms secondary to BPH in men above 50 years with a prostate volume less than 100 cm3 (Ray et al., 2016).
Younger men or those with a bigger prostate may not benefit from UroLift treatment. This is as they may experience increased complications,
Urolift Side Effects
The most common side effects are mild to moderate and include pain or burning with urination, blood in the urine, pelvic pain, urgent need to urinate and/or the inability to control the urge.
Several high-quality case series and randomized trials for the UroLift procedure have reported:
Painful or difficult urination: Patients experienced more painful urination compared to the control group. McVary et al and Roehrborn et al reported about 35% incidence of painful urination compared to 17% in the control group. Other studies repeated even higher rates, including 70% and 73% by Abad et al and Shore et al, respectively.


Haematuria (red blood cells in the urine): Two of these studies reported haematuria in 25% of patients treated with UroLift compared to less than 5% in the control group. Shore and colleagues observed haematuria in 78% of the cases, while Abad reported a 30% incidence rate.


Inflammation of the testis: These studies reported variable rates of testis inflammation (orchitis), ranging from 1.5% to 5 %.


Urinary tract infections (UTIs): Chin et al reported UTI in 12.5% of patients. Though McVary et al and Roehrborn et al reported 3% of patients with UTI, the control groups had a 2% rate.
How safe is the UroLift System procedure?
Studies by Roehrborn and others showed that the UroLift System reported fewer adverse effects compared to controls.
Roehrborn and colleagues investigated the effectiveness of UroLift in a randomized, blinded trial. The trial involved 206 men with lower urinary tract symptoms secondary to BPH.
Their results showed that after 12 months, the UroLift treatment significantly reduced the American Urological Association Symptom Index (AUASI).
Consistently, patients in the UroLift group achieved and sustained an increased urinary flow rate compared to the control group.
Later follow-up studies showed that the effectiveness of the UroLift System was sustained over five years.
These results show that the UroLift procedure is effective for lower urinary tract symptoms secondary to BPH in men above 50 years of age.
However, whether men with bigger prostates will benefit from this improvement in AUASI and urinary flow rate remains to be determined.
Generally, the recorded adverse events were mild, resolving immediately after the procedure.
Unlike surgical approaches for treating BPH symptoms, UroLift does not cause ejaculatory or erectile dysfunctions.
UroLift is performed under local anesthesia, providing symptom relief, while preserving sexual functions.
What should you expect during and after the UroLift System procedure?
1) Before treatment: Your doctor will help you decide if the UroLift System is suitable. You may undergo some standard prostate examination procedures. However, you and your doctor will determine what tests are required before the actual procedure.


2) During the treatment: Your doctor will deliver permanent implants that reduce urethral obstruction caused by an enlarged prostate. Generally, the prostate lift procedure is a minimally invasive procedure, with reduced recovery time.
UroLift treatment may be performed under local or general anesthesia. You may get pain medications to help you feel comfortable. However, you may still experience some discomfort during the procedure.


3) After treatment: Typically, you will be discharged the same day without a post-surgery catheter. As it's a minimally invasive procedure, urolift recovery time is significantly lower compared to surgical interventions.
You may experience BPH symptom relief within 2 weeks. Discuss with your doctor before returning to normal activities. You should look at out for side effects such as blood in the urine, difficult urination, and pelvic pain.
Best treatments for enlarged prostate
There are three treatment options for your BPH.
Depending on your symptoms, you may be offered one of watchful waiting, drug therapy, or surgery.
Currently, transurethral resection of the prostate (prostate TURP) is the standard of BPH procedure. However, it is an invasive procedure that increases your risk of developing impaired sexual function as well as urinary tract infection.
While less invasive options like UroLift reduce your risk of complications, they still involve a certain level of risk.
Your urologist will help you decide if UroLift is suitable for you. This will depend on your prostate volume and other clinical factors.
It's worth noting that the UroLift only treats the lower urinary tract symptoms caused by an enlarged prostate.
So, you may not benefit from UroLift System treatment if your enlarged prostate is severe.
How do you treat an enlarged prostate without surgery?
You can use natural ways to manage BPH, especially before its diagnosis. Lifestyle changes like regular physical activity, healthy diet, and natural supplements, can reduce your risk of developing BPH.
You should talk to your doctor about taking natural supplements to help maintain a healthy prostate.
You may need supplementation if you are older than 65 years due to age-related impaired nutrient absorption.
You should consider:
Vitamin D: Its deficiency increases your risk of BPH, while increased dietary intake decreases the rate of BPH. Studies that randomly assigned men with BPH to vitamin D supplementation or placebo reported reduced prostate volume in the vitamin D group.


Lycopene: A randomized study showed that lycopene decreased PSA levels and inhibited the progression of BPH (Schwarz et al., 2008), through reduced oxidative.
Conclusion
For some men, the Urolift can effectively relieve urinary symptoms associated with BPH. However, it does not treat the mechanisms underlying your prostate enlargement — lifestyle changes like regular physical activity, healthy diet, and natural supplements can reduce your risk of developing BPH.