Robotic prostatectomy is a surgical technique to remove the prostate gland.
The prostate gland is located at the base of the bladder and can develop cancer.
Prostate cancer is the second most common cancer in men, and there were more than 1million cases in 2018.
Prostatectomy (including robotic and open surgery) is considered the most decisive way to treat localized prostate cancer. However, it is associated with risks such as incontinence and erectile dysfunctions.
Though there are no drugs to prevent the development of prostate cancer, lifestyle changes such as diet and exercise can significantly reduce your risk.
Keeping your prostate healthy is essential if you want to reduce your risk of developing prostate cancer.
Natural supplements like lycopene, vitamin D, and omega-3 fatty acids have shown usefulness in maintaining a healthy prostate. The antioxidant and anti-inflammatory properties of these natural supplements inhibit prostate cancer growth.
What is a robotic prostatectomy?
Robotic prostatectomy is a way to remove your prostate by a machine (robot).
It is a type of keyhole surgery (laparoscopic), performed in the abdominal area using small cuts. The surgeon uses robotic arms and the attached camera. It is precise and minimally invasive.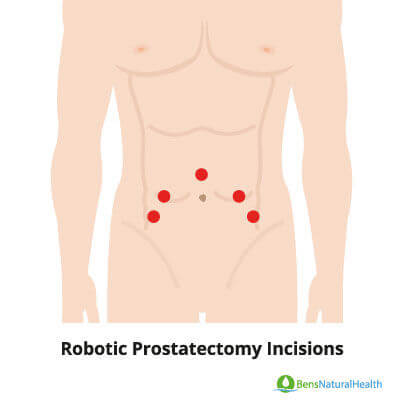 How does a robotic prostatectomy work?
The machine (robot) has two units; the patient and control units. The patient unit is positioned by the operating table and holds the surgical instruments.
The surgeon operates from the control unit, which provides a three-dimensional view of the prostate. This technique allows surgeons to perform complex surgeries completed without large openings.
In which situations is a robotic prostatectomy the best option?
Prostatectomy is suitable for treating prostate cancer before it spreads to other organs.
Prostate cancer is the second most common male-specific cancer in the world. Thus, it is not a surprise that robotic proctectomy is now readily offered in many clinics around the world.
Treatment decisions are based on disease stage, symptoms, and preferences. Your medical provider will discuss your options and the associated risks.
Localized prostate cancer, the predominant stage at diagnosis is majorly treated with radical prostatectomy, the surgical excision of your prostate gland. It is effective for controlling organ-confined prostate cancer, but there are associated complications.
Prostatectomy can be performed by open prostate surgery or minimally invasive methods like traditional laparoscopy or robotic-assisted laparoscopy.
Open prostate surgery involves removing the cancerous prostate through a larger abdominal incision.
Minimal-inversive techniques use keyhole incisions to insert surgical equipment and complete the surgery. They are beneficial when there is a need to reduce wound healing complications.
Robotic prostatectomy is one such method, where the surgeon uses robotic-arms to make small and accurate movements during the operation.
Robotic prostatectomy is the best option for men with localized prostate cancer who want to speed up the recovery of urinary and sexual function after their prostate surgery.
What are the risks of robotic prostatectomy?
Like any major surgery, problems can occur during or after robotic prostatectomy.
Studies have reported adverse reactions to anesthesia, bleeding, and blood clots from the surgery as well as damage to nearby organs and surgical site infection.


Damage to the intestines is common in robotic surgery compared to open surgery.


Though extremely rare, people can die from robot-assisted prostatectomy complications. The risks of serious complications depend on your health and surgical team.
Robotic prostatectomy is a relatively new technique and has skill-associated risks. The need for complex suturing capability and delicate maneuvering of the robotic arms increases the risk of complications.
Robotic prostatectomy vs. Conventional laparoscopic prostatectomy
The rate of complication during and after laparoscopic prostatectomy has been linked with the number of operations performed by the surgical team (Gonzalgo et al., 2005).
Clinically relevant complications following robotic prostatectomy are related to the number of previous cases performed by the surgeon (Novara et al., 2010).
Compared to the traditional open surgery with well-defined long-term risks, surgeons only started robotic prostatectomy in the year 2000.
The risks of robotic prostatectomy and conventional laparoscopic prostatectomy are similar. However, the long-term patient outcomes in men who underwent robot-assisted surgery are not well defined.
Studies have performed a comparative analysis of men treated for localized prostate cancer with open surgery, conventional laparoscopic, or robot-assisted surgery by surgeons who perform regular prostate surgeries.
The results show that both groups have similar levels of incontinence and erectile dysfunction after one year of surgery.
About 15% of men often report clinically significant urinary incontinence, while 70% of men report clinically relevant erectile dysfunction.
These results suggest that long-term outcomes for robotic prostatectomy may follow similar partners to open surgery and conventional laparoscopy.
A survey of men who underwent radical prostatectomy showed that two years after surgery, more than 50% of the participants still had issues with erectile function (Litwin et al., 2001).
About 35% of participants still experience some urinary function after two years. Studies have linked age with the rate of recovery. Younger men who underwent radical prostatectomy do better than their older counterparts (Litwin et al., 2001).

For more information on sex after prostate surgery click here.
How can you best recover from a robotic prostatectomy?
While side effects like incontinence and loss of sexual function are unpredictable. Following your doctor's discharge instructions can improve your recovery.
Reduced physical activity and hydration can improve wound healing, lowering your risk of surgical complications.
Strain to the weak scar tissue formed in the first five weeks after surgery can result in wound-associated complications. Aim to reduce your physical activity in the first seven weeks. This will benefit your urinary continence and sexual function.
Studies have shown that balanced diets improve the wound healing process and enhance overall recovery.
Thus, consuming vegetables and fruits will aid your recovery from radical prostatectomy. If you are unsure, talk to your doctor about your dietary needs.
What are the benefits of robotic prostatectomy?
The benefits of robot-assisted surgery are, in part, related to the use of a minimally invasive approach.
Indeed, the benefits of robotic prostatectomy compared to prostatectomy by open surgery include reduced blood loss and wound healing time.
Compared to open surgery, robotic radical prostatectomy reduces clinically significant wound healing related complications. Moreover, small cuts reduce the rate of infection.


Robot-assisted prostatectomy gives the surgeon an alternative to both open surgery and conventional laparoscopic. However, loss of sexual function and urinary incontinence are important side effects of any prostate surgery.


To solve both problems, surgeons try to protect and preserve the blood vessels and nerves along the sides of the prostate, using a technique called nerve-sparing. Though nerve-sparing is effective, it is not always successful in traditional methods.


The prostate is anatomically difficult to reach, making it difficult to spare nerves. However, the cameras used in robotic prostatectomy increases visualization for your surgeon. This enhances their capability to spare more nerves, promoting your return to normal sexual and urinary function.
How safe is a robotic prostatectomy?
Extrinsic and intrinsic factors modulate the outcome of prostate surgeries. For instance, the experience of your surgeon can predict the occurrence of complications. Laparoscopies share this link between the surgeon and the outcome.
The absence of standardized reporting guidelines makes it challenging to quantify all the safety issues associated with robotic prostatectomy.
A classification system has been developed to aid the reporting of surgical complications (Clavien et al., 2009).
Based on this system, the rate of robotic prostatectomy associated complications is between 8% and 40%. Thus, robotic prostatectomy may become worryingly unsafe for you in the presence of other healthcare factors.
Carlsson et al. showed that robotic radical prostatectomy had lower (3.7%) high-grade complications compared to open radical prostatectomy (12.5%) (Carlsson et al., 2010).
The literature on overall complication rates reported bleeding injuries, and anastomotic leakage (Carlsson et al., 2010; Novara et al., 2010). Injuries to the bowel, bladder, and ureteral have been reported in some cases (Carlsson et al., 2010; Novara et al., 2010).
While some of the safety issues are less severe, complications like anastomotic leakage may lead to mortality and require re-operation to resolve.
Surprisingly, patient comorbidities and clinical characteristics of the malignancy are not significantly associated with the occurrence of these complications (Novara et al., 2010). However, having a larger prostate increases your risk of experiencing these complications (Carlsson et al., 2010).
Robotic system failure is exclusive to robot-assisted surgeries. Machine failure can compromise patient safety, especially during surgery.
Fortunately, to date, cases have been pre-induction of anesthesia. Early system and mechanical failures present little risk to patients, and the risk is further reduced by strict policy on calibration.
Generally, complications caused by anesthesia, wound, and deep vein blood clot are lower in robotic prostatectomy or equal to the levels observed men who underwent conventional surgery.

For more information on prostate surgery click here.
How effective is a robotic prostatectomy?
Studies investigating the effectiveness of robotic prostatectomy show that it can remove cancers like other types of prostate surgery.
A recent retrospective study showed equal mortality risks between robot-assisted prostatectomy open prostatectomy (Hu et al., 2017). Interestingly, the risk remained the same, even for cancer-specific deaths (Hu et al., 2017).
Meta-analyses by Moran et al. and Novara et al. reported no difference in overall mortality or cancer-specific mortality between robotic prostatectomy and open radical prostatectomy (Moran et al., 2013; Novara et al., 2012).
It is important to note that further work is needed to expand the follow-up period of robot-assisted prostatectomy to match the follow-up time achieved in traditional prostatectomy.
In terms of side effects, a recent randomized clinical trial involving 326 men with localized prostate cancer investigated how men recovered from robotic prostatectomy compared to open radical surgery.
Coughlin and colleagues showed that men had an equal level of urinary incontinence and erectile dysfunction in either group (Coughlin et al., 2018).
These results are supported by a high-quality Cochrane analysis using randomized clinical trials (Ilic et al., 2018), which found no difference in complications.
These results suggest that robotic prostatectomy is as effective as the open prostatectomy.
However, you need to note that the risk of your cancer returning over long-term remains unclear because of the relative infancy of the technique and lack of long-term evidence.
What are other surgical options available besides a robotic prostatectomy?
Other ways of having your prostate removed include;
1. Retropubic prostatectomy, where the surgeon assesses the prostate gland through an abdominal incision.


2. Perineal prostatectomy performed through an incision between your testicles and anus.


3. Conventional laparoscopic, which is similar to robotic-assisted prostatectomy and performed through a small abdominal incision (keyhole).

Generally, conventional laparoscopic prostate surgery shares the advantages of robotic prostatectomy when compared to open prostatectomy by retropubic and perineal assess.
There is reduced bleeding, scarring, hospital stay, and recovery time in keyhole prostatectomy compared to open prostatectomy.
Your healthcare provider may offer you these alternatives depending on availability. However, the literature seems to show that outcomes are similar between open and keyhole prostatectomy techniques.
Natural alternatives to robotic prostatectomy
Radical prostatectomy is still the most decisive way to treat men with localized prostate cancer.
Robotic prostatectomy makes it easier to reduce damage to the surrounding blood vessels and nerves, increasing the chances of achieving urinary continence and sexual function. However, some men have a good outcome with less invasive surgery.
Researchers continue to test alternative remedies to reduce the risk of prostate cancer, which will, in turn, stop you from developing the disease and needing radical prostatectomy — however, there no definitive drugs to prevent prostate cancer.
You can make positive health choices to reduce your risk and avoid the eventual prostatectomy.
It is important that you know the risk factors for prostate cancer to be able to lower the risk of developing the disease naturally.
Old age, family history of prostate cancer, high-fat diet, obesity, and African descent all increase your risk of developing prostate cancer.
Though you cannot control some of these risks, gaining awareness of the role of diet and physical activity in prostate cancer provides you with a potent tool to reduce your risk.
There is evidence that a low-fat diet rich in fruit and vegetables can lower your risk of prostate cancer. Consider reducing your consumption of meats, oils, and dairy products.
Obesity is now the second-highest cause of cancer death after smoking. Studies have shown that lower daily calorie intake and regular exercise reduce your risk of developing prostate cancer. Aim to maintain a healthy weight through diet and physical exercise.
Heredity and the environment influence the development and progression of prostate cancer.
However, diet is thought to account for a significant proportion of prostate cancer cases and promotes the progression of prostate cancer to lethal aggressive disease.
Thus, a healthy diet and natural supplements can enhance your prostate health.
Several natural agents with anti-cancer and antioxidant properties have been identified, including;
1. Lycopene, a natural carotenoid hydrocarbon found in red fruits and vegetables. It was initially linked to a reduced risk of prostate cancer based on the observation that consumption of tomato-based foods may reduce the risk of prostate cancer.
Many studies have been conducted to test the effect of lycopene supplements on prostate cancer risk, with promising results (Giovannucci, 2002). The full mechanism of lycopene's modulation of prostate health remains unclear.
Crawford postulated that lycopene might be acting through its inverse association with insulin growth factor (Crawford, 2003), while some authors argue it is through tumor inhibition and differentiation of normal cells (Lu et al., 2001).
However, the most accepted theory is the antioxidant activity of lycopene, which can reduce oxidative stress-induced DNA damage.
2. Vitamin D, a group of fat-soluble steroids that have been linked to prostate cancer development and progression.
Studies that randomly assigned men to vitamin D supplementation or placebo reported improvements in the prostate tumor in the vitamin D group compared to the placebo group (Posadzki et al., 2013).
Vitamin D can reduce inflammation and cancer growth by reducing reactive oxygen species. Besides supplementation, you can get vitamin D from the sun or fatty fish.
3. Omega-3 fatty acids are polyunsaturated fatty acids associated with reduced risk of prostate cancer (Berquin et al., 2007). Like vitamin D, Omega-3 fatty acids can reduce inflammation and in turn, reduce prostate cancer development.
The observation supports the role of omega-3 fatty acids in prostate health that men with defects in one of the enzymes involved in fatty acid metabolism increases the risk of prostate cancer (Fradet et al., 2009).

For more information read our Guide to Prostate Supplements.
Conclusion
Untreated localized prostate cancer can develop to advance disease, spreading to your lymph nodes and bones.
Prostate cancer patients with advanced or metastatic prostate cancer have a poorer outcome compared to those with early-stage disease.
Indeed, early detection is an important determinant of the successful management of any cancer.
You should speak to your medical provider if you are concerned about the side effects of radical prostatectomy.
Your healthcare provider can implement an alternative prostate cancer treatment option that is suitable for the stage of your cancer.
This may include radiation therapy, hormone therapy, and watchful waiting and active surveillance.
Explore More

How Long Does It Take To Recover From Prostate Robotic Surgery?