PSA stands for "prostate-specific antigen." It is a protein produced by prostate cells. Prostate cancer cells also produce PSA. It's quite normal to have a small amount of PSA in your blood.
But as you get older, the amount rises, and your prostate gets bigger. A raised PSA level is not always a medical concern but may suggest a problem with your prostate.
The PSA Test is a blood test that measures the amount of prostate-specific antigen (PSA) in your blood. It is used as a means of early detection of prostate health problems.
---
For more information on the function and purpose of the prostate gland click here.
---
What is a high PSA level?
The PSA test alone can't diagnose any disease. As discussed, elevated PSA levels do not always mean that you have prostate cancer or any other prostate problem.
Many factors can affect your PSA levels so that the doctor won't consider your PSA level on its own.
There is no specific normal or abnormal level of PSA. Factors such as age and ethnicity make it hard for researchers to establish a normal range.
However, most doctors consider PSA levels of 4.0 ng/ml as high and would often recommend a prostate biopsy. One study shows that men with this level of PSA often have prostate cancer.
Low PSA levels also don't always mean that you don't have prostate cancer. Studies show that some men with a PSA below 4.0 ng/ml do have prostate cancer.
Get Your FREE PSA Lowering Diet Plan!
Naturally lower PSA levels
Reduce nighttime trips to the bathroom
Enjoy better bladder control and urine flow
What causes a high PSA?
Let's go into a bit more detail about the reasons why some men have a high PSA level.
1) Enlarged prostate
Benign prostatic hyperplasia (BPH) is not prostate cancer. It simply means that your prostate gland is larger than usual. In this case, there are more cells in the prostate gland. And there are more cells that produce PSA.
BPH is also the most common prostate problem in older men. While it is not fully understood, experts say that this might be caused by changes in hormone balance and cell growth.
Regardless, there are risk factors for having an enlarged prostate:
Aging

Family history

Ethnic background

Obesity
Some studies also claim that diabetes and heart disease also increase the risk of BPH.
BPH may not need to be treated unless it is causing problems with your urination. Some men go to the toilet more frequently, while some find it hard to pass urine.
In some cases, BPH may cause the bladder to be blocked, which leads to retention of urine, bladder infections, and kidney damage.
In these cases, doctors recommend invasive surgery along with medications that control inflammation and infection.
RELATED: What Are Typical PSA Levels in BPH Patients?
2) Prostatitis
Prostatitis is an inflammation of the prostate gland. Unlike cancer and enlarged prostate, it is often caused by common strains of bacteria.
As microbes enter the urethra, they can travel upwards and spread to the prostate if left untreated
An inflamed prostate caused by bacteria can be treated with antibiotics. Once they are killed, the inflammation usually subsides, and your prostate gland eventually heals. However, prostatitis can be long-term and recurring. In this case, it might take more time and effort to treat it.
Nerve damage in the urinary tract might also cause an inflamed prostate. This can be caused by surgery or trauma to the area. HIV/AIDS, catheters, and biopsies can also cause prostate inflammation.
But compared to prostate cancer, prostatitis is more common and treated more easily.
3) Recent sexual activity
Sex can also raise your PSA level. Studies show that frequent sexual activity or a recent ejaculation can cause a mild increase in PSA.
How this works is not fully understood, but high PSA levels due to recent sexual activity are not a big deal. In these cases, PSA levels usually return to normal in two to three days.
This is why men are advised not to ejaculate for 48 hours before a PSA test. It makes a false-positive result. The semen released causes PSA levels to rise temporarily.
However, one study claims that high PSA levels resulting from recent sexual activity must be checked if the PSA value is borderline (baseline PSA).
In this case, the effect of sexual activity on PSA levels may be clinically relevant, and PSA levels should be evaluated 24 hours after ejaculation.
4) Urinary tract infection (UTI)
Urinary tract infections irritate and inflame prostate cells. As a result, it could cause PSA levels to go up.
Microbes that entered your urinary tract causes UTIs. In some cases, the invading bacteria spread to the ureters, bladder, and prostate gland.
In case high PSA levels are caused by UTIs, your doctor can quickly rule this out with a simple urine test. And unlike other cases, UTIs can be effectively treated with antibiotics.
Also, if you're diagnosed with a urinary tract infection, you have to wait until after the infection has cleared up before you have a PSA test.
Does an elevated PSA level mean you have prostate cancer?
Prostate cancer CAN cause PSA levels to rise. Traditionally, medical experts recommended prostate cancer screening to detect, monitor, and treat the condition.
Now, screening is reserved for patients with urinary signs or symptoms, and family history of prostate cancer
It involves a series of PSA tests, rectal exams and imaging tests like ultrasound, and cystoscopy in cases of urinary obstruction.
The Baltimore Longitudinal Study of Aging (BLSA) found that men with a PSA rate of change (PSA velocity) greater than 0.75 ng/mL/year were at increased risk of being diagnosed with prostate cancer and that PSA velocity was more specific than a 4.0 ng/mL PSA cutoff (90 versus 60 percent specificity) [68].
To confirm prostate cancer, however, a doctor will normally recommend a biopsy. The procedure involves multiple samples of prostate tissue that are collected by inserting hollow needles into the gland and then withdrawing them. This is the definitive test to see if there are tumors and if they are cancerous.
However, there is overwhelming evidence that proves that screening for prostate cancer is more harmful than beneficial when patients are not adequately selected and unnecessary biopsies are performed.
What is the controversy surrounding PSA screening?
Using the PSA test to screen for prostate cancer may help to detect small tumors. But many of these tumors do not cause symptoms and will grow so slowly that they are unlikely to be life-threatening.
Overtreatment exposes us to potential complications and adverse effects. These include the inability to control urine flow, and loss of erections.
Another controversy surrounding prostate cancer screening, using the PSA test, is that it may give false-positive or false-negative results for prostate cancer. What that means is you may have an elevated PSA level, but no cancer is actually present.
A false-positive test result will only cause anxiety for you and your family and might lead to unnecessary medical procedures.
One study reveals that only about 25 percent of men who have a biopsy due to a high PSA level have prostate cancer. Consider this before the doctor opens up your prostate.
A false-negative PSA test result can also occur. PSA levels can be low even though you actually have prostate cancer. False-negative test results may give you false assurance.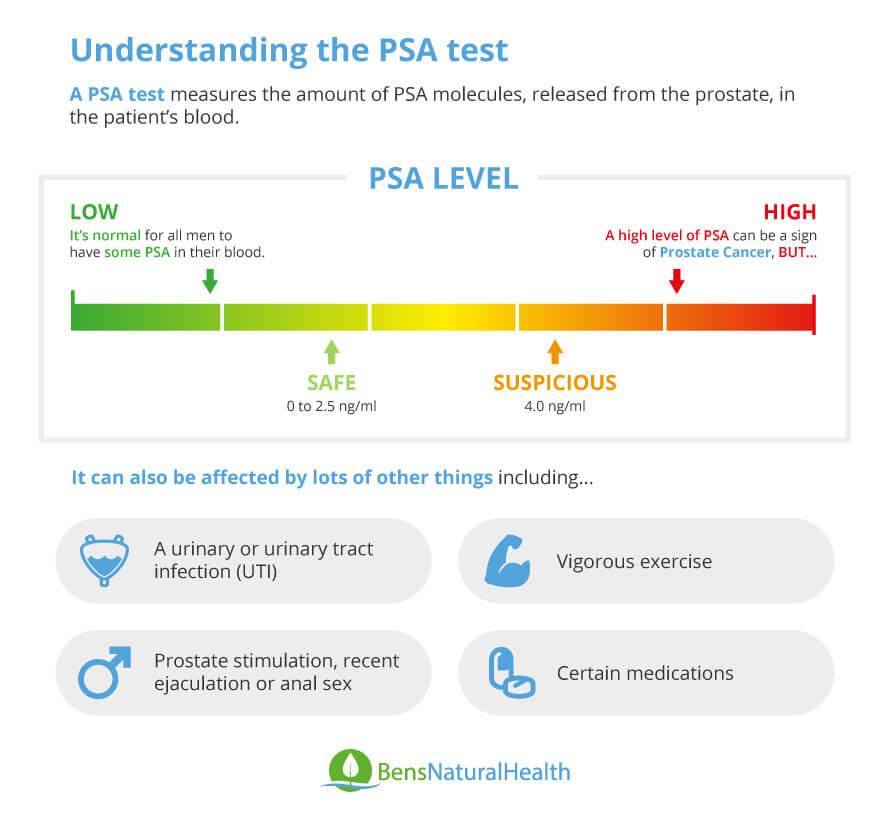 So to sum up:
High PSA levels do not always mean that you have prostate cancer.

There are many factors to consider, along with your family history, to see how likely you are to have cancer.

And if your doctor recommends that you have a biopsy, you need to know all the risk factors involved.
How are researchers trying to improve PSA screening?
Percent-free PSA
PSA occurs in 2 major forms in the blood. One form is attached to blood proteins, while the other circulates (unattached).
This is known as free PSA. The percent-free PSA is the ratio of how much PSA circulates free compared to the total PSA level.
This test is usually used if your PSA results are borderline/ baseline (for example; between 4 and 20), to help a doctor decide whether to administer a biopsy.
The percentage of free PSA is lower in men who have prostate cancer than men who do not.
Many doctors recommend biopsies for men whose percent-free PSA is 10% or less, and advise that men consider a biopsy if it is between 10% and 25%. However, but not all doctors agree that 25% is the best cutoff point to decide on a biopsy.
Complexed PSA
This test directly measures the amount of PSA that is bound to other proteins. This test could be done instead of checking the total and free PSA. It is still being studied to determine if it would provide the same level of accuracy.
PSA velocity
PSA velocity measures how fast PSA levels have risen over a period of time. It tends to increase as men age.
But a rapid rise in PSA may indicate the presence of cancer or possibly an aggressive form of cancer. However, recent studies have questioned the value of PSA velocity in predicting a finding of prostate cancer from a biopsy.
PSA density
PSA levels are higher in men with larger prostate glands. The doctor measures the volume (size) of the prostate gland and divides the PSA number by the prostate volume.
A higher PSA density may signify a greater likelihood of cancer. PSA density is not as useful as the percent-free PSA test. Measuring PSA density generally requires an MRI or transrectal ultrasound.
Another critical screening test is a DRE (Digital rectal exam). In this procedure, the doctor or nurse feels your prostate through the wall of the rectum by sliding a finger gently into your anus. This is done to feel for any hard or lumpy areas in your prostate and to get an idea of its size.
PSA doubling time
PSA doubling reflects the tumor growth, so the doubling time should reflect the time it takes for the number of tumor cells to double.
If I choose PSA testing, what are the next steps if you have a raised PSA level?
Instead of quickly jumping to surgery and drugs for a solution, there is another option: active surveillance.
Active surveillance is a non-invasive approach to prostate cancer treatment.
Active surveillance is the better option if your cancer shows all signs of being the "good" kind, i.e. slow-growing, low volume, and not aggressive. In this case, you can treat it without drugs, radiation, or surgery.
A benefit of monitoring low-risk cancer is that you might avoid having unnecessary surgery.
In fact, one study of men undergoing active surveillance found that, 15 years later, less than 1% of men developed metastatic disease. There are also other natural ways to treat prostate cancer.
Watchful waiting is also another option. Watchful waiting is usually used by men experiencing other health problems, who may be unable to handle surgery or radiotherapy.
It involves fewer tests than active surveillance and is less intensive, more often than not taking place at the GP surgery than a hospital.
If you do have treatment in the future, it will aim to control the cancer and manage any symptoms, rather than to cure it.
---
For more information on active surveillance click here.
---
Conclusion
The main point is this: prostate cancer, when caught early, can be treated. PSA levels rise, but it doesn't confirm that you have prostate cancer.
Before you undergo prostate cancer screening, ask your doctor about the risks. Do your own research and get a second opinion.
There are many causes of a high PSA: an enlarged prostate, prostate inflammation, infection, and recent sexual activity. Therefore a PSA test is not an accurate indicator of prostate cancer.
But it's still a good first step to take.
Doing so will help you determine the cause of your prostate problem, along with the right way to resolve it.
What was your PSA level the last time you checked? What are you doing about it now to get it down? Share your thoughts with us below and I'll give you some advice!
---
For more information on prostate health, check out our Updated & Expanded 10th Edition All About The Prostate…The Definitive Guide To Healing Your Prostate Naturally.
Explore More

Find out 8 Foods That Can Lower Your PSA Levels.