Taking care of the joints involves doing regular stretches and avoiding strenuous physical activities.
But, sometimes, to keep the musculoskeletal system flexible and strong, you need to take additional vitamins and minerals. That's where joint supplements can help.
Supplements can support joint health. Every joint supplement includes a range of ingredients.
When used alongside conventional treatment, nutritional supplements can help ease joint pain and stiffness, boost flexibility, and more.
The question is, how do you find the right joint supplement? Not all nutritional supplements are made the same.
Here is some evidence of the most well-known ingredients used in joint supplements, including their impact on joint pain relief and other benefits.
What are joint supplements?
Joint supplements are natural medicines. They can contain different herbs, minerals, vitamins, or other botanicals.
The purpose of a supplement is to bridge the gap between your nutrient needs and dietary intake. For example, low levels of vitamin D can affect the knee joint and cause cartilage damage.
Joint supplements can restore vitamin D levels, keep the cartilage in joints healthy, and might offer anti-inflammatory properties. These products contain active ingredients that can have a good effect on the body.
The FDA doesn't regulate products sold as dietary supplements as it does with other medications for joint pain relief. So, it's important to consult with a specialist (dietitian, pharmacist, or doctor) before using them. Healthcare experts can help decide which joint supplement can benefit your overall health.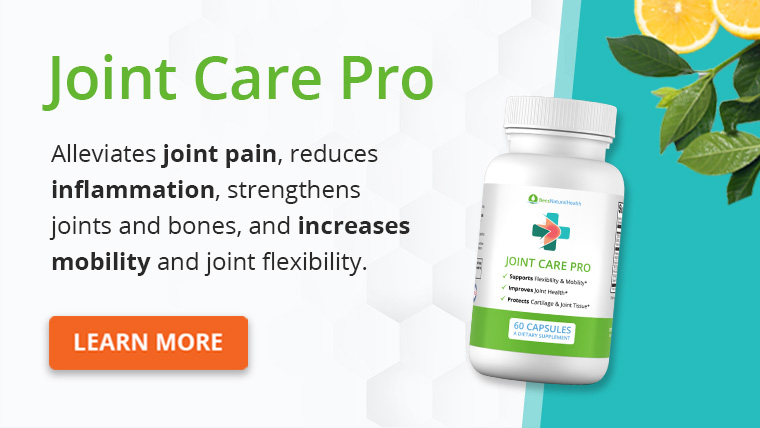 What do joint supplements help with?
The effect of joint supplements varies based on the ingredients and the concentration of the ingredients in the formula.
A custom blend of ingredients can support and maintain healthy joints. They might also help with reducing arthritis joint pain, boost mobility, flexibility, and help in injury recovery.
Most joint supplements work by curbing inflammation or protecting the cartilage. The cartilage can wear down with time, which can lead to osteoarthritis. People with rheumatoid arthritis are more prone to developing osteoarthritis.
Bones with osteoarthritis have lower bone density and strength. People can experience swelling, pain, and stiffness in the joints, mainly in the feet and hands.
Which ingredient and concentration you go for can have a notable impact on joint health, mobility, and bone density.
The problems with some joint supplements
For many joint supplements, there is a lack of strong data supporting these claims. Many of the studies are inconclusive when evaluating supplementation with other medical conditions.
When choosing a specific ingredient, it's important to take a look at the positive and inconclusive data.
The three most common ingredients found in joint supplements are:
Collagen
Glucosamine
Chondotrion
The list below covers how each of these ingredients can affect joint health and whether they can prove effective for curbing pain in the joints.
Do collagen supplements work?
Collagen is a nutritional supplement often used for reducing joint pain, joint stiffness, and other osteoarthritis symptoms. The question is, does taking collagen work?
Research on the effectiveness of collagen for joints is mixed.
Different types of collagen exist in the body. Collagen type 2 is the most popular option used for treating pain in rheumatoid arthritis and osteoarthritis.
It is usually derived from chickens and is said to work by stimulating the body to create substances that curb inflammation. But, there isn't enough data to confirm these effects.
Research shows that when knee osteoarthritic patients received collagen and acetaminophen supplementation, they experienced a better improvement in joint function, pain, and quality of life compared to using acetaminophen alone. However, this was only a small-scale study, which included just 39 subjects.
Another systematic review showed similar results. Collagen hydrolysate and undenatured collagen showed some potential for managing osteoarthritis symptoms. But, more clinical research and laboratory studies are necessary to get definitive results.
Are collagen supplements safe? These supplements often have a good safety profile and shouldn't cause any serious side effects.
But, to increase their potency and effect, manufacturers tend to mix collagen with other ingredients. This increases the odds of adverse reactions.
Some of the most commonly recorded side effects of collagen supplements include feelings of fullness, heartburn, and bloating.
Certain ingredients can pose a health risk, such as high vitamin levels and herbs in a formula meant to support joint health. They can interact with the medications you are taking. Also, a megadose of nutrients can interfere with thyroid and heart function.
Talk to a specialist before using collagen.
Do glucosamine supplements work?
Glucosamine for joints is among the most popular supplements. Around the globe, yearly spending on these supplements is estimated to reach $3.5 billion by 2025.
So, you might think they are super effective. But the evidence is weak.
So, what is glucosamine? Glucosamine is a natural compound in cartilage. In supplements, this compound is manufactured in a laboratory or comes from shells of shellfish.
What is glucosamine used for? People use this product to treat pain and discomfort triggered by breakdown, inflammation, or loss of cartilage.
Does glucosamine work? Glucosamine is a controversial supplement for joint health. Different formulations of glucosamine have been tested.
They can offer some pain-relieving properties, but may not always work. That's because the benefits may not be clinically significant.
Some reports show that glucosamine sulfate might slightly lessen the symptoms of osteoarthritis when used for half a year. Limited reports indicate that glucosamine hydrochloride could curb rheumatoid arthritis symptoms. But, more data is necessary to study its full impact.
You could also develop glucosamine side effects. Some of these include constipation, heartburn, nausea, and diarrhea.
Do chondotrion supplements work?
Chondroitin is a molecule that naturally occurs in the body. Commercial chondroitin, like the one used in supplements, comes from synthetic or natural sources. Popular natural sources include bovine and shark cartilage.
Chondroitin is touted for keeping the cartilage healthy and absorbing water into the connective tissue. Some studies suggest that chondroitin may have the potential to improve functional status and reduce pain, joint stiffness, and swelling.
Overall, reports on chondroitin have not shown it to be helpful for pain from hip or knee osteoarthritis.
Some, but not all, reports indicate that chondroitin could help. However, the improvements might be too small to make a difference for patients.
Does glucosamine and chondroitin work?
Sometimes more ingredients are combined to create stronger effects. Many people want to know, does glucosamine chondroitin work?
Glucosamine and chondroitin, taken in combination or alone, are said to not only relieve joint pain but also help prevent joint disease.
However, plenty of studies have mixed results.
A couple of small studies found that people who used these supplements for osteoarthritis of the knee experienced modest results. Yet, many patients found no real benefit.
Here is a quick look at the data:
A 2022 report including almost 4,000 participants with knee osteoarthritis offered no convincing research that chondroitin and glucosamine provided significant benefits.
There is not enough data on whether these supplements can prevent arthritis from getting worse or protect joint health.
A 2018 review showed that these supplements offered a moderate improvement in pain symptoms. But, the quality of the evidence was very low.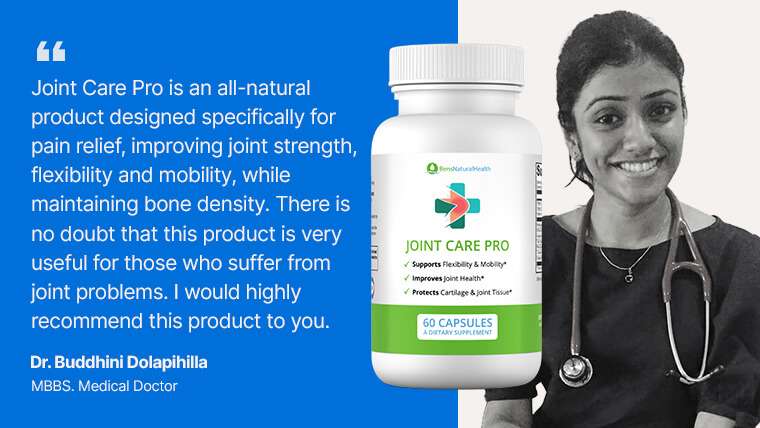 Better ingredients for joint supplements
When treating arthritis or any other condition that causes joint pain, you have to take a "whole-body approach."
Lifestyle is a major factor in boosting bone health. Regular physical activity helps keep the joints flexible and strong.
Having an anti-inflammatory diet packed with omega-3 fatty acids is also important. Supplements can provide that extra relief.
Some ingredients, however, can be better than others. Just make sure to take the necessary precautions and avoid allergic reactions or drug interactions.
Here is what research has to say about the different potent ingredients used in joint supplements.
Hyaluronic Acid
Hyaluronic acid supplements can boost joint function and decrease pain.
What is hyaluronic acid? Hyaluronic acid (HA) is a natural substance and a type of carbohydrate that lubricates and hydrates body tissues.
Wondering when to use hyaluronic acid? As you get older, the levels of hyaluronic acid can decrease. So, the best hyaluronic acid supplements can act as a lubrication and cushion in the joints.
But, does hyaluronic acid work? Hyaluronic acid is a useful tool for managing osteoarthritis.
Some of the benefits of hyaluronic acid include better joint function and reduced pain. Thanks to its structural and clinical effectiveness, and its tolerability, therapy with Hyaluronic acid can be viewed as a viable long-term therapy.
Another 2022 study showed similar results. Experts analyzed the hyaluronic acid supplement benefits derived from a plant origin called GreenIuronic®.
In humans, this new form of HA seems to be well absorbed in the body. It offers therapeutic advantages during osteoarthritis.
Palmitoylethanolamide
Palmitoylethanolamide (PEA) is a substance that can support pain management.
2021 animal trials show that the anti-inflammatory and analgesic effects of PEA can make it an effective therapeutic agent for osteoarthritis.
Some of the benefits of palmitoylethanolamide included reduced cartilage degradation and knee joint swelling in osteoarthritic rats.
Oral administration didn't cause side effects on the body weight, kidneys, or liver.
Tart Cherry Extract
Tart cherries are often recommended for alleviating arthritis pain. They contain a range of polyphenols that can curb inflammation and oxidative stress.
Some of the benefits of tart cherry extract include reduced stiffness and pain associated with joint pain disorders.
A randomized controlled trial showed female patients with OA consuming tart cherry juice experiencing statistically improved inflammation biomarkers. Tart juice can curb inflammation, which can help mitigate some of the osteoarthritis symptoms.
Pine Bark
Pine bark extract (Pycnogenol) is an herbal supplement and a great source of flavonoids. Flavonoids can have potent anti-inflammatory and antioxidant properties.
A 2018 review indicates that Pycnogenol offered long-lasting positive effects. Some of the benefits of pine bark extract included enhanced pain relief and physical mobility in patients with mild osteoarthritis.
Patients who used pine bark extract could reduce the use of NSAIDs. This helped diminish some of the unwanted effects of NSAIDs.
Vitamin K1
Vitamin K can help reduce the risk of osteoarthritis and joint problems. This is a fat-soluble nutrient that can play a key role in bone and cartilage health.
The problem is many people lack vitamin K in their system. Mainly because they are not getting it from their diet.
Vitamin K1 supplementation can help avoid vitamin K deficiency. With adequate doses, you may be able to work on your bone health.
Studies show that if used alongside vitamin D and minerals, vitamin K1 could drastically contribute to decreasing postmenopausal bone loss in women between 50 to 60 years of age.
Vitamin K2
Vitamin K2 is important for calcium metabolism and absorption.
Based on studies, treatment with 45 mg of vitamin K2 and 1,500 mg of calcium daily for postmenopausal women with osteoporosis helped manage the condition.
In a different study with 158 women with rheumatoid arthritis (RA), vitamin K2 supplementation helped reduce disease activity and inflammation.
Vitamin D3
Vitamin D is crucial for building strong bones. Having too little of this nutrient can lead to brittle, soft, and thin bones.
Controlled trials show that vitamin D supplementation can decrease fractures by at least 20% for patients 65 years or older.
Supplements with vitamin D might be recommended for preventing osteoporosis in those with vitamin D deficiency. It could also be suggested for pain relief in people with rheumatoid arthritis.

Vitamin C
Vitamin C can stimulate the production of proteoglycan and collagen – important components for joint cartilage.
Studies show maintaining a healthy balance of vitamin C can greatly benefit people with early osteoarthritis.
When it comes to managing joint pain, vitamin C can help prevent inflammatory arthritis. It is a potent antioxidant that can help strengthen the joints.
Vitamin C and hyaluronic acid are sometimes used together. Hyaluronic acid is meant to lubricate the joints and decrease friction. At the same time, vitamin C can improve overall joint health.
White Willow Bark (Salicin)
The bark of white willow has salicin. This is a chemical quite like aspirin. Since the herb itself has potent anti-inflammatory compounds known as flavonoids, salicin might aid the body in reducing joint pain.
Some clinical studies support the use of salicin for joint pain, chronic lower back pain, and OA. Willow bark extracts are popular in products for improving sports performance.
One of the significant benefits of salicin is that side effects seem to be minimal compared to NSAIDs, including aspirin.
Additional data demonstrate the clinical usefulness of the willow bark extract. It can offer antioxidative effects. This is why it is often used for treating inflammation, pain, and fever. This makes it a potential option for joint pain.
Turmeric Extract (Curcumin)
Turmeric for joints is a popular addition to supplements. The anti-inflammatory compounds of turmeric can curb pain and arthritis inflammation.
Curcumin is a significant component of turmeric. Supplements often come with a mixture of curcuminoids that can prove efficient for overall health.
A double-blind prospective study evaluated the impact of a specific form of curcumin called Theracurmin. After 8 weeks of treatment, patients noted significantly lower scores in knee pain compared to the placebo group. No major adverse reactions were found.
Grape Seed
Many people want to know what grape seed extract is good for. The grape seed extract is derived from the seeds of wine grapes. This natural substance has antioxidants that can decrease swelling, support the heart, and reduce inflammation.
Researchers have also studied the grape seed extract benefits on OA. Experiments indicate that oral administration of grape seed and olive extracts offers anti-osteoarthritis effects. These effects mainly come from the anti-inflammatory and anti-oxidative properties.
Ben's Joint Care Pro
The above information is precisely why we formulated our joint health supplement, Joint Care Pro. Joint Care Pro contains 10 natural, proven ingredients that support joint care and joint health.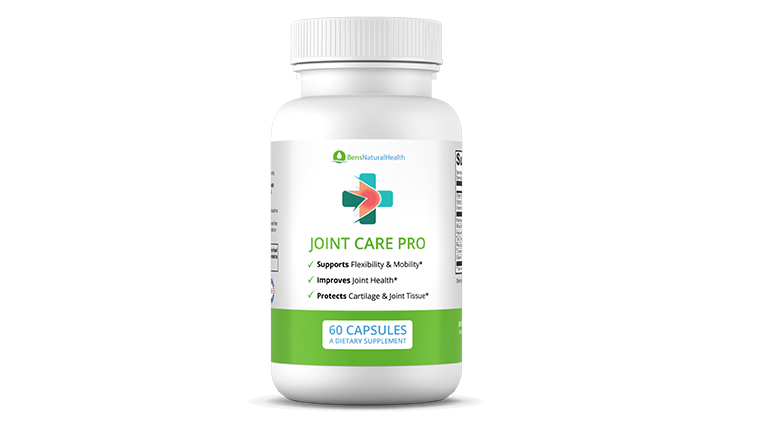 It is designed to improve mobility and flexibility, reduce joint pain, restore joint strength, protect cartilage and joint tissue, and rebuild strength and density.
Conclusion
Supplements for joints come with different ingredients, formulas, and concentrations. It is important to choose the product that can accommodate your needs.
They should replenish the necessary amount of nutrients and minerals in your body to help curb the pain and discomfort.
Some of the most impactful ingredients are often natural products. This includes turmeric, grape seed, vitamins K and D, and others.
Explore More