Ginger is one of the most common condiments that has many health benefits for men.
Its root has been used for thousands of years to treat several ailments and illnesses.
But did you know that ginger can benefit the prostate?
In this article, we will explore the health benefits of ginger for men, paying special attention to its effects on men's prostate health.
What is ginger?
Ginger is a flowering plant that originated in Southeast Asia. It is widely used as a spice or supplement and has many benefits for human health.
Ginger is available in many different forms, such as ginger tea, ginger root, fresh ginger, dried ginger, ginger powder, and a ginger supplement. You can also use ginger essential oil.
The nutritional value of ginger
Ginger can treat numerous illnesses. This includes arthritis, colds, hypertension, nausea, and migraines. Today, scientists are discovering more evidence of its medicinal properties.
The ginger root is well known for its potassium and manganese content. Potassium is essential for maintaining normal blood circulation, muscle, and nerve function.
Manganese helps to absorb beneficial vitamins and minerals. The American Dietetic Association Complete Food and Nutrition Guide reveals that ginger is a good source of phosphorus, magnesium, calcium.
This common ingredient has vitamins A, C, and E, beta-carotene, and zinc. These are potent antioxidants that protect your prostate from harmful free radicals. Free radicals speed up tissue aging and cancer development.
Vitamin C and zinc stimulate the immune system and protect the prostate from infection and inflammation.
Did you know, for example, that incidents of prostate cancer are lower in Japan? That's because they always have ginger and green tea in their diet. These are natural lipoxygenase inhibitors.
5 Health Benefits of Ginger for Men
1) May Reduce Muscle Pain and Soreness
This potent spice has analgesic and anti inflammatory properties, which have been found in studies to help relieve muscle pain and soreness.
Researchers found that consuming 2 grams of ginger per day for 11 days significantly reduced muscle-related arm pain in one study. The study found that ginger may attenuate the day-to-day progression of muscle pain as a means of delaying rather than preventing.
2) Can Help With Osteoarthritis
Osteoarthritis is a condition that causes pain and stiffness in the joints. Some research indicates ginger may be an effective means of relieving these symptoms through its anti-inflammatory properties.
A study in the journal Arthritis and Rheumatism found that supplementation of a highly purified and standardized ginger extract had a statistically significant effect on reducing symptoms of OA of the knee.
3) May Lower Blood Sugar
Recent studies reviewed the antidiabetic effects of ginger, suggesting that it may help to lower blood sugar levels.
In the 2015 study, 41 participants with type 2 diabetes received 2 grams of ginger powder per day. The results found that this lowered fasting blood sugar by 12% and significantly improved HbA1c levels. However, it is worth bearing in mind that this is only one study; further extensive studies are required.
4) Can Help Relieve Nausea
Ginger has traditionally been used as a way to relieve feelings of nausea naturally. Studies have also shown that ginger may alleviate nausea and vomiting after surgery and in cancer patients undergoing chemotherapy.
5) May Aid With Weight Loss
Some human and animal studies show ginger may help with weight loss.
A 2019 review found ginger supplementation significantly reduced body weight, waist-hip ratio, and hip ratio in people who are overweight or obese.
Is ginger good for prostate cancer?
Our prostate's health is important. Without it, we cannot produce seminal fluid, the main carrier of sperm cells. Prostate gland health is a major concern because so many experience problems with it. Cancer is one of these problems.
Prostate cancer is a major disease among men. It is second only to skin cancer. The 5-year survival rate may be relatively high, but it drops to 28% if cancer spreads.
The 2017 report of the American Cancer Society reveals that there are about 161,360 new cases of prostate cancer and about 26,730 deaths from the disease.
Conventional treatments like surgery actually do more damage than good.
In some cases, surgery turns a minor problem into something more serious. Prostatic surgery can lead to complications.
However, there are some powerful herbal remedies that can improve your prostate's health. One of these is ginger.
What The Research Says
A 2013 systematic review claims that the ingredient has a well-documented anti-cancer potential. Its functional ingredients like gingerols, shogaol, and parasols are valuable anti-cancer ingredients.
Researchers found that these substances control certain proteins that help kill prostate cancer cells. This magical ingredient also suppresses the spread of cancer. They stimulate the production of phagocytic immune cells that directly fight cancerous tumors.
Another study explored the benefits of ginger extract for men in prostate cancer. The 2012 study published in the British Journal of Nutrition administered ginger extract to mice with prostate cancer.
Researchers claim that ginger extract has a significant effect in stopping the growth of cancer cells. They also claim that ginger induces the death of prostate cancer cells (cell death is also known as apoptosis).
Prostate tumor growth regressed by up to 60 percent in their animal subjects. Most importantly, the ginger extract did not result in any toxicity in normal, rapidly dividing tissues such as gut and bone marrow.
The authors write:
"Remarkably, daily oral feeding of 100 mg/kg body weight of ginger extract inhibited growth and progression of PC-3 xenografts by approximately 56 percent in mice, as shown by measurements of tumor volume. "
A more recent study published in 2017 investigated the anticancer properties of ginger phytochemicals in docetaxel-resistant human prostate cancer cells.
Studies have shown that 6-gingerol, 8-gingerol, 6-dehydrogingerdione, 6-shogaol, and 10-shogaol, are bioactive compounds from ginger, yet few have reviewed their activity in chemoresistant cells.
Their results found that ginger phytochemicals, including 6-gingerol, 6-shogaol, and 10-shogaol can significantly inhibit resistant human prostate cancer cell growth and reverse drug resistance protein expression.
Get Your FREE PSA Lowering Diet Plan!
Naturally lower PSA levels
Reduce nighttime trips to the bathroom
Enjoy better bladder control and urine flow
The anticancer components of ginger
Scientists believe that it doesn't just have a single chemical to fight cancer. More research is needed to investigate the molecules involved. These experts believe that it is not the action of a single chemical.
Instead, they believe that the components of ginger work together to fight cancer. It is a synergistic interplay. whole GE has been shown to inhibit proliferation of breast(28) and colon cancer cells
The anti-inflammatory effects of ginger
Ginger also fights inflammation. It contains various anti-inflammatory compounds that inhibit cytokines.
Cytokines are molecules that cause pain and swelling. A series of experiments demonstrate this activity in both live specimens and cell cultures.
Another study found 6-gingerol in ginger has analgesic properties. This substance also helps decrease swelling by inhibiting the oxygen supply of prostate cancer cells. Without oxygen, cell respiration will not occur.
It also contains various antioxidants. These substances prevent the oxidative stress of our cells. Inflammation occurs when our cells experience stress. Oxidative stress also speeds up cell aging.
How much ginger should you eat to prevent prostate cancer?
So, the evidence is solid. Ginger helps fight prostate cancer. It may also help to reduce your prostate cancer risk. In addition, ginger protects our prostate from injury and inflammation, aiding prostate health.
But how much should we eat to reap the benefits?
Experts recommend that we consume at least 3 1/2 grams. If we eat this amount on a regular basis, we can definitely experience its beneficial effects. But just like any natural way of fighting disease, we shouldn't overdo it. Too much consumption also has side effects.
Ginger dietary supplements are made from the dried or fresh ginger root or from a steam process of the oil. You can find ginger extracts, tinctures, capsules, oils, and tea.
Ben's Total Health for The Prostate
So, when it comes to safeguarding your prostate health, natural is the way to go. Above all, that's why I formulated Total Health for the Prostate, an effective and safe all-natural supplement to manage the symptoms of BPH.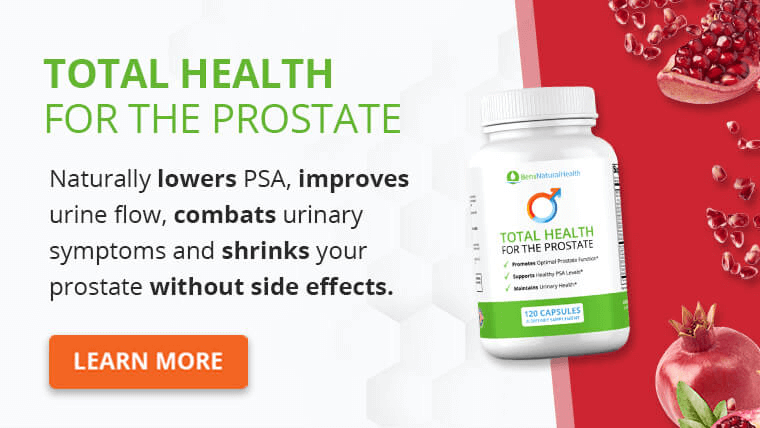 Containing 21 powerful ingredients an all-natural formula, which will lower your PSA, treat your symptoms, and leave you with ZERO side effects.
Conclusion
So, now you know five ginger benefits for men. The investigations into ginger as a potential prostate cancer treatment continue, yet research has shown that bioactive compounds have anti-cancer in ginger.
Research has shown by the age of 60, 50% of men will have some signs of BPH (benign prostatic hyperplasia).
While it's important to note that an enlarged prostate doesn't necessarily mean you have prostate cancer, it could be a result of BPH. This stands for Benign Prostatic Hyperplasia and can result in painful and embarrassing symptoms, including a frequent and urgent need to urinate.
For those experiencing such symptoms, you may be familiar with 'Flomax.' This is a product commonly prescribed to men. Yet research has shown that this treatment can cause a number of dangerous side effects, including incontinence, loss of libido, and dizziness.
Explore More