Are you looking for a way to naturally improve your prostate health and urinary symptoms, without any side effects?
Ben's Prostate Power contains three clinically proven, natural ingredients to help shrink the size of your prostate gland, slow the progression of benign prostatic hyperplasia (BPH), increase urine flow, reduce night-time waking, and improve urinary symptoms.
Benign prostatic hyperplasia is a prostate issue that occurs when the prostate gland swells to twice or even three times its normal size.
The enlarged prostate gland gradually presses against the urethra as it grows and restricts urinary flow. This, therefore, results in more frequent urination, night-time urination (nocturia), and other unpleasant urinary symptoms.
Around 50% of men have an enlarged prostate by 50, and 90% of men have an enlarged prostate by 85.
A herbal remedy or herbal supplement can help you restore a healthy prostate, improve prostate function, reduce prostate enlargement and reduce adverse prostate symptoms.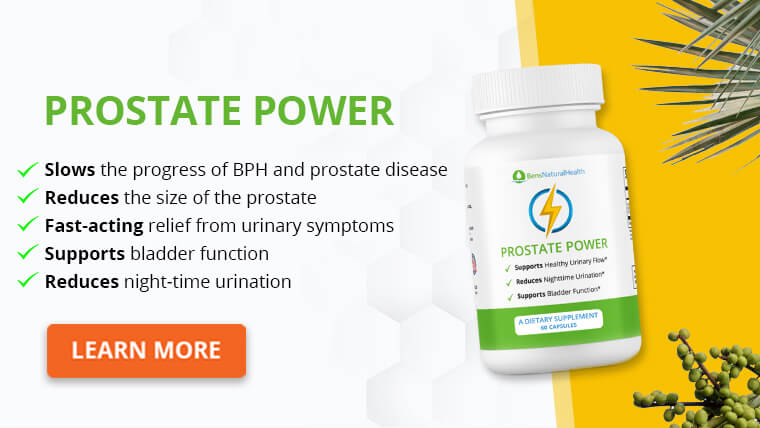 How does Prostate Power work?
Prostate Power is an all-natural, clinical-grade prostate supplement that works as part of a healthy diet and lifestyle to help improve prostate health, reduce prostate enlargement, and improve urinary control.
What are the active ingredients in Prostate Power?
Rye flower pollen extract
Rye grass pollen is a type of flower pollen extract from the herb Secale cereale, or rye.
The rye grass pollen extract has many nutrients and phytonutrients.
This makes it beneficial as a dietary prostate health supplement.
One of the most popular uses of rye grass pollen is a natural way to relieve enlarged prostate symptoms.
Saw Palmetto Berry
Saw Palmetto, also known as Serenoa repens, is a natural plant that forms part of the palm plant family.
It holds several medicinal properties and has become very popular in recent years for its use in natural supplements, such as prostate health.
Saw Palmetto extract works to improve urinary symptoms and shrink an enlarged prostate.
The berries in saw palmetto have the ability to balance hormones and improve overall prostate health.
Saw Palmetto contains b-sitosterol, which is a 5 alpha-reductase inhibitor.
By using a patented deep extraction technology, we create a higher quality, higher strength and faster acting Saw Palmetto extract.
Our Saw Palmetto is the only one in the US to be certified as a USP verified dietary ingredient.
Boron Glycine Complex
Boron is a natural element in mineral deposits on the earth worldwide. This anti-carcinogen reduces the likelihood of developing prostate cancer and may inhibit prostate cancer cell growth.
What does research say about the active ingredients?
Rye Flower Pollen Extract
Many double-blind studies have recognized Rye Flower Pollen Extract as an effective treatment option for BPH and prostatitis. And Europe has commonly used it for over 35 years.
One study included randomized, controlled clinical trials of 444 men with benign prostatic hyperplasia symptoms who received either rye flower pollen (Cernilton), a placebo, or pharmacological therapy for more than 30 days. Rye flower pollen improved urinary symptoms and reduced night-time waking compared to the control groups.
Another study evaluated the effectiveness of rye flower pollen in 100 benign prostatic hyperplasia (BPH) patients with histological prostatitis after transurethral resection of the prostate (TURP). The study found that, depending on the grade of prostatitis, Cernilton can improve the lower urinary tract symptoms and sexual dysfunction in BPH patients with histological prostatitis after TURP.
Saw Palmetto Berry
Clinical studies conducted worldwide indicate saw palmetto extract effectively controls the most common urinary flow problems observed in the majority of men beyond the age of 50. That is why saw palmetto is a key ingredient in Ben's Prostate Power.
Saw palmetto extract is used worldwide to help with a patient's prostate problem and alleviate benign prostate hyperplasia symptoms. In Italy, it is used in 50 percent of treatments for BPH and 90 percent of treatments in Germany.
A meta-analysis of 21 randomized controlled studies compared saw palmetto with placebo or other drugs. The study included 3,139 men from 40 to 88 years old with moderate BPH symptoms.
Saw palmetto improved symptom scores and urine flow measures more than placebo.
And it reduced nocturia by 25 percent compared with placebo.
In two studies, saw palmetto and finasteride had similar positive effects on urinary symptoms and peak urine flow. But saw palmetto is better tolerated and less expensive.
Boron Glycine Complex
An increasing number of papers indicate boron possesses anticarcinogenic properties. Boron-rich diets and regions where the soil and water are rich in boron correlate with lower prostate cancer risk.
In one study prostate cancer risk was 52% lower in men whose diets supplied more than 1.8 mg/d of boron than those whose dietary boron intake was less than or equal to 0.9 mg/d. In another study, boric acid decreased the size of prostate tumors in mice. Moreover, multiple studies show that boronic acid can inhibit PSA activity.
How long does it take to work?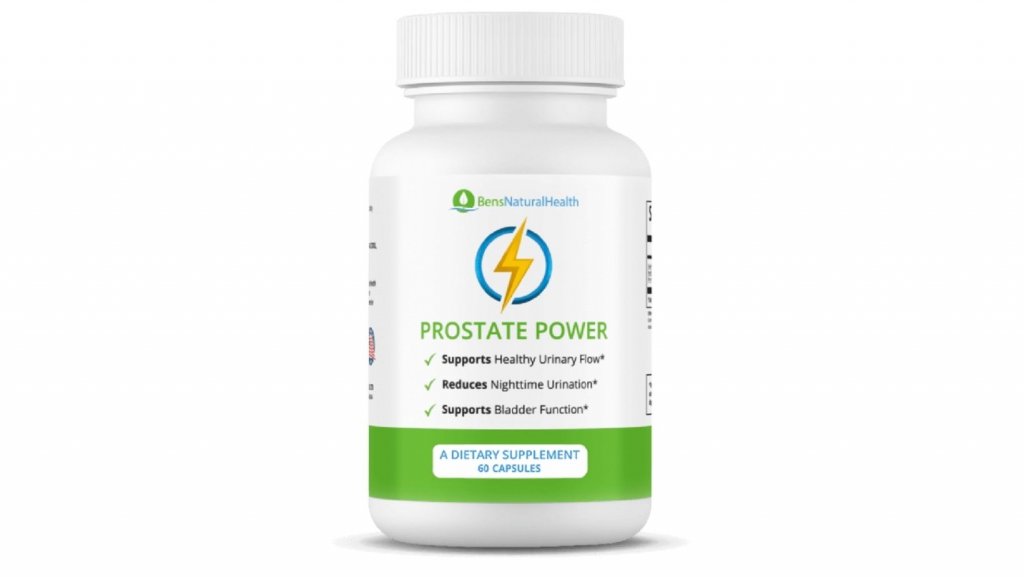 When looking for the best prostate supplement, a natural question you're going to want to know is how quickly it will work. However, depending on the particular state of your health, your diet, lifestyle, and a range of other factors, recovery for each patient can vary.
Usually, when using Ben's Prostate Power, men tend to see significant results in 3-6 months. Sometimes you can see effects even faster, but it is important to understand your body has to process it more slowly since it is not like a drug.
For the best results, you should take two capsules per day.
Is it safe to take?
Ben's Prostate Power is 100% drug-free, 100% natural, and 100% side-effect-free.
When it comes to the ingredients in our products, we rigorously test them to ensure they meet the American pharmacological standards and the American herbal products association standards. Our manufacturing facilities are also all US-based and FDA monitored.
All our finished products are tested by a third-party laboratory using United States pharmacopeial test 1119 (near-infrared spectrography). This ensures that the supplement matches the label and is safe, pure, and of high quality.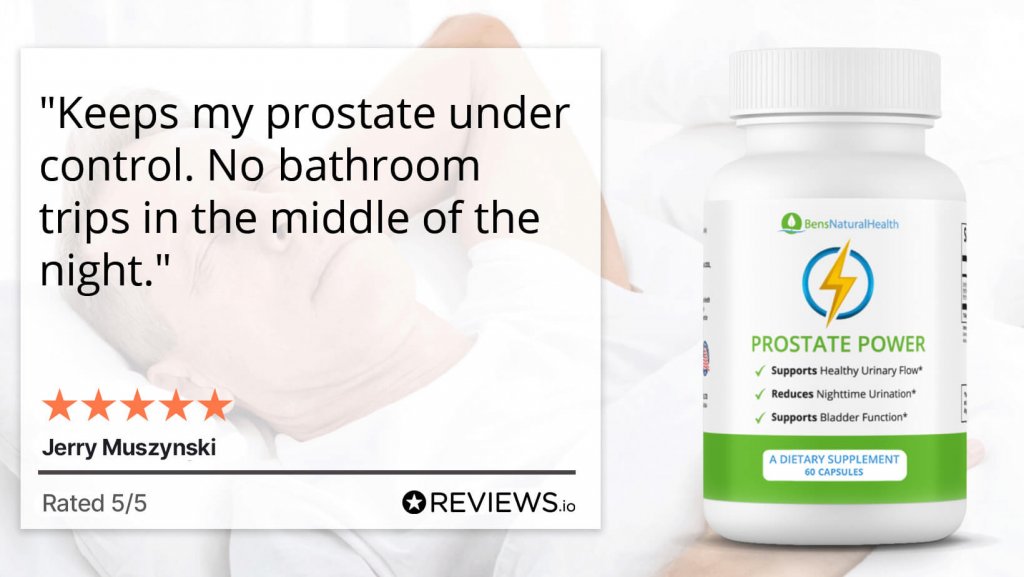 How does it compare to other prostate supplements?
When looking for the best prostate supplement, you'll likely want to know how our product compares to other remedies.
Unlike some other supplements, our prostate formula in Ben's Prostate Power has the following:
100% natural ingredients.
Clinically significant dosages.
Ingredients shown to work in peer-reviewed, double-blind studies.
Chelated ingredients for better absorption and effectiveness.
While many prostate supplements have scientifically backed natural ingredients, the vast majority contain only a few essential ingredients. And this is usually in low and ineffective dosages, without chelating ingredients for better absorption and bioavailability.
A therapeutic dose is the amount of the ingredient you will need to have a clinical effect proven by scientific studies. It's also vital that the prostate supplement you take contains natural nutrients. You do not want it to have any synthetic ingredients or genetically modified organisms.
We extract Ben's dietary supplement from the highest quality, natural ingredients and freshly harvested herbs, using rigorous, cold press extraction methods to optimize dosage and bioavailability.
Bioavailability refers to the extent to which the supplement makes its way to the body's tissues rather than being flushed out. As a result, the body efficiently absorbs Ben's Prostate Power.
To ensure the efficacy, potency, and freshness of Prostate Power, we pick fresh herbs at the season's peak. Then, each herb is qualified under specific quality guidelines under the CGMP and FDA. This 3rd party process of qualification ensures every herb is 100% quality tested before it is added to Prostate Power.
After this testing, we ensure the herbs maintain their freshness and efficiency. We achieve this by cold pressing and suspending in glycerin, a compound known for its antimicrobial and antiviral properties. Through this diligent process, our preparations maximize the potency and efficacy of our supplements.
Not All Saw Palmetto Lives Up To Its Name!
In today's market, where you source your saw palmetto can make a big difference in the quality and effectiveness of the final product you buy.
Valensa's Saw Palmetto is the industry standard for quality. Every year they collect their ripe saw palmetto berries in the wild and dry them at their facility located in Florida.
They then test the extract for its ability to inhibit 5-alpha reductase. Saw palmetto only grows in the Southeastern portion of the USA and is harvested primarily in Florida, USA.
Therefore, anyone claiming that their product comes from Southern Asia is not selling you genuine saw palmetto extract. Instead, it is likely a mislabeled ingredient.
So as you can see, when it comes to choosing a supplement, where the ingredients themselves are sourced is pivotal.
New and Improved Prostate Power!
Since we are a supplement company that strives to provide high-quality supplements that work – we are excited to announce that we have moved to the world's best Saw Palmetto supplier – Valensa.
Our new & improved Prostate Power uses a patented Supercritical CO2 Deep Extraction Technology to create high purity, high potency Saw Palmetto extract.
This, therefore, makes it faster acting and more effective than any other prostate health supplement in the world.
Why Choose Ben's Natural Health Supplements?
At Ben's Natural Health, our motto is to combine holistic healing with modern science.
Ben's Natural Health is the world's first high-quality, all-natural, scientifically proven clinical supplement company.
Our supplements are effective, natural and 100% side effect free.
Moreover, at Ben's Natural Health, we have four rules for all our supplements:
We only use the highest quality ingredients
We only use them if they have been proven to work in independent, peer-reviewed double-blind studies
With all our supplements, we find a way to get every ingredient into a single bottle
We always formulate them in clinically significant doses of the most bioavailable form
We pride ourselves on offering excellent customer service. We offer a free health consultation where you can ask questions and receive tailored advice from our expert health consultants.
Key takeaways
3 benefits of Prostate Power:
It contains ingredients clinically proven to improve prostate health, reduce prostate size, support bladder function and reduce night-time urination.
100% drug free, side-effect free, and natural.
Next Up

Find out about Prostate Healer: Ben's Natural Treatment for Prostatitis.