Hypoactive sexual desire disorder (HSDD), believe it or not, is the term invented by conventional medicine to describe the process whereby middle-aged men often develop reduced libido.
Some men even find their libido disappears altogether. Pharmaceutical corporations love to give labels so that the next step can be to start marketing prescription drugs for the condition.
What causes Hypoactive Sexual Desire Disorder?
There can be many different causes Hypoactive Sexual Desire Disorder, both physiological and psychological, for reduced libido.
This can go beyond the general slowing down of everything as we enter into old age. I am 77 now and there is no question that I cannot do many things that I could do easily when I was 30.
But, believe it or not, so far I have discovered that old age has some compensating benefits, but I'll save that for another article. The immediate question is: Does libido have to disappear, even as we age?
Quite often, reduced libido will be a consequence of prostate issues. Certainly, I've had countless men confirm that their lack of desire and sometimes erectile dysfunction had improved considerably as a result of taking my various prostate supplements.
But there is another major cause of this sexual dysfunction in men as they age – male estrogen dominance – which is rarely talked about. In fact, I just conducted some research and was dismayed to discover that there is virtually no really good book on the issue of male estrogen dominance. And it's a very important subject.
Poor diet means poor health
I have already explained in my bestselling book and guide, All About The Prostate, that bad diet and lifestyle choices over decades are the major cause of all prostate disease, including cancer.
A diet that consists of refined carbohydrates (essentially junk food), plus an excessive amount of protein that comes from industrially produced red meat, is the perfect example of that.
In case you don't already have an image in your mind, I'm talking about steak and fries, or even worse: a hamburger and fries with a milkshake on the side.
That kind of diet over decades, combined with a sedentary existence, is the perfect recipe for prostate disease and ultimately cancer. And if that doesn't get you, then diabetes or heart disease will.
All of these metabolic diseases are caused by the same diet and lifestyle. There's no way around it.
You can, however, reverse it by making the decision to change your lifestyle now. And you can reverse estrogen dominance by taking an estrogen-lowering supplement like Estro Clear.
Estrogen dominance leads to prostate issues
You should be aware that there is an intermediate medical condition that precedes prostate issues. That condition is male estrogen dominance. Inevitably, this will lead to prostate problems. And that generally means that men who have prostate issues also have estrogen dominance. But they don't realize that.
Here are the clear signs of estrogen dominance in a man: male boobs, belly fat, being less assertive than you used to be, having less stamina, less strength, being brought to tears more easily, lower libido, shrinking penis, a less strong erection are all signs of male estrogen dominance.
You may recognize some or all of this in yourself, and you're probably asking…is there anything you can do about this?
What can you do?
Since it all started over a decades-long period with diet and a sedentary existence, the first thing you can do is to change the bad diet and lifestyle that caused it in the first place. Use my ketogenic diet and do some regular exercise. That will eventually reduce your belly fat.
If you want to make that process go faster, I strongly recommend one supplement, in particular, my masculinity-restoring Estro Clear supplement. I didn't have a libido issue but I wanted to reduce my belly fat, so I started taking Estro Clear myself.
After just a month, I can confirm that it's already worked wonders. I have lost 4 inches around my waist. Trousers that I couldn't get into just four weeks ago are now too loose on me. I'm down to the same weight now that I was when I was 30 and I'll probably still want to lose a few pounds more. Couldn't hurt, right?
How Estro Clear works
What Estro Clear does is metabolize excess estrogen so that your blood estrogen levels are reduced. That changes the ratio of your estrogen to testosterone levels, which helps your body stop converting either or both estrogen and testosterone to DHT. And that means less prostate irritation, less BPH, and less risk of prostate cancer.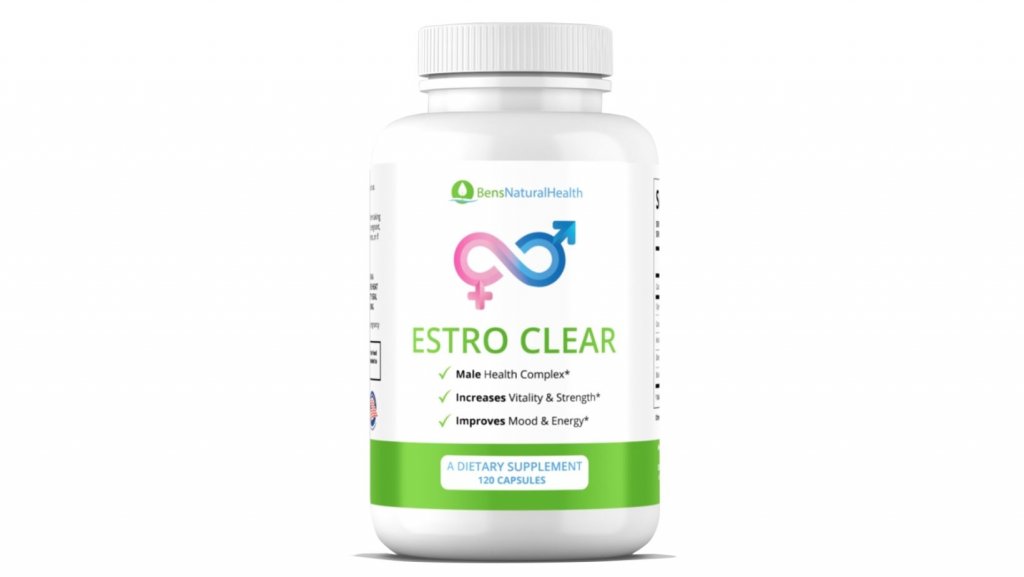 This is a great supplement to take, but I must emphasize that you will only see the kind of rapid results as I did within a month or two if you are also maintaining a strict ketogenic diet with some regular exercise.
It is possible to see some slower progress by just taking the supplements and perhaps reducing your consumption of industrially produced animal protein. But if you want to see quick, visible progress you need to do it all and be fully committed.
Why Choose Ben's Natural Health Supplements?
At Ben's Natural Health, our motto is to combine holistic healing with modern science.
Ben's Natural Health is the world's first high-quality, all-natural, scientifically proven clinical supplement company. Our supplements are effective, natural and 100% side effect free.
Moreover, at Ben's Natural Health, we have four rules for all our supplements:
We only use the highest quality ingredients
We only use them if they have been proven to work in independent, peer-reviewed double-blind studies
With all our supplements, we find a way to get every ingredient into a single bottle
We always formulate them in clinically significant doses of the most bioavailable form
We pride ourselves on offering excellent customer service. We offer a free health consultation where you can ask questions and receive tailored advice from our expert health consultants.