If you're a man in your 40's onwards, you can probably reel off your blood pressure and cholesterol levels like you can your telephone number.
As men age, both blood pressure and cholesterol levels start to creep up, putting you at risk for heart attacks, strokes, and erectile dysfunction.
While medications are often recommended, these can come with side effects, leaving many men looking for natural and effective alternatives.
Garlic is one natural remedy that has been shown in studies to lower cholesterol levels by 10% and significantly reduce blood pressure.
Which is why Ben's Garlic Tincture, our natural supplement, contains a powerful extract of organic garlic.
Our Garlic Tincture has been clinically formulated to improve blood flow, reduce cholesterol and blood pressure, boost heart health, and reverse erectile dysfunction (ED).
What is garlic?
Garlic, or allium sativum, is a species of bulbous flowering plant in the onion family. It is available in many forms, such as crushed garlic, garlic pills, garlic tablet, garlic clove, garlic oil, and garlic powder, to name a few.
A garlic supplement like Garlic Tincture has several health benefits, which we will discuss below.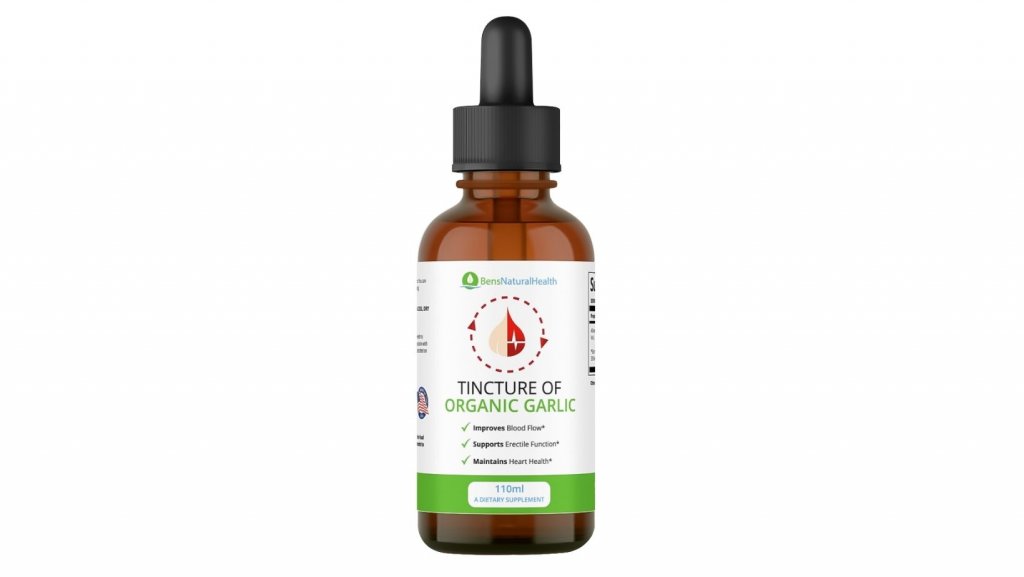 What does the research say about garlic?
So, what are the benefits of Garlic Tincture?
Clinically formulated, Garlic Tincture can help to:
Reduce high blood pressure levels
Lower worryingly high cholesterol levels
Reverse erectile dysfunction
Read five health benefits, supported by science and clinical studies, of Garlic Tincture and how it helps improve your overall health.
1) Reduces blood pressure
Garlic has been recognized as a natural remedy for reducing blood pressure for many years. Several studies show that garlic has a statistically significant effect on reducing high blood pressure.
In fact, some studies reported that garlic was as effective as typical medications to lower blood pressure, except garlic comes without any side effects and the body tolerates it much better.
Moreover, a systematic review and meta-analysis of seven randomized controlled trials found that garlic supplementation may reduce systolic and diastolic blood pressure by 6.7 and 4.8 mmHg, with no serious side effects. The researchers concluded that garlic is a safe and effective approach for high blood pressure (hypertension).
2) Reduces cholesterol
A 2016 review of double-blind, randomized, controlled trials looked at the effects of garlic on reducing cholesterol levels. After reviewing 8 meta-analyses, the researchers found that garlic reduced total cholesterol levels by 7.4 – 29.8 mg/dL.
3) Reverses erectile dysfunction
Some researchers have concluded that garlic can help improve erectile dysfunction in men, by lowering blood pressure levels.
Men with hypertension are almost twice as likely to have problems with blood flow to their penis and erectile dysfunction compared to men with normal blood pressure levels.
During sexual arousal, nerve messages stimulate the penis. This causes the corpora cavernosa muscles to relax, allowing blood to flow and fill the open spaces. This blood creates pressure in the corpora cavernosa, making the penis expand and thus creating an erection.
Since erections rely on blood flow, improving your circulation is a viable way to achieve better erections.
​​Several studies have concluded that garlic can be used as a substitute for synthetic erectile dysfunction drugs. But, unlike these drugs, garlic is affordable, natural, and free of side effects.
Another study concluded that garlic's ability to improve circulation had an indirect but positive impact on impotence.
4) Diabetes management
Many studies have demonstrated that garlic can be beneficial for diabetes management.
For example, one study found that raw garlic may help reduce blood glucose levels. They also found that it may help reduce your risk of atherosclerosis, a potential diabetes complication.
Additionally, a 2014 review supported the idea that regularly consuming garlic may help lower the levels of your blood sugar.
5) Antibacterial and Antiviral Formulation
Since the 1980s and onwards, over a dozen studies have advocated supplementing garlic for its potent antibacterial and antiviral effect. It has been demonstrated to have a protective effect against some strains of influenza, rhinovirus, herpes, viral pneumonia, and a plethora of gram-positive, gram-negative, and acid-fast bacteria.
Is it safe to take?
This natural garlic extract supplement is 100% drug-free, 100% natural, and 100% side-effect-free.
When it comes to the ingredients in our products, we rigorously test them to ensure they meet the American pharmacological standards and the American herbal products association standards.
Our manufacturing facilities are also all US-based, and FDA monitored.
We use the United States pharmacopeial test 1119 (near-infrared spectrography), a third-party laboratory, to test all our finished products.
This ensures that the garlic supplements match the label and are safe, pure, and high-quality.
Recommended Dosage
Garlic Tincture contains organic garlic and 30% pharmaceutical-grade alcohol. The alcohol in Garlic Tincture is a natural preservative that helps maintain the optimal efficacy of herbal and nutrient compounds.
Add one pipette full of garlic tincture to half an inch of water. Drink this and chase it with a full glass of water. Take this once a day together with food. Alternatively, you can add a full pipette to salad dressing or food. For erectile dysfunction (ED), you can double the dosage by taking two pipettes a day.
How does it compare to other garlic supplements?
When searching for the best garlic tincture, you may wonder how our product compares to other garlic supplements.
It is important to note that Ben's Garlic Tincture has the following:
100% natural ingredients.
Clinically significant dosages.
Ingredients that are shown to work in peer-reviewed, double-blind studies.
Chelated ingredients for better absorption and effectiveness.
While many garlic supplements have scientifically backed natural ingredients, the vast majority are usually in low and ineffective dosages, without chelating ingredients for better absorption and bioavailability.
A therapeutic dose is the amount of the ingredient you need to have a clinical effect proven by scientific studies.
It's also vital that the health supplement you take contains natural nutrients. You do not want it to have any synthetic ingredients or genetically modified organisms.
This dietary supplement is extracted from the highest quality, natural ingredients, and freshly harvested herbs, using rigorous extraction methods to optimize dosage and bioavailability.
Bioavailability refers to the extent to which the supplement makes its way to the body's tissues rather than being flushed out. As a result, the body efficiently absorbs our Garlic Tincture.
To ensure the efficacy, potency, and freshness of Garlic Tincture, we pick fresh herbs at the season's peak. Then, we qualify each herb under specific quality guidelines under the CGMP and FDA.
This 3rd party qualification process ensures every herb is 100% quality tested before being added to our health supplement, Garlic Tincture.
After this testing, we make sure that the herbs maintain their freshness and efficiency. Through this diligent process, our preparations maximize the potency and efficacy of our garlic supplement.
Why Choose Ben's Natural Health Supplements?
At Ben's Natural Health, our motto is to combine holistic healing with modern science.
Ben's Natural Health is the world's first high-quality, all-natural, scientifically proven clinical supplement company. Above all, our garlic tincture supplement is effective, natural, and 100% side-effect-free.
Moreover, at Ben's Natural Health, we have four rules for all our supplements:
We only use the highest quality ingredients.
We only use them if independent, peer-reviewed double-blind studies prove they work.
With all our supplements, we find a way to get every ingredient into a single bottle.
We always formulate them in clinically significant doses of the most bioavailable form.
We pride ourselves on offering excellent customer service. We offer a free health consultation where you can ask questions and receive tailored advice from our expert health consultants.
Key takeaways
3 Benefits of Ben's Garlic Tincture:
It improves blood flow, reduces cholesterol and blood pressure, boosts heart health, and reverses erectile dysfunction (ED).
98% of customers recommend garlic tincture to a friend.
Next Up

Find out about our Immune System Supplement: Beta Glucan.