Vitamin D is constantly in the spotlight for bone health and bone support. But, can vitamin D relieve joint pain?
Roughly 27 million American adults and 8.5 million British adults are believed to struggle with osteoarthritis.
The osteoarthritis prevalence skyrockets with age. Around 33.6% that are 65 or older have osteoarthritis. Compared to 13.9% of adults in their late 20s with osteoarthritis of at least a single joint.
Given the sheer impact of chronic pain with this ailment, will vitamin D supplementation have what it takes to curb the discomfort and arthritis symptoms?
What Is Joint Pain?
A number of conditions can trigger bone and joint pains. These include inflammation, infection, trauma, genetic ailment, cancer, autoimmune disease, and old age.
In nature, the joint pain can be recurring, acute (i.e., because of trauma), or chronic pain (e.g., osteoarthritis).
Musculoskeletal pain like osteoarthritis is the most widespread form of disability and chronic pain around the globe. Because of how complex the pain can be, patients often require various treatment modalities for complete pain relief or management.
Vitamin D and Your Health
A vitamin that stands apart from the many other essential nutrients is vitamin D. Due to its notable therapeutic potential, vitamin D has plenty of implications. The traditional role of this vitamin is to promote musculoskeletal health.
But, plenty of research headlines herald this vitamin for its potential benefit to reduce the risk of coronary heart disease. As well as promoting survival from some cancers and preventing type 1 diabetes. Vitamin D deficiency might have an impact on heart disease.
Low vitamin D levels in patients (less than 15 ng/mL) had a 60% increased risk of heart disease compared to patients with higher concentrations. Patients with low amounts of this vitamin can be three times more likely to be diagnosed with high blood pressure.
Studies indicate that this "sunshine" vitamin may be capable of decreasing cell proliferation, as well as increasing cell differentiation. It has potent anti-inflammatory properties. Many reports suggest a link between a low vitamin D level and an amplified risk of cancer.
In addition, vitamin D insufficiency makes it difficult to regulate the amount of phosphate and calcium in the body. Thus, leading to bone pain or bone deformities.
​​
Get Your FREE Arthritis Guide
Learn how to naturally improve your arthritis symptoms
Dietary recommendations, exercise guides, supplements, and lifestyle changes
Developed exclusively by our medical doctor
Can Vitamin D Relieve Joint Pain?
Knee osteoarthritis and vitamin D deficiency are typical ailments in older patients. Knee osteoarthritis impacts the cartilage, bones, and synovium of the knee joint. But, whether vitamin D supplementation can help with knee osteoarthritis, especially pain, is controversial.
Vitamin D deficiency incidence is 25% in the general population. But it goes well beyond 40% in elderly patients in the United States. Older patients are recommended to take vitamin D supplements to avoid fractures. Mainly with arthritis.
A 2018 osteoarthritis study stated that vitamin D is critical for normal cartilage and bone metabolism. Inadequate supplementation can have a negative effect on calcium metabolism, articular cartilage turnover, and bone density. So, healthy vitamin D levels can potentially prevent the progression and development of knee osteoarthritis.
A 2019 trial showed similar results. Vitamin D can prevent bone loss and amplify bone mass. This makes supplementation a viable option for preventing knee osteoarthritis and potential fractures.
From these results, vitamin D might have a preventive effect on joint pain. But, the impact of this vitamin can differ based on the state of the disease.
When it comes to pain in the joints during knee osteoarthritis, most reports didn't find vitamin D supplementation to be useful. But, additional analysis showed a possibility that certain patients might experience alleviated arthritis pain with supplementation.
Further data on knee pain suggests that there is a small but statistically meaningful clinical benefit of vitamin D treatment in patients with this arthritis. However, they recommend a long-term study on joint pain vitamin D for more substantial results.
Takeaway
Overall, a vitamin D supplement may come in handy with symptomatic knee osteoarthritis. But, more research is necessary to evaluate joint pain vitamin D and its impact on muscle pain. Experts suggest that some (but not all) controlled trials have shown a beneficial impact of vitamin D intake for pain control.
Taking it in the form of a supplement can lead to a notably higher mean decrease in pain score than placebo in those struggling with chronic knee pain. However, some may not benefit from this kind of treatment.
Consult with a specialist if you have problems with rheumatoid arthritis, muscle weakness, muscle strength, cartilage loss, or any other cartilage defects. Even if vitamin D can benefit calcium metabolism, you must always talk to a doctor first. They might suggest you take vitamin D3 or omega 3 fatty acids, depending on what's causing the problem.
But, without consultation, the supplement may interact with the medication you are taking, especially steroid medications like prednisone.
You might also take a high dose and experience vitamin D toxicity. Toxicity is caused by taking huge amounts of supplements – not sun exposure or diet. A doctor can help you take the necessary precautions and keep the supplementation on the right track.
If conventional approaches don't help, sometimes a total knee replacement may be necessary. Medical treatment aims to target knee pain from arthritis and give patients that much-needed break.
Ben's Joint Care Pro
Joint Care Pro, our joint health supplement, contains natural, proven ingredients that support joint care and joint health.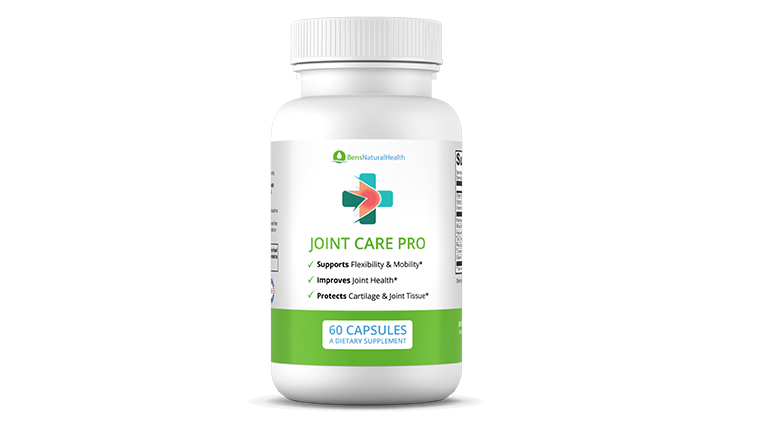 It is designed to improve mobility and flexibility, reduce joint pain, restore joint strength, protect cartilage and joint tissue, and rebuild strength and density.
Conclusion
Osteoarthritis can take a toll on your physical and emotional health. The knee pain from osteoarthritis can really get on your nerves.
For many, having a natural option to overcome inflammatory arthritis can go a long way. When it comes to joint pain and vitamin D, there is not enough research that getting this vitamin in a supplement can curb the pain.
But, plenty of data shows the benefits of this vitamin for overall bone and skeletal muscle health. These benefits make the vitamin a viable option for osteoarthritis.
If you think about adding this vitamin to your diet, talk with a doctor first. They will make sure that the vitamin D deficiency won't lead to loss of bone density. And you will know how much or how little of this vitamin you can take.
Additionally, if you're looking to get relief from joint pain, consider taking joint pain supplements.
Explore More