Prostate cancer is the second most frequent malignancy in men, with 1 million new cases and causing thousands of deaths in 2018. It accounts for 4% of all cancer-associated deaths in men.
Age at diagnosis influences the mortality of prostate cancer, with increasing age associated with worse outcomes.
Men with localized prostate cancer frequently undergo radical prostatectomy. This is a surgery to remove the prostate gland.
Unfortunately, this invasive surgery causes some side effects, including incontinence and erectile dysfunction.
Many cases of prostate cancer are asymptomatic at the early stages. They often follow an indolent disease course that requires minimal clinical interventions. There is no evidence yet on how to prevent the disease.
However, lifestyle changes such as increased physical activity and diet can lower the risks of its development.
Further, some plant-based compounds have shown useful in reducing inflammation and oxidative stress. Dampening the damaging effects of inflammation and oxidative stress can reduce the risk of prostate cancer mortality.
Get Your FREE PSA Lowering Diet Plan!
Naturally lower PSA levels
Reduce nighttime trips to the bathroom
Enjoy better bladder control and urine flow
What is radical prostatectomy?
Prostatectomy is an operation to remove the prostate gland and some surrounding tissues. It is a treatment option for benign urinary complications, prostate cancer, and other pelvic cancers.
For prostate cancer, this procedure usually removes the seminal vesicles and nearby lymph nodes that may have prostate cancer cells. Prostate surgery may cure prostate cancer in young men whose cancer is contained. However, it is not always suitable for older men.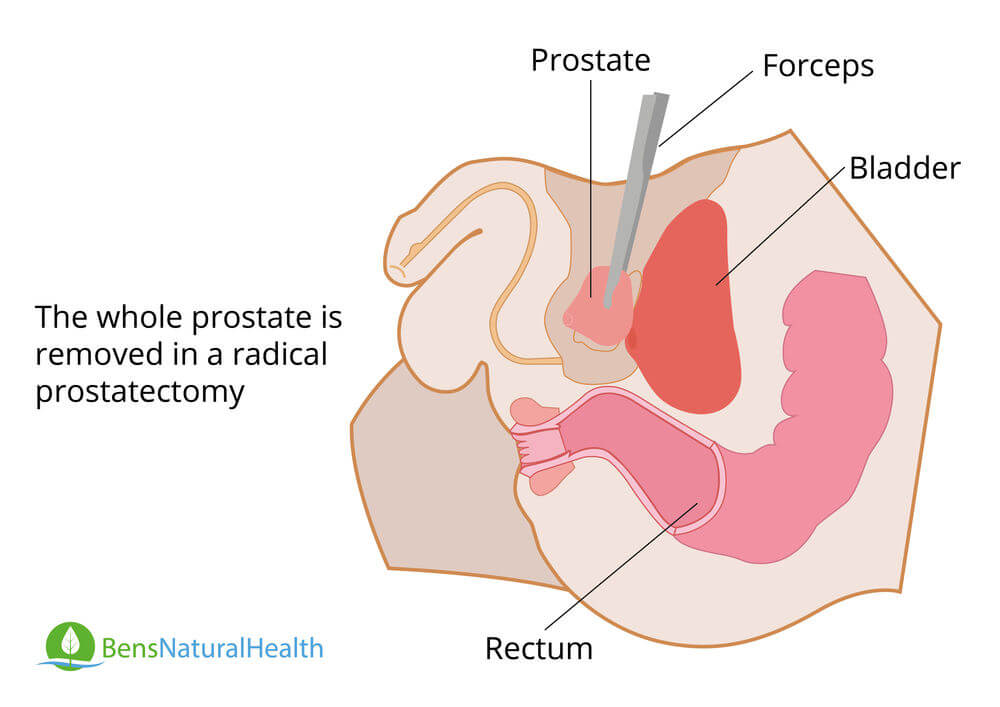 Who Should Undergo Radical Prostatectomy?
Suitability for different types of surgery to treat prostate cancer depends on:
Other factors, such as:
age


prostate volume


and severity of current symptoms, are likely to influence your options
Radical prostatectomy is most suitable for younger men whose cancer has not spread outside the prostate gland.
You only consider it if you have a medium or high risk of cancer progression and treatment relapse. This state of prostate cancer is common in patients with PSA level above 10ng/ml, Gleason above 7 or Tumour stage above T2B.
Unfortunately, many patients will not benefit from radical prostatectomy or will experience long-term side effects. It is better to discuss your circumstances with your doctor to identify an effective treatment option.
Types of Radical Prostatectomy
Radical prostatectomy is divided into two types depending on how your surgeon reaches the prostate gland.
The prostate lies deep in the pelvic area, under the bladder. Your surgeon may choose an invasive abdominal or minimally invasive opening to reach and remove the prostate.
Open prostatectomy
Here the surgeon removes the prostate through an incision made on your abdomen or the perineum. The perineum is the space between the scrotum and the anus. Some men will benefit from open prostatectomy. However, there is a high risk of long-term urinary incontinence and erectile dysfunction compared to the less invasive methods.
Laparoscopic prostatectomy
In this minimally invasive method of radical prostatectomy, the surgeon makes a keyhole incision. Radical prostatectomy is performed through this opening using robotic arms (robotic prostatectomy).
This approach is precise and minimally invasive compared to conventional open surgery. However, men who underwent robot-assisted surgery can experience potential severe long-term side effects.
Generally, your medical team will help you determine the best type of radical proctectomy. This will be based on availability based on your unique characteristics.
Open Radical Prostatectomy vs. Minimally Invasive Radical Prostatectomy
Open radical prostatectomy has a higher risk of urinary incontinence and erectile dysfunction. Combined with wound healing complications, extended hospital stays, and longer recovery time make open radical prostatectomy undesirable to many patients.
Minimally invasive approaches may reduce complications. Using keyhole incisions reduces the risk of bleeding, wound healing complications, and recovery time. However, it still carries a significant risk of urinary and sexual difficulties.
Your medical team may offer either an invasive or minimally invasive radical proctectomy. However, the evidence shows that outcomes are similar between open and keyhole techniques.
A recent randomized clinical trial involving patients treated for localized prostate cancer investigated treatment outcomes between robotic radical prostatectomy and open radical surgery.
The study showed an equal level of urinary incontinence and erectile dysfunction in either group (Coughlin et al., 2018).
Similarly, a Cochrane analysis of randomized clinical trials (Ilic et al., 2018) found no difference in complications between invasive and minimally invasive methods.
These results suggest that the risk of developing long-term side effects remains high regardless of the type of radical proctectomy.
Risks of Radical Prostatectomy
Regardless of the invasiveness, problems can occur during radical prostatectomy.
Adverse reactions to anesthesia, bleeding, and formation of blood clots may occur during the surgery. Damage to nearby organs and surgical site infections are potentially fatal outcomes.
Comparative studies have investigated outcomes in men treated for localized prostate cancer with:

open surgery


conventional laparoscopic


robot-assisted surgery by surgeons who perform regular prostate surgeries.
The results show that the three methods have similar levels of incontinence and erectile dysfunction after one year of operation. Up to 15% or 70% of men will report clinically significant urinary incontinence and erectile dysfunction.
A different study involving men who underwent radical prostatectomy showed that two years after surgery, more than 50% of the participants still had issues with sexual function (Litwin et al., 2001). About 35% of participants still experience some urinary function after two years.
These results suggest that performing any form of radical prostatectomy is not justified for prostate cancer stages that will respond to surgical therapy.
Side effects of Radical Prostatectomy
You may experience one or more side effects after radical prostatectomy.
The two most common and severe side effects are;
Erectile dysfunction – Most men will experience difficulty having and maintaining an erection. Some men will develop long-term erectile problems after radical prostatectomy.


Urinary incontinence – radical prostatectomy increases your risk of urinary complications. These include incontinence and painful urination.


Loss of fertility is a common long-term side effect of many of this procedure.


Lymphedema – Radical prostatectomy can damage lymph nodes around the prostate area. This can cause swelling and pain.
The success of Radical Prostatectomy
Most prostate cancers are diagnosed in early, slow-growing stages, which do not require immediate treatment decisions. Surgical therapy is one of the primary treatments for localized high-risk prostate cancers.
Patients with Gleason score ≤ 8, PSA less than 20 ng/ml, and tumor stage ≤ cT3a benefit most from surgical therapy (Mongiat-Artus et al., 2009; Palisaar and Noldus, 2008).
Bill-Axelson and colleagues showed that radical prostatectomy reduces disease-specific mortality, overall mortality, risk of disease progression, and cancer metastasis over ten years (Bill-Axelson et al., 2005).
However, a study that compared active monitoring, radical prostatectomy, and radiotherapy found no significant difference among treatment options (Hamdy et al., 2016).
Before the procedure
You should expect to receive additional clinical examinations. This is to help ensure you are fit for surgery. It is also useful to do pelvic floor exercises (kegel exercises) to help reduce the severity of urinary complications. Prepare your home for the recovery period and arrange for people to help you with heavy lifting.
During the procedure
Radical prostatectomy surgery is performed under a general anesthetic. This lasts for 4 – five hours. Your surgeon will also take out the seminal vesicles. However, they will use nerve-sparing surgery to help reduce erectile problems. Your doctor may remove these nerves if they have cancer.
What to expect after radical prostatectomy?
Radical prostatectomy will cause bruising and swelling, blocking urine flow. You will have a catheter to drain urine from your bladder while the surgical wound heals. This urinary catheter is likely to stay for three weeks after your surgery. There is an increased risk of infections if you have a urinary catheter inserted for longer.
Strain to the weak scar tissue formed in the first five weeks after surgery can result in wound-associated complications. Avoid sexual activity in the early weeks after radical prostatectomy. It is better to resume normal sexual activities after proper consultation with your doctor. Delayed sexual activity will benefit your urinary continence and sexual function.
Side effects like incontinence and loss of sexual function are unpredictable. Nonetheless, resting and hydration can improve wound healing, lowering your risk of surgical complications.
Aim to reduce your physical activity in the first seven weeks. Further, balanced diets improve the wound healing process and enhance overall recovery. Thus, consuming vegetables and fruits may aid your recovery from radical prostatectomy.
Alternative options to Radical Prostatectomy
A personalized approach is the most effective way to treat prostate cancer. Your doctor may recommend radiation therapy if your health makeS surgery too risky.
Radiation therapy is a useful treatment option. But, like surgery, it can cause side effects. In particular, radiation may cause severe damage to healthy cells and tissues near the prostate area.
Early-stage prostate cancer grows slowly. This makes it hard to balance treatment benefits against its side effects. Delaying treatment until there is evidence of cancer progression is one way to avoid unnecessary side effects.
In advance disease, your doctor may recommend systemic treatments to target and destroy cancers anywhere in the body. Two main approaches are hormone treatment and chemotherapy. They slow the progression of the disease, allowing men to live with fewer symptoms.
How to naturally improve prostate health
You can take action to improve your prostate health, which will reduce your risk of developing prostate cancer. Lifestyle changes are the best natural way to reduce your overall risk of developing cancer. You should consider regular physical activity and a healthy diet (Gontero et al., 2015).
Conclusion
Radical prostatectomy causes erectile problems and urinary complications. Non-invasive treatment options may be suitable for your specific circumstances. However, untreated early-stage prostate cancer may progress to advanced disease.
In such circumstances, cancer has spread to your lymph nodes and bones. This advanced stage of prostate cancer is not curable by current treatment methods.
Speak to your medical provider if you are concerned about the side effects of prostate cancer surgery. Your healthcare provider may implement an alternative treatment option that is suitable for the stage of your cancer.