The prostate gland is a key part of men's health. Therefore, prostate vitamins or supplements are vital to improve your prostate and prevent diseases.
Keep reading to find out the best vitamins for prostate health.
Best Vitamins For Prostate Health
One of the most important things men can do to maintain the health of their prostate is to consume prostate vitamins. That's because research shows that deficiencies in important nutrients, including vitamins, can greatly increase your risk of prostate cancer.
They may also delay the progression of a prostatic tumor into metastatic prostate cancer or aggressive cancer. So, for natural prostate health, taking the right quantities of these nutrients is crucial.
The most commonly discussed nutrients are vitamin D, vitamin C, vitamin E, omega-3 fatty acids, selenium, zinc, fibers, and lycopene. Here we are going to take on the prostate vitamins!
Vitamin C
Consuming green vegetables such as broccoli, cauliflower, kale, and brussels sprouts rich in vitamin C may lower the risk of developing an enlarged prostate.
While the small studies have shown promising results, more research is needed to determine whether or not vitamin C supplements can prevent or fight prostate cancer.
Still, people who eat cruciferous vegetables rich in vitamin C have demonstrated a lower risk of developing prostate cancer.
Studies indicate that vitamin C could lower the chance of developing enlarged prostate symptoms. Oxidative stress is considered a contributing factor in BPH. Vitamin C possesses strong antioxidant properties. This explains why vitamin C helps ease the symptom of BPH.
Vitamin C may also restrict the formation of a molecule known as HIF-1alpha, which can influence the growth of prostate cells. By nipping this molecule in its buds, vitamin C reduces the chance of prostate enlargement.
However, the key is to ensure an optimum dietary intake of vitamin C to reap its benefits. It is recommended that we take 40mg of vitamin C a day.
This important nutrient is available in a wide range of natural foods and supplements. Peppers, strawberries, broccoli, and oranges are enriched with vitamin C.
Moreover, there are plenty of good supplements in the market made from a wide variety of fruits, including blackcurrant, gooseberry, and lemon.
Get Your FREE PSA Lowering Diet Plan!
Naturally lower PSA levels
Reduce nighttime trips to the bathroom
Enjoy better bladder control and urine flow
Vitamin D
Vitamin D has also shown promising results when it comes to boosting the management of BPH. Research shows a correlation between vitamin D deficiency, the growth of the prostate gland, and the resulting urinary symptoms.
It could be due to the reason that deficiency of vitamin D may encourage cell growth and inhibit the way a cell naturally dies off. Consequently, low vitamin D may lead to the growth of the prostate cells.
On the other hand, a sufficient quantity of vitamin D may logically improve prostate health by reducing prostate volume. Therefore, vitamin D plays an important role in maintaining prostate health.
The recommended daily intake of vitamin D is 10mcg per day for males. As far as sources of vitamin D are concerned, they are wide in variety.
Naturally, we obtain vitamin D from the sun. The amount of vitamin D taken from the sun may not be sufficient sometimes if you're an indoor person. It may also be insufficient in winter when there is low sunlight.
As a result, you'll need to take supplements to keep levels topped up and sufficient to meet the needs of your body.
Vitamin E
Vitamin E is a potent antioxidant that is essential to maintain a healthy prostate.
Several studies show that vitamin E has anticancer effects and can protect against prostate cancer.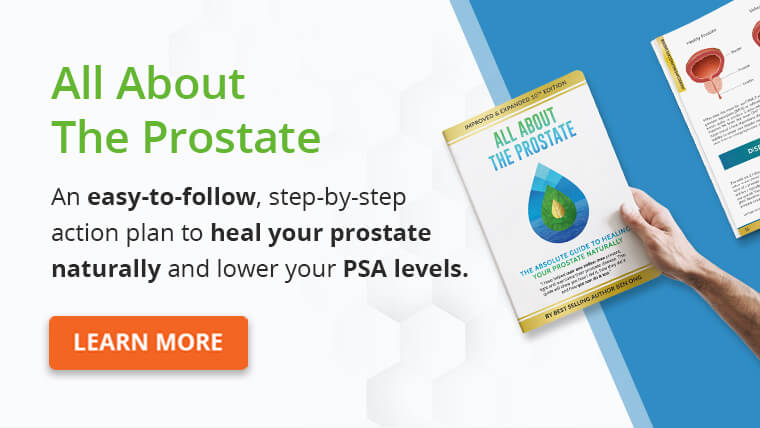 Conclusion
Adopting a healthy lifestyle, consuming a nutritious diet, and achieving or maintaining a healthy weight can go a long way toward the health of your prostate.
While more research is needed, nutrients such as vitamin C and vitamin D can help you take advantage of beneficial nutrients that neutralize cancer-promoting factors.
If you have symptoms of any prostate condition, such as frequent urination or decreased libido, it's time to consult your doctor. You can discuss the best ways to improve your prostate health.
They may also suggest the best nutrients and vitamins helpful for your prostate.
Explore More

How To Protect Your Prostate From BPH, Prostatitis, and Prostate Cancer.