Super beta prostate is a dietary supplement for prostate health, which contains a proprietary blend of ingredients.
It claims to relieve BPH symptoms, such as frequent urination, poor urinary flow, and trouble emptying the bladder.
This article will take a closer look at the effectiveness of the supplement Super Beta Prostate for symptoms associated with prostate enlargement.
What are the active ingredients in Super Beta Prostate?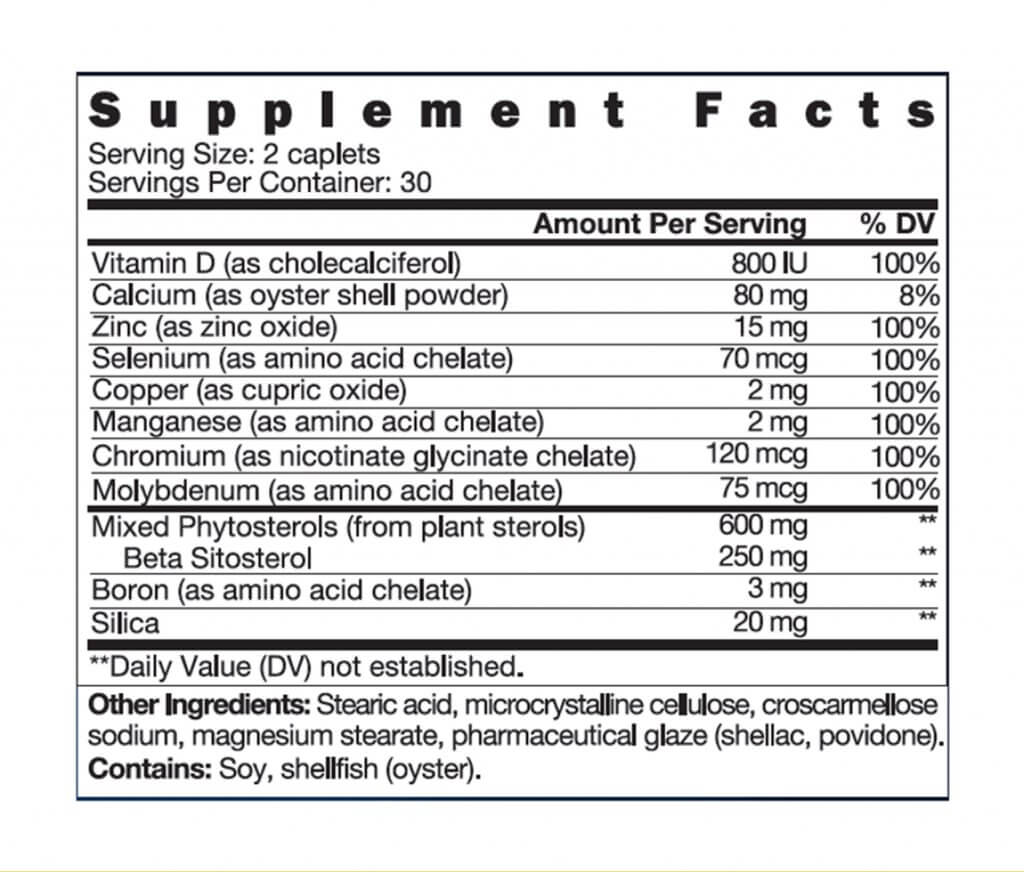 Super Beta Prostate is made with natural ingredients such as Beta Sitosterol and Vitamin D to naturally support healthy prostate function and promote less urges to urinate, less waking at night, and better bladder emptying.
Reviewing the label above, we can see that Super Beta Prostate includes several key ingredients for prostate support.
This includes beta-sitosterol, a plant sterol that has been shown in clinical studies to reduce urges to urinate and improve bladder emptying, along with other symptoms associated with an enlarged prostate.
Plant sterols are found in foods like nuts and seeds, and besides helping men with problems urinate with greater ease, they also lower cholesterol levels and may help prevent heart disease.
Unfortunately, their beta-sitosterol extract comes from a mixed phytosterol blend, so we know nothing about the other 350mg of plant sterols i.e., their strength, the type, and whether or not they have been clinically effective for relieving symptoms of BPH.
This is often the problem with phytosterol blends. It is a convenient and cost-effective way of making a supplement look like the real deal, which hides the actual strength and effectiveness of those ingredients.
Super Beta Prostate also contains vitamin D, another essential ingredient for men dealing with prostate problems. Studies have found that low levels of vitamin D may be linked with aggressive growth in men with prostate cancer. So it's good to see that this is one of the main ingredients in the Super Beta Prostate supplement.
Super Beta is a prostate supplement that also contains 3mg of boron. Substantial evidence has shown that the trace mineral boron plays an essential role in protecting men against deadly prostate cancer.
While this dietary supplement for men does include some important natural ingredients, it also lacks several that are equally important. Quercetin and turmeric, both of which have shown in clinical studies to support men's health, are both missing.
Vitamin C is also missing from the formulation. Vitamin C works to strengthen your immune system and protect your body from the effects of free radicals, and while works indirectly, is an important vitamin to include in a complete prostate formulation.
What are the side effects of Super Beta Prostate?
According to their website, Super Beta Prostate is completely safe to take. However, they do advise seeking the advice of a medical professional if you are taking other prescription medication or if you have other concerns.
Despite this, according to reviews on Amazon, some customers have reported adverse side effects while taking Super Beta Prostate. Those include rapid heart rate, heartburn, and low blood pressure.
If you are thinking about trying Super Beta Prostate, we would advise discussing it with your doctor first.
What is the difference between Super Beta Prostate and Super Beta Prostate p3?
Super Beta Prostate P3 is an advanced formulation with two distinctions from the regular Super Beta Prostate formulation:
It contains 1600 IU of vitamin D3 – double the 800IU dose in the regular formulation.


It contains ProstaFend, a special blend made up of beta-sitosterol, reishi mushroom extract, and lycopene.
P3 Advanced has mixed plant sterols including beta-sitosterol – shown in multiple clinical studies to reduce urges to urinate both day and night. Reishi mushroom extract helps reduce urinary urgency and supports a healthy prostate function. While lycopene, a carotenoid that gives tomatoes its red color, has also been shown to have a positive effect on prostate health. P3 Advanced has 15 mg of lycopene to promote healthy levels.
However, it should be noted that lycopene has only had a positive effect when coming to its natural, wholefood source, as opposed to in supplement form. We would advise adding lycopene to your diet by increasing the amount of tomatoes you eat on a weekly basis instead of supplementing.
Is Super Beta Prostate good for your prostate?
If going by the label alone, then there is enough to suggest that Super Beta Prostate may have a positive effect on your prostate health.
Key natural prostate ingredients such as beta-sitosterol, zinc, and vitamin D3 are all included. If taking the advanced P3 formulation, then you get an even higher dosage of vitamin D3 and additional ingredients, such as reishi mushroom extract, which helps with urinary urgency.
Yet going by many of the customer reviews, Super Beta Prostate is a mixed bag. Some men report positive results, including less urinating at night and a good night's sleep while other men report no difference in urinary symptoms after several months of use.
Given there are no controlled studies demonstrating whether or not Super Beta Prostate does, in fact, improve BPH symptoms, we can only go by subjective reports, which are mixed.
Super beta FAQ:
What is Super Beta Prostate?
Super Beta Prostate is an all-natural supplement for men. Each daily serving consists of 600 mg of plant sterols.


Beta-sitosterol is a natural plant sterol found in almost all plants; including vegetables, fruits, oils, nuts and legumes.


Is it safe to take Super Beta Prostate?
According to their website, Super Beta Prostate is completely safe to take. However, they do advise seeking the advice of a medical professional if you are taking other prescription medication or if you have other concerns.


When is the best time to take Super Beta Prostate?
The suggested use of Super Beta Prostate is to take one caplet in the morning and one caplet at night.


How long will one bottle of Super Beta Prostate last me?
Each bottle of Super Beta Prostate contains 60 caplets and will last 30 days.
What is the best Super Beta Prostate active ingredients to buy?
Vitamin D – As touched upon, Vitamin D deficiency in middle-aged men has been associated with moderate to severe urinary symptoms.


Beta-sitosterol – Beta sitosterol's benefits are numerous. It has been shown to improve Benign Prostatic Hyperplasia overall. It also has anti-cancer properties, specifically against prostate cancer.


Zinc– The prostate gland contains a high level of zinc, which is reduced when prostate cancer manifests.


Selenium– Selenium is an essential trace mineral that plays essential roles in reproduction, thyroid hormone metabolism, and protection from oxidative damage and infection.


Boron– Boron is a trace element in the human diet, and high boron intake has been associated with a lower risk of developing prostate cancer.
Which ingredients should a prostate supplement contain?
Alongside the ingredients mentioned above, a top-quality prostate supplement should also contain:
Quercetin– Quercetin is a flavonoid found in high concentrations in capers and red onion. Preclinical research demonstrates that quercetin can protect against chronic prostatitis by reducing inflammation and oxidative stress.


Curcumin– Curcumin is the bioactive ingredient in the Indian spice turmeric. It is known for its antioxidant and anti-inflammatory effects and may protect against prostate diseases.


Pygeum– A study found that pygeum africanum extracts inhibited the growth of human prostate cancer cells in a test tube study.


Pomegranate – Some studies have shown that drinking pomegranate juice or taking a pomegranate extract significantly slows the rate at which PSA levels rise.


Pumpkin Seed– Pumpkin seed contains fatty acids, phytosterols, tocopherols, and micronutrients, which have been shown in preclinical research to have anti-inflammatory effects and reduce prostate volume.


Ryegrass pollen– Pollen is a natural source of antioxidants, amino acids, fatty acids, vitamins, and minerals, and studies show that it may improve urinary function by relaxing smooth muscle tone and increasing bladder muscle contraction and/or relaxing sphincter muscles and offering prostate support.


Stinging nettle– Preclinical studies show stinging nettle causes anti-inflammatory and antioxidant effects that may relieve the symptoms of BPH.


Green Tea– Prostate cancer mortality is lowest in Asia, where they also drink 20% of the world's green tea. One study found green tea improved urinary symptoms in men with BPH.
What is the Best Natural Prostate Supplement?
When it comes to choosing the best prostate supplement, it's essential that it contains:
100% natural ingredients


Clinically significant dosages


Ingredients that have been shown to work in peer-reviewed, double-blind studies.


Chelated ingredients for better absorption and effectiveness.
While there are many supplements out there that have scientifically backed natural ingredients, the vast majority contain only a few of the essential prostate ingredients, usually in low and ineffective dosages, without chelating ingredients for better absorption and bioavailability.
Super Beta Prostate is a hugely popular and decent quality prostate supplement for men's health.
Despite lacking a few essential ingredients, it contains sufficient quantities of zinc, vitamin D3, selenium, and most importantly, beta-sitosterol.
Super Beta Prostate's advanced P3 formulation contains a higher dose of vitamin D3 as well as its own branded ProstaFend blend, which includes lycopene and reishi mushroom extract.
However, Total Health for the Prostate is the only prostate supplement on the market we found, which contains every essential prostate-shrinking ingredient, in clinically significant dosages, with extracts and minerals that have all been chelated for increased effectiveness.
For more information on Total Health for the prostate and how it can improve your urinary symptoms and overall prostate health, you can visit our website here.