Pygeum is an herb that comes from the African Cherry tree. The tree is also known as the African plum tree, or Prunus africanum.
Its medicinal use dates to the 1700s, when tribes in southern Africa taught early explorers how to use the tree's bark to treat bladder discomfort.
Revered for its medicinal properties, it is a much sought-out alternative remedy due to the extensive research supporting its many health benefits.
In this article, we will be highlighting six impressive health benefits of pygeum and how you can effectively use this powerful herb to improve your overall health.
Health benefits of Pygeum
1) Treats symptoms of Benign Prostatic Hyperplasia
One of the most talked-about benefits of pygeum is for an enlarged prostate. Several studies have reviewed the effects of this herbal extract on symptoms associated with benign prostatic hyperplasia and found positive results.
Researchers believe that pygeum helps the prostate in three ways.
It directly reduces the inflammation of the prostate.
It suppresses prostate growth factors.
And third, it reduces prolactin levels and decreases the uptake of testosterone.
One study involving 18 randomized controlled trials, consisting of 1562 men found that, when compared to those receiving a placebo, men taking pygeum africanum saw a significant improvement in urinary symptoms, including urinary flow rate.
It can also help to combat prevalent symptoms such as nocturia (nighttime urination). The results of the study reveal that nighttime urination reduced by 19%. Residual urine volume decreased by 24%, and peak urine flow increased by 23%. Therefore a wide range of clinical research supports pygeum as a treatment for BPH symptoms.
Similar results were reported in the TRIUMPH study, which included treatment outcomes of BPH from six European countries.
Researchers found that after 1 year of therapy, those who had received either Pygeum africanum or saw palmetto showed a 43% improvement in IPSS scores and quality of life, compared with those who underwent no treatment.
2) May slow the growth of prostate cancer cells
More recently in the USA, the phytotherapeutic preparations of Pygeum africanum and Saw palmetto had been marketed for prostate health, including prostate cancer prevention and treatment.
A study published in Endocrine concluded that pygeum played a significant role in the regulation of prostate cancer both in vitro and in vivo. Therefore, it may be a useful supplement for people at high risk of developing prostate cancer.
Further studies even suggest that it could help to slow the growth of prostate cancer cells, especially in pathways usually involved in BPH.
A review published in Evidence-Based Complementary and Alternative Medicine, identified phytochemicals present in the tree bark. They included ursolic acid, ferulic acid, and beta-sitosterol, which may have anti-cancer effects.
More preclinical and clinical studies need to validate these phytochemicals for possible use in prostate cancer drug development, but published research shows promise.
3) Improves prostatitis symptoms
Topping the trio, pygeum can also be of benefit for men who have prostatitis. Prostatitis is when the prostate gland becomes inflamed, resulting in symptoms such as difficulty urinating, pelvic pain, and urinary retention.
Antibiotics are usually prescribed for cases of acute prostatitis and chronic bacterial prostatitis, but a 2014 study found that herbs, including pygeum, could be just as effective in relieving symptoms.
The researchers of the study concluded that phytotherapeutic agents, found in herbs such as pygeum, may improve pain and prostatitis related difficulty in urination.
4) Helps to combat urinary problems
As well as alleviating urinary symptoms associated with prostate problems, pygeum may help other urinary conditions.
Urinary tract infections (UTIs), bladder infections, and more could be improved by pygeum extract. A 2014 review of herbs for urinary conditions mentioned pygeum as among the most notable.
Any herbal medicines or remedies can treat renal disorders, and most of them prove to be useful.
5) Improves sexual performance
Symptoms of prostate enlargement, and even prescribed medications, such as Flomax, can wreak havoc on your sex life.
Pygeum can help relieve pain, inflammation, and urinary difficulties, which may otherwise impair your sexual performance. It may also help male infertility if prostatic secretion plays a significant role.
This is as it increases prostatic secretions and improves the composition of seminal fluid. Some preliminary research suggests the pygeum may improve libido, but we need further studies to conclude this.
6) Treats symptoms of kidney disease
As pygeum can help symptoms associated with BPH, it may also benefit kidney disease symptoms.
Several research articles mention this extract, alluding to its ability to relieve pain, inflammation, and urinary frequency, symptoms of which link to some types of kidney disease.
However, we should note that Clinical trials remain limited at the present moment, and we need further research to clarify this as a potential symptom reliever.
Get Your FREE PSA Lowering Diet Plan!
Naturally lower PSA levels
Reduce nighttime trips to the bathroom
Enjoy better bladder control and urine flow
Pygeum Side effects
Studies show pygeum is mostly safe when used correctly. However, pregnant or breastfeeding women should not use it.
Some possible side effects may include:
How to use Pygeum
Pygeum extract is usually taken in supplement form. The average recommended dosage is typically 100 to 200 milligrams per day, for effective results.
This is the average amount used in most studies, and for that reason, Ben's Total Health Advanced contains 150mg of pygeum bark per serving.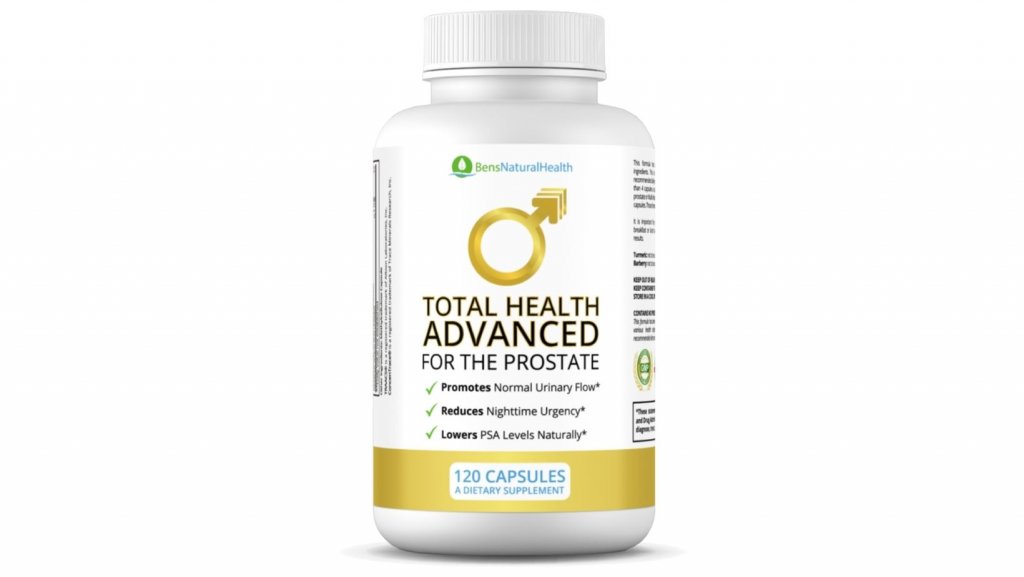 High-quality ingredients, in clinically significant doses, are essential when searching for an effective supplement that will relieve urinary symptoms. Formulated with natural 5 alpha-reductase inhibitors and powerful natural ingredients, Total Health Advanced offers to relieve urinary symptoms, ensuring optimal bladder, kidney, and prostate health.
Conclusion
Pygeum shows lots of promise. For men battling an enlarged prostate, a large number of studies show pygeum can reduce inflammation and treat symptoms of BPH, prostatitis. As well as symptoms of kidney disease and other urinary conditions.
Further research has also indicated that it may be beneficial for those at risk of prostate cancer.
Explore More

How To Protect Your Prostate From BPH, Prostatitis, and Prostate Cancer.